F
our of the largest data center campuses in America are being built in Illinois right now, and the state is rolling out the welcome mat for more.
CloudHQ, Prime Data Centers, Microsoft and Meta are the four companies developing massive data center projects in the Prairie State. Thanks to the governor and state lawmakers, these are not likely to be the last.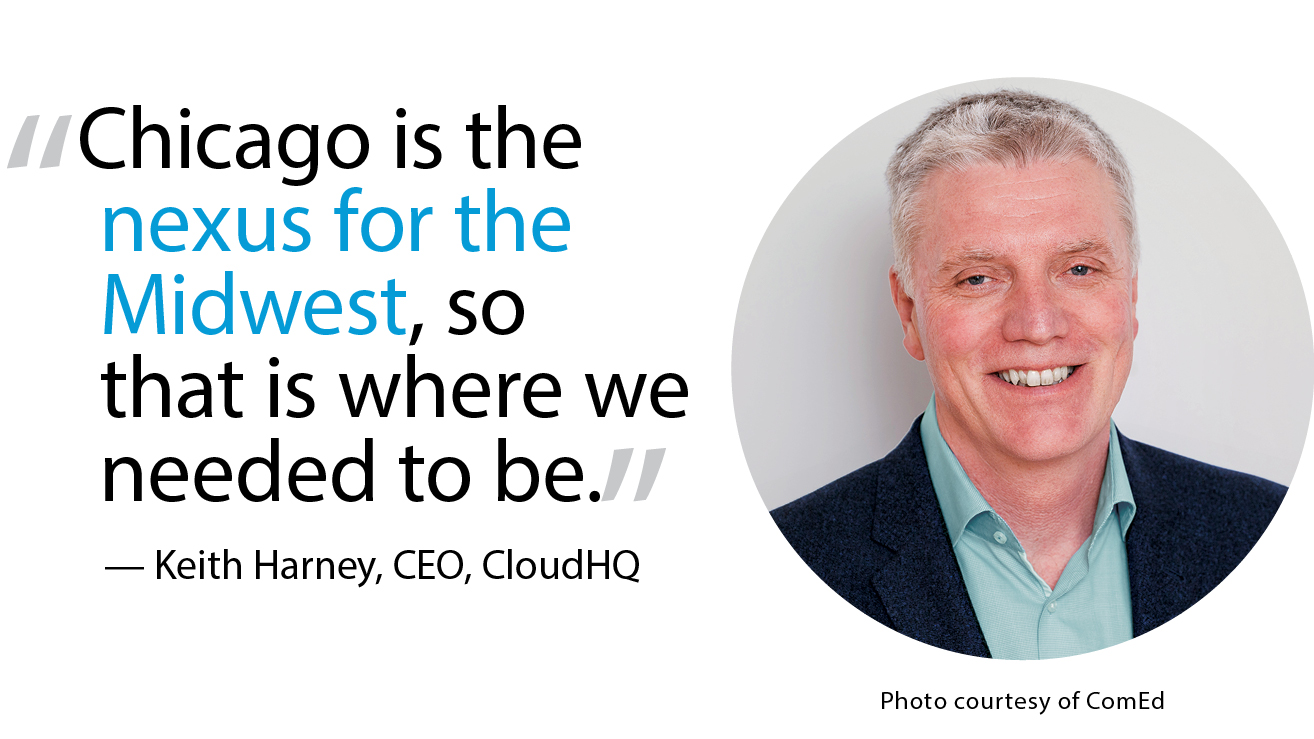 The state has enacted expansive data center incentives that prime the pump for continued investment into cloud computing and the servers that make it possible. The Data Center Tax Exemption makes large investments into new data centers eligible for a sales tax exemption on qualifying tangible personal property including new equipment, construction materials, and building infrastructure in addition to excise tax exemptions on electricity consumed at the facility.
To be eligible, companies must invest more than $250 million and create more than 20 new jobs over a 5-year period. Those jobs must pay at least 120% of the applicable county median wage, and the project must meet carbon neutral status or attain certification under one or more green building standards. The project may also qualify for an additional tax credit equal to 20% of wages for construction workers who build data centers in qualifying underserved census tracts.
These incentives are music to the ears of executives at firms that are scrambling to keep up with demand for data services. The first recipient of the new incentive is Prime Data Centers, which broke ground last November on a $1 billion data center campus in Elk Grove Village.
Known as Prime ORD, the campus will cover more than 750,000 sq. ft. and have 175 megawatts of capacity at full buildout, officially creating the largest data center campus in Greater Chicago. 
"The partnership between Elk Grove and the data center industry has led to unprecedented growth and positive economic impact," said Nicholas Lang, CEO of Prime Data Centers. "Looking ahead, we will continue to partner with forward-thinking governments, executing on an aggressive, multinational expansion plan that will establish Prime as the data center foundation for the global proliferation of content creation and cloud solutions."
$4.6 Billion and Counting
Gov. JB Pritzker welcomed the development and pledged to continue to support the growth of the data center industry in Illinois. "From the outset of my administration, I have prioritized attracting companies in the rapidly growing data center industry," he said. "Thanks to these efforts and our reputation as a global tech hub, we have 15 operating data centers investing more than $4.6 billion in our communities — all while creating thousands of jobs."
For his part, Elk Grove Village Mayor Craig Johnson said his community would continue to back data center projects with generous local incentives too.
According to a new report from CBRE, Greater Chicago is one of the 24 largest data center markets in the world and one of the most affordable for end-users. "The worldwide shortage of available supply is leading to price increases for data center capacity," notes CBRE. "Singapore has the highest rental rates at $300 to $450 per month for a 250- to 500-kilowatt requirement, while Chicago has the lowest at $115 to $125."
The report adds that demand is outstripping supply in many markets. "In Chicago, vacancy fell to 6.7% in Q1 2023 from 8.2% a year earlier — the biggest decrease in any North American market — even as inventory grew 21%."
Much of that new inventory is coming from big investors. "Hyperscalers and enterprise operators remain interested in Chicago," the CBRE report states. "Land availability continues to be extremely limited in the O'Hare market, and land prices remain stable despite broader macroeconomic conditions. Demand from both data center developers and institutional industrial developers remains strong."
Factors like these are driving CloudHQ to develop what will eventually be the most expensive data center project to date in Illinois: a $2.5 billion corporate campus in Mount Prospect in the Elk Grove area. CloudHQ broke ground a year ago on this 1.5 million-sq.-ft. campus about 20 miles north of downtown Chicago. This hyperscale data center is being built on a site formerly occupied by the corporate headquarters of United Airlines. It is slated for completion next year and is expected to create hundreds of high-wage jobs.
Power, Connectivity Seal the Deal
Keith Harney, CEO of CloudHQ, told Site Selection magazine after the groundbreaking that Greater Chicago provided everything his company was seeking for this new multi-tenant facility. "Chicago is the nexus for the Midwest, so that is where we needed to be," he said. "This was the largest contiguous site that we were able to find. The notion of power was there, and it was available and cooperative for our needs, as well as the connectivity, thanks to ComEd."
Harney adds that CloudHQ "kicked the tires on 25 different sites" before closing the deal to acquire the property from United Airlines. The success of that deal has emboldened CloudHQ to expand again, he notes. "We expect that we will clearly be in the market again for another site," he said. "We don't think two and done. We think according to demand. As the market gets more efficient, it gets more competitive."
---
15 operating data centers are investing more than $4.6 billion in Illinois communities.
Source: Gov. JB Pritzker
---
Some of that competition is coming from Meta and Microsoft. Meta Platforms Inc. is investing $1 billion to build 1.5 million sq. ft. of data center space in DeKalb, while Microsoft has plans to invest more than $500 million into data centers in Hoffman Estates.
"There are billions of dollars being invested in Illinois by data centers, and Hoffman Estates is contributing to that," says Kevin Kramer, director of economic development for the Village of Hoffman Estates in Cook County. "Microsoft has already invested over $300 million into building a 200,000-sq.-ft. data center on an 80-acre campus they own. They have plans to build at least another two to three buildings with a total spend of more than $500 million."