T
he Windy City has certainly taken the world by storm. Nestled among the skyscrapers, each street leads to a new adventure with infinite museums, restaurants, and live entertainment venues to explore. Chicago is a city where boredom does not exist. Whether it's your home for years or only for a weekend, the list of things to do and see never ceases.
For six consecutive years, the readers of Condé Nast Traveler have voted Chicago the No. 1 Best Big City in America. Nearly 49 million domestic and overseas tourists visited the Windy City in 2022, a 60% increase from 2021, according to Choose Chicago. With attractions such as the Art Institute of Chicago, The Bean at Millennium Park and Wrigley Field and various shopping sectors, it's easy to see how the city amassed an estimated $16.9 billion in tourism spending in 2022. 
Chicago's uptick in tourism has spread beyond the city limits. In April, Governor JB Pritzker and the Illinois Department of Commerce and Economic Opportunity (DCEO) awarded $22.5 million from the Tourism Attractions and Festivals Grant Program to 89 projects throughout the state. This funding supports Illinois' tourism industry by providing grants to localities, organizations, and businesses for a wide range of tourism-related activities, events, and improvements. Of the allotted amount, $5 million was reserved for festivals, with $17.5 million funneled into a wide range of attractions, museums, and live performance venues.
 "Investing in tourism throughout Illinois is not just a fantastic way of spurring our already thriving economy, it's also a way of encouraging families to explore our state's lesser-known attractions," said State Rep. Michelle Mussman, D-Schaumburg, in April. 
89 Must-Dos 
The projects the Tourism Attractions and Festivals Grant Program selected highlight many of the state's hidden gems. 
Outdoor enthusiasts can look forward to new opportunities to explore two of the state's most prominent waterways. Of the 89 projects that received funding, the Great Rivers & Routes Tourism Bureau was awarded $184,000 to purchase 10 self-serve kayak kiosks and interpretive panels that will be installed at various sites along the Mississippi and Illinois Rivers. 
"Though Chicago is a world-class destination with an abundance of exciting features, the rest of Illinois has even more for visitors and families to enjoy,"
— Michelle Mussman III, State Rep.(D-Schaumburg)
"Bringing outdoor recreation to the forefront in southwest Illinois has been a major driver for the Great Rivers & Routes Tourism Bureau," said Cory Jobe, president & CEO of Great Rivers & Roads Tourism Bureau, when the award was announced. "State funding for the Kayak Kiosk project along the Great River Road is a game changer for the region and will help us provide kayak access to the Mississippi River from locations along the Meeting of the Great Rivers National Scenic byway. Continuing to build our outdoor recreation/nature-based tourism product is key to continued growth in our region."
Kane County Development and Community Service were also allotted $270,000 to construct new canoe and kayak access points and improve existing locations along the Fox River Trail in Geneva. 
This funding follows the creation of the Office of Outdoor Recreation Industry Act. This act establishes a new office of outdoor recreation in Illinois to promote recreational activities throughout the state.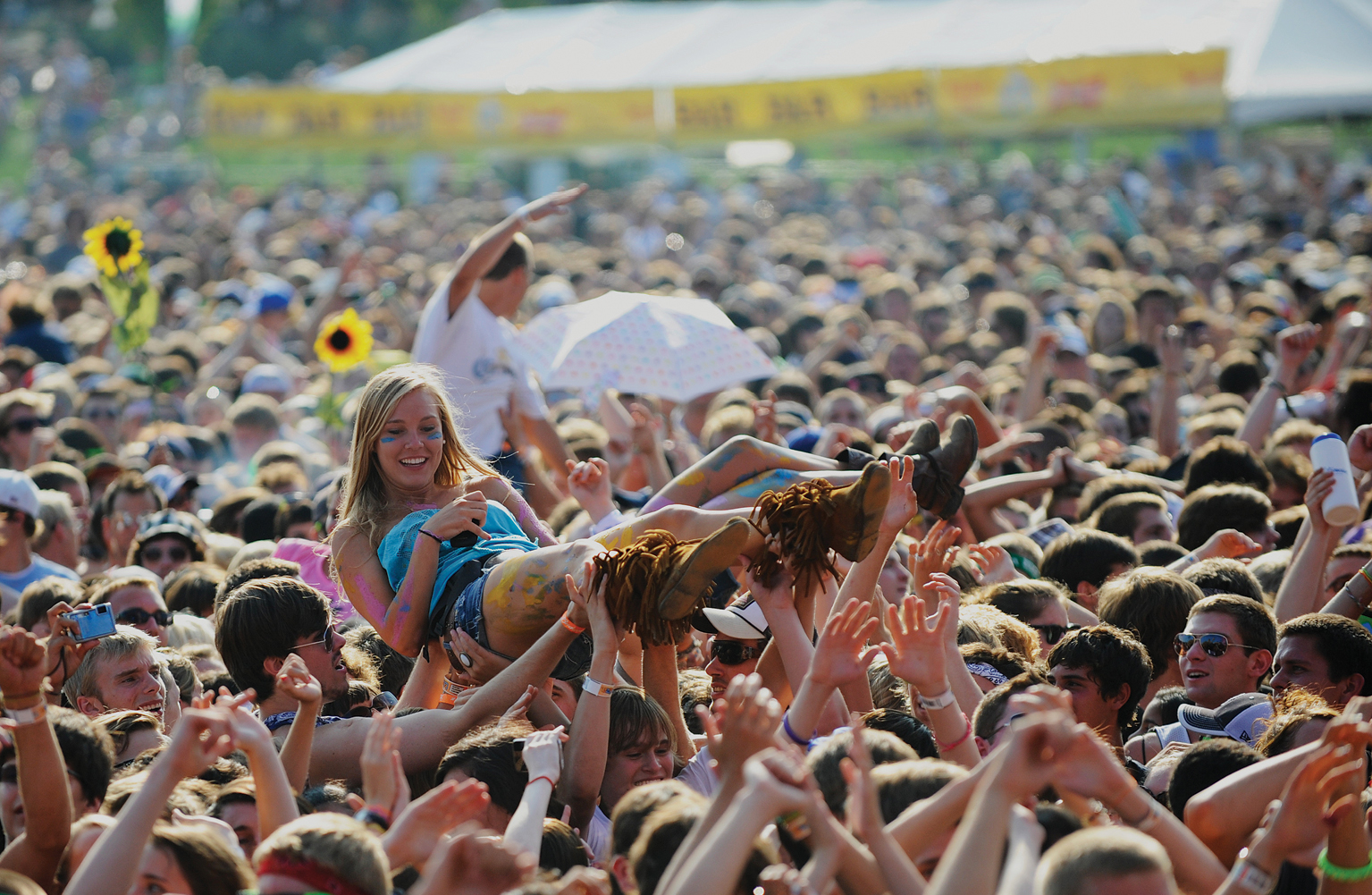 400,000 people attended Lollapalooza in 2022.
Photo courtesy of Enjoy Illinois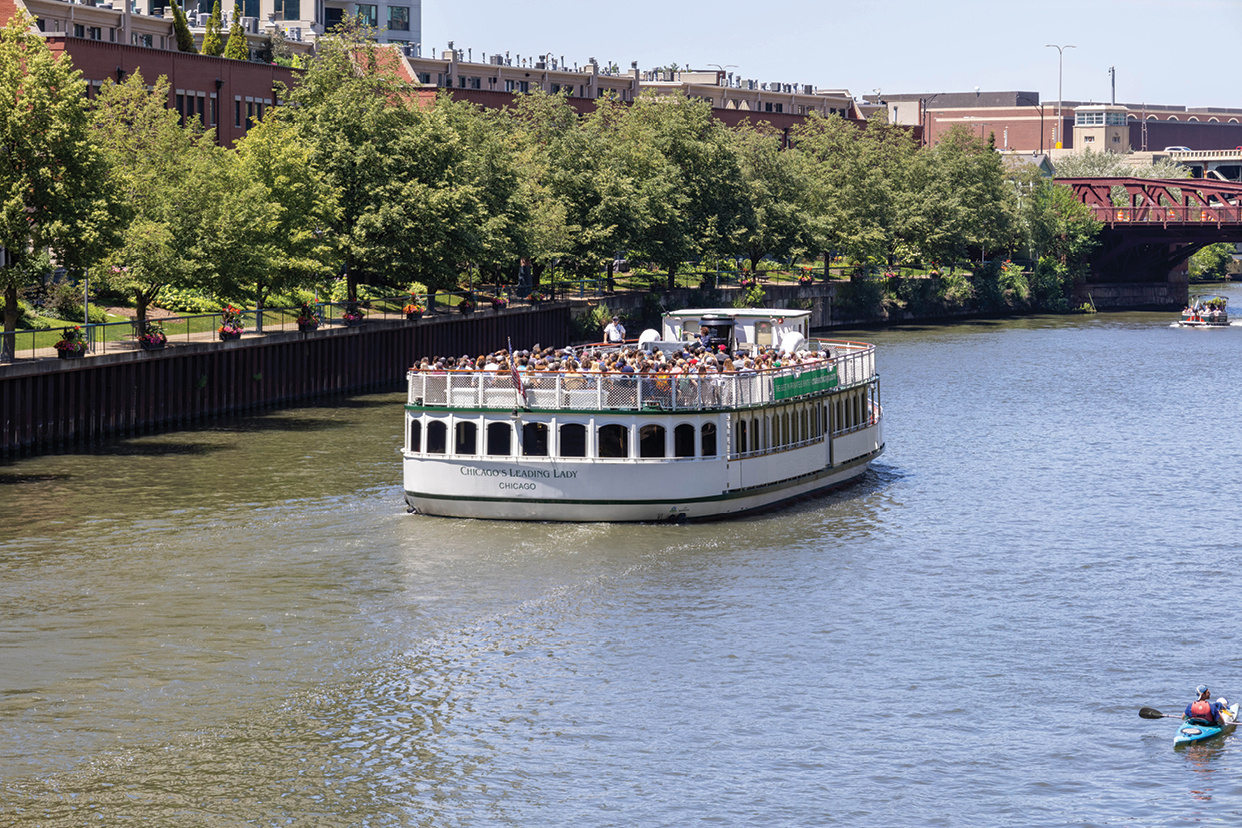 Chicago visitors on a cruising yacht enjoy an architectural tour.
Photo by Ashleigh Porter
Various organizations affiliated with the arts also received funding. In Northern Illinois, the city of Rockford's annual interactive art event, CRE8IV, received $235,000. The "transformational arts and culture festival" fosters community beautification and engagement by allowing local and visiting artists to lead teams in creating vibrant murals and sculptures for public spaces in the city. Since the festival was launched in 2019, more than 30 projects have been completed.
Other must-see tourist attractions that received a portion of the grant include: The National Railroad Hall of Fame in Galesburg, The World's Largest Monopoly Game located at the McDonough County courthouse, the Imagine Route 66 History building in Springfield, the Edwardsville Children's Museum, and the Japanese Gardens in Rockford. 
Something to Celebrate 
Illinois' tourism industry is already starting to see a return on its investment. When the recipients were announced, the World Wide Technology Raceway in Madison received $500,000. This funding helped the speedway prepare for the upcoming NASCAR 2023 Enjoy Illinois 300. On the days leading up to, during, and after the race, Madison and the surrounding area were overrun with fans. With a sold-out speedway and not a single hotel room unoccupied, this race's economic impact on local businesses, hotels, restaurants, and attractions is estimated to total $60 million.
Beyond racing, numerous world-famous festivals and events around Illinois are attracting crowds. Taste of Chicago, the largest food festival in the world, amasses more than 1.4 million visitors each year. 
According to a study by Angelou Economics, Lollapalooza, a four-day music festival also held in Grant Park, generated $335.4 million in direct and indirect economic revenue in 2022. 
Before the headlining act, J-Hope, performed at the 2022 event, the former mayor, took to the stage to announce that the city had secured the festival for another 10 years. 
"That's 10 more years of music, of arts, of support for the city of Chicago. Four billion dollars in economic impact, 10 more years."
These events and attractions are only a reflection of the communities and culture Illinois offers year-round. With a population pulled from each corner of the country, Illinois is home to a diverse ecosystem of individuals. Thus, spawning attractions that answer to a myriad of interests. In the middle of America, the middle of everything, there are endless opportunities to explore.  
---
Jane Lynch Invites You to Enjoy Illinois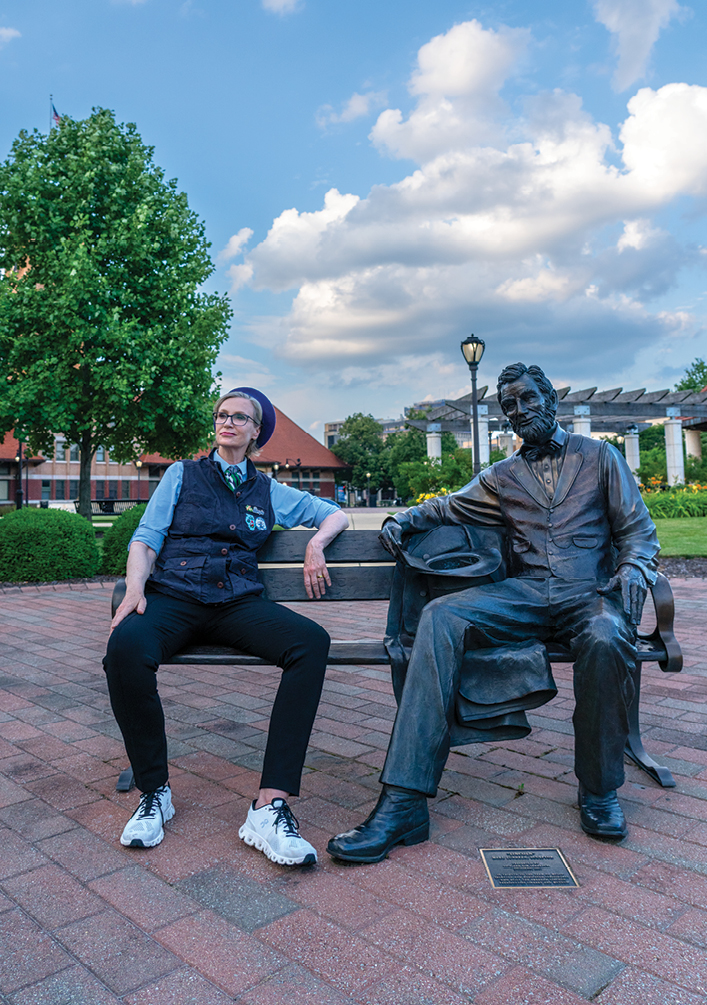 llinois' 'Middle of Everything' tourism campaign stars native Illinoisan, Emmy and Golden Globe award-winning actress and New York Times best-selling author Jane Lynch.
Photo Courtesy of DCEO
Emmy and Golden Globe award-winning actress Jane Lynch is quite a familiar face. As a scene stealer in hit shows and movies such as "Glee," "Only Murders in the Building," "The Marvelous Mrs. Maisel," "Wreck it Ralph" and "The 40-Year-Old Virgin," Lynch has brought laughter and life into many homes across America.
Now, as the spokesperson for the Illinois Office of Tourism's "The Middle of Everything" campaign, Lynch is inviting viewers to leave their couch behind and book a ticket to her home state. In a variety of vibrant commercials, Lynch shows and sometimes sings about the one-of-a-kind adventures available in Illinois. From seeing the perfect sunset at Camel Rock to feeding Alpacas at the Rolling Oak Alpaca Ranch in Makanda to savoring a slice of stringy cheese pizza at Giordano's, this campaign gives tourists a glimpse into what their next vacation could look, feel and taste like.
Since Lynch's involvement in the campaign began in April 2022, the Illinois tourism industry has reported record-breaking growth. The state welcomed 111 million visitors in 2022, 14 million more than in 2021. Visitors spending also increased by $12 billion, totaling $44 billion.
In celebration of this success, Lynch shared with the Illinois Investment Guide her thoughts on everything Illinois, from its opportunities for actors to her favorite slice in Chicago.
As a native of Illinois, can you share the impact this state has had on you and your career?
JANE LYNCH: I was born in Dolton, Illinois, and went to Illinois State University in Normal, getting an undergrad degree in theater arts. I did theater in Chicago after college, working in a lot of non-equity theater companies (which means for free), and finally got my equity card touring with Second City and performing in Steppenwolf Theatre shows. In terms of Chicago theater, it's an actors' town. Actors come from all over the country to Chicago to create their own work and blaze their own trail. There's a purity to the arts and theater in Chicago. It's done for art's sake.
You have become an enthusiastic spokesperson for the state in those "Middle of Everything" commercials. Can you talk about how that opportunity came about and why you chose to do it?  
JANE LYNCH: I started my career working in commercials and I've worked with directors in every type of media. I have wanted to be a commercial director for some time, and this campaign was the ideal beginning. I am a big fan of Illinois and wanted to help promote it. Cliff Grant and the people at STORY made the transition from in front of the camera to behind the camera very easy for me. It's been an absolute joy to bring to life the 'Middle of Everything' campaign in new and exciting ways. Being able to share my passion for all things Illinois comes naturally, and getting to meet and work with so many inspiring people and unique businesses across the state is an honor.
What's your favorite thing to see or do in Illinois when you have downtime and you just want to relax and unwind?
JANE LYNCH: I spend every Christmas in Chicago and get back there to visit often. Some of my favorite places to visit when I'm in Illinois include:
Avanti's Italian Restaurant on the campus of Illinois State University in Bloomington. Come for the pizza bread, stay for the pizza bread.
The Illinois Shakespeare Festival, a live outdoor summer theater at Ewing Theatre in Bloomington, just off the campus of Illinois State University.
Anderson Japanese Gardens in Rockford.
The Frank Lloyd Wright Home and Studio in Oak Park.
The architecture boat tour along the Chicago River is exhilarating.
In the summertime, I try to catch a baseball game at "The Friendly Confines" Wrigley Field, home of the Chicago Cubs in the heart of Wrigleyville.
Aurelio's Pizza in Chicago Heights. Hands down, this is the best Chicago-style pizza. Deep dish is for the tourists. Real Chicago pizza is thin crust with tangy, sweet tomato sauce, and no one does it like Aurelio's.