Z
ero-emission vehicle maker Lion Electric CEO and Founder Marc Bédard recently observed that Lion had increased its delivered electric trucks, buses and minibuses for the sixth quarter in a row. The company did so thanks to facilities ramping up in his home province of Québec and in Joliet, Illinois, where commercial production of the company's LionC zero-emission school buses has begun.
"With manufacturing operations at both our Joliet vehicle plant and our battery factory [in Mirabel, Québec] now underway, we are focused on achieving profitability and are putting the right elements in place to achieve this objective," he said.
In Joliet, that means a lot more than columns, walls and machines. It means enough talent — around 1,400 positions eventually — to produce up to 20,000 vehicles a year when the facility reaches full scale. Lion was the first company to deliver zero-emission buses under the $5 billion EPA Clean School bus Program. And there are a couple thousand more on order where those came from. The company now has more than 1,100 vehicles on the road with more than 10 million miles driven.
Lion expects to have infrastructure in place in Joliet for production capacity of 2,500 school buses on an annual basis by year-end 2023. As of May, the company had invested around $91 million in the complex and anticipated investing $14 million more by the end of the year.
In the summer of 2023, an official grand opening was held at the site, which Lion calls the largest all-electric U.S. plant dedicated to medium and heavy-duty commercial vehicle production. The company has said it "chose Illinois for the state's resources, its central proximity to customers and the domestic supply base, and for its vision that aligns with the state's common goals for a more sustainable future."
"We are at the forefront of a manufacturing rebirth in the United States, and together with Governor JB Pritzker and his team, industry stakeholders and EV advocates, we are creating the next era of transportation in the Midwest, with a critical need to reduce carbon emissions, strengthen the region's economic vitality, and support sustainability," said Bédard at the opening, which featured a "ribbon"-cutting where the part of the ribbon was played by a diesel fuel hose.
Talent and Breakthroughs
The groundwork for that next era in Illinois has been partially laid by the state's Climate and Equitable Jobs Act, which commits Illinois to 100% reliance on clean energy by 2050. Talent cultivation is an essential plank in that program, which is why attendees in Joliet included nearly 150 students from the Boys & Girls Club of Chicago and ComEd's Youth Ambassador Program who learned about future job opportunities in the sector.
"As a partner on their plans to grow in Joliet from day one," said Gil C. Quiniones, CEO of ComEd, "ComEd shares Lion's commitment to expanding access to electric transportation options that will help lower pollution, enhance air quality and stimulate new jobs and economic growth for the communities of Illinois."
In addition to a workforce development initiative, the Climate and Equitable Jobs Act incentivizes Illinoisians to purchase EVs through consumer tax rebates as part of its goal of putting 1 million EVs on the road by 2030.
Also on hand in Joliet were representatives from Argonne National Laboratory and Joliet Junior College, which are partnering with Lion on workforce training and development as well as research. Having a national lab and an array of top-notch universiteis in its back pocket is an incomparable advantage for the state.
In fact, three days after the Lion ribbon-cutting, Argonne and University of Chicago researchers announced they were using machine learning to develop a new algorithm to help schedule and manage the charging of a diverse set of EVs so as not to overtax the electrical grid. Employee cars charging at the Argonne's Smart Energy Plaza are the first test subjects.
Revvin' at Rivian and Beyond
Trucks are a big part of Lion Electric's growth plan, with early sales to a little outfit called Amazon. As it happens, Amazon is also a customer of Rivian, whose plant in Normal, Illinois, continues to churn out the company's innovative electric trucks, delivery vans and SUVs.
Now a clean transportation option is running its manufacturing operation even cleaner.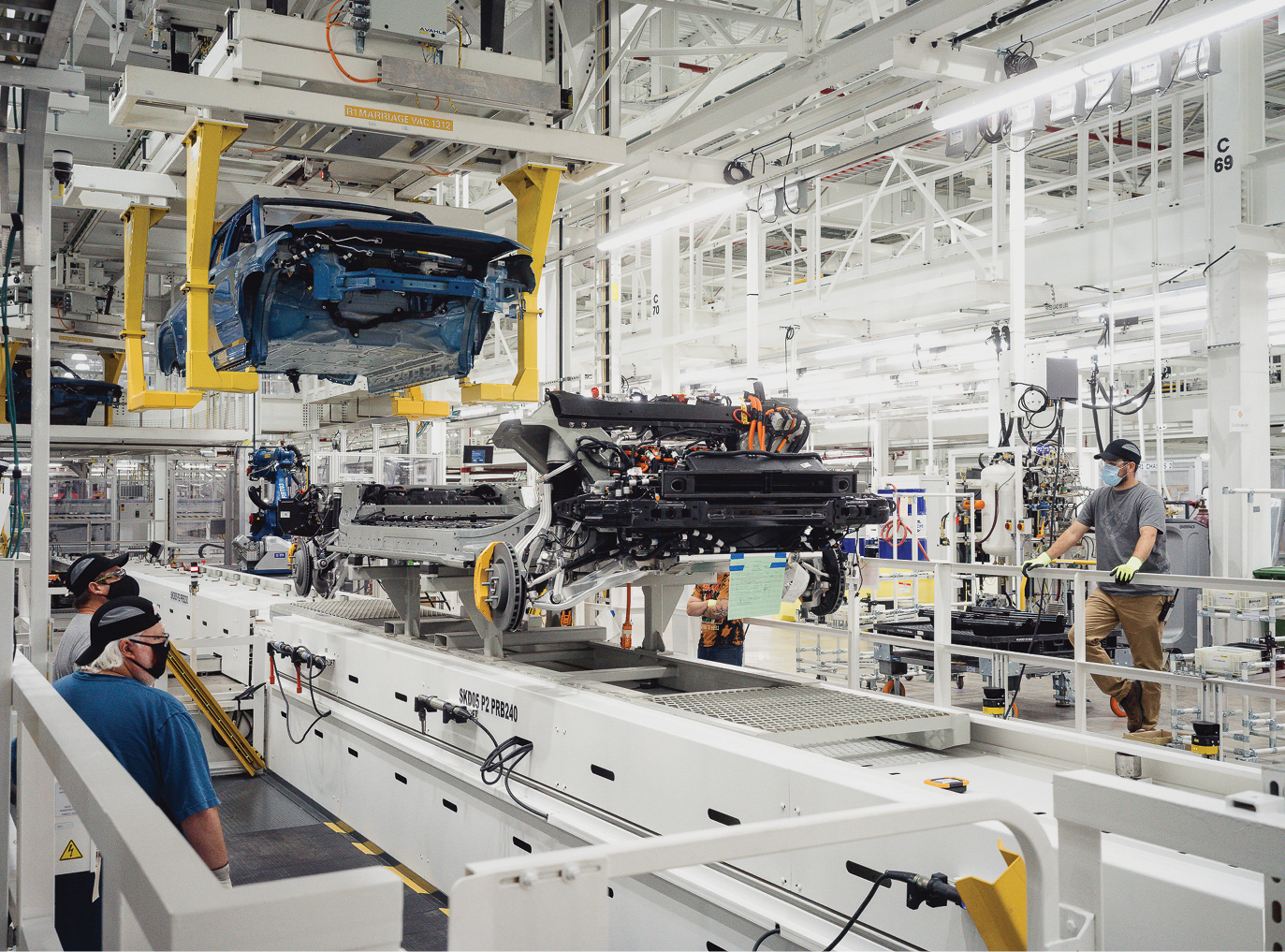 Rivian's R1T tophat and skateboard are married at the start of the trim build at the company's plant in Normal, Illinois.
Photo courtesy of Rivian
Rivian and Apex Clean Energy recently announced a power purchase agreement (PPA) for 50 megawatts of electricity from Apex's proposed 300-MW Goose Creek Wind farm in Piatt County, Illinois, within an hour of Rivian's plant in Normal. Rivian's first large-scale renewable energy procurement, along with other renewable sourcing and on-site generation, will allow Rivian to power as much as 75% of its Normal plant operations with carbon-free energy on an hourly basis.
That on-site generation includes a large new wind turbine and a 783-kilowatt solar canopy at the plant's outbound charging yard, which allows newly assembled vehicles to be powered by renewables for their first charge.
"The PPA will also contribute to the company's commitment to power its Rivian Adventure Network and Waypoints charging with 100% renewable energy," Rivian said. "Importantly, this is Rivian's first major renewable energy purchase and a critical investment in Illinois — supporting homegrown jobs, economic development, tax revenues, and clean energy in the Prairie State."
"About a third of global greenhouse gas emissions come from transportation, with nearly another third from electricity generation," said Rivian Director of Renewable Energy Andrew Peterman. "We have a tremendous opportunity at Rivian to help tackle emissions beyond the tailpipe to support decarbonization of manufacturing and charging of electric vehicles."
The EV profile of Central Illinois grew more pronounced in September 2022 when Gov. JB Pritzker and the Illinois Department of Commerce and Economic Opportunity (DCEO) awarded the first Reimagining Energy and Vehicles in Illinois Act (REV Illinois) tax incentive package to TCCI Manufacturing in Decatur less than 10 months after signing into law the Climate & Equitable Jobs Act (CEJA) and the REV Illinois Act, which aim to make Illinois the best state in the nation in which to drive and build an electric vehicle.
In addition to REV incentives valued at $2.2 million, the state's FY2023 budget appropriated $21.3 million in capital grants to the City of Decatur and Richland Community College to create a research and innovation facility and training program in partnership with TCCI. Richland Community College and TCCI are working in partnership with the University of Illinois (UIUC) Grainger College of Engineering and Northern Illinois University on a training academy, which will offer a new workforce training and development program with a focus on EV advanced engineering, software technology, a STEM pathways program, and accredited apprenticeship programs that offer world class training in electrification. The state's FY2024 budget includes strategic investments of $10 million in EV and advanced manufacturing curriculum development at community colleges, as well as $10 million in EV-focused vocational training through a new Clean Energy and Technical Education pilot program.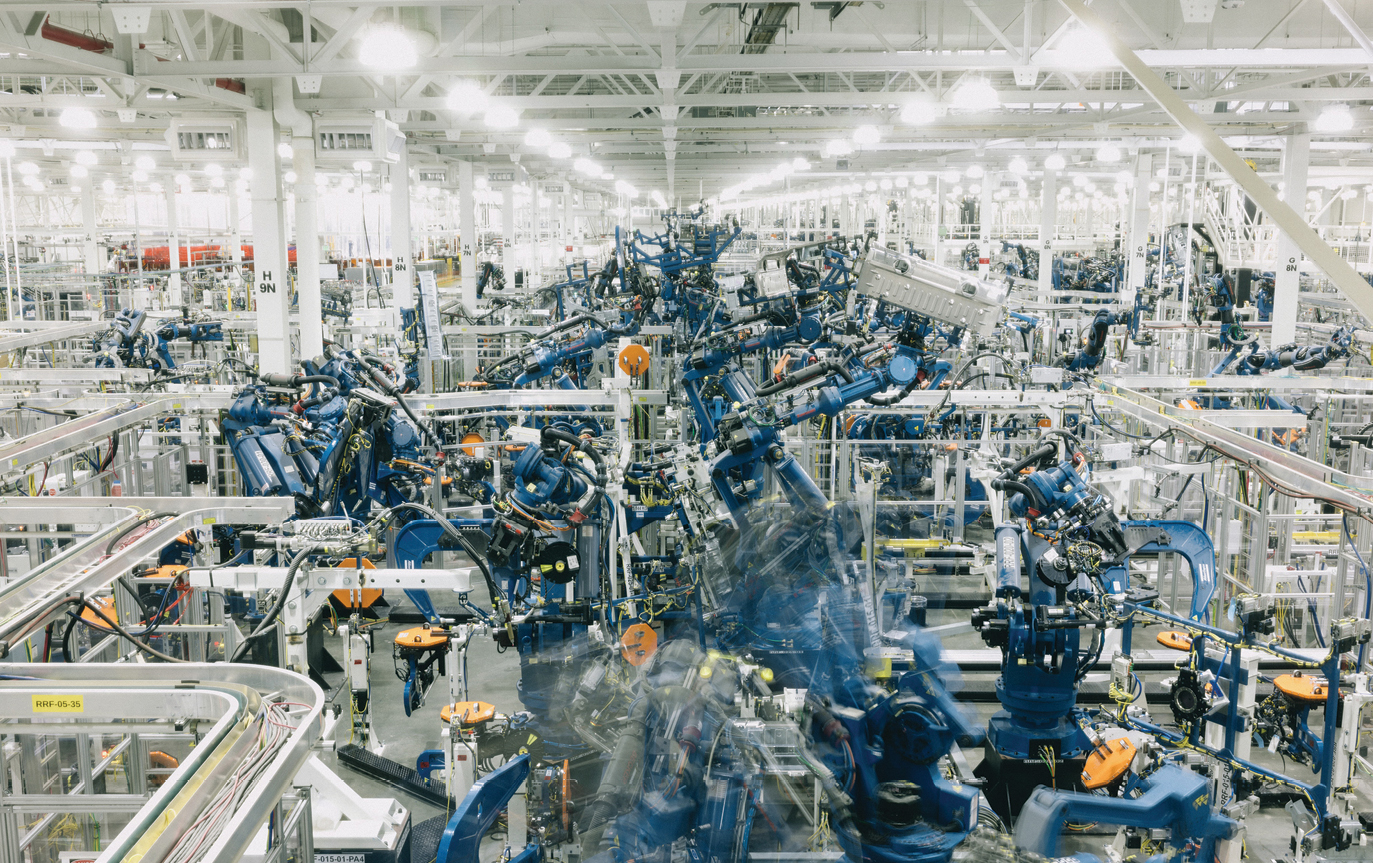 Rivian's plant in Normal is powered in part by wind and solar energy generated on site and, soon, at a new wind farm within an hour's drive.
Photo courtesy of Rivian
Headquartered in Decatur, TCCI until that point manufactured a variety of compressors suited for combustion vehicles at its Decatur manufacturing facility, while manufacturing compressors for electric vehicles at its facilities abroad in China and India. Now the company is investing more than $20 million to retool its Decatur facility to transition to electric compressor manufacturing, which will create more than 50 new jobs, while retaining 103 positions of its current workforce for a minimum total of 150 positions.
"This is a significant moment for TCCI, the City of Decatur, and the State of Illinois, as we embark on new programs to transition our industry toward widespread electrification," said Richard Demirjian, president of TCCI Manufacturing.