Iowa Gov. Terry Branstad is not your usual governor.
For starters, he's served in his state CEO position longer than anyone else in the nation. A former four-term governor from the 1980s and 1990s, he was re-elected to an historic fifth term in November of 2010.
He's also a proactive, pro-business governor - something Iowa hasn't always enjoyed.
In a wide-ranging interview with the Iowa Economic Development Guide, Branstad outlined his economic development vision for the state - which includes creating 200,000 new private-sector jobs and increasing the state's average income by 25 percent.
IEDG: What have been your administration's most important economic development accomplishments since you took office?
BRANSTAD: We have made Iowa a very low-cost state to do business. We are a right-to-work state. We passed the biggest tax reduction in Iowa history. We have some great job training programs. We use the National Career Ready Certificate program. We passed Home Base Iowa to attract military people.
We are eliminating the tax on military retirement. We are providing a $5,000 homebuyer tax credit. This is a major initiative.
We have also tripled the funding for our apprenticeship program. We have a major initiative in STEM and preparing our workers for the future.
IEDG: What are your top economic development goals for this year?
BRANSTAD: My top goal now is to continue to make Iowa more competitive. We have already completed our session, and our top priority was passing Home Base Iowa.
" On our five-year goals, we have already created over 130,000 new jobs and personal incomes have risen 17 percent in just three years."
- Gov. Terry Branstad
We also passed the apprenticeship program. We passed a tax credit for re-using unused public buildings for commercial purposes.
We are also working on a broadband initiative to get broadband to all parts of the state.
On our five-year goals, we have already created over 130,000 new jobs and personal incomes have risen 17 percent in just three years.
The Iowa Fertilizer plant in southeastern Iowa and CF Industries in northwestern Iowa are both coming on line, and both investments are more than $1 billion.
We have Facebook, Google and Microsoft all making huge expansion investments in our state; and we have MidAmerican Energy making a huge investment into new wind turbines in Iowa.
Our average state incomes are up. This goes to the quality of jobs that we are attracting. For example, these fertilizer plants pay well above the average. Farm income has played a role in it too. Iowa is the number one producer of corn, pork and eggs - second in soybean production.
We have 42 ethanol plants, 12 biodiesel plants and two cellulosic ethanol plants in Iowa.
IEDG: How have you improved the business climate of Iowa?
BRANSTAD: The biggest improvement is the property tax reduction - $4.4 billion over the next decade. Every taxpayer will see his or her tax bill go down by 5 percent a year over the next decade. Plus, we have the state's financial house in order.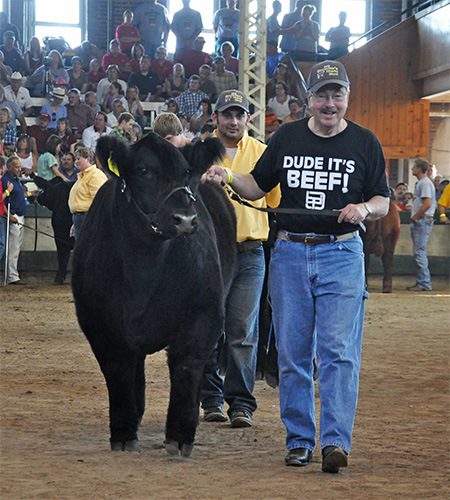 In addition, there is a tax credit on top of that which benefits smaller businesses more. The reduction is going to be more than 10 percent. Some may see a 40 to 50 percent reduction in their property taxes.
We have full federal deductibility on the Iowa tax return. Iowa taxes automatically went down.
IEDG: What would you like the global brand of Iowa to be?
BRANSTAD: We are the food-producing capital of the world. We supply safe, affordable, quality food products.
A Chinese company just purchased Smithfield Foods. China buys more soybeans than the rest of the world. We also provide pharmaceuticals and nutriceuticals and energy. The friendliness and hospitality of Iowans are known to the Chinese President and others around the world. I believe that is our global brand.
IEDG: Are any additional tax or regulatory reforms needed to make Iowa more competitive for business and industry?
BRANSTAD: One of the things we have done is we have reduced the insurance premium tax. We need to reduce the income tax burden.
Our rates still need to be reduced further. I am very hopeful that we can do more in the future.
We also have reduced the number of state employees by over 1,000.We are more efficient and more accountable.
We also have great marketers in our Iowa Economic Development Authority. Debi Durham, our executive director, is wonderful. She is doing a great job.
IEDG: What is your state doing to attract more foreign direct investment?
BRANSTAD: We have led a number of trade missions to Brazil, Chile, Japan, China, South Korea, India and Europe. We have some prospects that we have gleaned from these recent missions.
IEDG: How is Iowa working to support innovation and entrepreneurship?
BRANSTAD: We have the John Pappajohn Entrepreneurial Center. He is the leading Iowa native who has been a tremendous entrepreneur in our state. He is from Mason City, and he has helped train people to be entrepreneurs.
We also have this investment in STEM programs. We have a great partnership with our local school districts, and we have Skilled Iowa and Home Base Iowa.