The Battelle Report for the Iowa Economic Development Authority reiterates that in order for the state to grow its leading industry clusters, it must "promote regions that are economically connected."
The collaborative initiatives that result from regionalism produce the best economic development results, the report concluded.
No one knows this any better than the executives who run the four largest regional economic development organizations in Iowa: the Greater Des Moines Partnership; the Greater Dubuque Development Corp.; the Siouxland Chamber of Commerce; and Quad Cities First.
Greater Des Moines
David Maahs, executive vice president of the Greater Des Moines Partnership, says that collaboration between public and private entities has always produced the greatest results in Central Iowa.
A case in point is the newly formed Global Insurance Accelerator, funded by seven Des Moines-based insurance firms that each committed $100,000 a year for three years. The accelerator assists startup companies that are developing technology solutions for the insurance industry. The first class started in February and ended in May, graduating six firms from Iowa, Silicon Valley, Brazil and Germany.
"Over a 100-day period, these startup entrepreneurs met with 80 mentors," says Maahs. "Insurance execs provided feedback on their product. They also met with accomplished serial entrepreneurs to receive advice. In some cases, the startups could be acquired by established insurance companies."
Around Des Moines, headquarters expansions top the list of economic development projects. Hy-Vee, a regional supermarket chain, is doubling the size of its conference center and adding 70,000 sq. ft. of office space as part of a $57-million corporate headquarters expansion in West Des Moines.
Kum & Go, a convenience store chain based in West Des Moines, is building a new $100-million headquarters facility of 160,000 sq. ft. in downtown Des Moines; and the Principal Financial Group is doing a $400-million transformation of its downtown Des Moines campus.
Other sizable headquarters investments this year include Employers Mutual Companies doing a $39-million office addition in downtown Des Moines; American Enterprise Group investing $27 million to renovate its corporate campus in downtown Des Moines; Merchants Bonding building a 50,000-sq.-ft. headquarters in West Des Moines; and Kemin Industries breaking ground on its $125-million, 90,000-sq.-ft. headquarters complex in Des Moines. All of this comes after DuPont Pioneer moved into its new 160,000-sq.-ft. headquarters facility in nearby Johnston in January.
The other big story in Central Iowa involves large data center expansions by existing enterprise users.
Microsoft, which has already invested $900 million into a data center in West Des Moines, is building a second data center in that community, while Facebook began building its third data center in Altoona. To date, Facebook has invested about a billion dollars in the area.
Greater Dubuque
Rick Dickinson, president and CEO of the Greater Dubuque Development Corp., says that his region "has had a great year by the targets we identified — job growth, population growth, construction and wages. We follow a five-year plan. We are nearly at goal just three years into the five-year plan."
Dickinson says his organization focuses on four main priorities: business retention and expansion; workforce solutions; recruitment of industry; and entrepreneurial support.
"Rock Farms and Hirschbach Motor Lines came here last year as a result of our business recruitment efforts," says Dickinson. "With our business retention and expansion efforts, we conduct more than 350 face-to-face visits with businesses in our area each year. And we do sustainable innovation. We help local companies become more profitable through energy conservation and alternative energy."
''With our business retention and expansion efforts, we conduct more than 350 face-to-face visits with businesses in our area each year.''

Over the past 12 months, Dubuque has experienced a net gain of 1,300 new jobs. "Our labor force now tops 60,000 workers in the area," Dickinson says. "We have recorded $572 million in construction over the last four years. Our goal is $700 million by the end of the next two years."
Dubuque, a community on the Mississippi River in eastern Iowa, attracts more than 80,000 viewers per month to a jobs site called AccessDubuque.com, he adds. "We focus on our college campuses. We hold events at the campuses. We bring in CEOs to speak to the students. It's all part of developing the workforce we will need in the future."
The Siouxland Region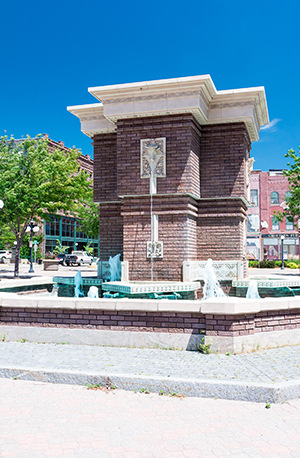 Also looking forward is Chris McGowan, president of the Siouxland Chamber of Commerce, based in Sioux City in western Iowa. A community hit hard in recent years by drought, flood and business closures, the tri-state Siouxland Region is incredibly resilient and winning more than its fair share of corporate investment projects, notes McGowan.
Consistently ranked either first or second in the nation among all small metropolitan areas in total corporate facility projects by Site Selection Magazine since 2007, Sioux City flexes its economic muscle in food processing, telecommunications, agriculture and chemical manufacturing.
CF Industries, a new fertilizer production plant being built at Port Neal, is closing in on $2 billion in total capital investment. A proposed pork slaughtering operation could bring an additional $264 million in capital investment to the community, but that deal is pending.
''In the coming year, our priority will change from recruiting employers to recruiting employees.''

"Our economy is doing very well," says McGowan. "Over the last 12 months, several local companies have expanded and others have identified sites for expansion. The economy here is growing."
Evidence of this came in the form of a new $130-million Hard Rock casino hotel that opened on August 1 of last year. The downtown Sioux City complex employs about 500 people.
"In the coming year, our priority will change from recruiting employers to recruiting employees," McGowan notes. "In order to be successful, you must have human capital."
Continued investment into regional infrastructure will also be a theme, he adds. "We have a $500-million investment in Interstate 29, which goes right through the heart of Sioux City," he says. "It is a north-south Interstate that serves the NAFTA Corridor. It will go from four lanes to six. It will take another couple of years to complete this project."
The Quad Cities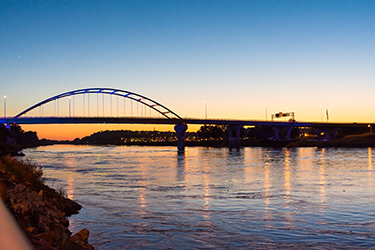 Paul Rumler, executive vice president and chief economic development officer for the Quad Cities Chamber in eastern Iowa, says that "five years ago, we came together as a region and set economic strength as a key success goal. We established five-year goals. Our message is that our region is now working together as a public-private partnership."
When the Quad Cities Chamber launched this initiative, the region ranked as the 187th strongest MSA in the country among all metro economies, according to POLICOM.com. Today, it ranks 82nd out of 366.
"We cracked the top quartile, and that was our goal," Rumler notes. "Several new developments were announced in Davenport and Bettendorf. We are seeing the manufacturing sector continue to grow. The distribution-warehouse sector is growing. We recorded 12 projects in the region last year, and a lot of them were new attraction projects for our region."
''Our advice to all manufacturers is to be prepared for the technology tsunami that is going to hit manufacturing.''

The Quad Cities Manufacturing Innovation Hub — supported by John Deere & Company — is the major regional economic focus right now, says Rumler. "Impending technology and process changes will hit the industry. Our advice to all manufacturers is to be prepared for the technology tsunami that is going to hit manufacturing. We are getting ready for international manufacturers that want to make their next investment in the US. And we know that workforce is becoming the dominant factor."
Located along the Mississippi River, the Quad Cities offer "a culture that supports the livability and quality of life that executives and employees want," says Rumler. "We have 40 colleges within a 90-mile radius; 30,000 college graduates are produced in this region each year. We track the graduates pipeline and match them up with existing companies. With 450,000 residents living in our six-county area, our labor shed goes all the way to Dubuque, Iowa City and places east of Iowa."