I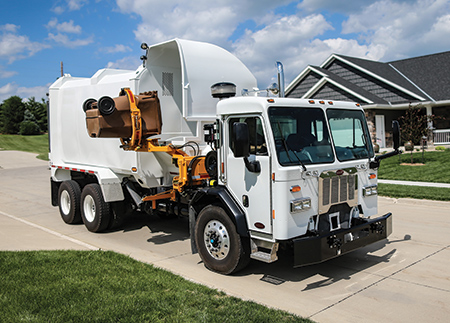 conic corporate citizens like Deere & Company, Winnebago and Wilson Trailer Company provide Iowa with bragging rights to a deep agricultural and transportation equipment manufacturing base. The state is home to an array of companies whose growth through the decades has helped diversify the sector and create thousands of highly valued skilled labor jobs.
Many of those jobs are found at John Deere's six transportation equipment manufacturing locations throughout Iowa. The company was recently named to Forbes magazine's list of America's Best Employers. Deere was 38th among 500 companies included in the ranking, which is based on independent research of American employees working for large US organizations or US divisions of international firms. Deere has made regular capital investments into the company's Iowa facilities, including a $28-million expansion of tractor testing laboratories at the Product Engineering Center in Cedar Falls in 2014.
Baby Boomers Hitting the Road
Thanks to a strengthening economy, robust post-recession growth and baby boomers prepping for retirement, Winnebago needed to expand — fast. Located in Forest City since the company's founding more than 50 years ago, Winnebago looked for a site to relocate one of its manufacturing processes. In March 2015, they announced plans to invest $2 million in an existing 33,400-sq.-ft. building in nearby Waverly that would house the wire harness assembly. The expansion will create 70 new high-skill, full-time jobs.

"We've seen a lot of ups and downs," says Randy Potts, president and CEO of Winnebago. "The Great Recession was very tough on the motorhome industry. We lost a lot of competitors through it and there were tough times for us too. Those of us who survived it are coming back strong."
So strong that Potts hasn't ruled out having to expand again. "One of the things that gives us comfort in doing these kinds of expansions is that we have a successful history of establishing these satellite facilities," he says. "We have satellite facilities in other towns around Forest City. We had to close several during the recession, but we kept two plants in Charles City and have them busy again. We have a plant in Lake Mills, a post-recession move about a year ago, and now this one in Waverly. It gives us the most flexible business model going forward to keep the main assembly processes here in Forest City where it all has to come together."
In 2014, Polaris Industries invested $22.6 million in expanding its plant in Spirit Lake, where Victory and Indian motorcycles are produced. And in early 2015, Polaris announced it had acquired the electric motorcycles division of Brammo, an Oregon-based company in which it had invested. Polaris will begin manufacturing an electric motorcycle starting in late 2015 at the Spirit Lake facility.
Cobo International, a division of the Italian-based Cobo Group that produces vehicle components like custom wiring harnesses and light kits, opened a new technology center in June 2014. Located in Burlington, the tech center created 20 new jobs and houses an 8,000-sq.-ft. mechatronics engineering lab. It brings together professionals from multiple engineering disciplines, including electrical and mechanical, to develop operating software for newly created products.
Heavy Equipment Expansions
New Way, manufacturer of a line of innovative refuse trucks, broke ground on a 56,000-sq.-ft. expansion in Scranton, Iowa, in June 2015. "The popularity of our automated garbage truck has continued to increase and has great acceptance in the industry," says John McLaughlin, CEO of Scranton Manufacturing, parent company of New Way. "We needed more production capacity." The $2.6-million expansion includes more fabrication space and two additional paint booths.
McLaughlin describes the company as his family's "Field of Dreams." "Where we're located right now was a cornfield," he says. "We built it and they came. I say our workers came right out of the cornfields. A lot of the people we hired came from rural areas, from farms, and they have a great work ethic, which is something that can be difficult to find." New Way's expansion is creating 75 highly skilled jobs for Iowa workers, including veterans through the state's Home Base Iowa initiative.
"The State of Iowa is really paying attention to the need for these skilled workers," says McLaughlin. "We also have an aggressive program working with Des Moines Area Community College (DMACC) and a couple of high schools to address workforce training. We're training people primarily in the welding and painting area."
Case New Holland (CNH) Industrial, a global leader in heavy equipment manufacturing, expanded to the tune of $24 million in 2014 by moving a production line of M Series crawler dozers from Calhoun, Ga., to Burlington. The move was part of the company's strategy to enhance manufacturing and create a more agile industrial operation. The expansion includes a new dedicated paint line, welding and computer numerical control (CNC) machining equipment and a dedicated assembly line. The crawler dozer line is expected to begin production in late 2015 and will create 50 full-time jobs.
Transco Railway Products is near completion of a three-phase expansion of its railcar repair facility in Oelwein. Transco constructed a wash shop facility and an interior blast and lining building. The expansion will allow the company to refurbish tank cars. The project tapped into state funds, state tax incentives and tax increment financing (TIF). "The total investment of all three projects is over $20.4 million with 105 new jobs," says Bruce Bearinger, director of Oelwein Economic Development. "A job training program has been and is being conducted utilizing the services of Northeast Iowa Community College (NICC)." Both Transco and NICC staff participated in creating, implementing and managing the training program from curriculum writing to on-site apprenticeships prior to full employment.