When the COVID-19 pandemic began early last year, Kansas' bioscience firms immediately sprang into action. The pandemic required an all-hands-on-deck approach from government, business and individual citizens.
Fortunately, Kansas' robust cluster of bioscience firms were able to quickly turn their attention to fighting the pandemic. With more than 16,000 people working in the bioscience fields, many of the state's brightest minds were able to help their companies pivot and adapt. Home to the world's largest concentration of animal health companies and esteemed research universities like the University of Kansas and Kansas State University, Kansas's bioscience sector is well-supported. Key organizations like BioKansas provide additional resources to the industry as it continues to grow.
In Lenexa, bioscience giant Thermo Fisher Scientific Inc. was able to get its pandemic-related expansion up and running within six weeks. In August, Thermo Fisher officially cut the ribbon on its new $40 million facility. The site is dedicated to viral transport media (VTM) production and will continue to expand to meet the expected sustained demand for COVID-19 testing. The facility has created more than 300 new full-time jobs and added 120,000 square feet of manufacturing capacity. Thermo Fisher has been producing COVID-19 testing products since the onset of the pandemic.
In early May, Thermo Fisher received a contract from the U.S. government to provide a significant quantity of highly specialized VTM for COVID-19 sample collection. VTM is dispensed into plastic tubes that are used to collect and transport clinical specimens containing viruses safely. This ensures that the sample collected from a COVID-19 nose swab maintains viability while it's being shipped to a lab for testing. Thermo Fisher responded quickly to meet the increased demand for VTM by ramping up production in Lenexa from 50,000 units per week to now more than 8 million per week since the new facility began production in early July. In addition to supporting America's pandemic response, the products will be used to collect and sample for flu and other viruses.
"Thermo Fisher is proud to support virtually every aspect of the global COVID-19 response, and our colleagues in Lenexa have played a key role in those efforts, said Gianluca Pettiti, senior vice president and president of the company's Specialty Diagnostics business. "Thanks to their hard work, Lenexa significantly increased production of VTM units. The team has worked with unrelenting intensity to build out and open a new site in just about six weeks. They understood the urgent national need, accepted the challenge and have delivered for the American people."
"I want to thank the Thermo Fisher team for its work in protecting our health and safety and helping Kansas tackle the many challenges brought on by COVID-19," Governor Kelly said. "By significantly increasing the manufacturing capacity of this facility, Thermo Fisher will not only have a positive impact on public health but will help my administration as we work to rebuild our state's fiscal foundation and make our economy stronger than it has ever been — not just returning to pre-pandemic conditions."
NBAF Established in Manhattan
In 2019, federal officials selected Manhattan as the site for the National Bio and Agro-Defense Facility (NBAF), a state-of-the-art biocontainment lab. The new facility is currently under construction and will be instrumental in the study of diseases that threaten the animal and agricultural industries as well as public health.
The NBAF facility will replace the aging Plum Island Animal Disease Center in New York. The Kansas site strategically places it near the Kansas City Animal Health Corridor — the largest concentration of animal health companies in the world — providing access to important veterinary, agricultural and biosecurity research and expertise. The facility is expected to be operational by December 2022.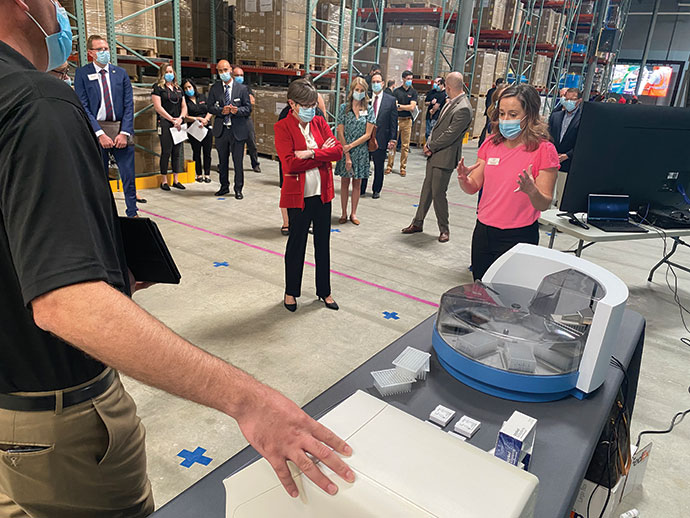 The facility will be the only one of its kind in the United States. NBAF will provide scientists unique access to high consequence pathogens that affect large livestock, as well as enhanced diagnostic capabilities that will speed up the response time to threats that harm the nation's food supply. As the only biosafety level-4 large livestock research and diagnostic laboratory in the country, NBAF seeks to protect the nation's agriculture and public health by understanding and developing vaccines for zoonotic (animal-to-human) and high consequence foreign animal diseases.
"The mission of the Kansas Department of Agriculture includes protecting animal health, promoting public health and safety, and ensuring a safe food supply," Kansas Secretary of Agriculture Mike Beam said. "NBAF will provide fundamental research ensuring livestock, food and fiber industries in Kansas remain secure."
The agriculture industry impacts the state's economy more than any other sector, accounting for more than $63 billion to the Kansas economy each year. In an economy that relies heavily on the agriculture industry, innovative research is imperative for future progress and security.
KU expands bioscience facility
In October, the University of Kansas began its Phase III expansion of the Bioscience and Technology Business Center (BTBC) and introduced the new KU Innovation Park.
Before the expansion, BTBC established itself as a key sector for bioscience startups in Kansas. Currently, the center houses 50 high-tech and bioscience companies, and has created more than 400 high-wage jobs resulting in more than $22 million in annual payroll. The new development comes as the result of continued efforts by the founders of the BTBC, the KU Endowment Association, the U.S. Economic Development Administration and the Kansas Department of Commerce.
"The Department of Commerce is committed to leveraging the research and talent in our state's higher education institutions to create new jobs and businesses in Kansas," said Lieutenant Governor and Secretary of Commerce David
Toland. "BTBC is a powerful ally in building a diversified, robust Kansas economy powered by cutting-edge innovation in bioscience and technology. Congratulations to all involved on this historic achievement for KU and for our state."
The Phase III expansion includes a new 70,000-square-foot facility, which will feature fully functional wet labs, offices, and collaborative spaces for its tenant startups. The facility will house 250 new high-tech jobs. Phase III is the first step in KU's new Innovation Park, which is slated to be a unique blend of startups, private industry, government agencies and research facilities for KU. The park is projected to bring an additional 2,500 high-paying bioscience jobs to Lawrence.