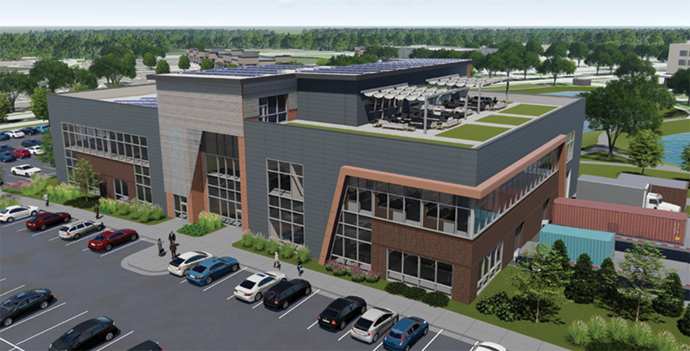 An exciting, new project is nearing realization on the Innovation Campus at Wichita State University. Officially announced in early September 2020, The Smart Factory @ Wichita is envisioned as an experiential learning environment to speed the adoption of futuristic manufacturing inputs such as robotics, artificial intelligence and Internet of Things (IoT).
A collaboration between Wichita State and Deloitte, the global professional services network, The Smart Factory @ Wichita will serve as both a launch pad and demonstration stage for some of the tools and processes that are coalescing to form the backbone of "Industry 4.0."
"Wichita is a cutting-edge hub for precision manufacturing and technology," said former Wichita State President Jay Golden. "By collaborating with Deloitte, we will be able to bring together the organization's experience with our educational, research and innovation capabilities."
Scheduled to open in mid-2021, the 60,000-sq.-ft. facility will include a full-scale production line, experiential labs exploring smart factory capabilities and dedicated space for industry partners. Infor, a business cloud software company, revealed itself in December as the first such partner to plan a presence at the facility.
"The Smart Factory @ Wichita," says Ed Allen, Infor executive vice president and GM of manufacturing industries, "will be a showcase for the value that manufacturers can realize from using Industry 4.0 technologies to transform their entire business ecosystem."
A Good Fit
The Wichita facility will be the third such location established by Deloitte and the flagship of the company's Smart Factory network that also is expanding into Asia from its original outposts in Duesseldorf, Germany and Sheffield, England. Scouting the U.S. location took two years, says Stephen Laaper, smart factory leader and principal, Deloitte Consulting, LLP. Deloitte, however, had first-hand knowledge of Wichita State through its standing presence at the Innovation Campus's John Bardo Center.
"Wichita has a long history of all sorts of different types of manufacturing," says Laaper. "As we studied other opportunities and engaged different entities around the country, what became increasingly clear was the many exciting commitments that Wichita has made to innovation. That was a critical feature in our decision to locate in Wichita, and most specifically on the Innovation Campus.
---
"I often describe it as half theme park, half manufacturing plant."
---
"Access to talent in the area is critical, as well," Laaper adds. "It's critically important because this isn't something that happens without people. While there may be robotics and advanced solutions, this is going to be a factory that is still going to be about people."
Yes, a commercial product will roll from the factory's shipping docks, a component for an as-yet undisclosed robotics company. The advanced tools and processes used in the component's production are intended to serve as a model.
"I often describe it as half theme park, half manufacturing plant," says Laaper. "The smart factory is an experience center for our clients to be able to come to experience really what is smart factory. What do those capabilities look like? How do they interact with those capabilities? How do those capabilities drive value in manufacturing?"
Powered by solar panels and wind turbines, The Smart Factory @ Wichita is designed to consume only as much energy as can be produced on site. Smart building materials and smart grid investments will further support the factory's "net-zero" aspirations. Glass bottles to be recycled from campus will be a key feedstock for the factory's product.
"This," says Laaper, "is the future of what manufacturing will look like."
Good Company
Home to the National Institute for Aviation Research (NIAR), Wichita State bolsters Wichita's self-given title of "aviation capital of the world." Established on campus in 1985, NIAR is home to more than a dozen commercial labs providing research, design, testing certification and training to the aviation industry and government agencies. NIAR's industry partners include Boeing, Bombardier, Learjet, Cessna, Beechcraft, and Wichita-based Spirit Aerosystems.
The Innovation Campus, launched in 2017 on the grounds of a former golf course, has assembled its own impressive roster of manufacturing innovators, including not only Deloitte, but also Airbus, Hexagon, Boston Consulting Group, Martin Defense Group, FirePoint and Dassault Systemes, the Fortune 50 software developer of 3D product design and other advanced manufacturing systems.
Through a partnership with Dassault, the Innovation Campus has established the 3DEXPERIENCE Center, designed to accelerate innovation through collaboration between university researchers, corporations and research laboratories. The 3DEXPERIENCE enables companies to engage in advanced product development and the development of and manufacturing of next-generation materials and technologies.
Airbus Americas Engineering operates an Engineering Center on the Campus. Its presence there, the company says, provides a support infrastructure that would otherwise be cost prohibitive to duplicate in a stand-alone engineering center. Access to Wichita's talent serves to sweeten the pot.
"Wichita's talent pool of aerospace and aviation experts is among the richest in the world," said John O'Leary, Vice President-Airbus Americas Engineering. "The aviation expertise here is recognized within Airbus and around the world. The Innovation Campus is only going to help Wichita's expertise grow."