To fully understand Gov. Laura Kelly's approach to economic development, look closely at her words and actions. Among the first things she did upon taking office in January 2019 was revamp the Kansas Department of Commerce, appoint a new economic development leader, and adopt a bold new Framework for Growth.
The results speak for themselves. In less than two years, Kansas has raked in more than $3.5 billion in new capital investment and created more than 19,000 new jobs. The ultimate testament to Kelly's vision is the fact that Kansas landed more capital investment in 2020 than it did in 2019 – and that came despite a global pandemic and record-breaking recession.
When Kelly issued her call to action, she said, "Economic development in Kansas needs to be modernized, and that means we need a new thoughtful strategic plan to guide us forward." It's safe to say that her plan worked. By effectively managing the state's response to the COVID-19 outbreak and resulting economic slowdown, Kansas has emerged stronger than it was before she took office.
We recently caught up with Gov. Kelly to ask her a few questions about this performance and what she plans to do for an encore.
You were barely in office a year when COVID-19 hit. What have been the biggest challenges you've faced in managing the State of Kansas through this unprecedented public health crisis and corresponding economic disaster?
GOV. KELLY: COVID-19 changed the landscape of nearly everything we do across state government. It required strong leadership in each agency to innovate and continue providing quality service to the people of Kansas.
Just as we've seen in other states, not everything went perfectly, but we continued to learn and adapt in order to meet the mission of the various agencies and programs that reach Kansans. Some of the most challenging times were the early days, when we were all working to understand the scope of the challenge and the ways to keep people in our state safe from this deadly virus. We had to take swift action in many areas of government, in order to provide economic relief and support businesses in their plans to reopen safely. Consumer spending has rebounded significantly since those early months, but the challenge continues, as we all work to bring the virus under control in our state — knowing this is the true path to a sustainable economic recovery.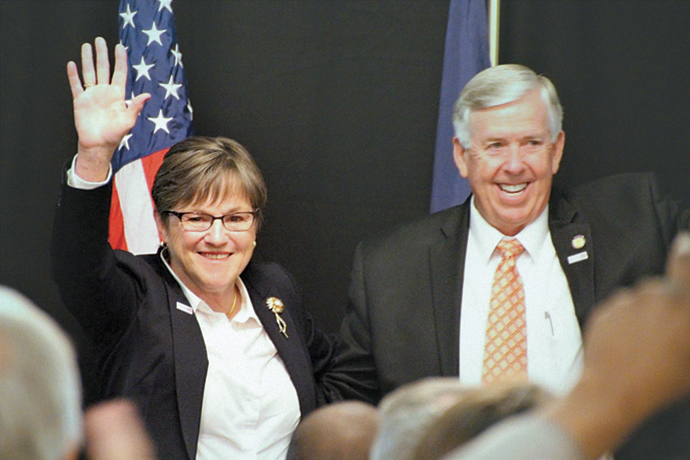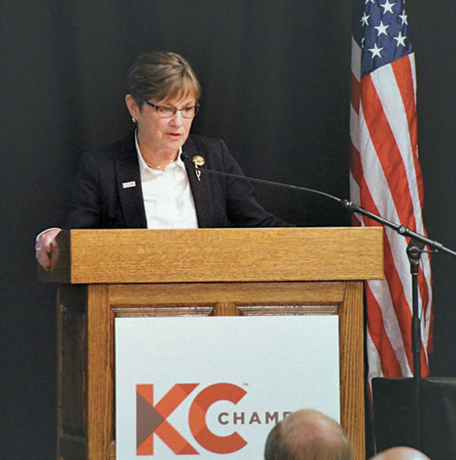 What were the pillars of your COVID-19 response plan and your economic recovery plan?
GOV. KELLY: We moved quickly to roll out several lines of support to Kansas businesses, including an Emergency Disaster Declaration to make resources available through the U.S. Small Business Administration. In terms of state-level resources, I directed my Administration to leave no stone unturned to provide dollars and other resources that could be repurposed or deployed immediately to help the Kansas businesses and communities who needed it most. In addition to a working capital loan program, state government provided individualized support to the thousands of Kansas businesses navigating the various state and federal resources available and seeking guidance on how to reopen safely. Upon passage of the federal CARES Act, I established the Strengthening People and Revitalizing Kansas (SPARK) Taskforce to distribute relief to small businesses and provide targeted, strategic investments that are giving Kansas a needed boost for our ongoing economic recovery. This work is ongoing, as we continue to meet these challenges together as Kansans and make the case for more support businesses and communities need right now.
---
"Rebuilding fiscal stability in Kansas state government has been one of my top priorities as governor."
---
The hospitality industry in Kansas was one of the first to be hit financially by the COVID-19 crisis. Department of Commerce Secretary David Toland and the teams at Commerce and NetWork Kansas moved swiftly to stand up the HIRE Fund program and process applications in a short period to help us quickly get these critical dollars into the hands of hospitality businesses across the state. The initial response to the HIRE Fund program in March was overwhelming. More than 1,400 applications for funding were received, with more than 800 submitted within 24 hours of the program being announced. In total, 344 Kansas hospitality businesses received HIRE Fund loans.
Almost a year into this crisis, what are some of the biggest challenges that remain to the Kansas economy and Kansas businesses?
GOV. KELLY: Although most businesses have safely reopened and consumers are beginning to spend at their normal levels, all of this is still at risk as the virus spreads across our state. This is why it's critical that we all do our part to help stop the spread. Getting the virus under control is necessary to keep people patronizing our businesses and workers on the job. The vaccine's arrival was a significant development. Still, we must continue to emphasize the need for Kansans to continue to wear facial coverings, physical distance and wash their hands frequently to ensure the overall health of our communities and economy. We've partnered with organizations like the Kansas Chamber, Kansas Farm Bureau, the Kansas Hospital Association and the Kansas Leadership Center to embark on a massive public information and engagement effort. The change we need relies on a grassroots approach and local adoption of key public health measures. It's truly up to all of us to help stop the spread of COVID-19 as a way to keep Kansans safe and healthy, and maintain our economic recovery.
Despite the devastating effects of the pandemic, Kansas managed to record a better 2020 in economic development than it did in 2019. What made that leap possible?
GOV. KELLY: Since the very beginning of my Administration, rebuilding our economic development engine has been one of my top priorities. We've supported sweeping changes and re-staffing efforts at the Kansas Department of Commerce to get that agency back to full strength. This work has continued to bear fruit throughout the past two years. With a talented and engaged team at the Department of Commerce and its focus on new and emerging economic opportunities, Kansas will continue on the road to growth in the years to come.
You've made rural economic development one of your administration's top priorities. What have you been able to accomplish on this front so far, and what work remains?
GOV. KELLY: Strong, healthy and vibrant rural communities are the backbone of Kansas. My administration has been focused on helping these communities improve quality of life and recruit new residents and businesses. The establishment of the Office of Rural Prosperity has helped mobilize critical engagement and fact-finding to move us toward key policy changes needed to enhance the state's efforts in this area. There is no one-size-fits-all solution to grow our rural communities. Instead, we must focus on providing an array of flexible options that help individual communities address challenges and meet specific needs in their communities. The restoration of the Kansas Main Street program is a great example of this. We need this program, and more, in our toolbox of support we can offer to communities of all sizes. We must get back to the basics of what makes our communities the great places they are, and this can start on the Main Streets all across Kansas. We've also focused our efforts and investments in key infrastructure that supports quality of life in those communities, like child-care and health care. And this work continues across several agencies. Companies look holistically at communities before they put down roots. This means making sure Kansas communities have an educated and healthy workforce in place to fuel new private investment and growth. The Governor's Executive Order addressed a long overdue need to expand broadband access that was overlooked for years, and especially in rural and vulnerable communities. This development will improve Kansas communities' ability to compete economically, and enhance Kansans' access to healthcare and educational opportunities. This year, the Kelly administration by way of the Governor's SPARK Taskforce distributed of nearly $50 million in Connectivity Emergency Response Grant (CERG) funds to underserved communities across Kansas; 67 projects were awarded grant funding for broadband infrastructure improvements. Also, the Broadband Acceleration Grant Program to expand broadband access to rural and underserved communities across Kansas will invest $85 million over the next decade in broadband modernization funding through the Kansas Department of Transportation's 10-year Eisenhower Legacy Transportation Program.
When you talk to CEOs based in other states and in some cases in other countries, what do you find is their typical level of understanding concerning Kansas?
GOV. KELLY: One of the best parts of my job is getting to engage with individual business leaders from across the country — and around the world — to help them learn more about the great opportunities we have in Kansas. Most of these companies have a good understanding of our core economic assets and strengths, but what often sets us apart is our people. I think they are often pleasantly surprised with our approach to building relationships, partnering with private industry and supporting growth of new and existing businesses in Kansas. We're working to rebuild relationships and get Kansas "boots on the ground" in key domestic and international markets. This has already led to some great business successes, and we're nowhere near stopping. We want companies of all sizes to see Kansas, and to know our state as one of the best places in the country to do business.
Are there any lingering misconceptions about Kansas that you would like to clear up?
GOV. KELLY: Despite some challenging years of lean economic development activity, our state is back, and we're focused on the future. Our new way of doing business is working. Kansas is a welcoming state, and we're open for business. Just spend some time with Kansans, and you'll realize why there's simply no place like Kansas — the best place in the nation to do business.
What's your approach to foreign direct investment? What's your administration's plan for boosting FDI in Kansas in 2021?
GOV. KELLY: Relationships are central to economic development, especially as it relates to navigating the global business environment. One of the first things we did was restore the International Division of the Kansas Department of Commerce, which had suffered massive cuts and led to a reduction in our state's "salesforce" in key international markets. As a result, we lost strong and successful relationships. We're now back to doing what works, and gradually ramping up our international engagement through trade missions and other key activities designed to bring more investment to Kansas. Given the supply chain disruptions we're seeing in many sectors, there is a renewed focus among companies on shoring up supply chains and putting down roots closer to customers. As a result, many foreign-owned firms are looking to elevate their activities in Kansas. Foreign Direct Investment (or FDI) means real jobs for Kansans and real economic impact across our state. Foreign-owned companies like Kubota and C.J. have invested millions and put thousands of Kansans to work, building products that were previously developed offshore. As some of these dollars return to our shores, we must work like never before to put Kansas front and center in those conversations on where to build or expand. With an active international division, focused in on those reshoring activities, we will continue to boost our FDI in Kansas into 2021 and beyond.
As E-commerce swallowed up the global retail scene in 2020, it prompted the unplanned exodus of many mom-and-pop shops from Main Street, USA. What's your plan to help small businesses survive and thrive in 2021 and beyond?
GOV. KELLY: The first task was to get the virus under control in our state. People need to feel more comfortable going out to shop, dine and explore like they did in the past. As that happens, we're seeing demand for businesses continue to escalate. Small businesses keep our communities strong and vibrant. It's my hope that once we're on the other side of this public health crisis, we'll see Kansans showing their patronage to these local businesses and returning to the shops, restaurants and event venues they love. I, for one, am longing to get back out there; and I know many Kansans feel the same way. We will continue, as federal funds become available, to provide resources as we did with Small Business Working Capital that is helping small businesses stay afloat until the economy is back to full steam. Also, in-state business development services will continue through the Department of Commerce, opening the door for new businesses to get started and fostering more small business success across Kansas.
What would you like to see Kansas do to promote innovation and entrepreneurship in your state?
GOV. KELLY: Kansas has historically been known for an outstanding innovation ecosystem, with unique tools to help support entrepreneurs and make sure the future is built right here in Kansas. We must get back to the cutting edge in key sectors like bioscience and technology development. Our outstanding higher education system also plays a key role in our state's innovation ecosystem. Research institutions can help foster technology transfer that spurs the development of new products or even entirely new industries. And we must provide more support directly to the entrepreneurs, to help them grow their big ideas into successful businesses. By supporting research activities and helping increase access to capital, more Kansas entrepreneurs can thrive in our state. Our state's new strategic plan, the Kansas Framework for Growth, will lay out several key areas and actionable plans to amplify our state's investments and support the jobs of today and tomorrow. Through strategic investments and increased public-private partnership, we can make Kansas the state for entrepreneurship and innovation — and maintain our standing as the best place in the nation to do business.