When NorthPoint Development broke ground in late 2019 on a new distribution center at its massive Logistics Park Kansas City (LPKC) near Edgerton, Kansas, Edgerton Mayor Don Roberts made a bold prediction.
"We fully believe," Roberts publicly stated, "that this new spec building won't be vacant for long."
Encompassing 1.15 million square feet, the new Inland VII represents the largest industrial building ever built on spec in the state of Kansas. And Mayor Roberts was proven correct: it wasn't on the market very long. Mere months after Inland VII's completion, PepsiCo announced in December 2020 that had signed a lease for the entire property for a new Gatorade distribution center.
"PepsiCo chose Edgerton and LPKC because they can see the clear advantages of locating at the premier logistics and distribution center in the Midwest," Roberts proclaimed. PepsiCo's decision, he said, "especially during the pandemic, is a welcome boon for the workforce across the region."
LPKC truly is a standout in the increasingly vital world of logistics and distribution, an industry being propelled at warp speed by Amazon, with its ever-shrinking delivery times, and the COVID-related surge of online commerce. Covering 3,000 acres 40 miles southwest of Kansas City, LPKC is one of the fastest-growing logistics parks in the country.
It's a facility built for speed, a heartland hub with global reach. Served by an adjacent BNSF intermodal facility, LPKC allows for pre-processing of cargo containers, which means that carriers can skip multiple steps on the export side.
"When a truck driver enters, they get their thumb print scanned optically, so the inspection process takes only about two minutes," says Patrick Robinson, NorthPoint's vice president of development. "The total turn is about 26 to 28 minutes, whereas it used to be at least an hour."
Since 2013, when it opened, LPKC has generated close to 13,000 jobs and more than 14.4 million square feet of industrial development for more than 20 tenants. They include Amazon, Kubota, J.B. Hunt, UPS, Coldpoint Logistics, Kubota and Spectrum Brands. The park has 30 million square feet of building capacity, lots of room to grow.
Location, Location
Trivia buffs are likely to be aware that Lebanon, Kansas, population 200, is the geographic center of the United States. Lying as it does literally in the heart of the nation, Kansas is a natural as a logistics location, offering companies multiple advantages to reach customers faster and more efficiently.
Kansas ranked as the No. 3 infrastructure state in the country by CNBC in its 2019 Top States for Business Report, which noted that, "Getting around in the Sunflower State is a breeze, with some of the nation's best-maintained highways."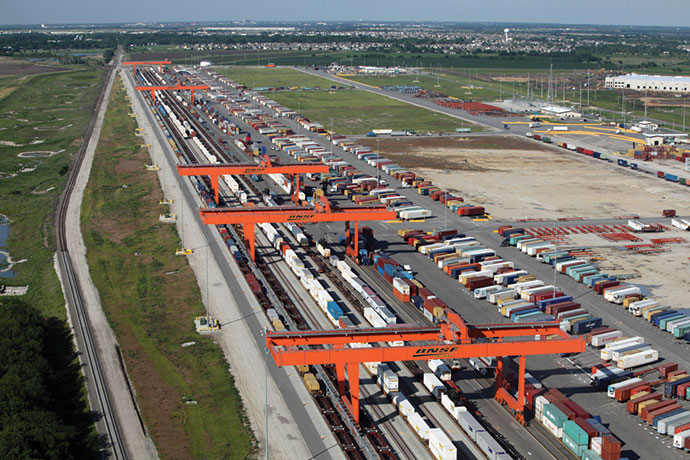 Kansas boasts more than 140,000 miles of public roads, including 3,749 miles of federal highway. The 2020 implementation of the U.S.-Mexico-Canada Agreement bolstered the importance of I-35, which runs directly through Kansas and connects the U.S. to those two of its top three trading partners. At Kansas City, I-35 crosses I-70, which leads to ports on both coasts.
Crucially, Kansas is served by four of the nation's seven Class I railroads. BNSF, Kansas City Southern, Norfolk Southern Railway and Union Pacific Railroad operate 2,723 miles of Class I track in the state. Those carriers deliver two-day shipping to Denver, Omaha St. Louis and Chicago; three-day shipping to Dallas, Phoenix and Memphis; five-day shipping to Atlanta, Seattle and Los Angeles; and seven-day shipping to New York.
The Kansas City region is served by Kansas City International Airport, which accommodated close to 12 million passengers in 2019. KCI is the primary passenger and cargo service provider for not just Kansas, but for Missouri, Iowa and Nebraska. A new terminal at KCI is to debut in 2023 with 39 new gates.
Access to inland waterways provides another convenient mode of industrial transportation. Kansas has access to 122 miles of the Missouri River along the northeast corner of the state, with commercial terminals at Atchison, Leavenworth, Lansing, White Cloud and Kansas City.
A Year of Expansion
With two fulfillment centers established already, one at LPKC in Edgerton and the other in Kansas City, Amazon announced in October of 2020 that it will essentially double its fulfillment and delivery capacity in Kansas with 1 million- square- foot facilities to open in 2021 in Kansas City and Park City, a northern suburb of Wichita.
"We're excited to continue our growth and investment across Kansas so we can better serve our customers throughout the state," said Alicia Boler Davis, Amazon's vice president of customer fulfillment.
Taken together, the two new fulfillment centers are expected to create 1,000 jobs at wage beginning at $15 an hour. The company also announced plans to open a 140,000- square-foot "last mile" delivery station in Wichita.
In October 2020, Kansas Gov. Laura Kelly cut the ribbon at the official opening of a $30 million Nor-Am cold storage facility in Dodge City. The 148,000- square -foot freezer helps support processing and distribution of Kansas beef; the state ranks third in the country for cattle and accounts for more than 10% of total beef production. The Nor-Am facility has a 50,000-square-foot processing area, high-density racking and semi-automated pallet shuttle technology.
The newly-opened operation is Nor-Cal's seventh cold storage warehouse in the country and second in Kansas. The company's 458,000-square-foot facility in Elwood launched in 2018.
"The combined investment in the Dodge City and Elwood operations," said Gov. Kelly, represent early $60 million dollars of investment a 17 full-time job for Kansans."