Everything is better with a plan, especially economic development. Just ask Kansas Governor Laura Kelly, who recently announced the state's second record-breaking year in a row. 
Shortly after being elected in 2019, Gov. Kelly launched an aggressive and strategic economic development plan called Kansas Framework for Growth. The plan was the first of its kind in more than three decades and was created through data analysis and with input from Kansans statewide. Business and community leaders were engaged to offer suggestions and determine priorities for the Kansas economy, and through a virtual survey and town hall meetings across the state, thousands of Kansans came together to help create the final plan.
That initial groundwork, before the pandemic began in 2020, laid the foundation for year-after-year record-breaking growth. In December, Gov. Kelly announced Kansas topped $3.7 billion in new business dollars invested in Kansas this year — over $1 billion more than the previous record-breaking $2.5 billion secured in 2020 — making 2021 the most successful economic development year in Kansas history.
We recently spoke with Gov. Kelly about the many factors behind Kansas' record-breaking year. 
How would you describe the business climate in Kansas today?
Gov. Kelly: Kansas is laser-focused on building on a foundation that drives robust, sustainable economic growth now and in the future.
We continue to build on Kansas' unique assets and strengths. Our state's convenient central location is enhanced by our strong infrastructure and opportunities for world-class schooling and training. Combined, these unrivaled advantages make Kansas the perfect place to put down roots. 
To further enhance our competitiveness, we recently passed all six pieces of major economic development legislation we proposed to improve the state's long-term posture for growth.
We also are coordinating efforts statewide to keep our talented students in our state, build a strong system to ensure the availability of high-demand, skilled workers and create a business-friendly ecosystem where companies of all sizes can succeed.
Recent economic development success stories prove our undeniable momentum is powering Kansas to be a national leader in manufacturing, bioscience, renewable energy, distribution and other key sectors.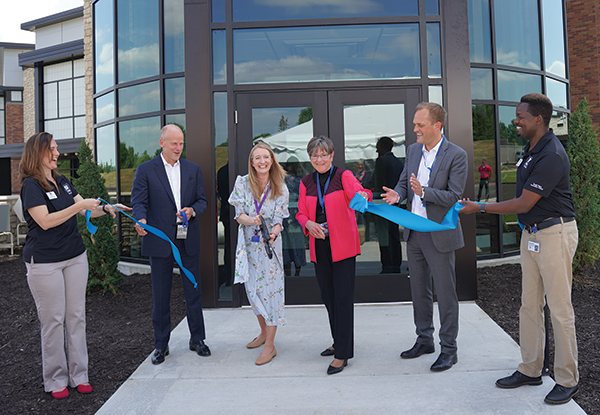 $3.7 billion invested in Kansas in 2021
Ribbon Cutting for Hill's Pet Nutrition's Small Paws Innovation Center in Topeka
Photo: Kansas Department of Commerce
What are some examples of things Kansas is doing to help support businesses in today's climate?
Gov. Kelly: Kansas is all in on growth. My administration is committed to working with the Kansas Legislature to make sure our state has the right tools to compete — and win — against other states. We will continue collaborating with the private sector and working in a bipartisan fashion to make Kansas the best environment to do business. In the 2021 Legislative Session alone, we partnered with lawmakers to pass several important pro-growth bills. These legislative wins included:
High Performance Incentive Program (HPIP): Made improvements to better meet the needs of businesses by removing the linkage between Kansas Industrial Training/Kansas Industrial Retraining (KIT/KIR) and HPIP; removing a 2% training requirement; and allowing for up to 50% of HPIP credits to be transferred, for projects placed into service as of Jan. 1, 2021. 
Renewed Angel Investor Tax Credit Program: Increased access to early-stage capital for innovative Kansas businesses by extending the program for five years; increasing tax credits for both the program and investor; and making transferability easier (investors only need a tax clearance).
Rural Housing Incentive District Program (RHID): Expanded access to the program so any city under 60,000 or any county under 80,000 can now create an RHID. This change also allowed the program to be utilized for vertical construction on Main Streets. 
Sales Tax and Revenue (STAR) Bonds Program: Renewed, improved and extended the program, by making corporate tourism and headquarters projects eligible for STAR Bonds funding; increased access for smaller and rural communities to create STAR Bond Districts; and enhanced transparency, community input and effectiveness.
Kansas Tourism: Brought the Tourism Division and its economic development functions back to the Department of Commerce by way of an Executive Reorganization Order accepted by the Legislature.  
Occupational Licensing Reciprocity: Cuts bureaucratic red tape by offering License Reciprocity to Military spouses within a 15-day window; and offers non-military license reciprocity within a 45-day window.  The Occupational Licensing has grown rapidly in the U.S., with nearly 25% of all Americans relying on a license for employment. As each state has developed its own set of guidelines for each license, transferability of licensing has become expensive and time consuming without a reciprocity program in place.
Thanks to these major legislative accomplishments and other aggressive strategies, we're now better positioned for business success than ever before.
Even with the challenges brought on by the pandemic, Kansas has attracted several newcomers to the state. What do you think is contributing to the state's success with these projects?
Gov. Kelly: Our project pipeline is bursting with an unprecedented number of prospects, and we're seeing a huge amount of interest in doing business in our state.
In Kansas, we're fortunate to have key economic assets and strengths that align with the new opportunities we're seeing in the global economy. Our central location makes Kansas ripe for investments in areas such as logistics and distribution, food processing, advanced manufacturing, alternative energy and biosciences. We've seen rapid growth in many of these key sectors, and we're not slowing down now. 
Our exceptionally talented team at the Department of Commerce has been focused on the emerging opportunities we're seeing across our economy. As a result, companies of all sizes are choosing to put down roots in Kansas because of our central location, outstanding infrastructure, talented workforce and low cost of doing business. Here in Kansas, my administration is all in on growth.
What are some of the biggest opportunities in the state today?
Gov. Kelly: In the wake of the pandemic, many companies, especially those operating overseas, sought more secure supply chains to fortify production and distribution strategies. More and more companies are discovering a good fit in Kansas. They know our central location and talented workforce create a prime position to attract companies looking to shore up their supply chains.
Located in the heart of the U.S., whether by highway, rail, or air, Kansas offers excellent transportation and shipping advantages for your business to efficiently move inventory. The focus on building and maintaining an outstanding multimodal infrastructure has made it easier and less expensive to ship from Kansas, where 85% of the United States can be reached in two days or less.
What are you doing to encourage FDI in the state? 
Gov. Kelly: We have worked hard to renew, strengthen and build additional relationships abroad. One of my first directives in this area was to restore the International Division within our Department of Commerce. Our team is getting back to full steam and working with partners to position Kansas favorably for foreign companies looking to invest.
Our state maintains an active presence at international trade shows in our cluster industries like aerospace, animal health, renewable energy, advanced manufacturing and more. In addition, we work with existing foreign-owned companies to make sure they have what they need to succeed in Kansas. We are committed to working with international companies to continue to build, expand and employ in our state.
Though international travel has been a challenge over the past couple of years, we look forward to re-engaging in trade missions to recruit new businesses to the state and visit our current international business partners and invite continued investment in Kansas.
You've made infrastructure a key priority in your administration. What are some of the ways Kansas is investing in better connectivity across the board?
Gov. Kelly: Several major infrastructure investments have made a significant impact across Kansas. The Broadband Acceleration Grant program was created in 2020 to bring critically needed broadband access to Kansas communities. Funded through the Kansas Department of Transportation's Eisenhower Legacy Transportation Program (IKE), the program administered by the Office of Broadband Development is making more "last-mile" connections possible across the state. We want every Kansan to have access to the connections they need for telehealth, virtual school and other quality-of-life needs, and for businesses to be able to compete in an increasingly digital-focused economy.
Over the next 10 years, the program seeks to invest $85 million toward bridging the digital divide in Kansas thanks to broadband modernization funding. As the result of swift legislative action, $5 million will be available annually over the next three years, with $10 million annually made available over the following seven years.
In Kansas, we're fortunate to have key economic assets and strengths that align with the new opportunities we're seeing in the global economy. Our central location makes Kansas ripe for investments in areas such as logistics and distribution, food processing, advanced manufacturing.
— Gov. Laura Kelly
This first year of the 10-year program invested $5 million in grants with another $5 million in matching contributions from the awardees, resulting in a $10 million total investment in the state. And, this is only the beginning, as my administration is committed to seeing every Kansan connected.
Through this initial round of grants, we are laying a strong foundation to continue to build a robust broadband infrastructure for our state, now and into the future.
Another large infrastructure project is the Turner Diagonal Interchange. Its project design reconfigured the interchange, which opened 300 acres of land for economic development and job creation. The area is already benefiting from immediate economic development. In anticipation of the new interchange, Amazon opened a fulfillment center in 2018, employing nearly 2,000 full-time employees and an additional 1,000 seasonal employees during the holidays. NorthPoint Development is currently constructing the $155 million Turner Logistics Center Industrial Park expected to generate an estimated 2,500 new jobs, primarily in manufacturing and warehousing. 
What sets Kansas apart from competing states for investments?  
Gov. Kelly: Kansas too often is perceived as just another rectangular state in the middle of the country. That's why we are determined to work harder, be more creative and be more collaborative with our partners in striving for economic success that is good for Kansas businesses and families. 
Kansans have an extraordinary ability to work together and use our state's unique resources to get things done in the best way possible. This indomitable can-do spirit, coupled with our unparalleled strengths in a skilled workforce, outstanding infrastructure and excellent schools have helped drive historic business investment in our state — and we aren't slowing down anytime soon.