As the self-proclaimed "Air Capital of the World," Wichita, Kansas needs no introduction to the world of advanced manufacturing. Yet, when it comes to prowess at making things — and making them well — Wichita shares the stage with cities and towns across Kansas.
Aided by business-friendly policies at the state level and a solid, Midwestern workforce, such lesser-known burghs with names like Humboldt, Dodge City, Chanute, Bonner Springs, Hugoton, Emporia and Montgomery have recently accumulated major manufacturing investments.
The small town of Neodesha offers another example. Nestled near the state's extreme southeastern corner, Neodesha — population 2,083 — scored a major win in May 2021, when London-based Sicut Enterprises announced plans to establish it as its North American hub for recycling composite plastic railroad ties. The selection process did not lack drama.
"We thought we had reached a point where it wasn't going to happen," says Neodesha Community Development Director Jeri Hammerschmidt.
That it did happen is a testament to teamwork and to a measure of foresight on the part of the Kansas State legislature. One of Sicut's imperatives was a rail spur to connect its site in Neodesha to the existing South Kansas and Oklahoma Railroad line. The city, however, couldn't afford to build it on its own. The Kansas Department of Transportation (KDOT), in Hammerschmidt's telling, "came to our rescue."
In collaboration with the Kansas Department of Commerce and the Watco Companies, a railroad enterprise based in nearby Pittsburg, Hammerschmidt turned to KDOT and its Economic Development Program, a component of the Eisenhower Legacy Transportation Program, or IKE. 
IKE was approved with strong bipartisan support by the 2020 Kansas Legislature and signed into law by Gov. Laura Kelly. 
"Funding for Economic Development grants through IKE improves critical infrastructure so new and existing Kansas businesses can compete across the world," says Secretary of Transportation Julie Lorenz. "This project is another example of infrastructure investment growing the Kansas economy."
The $343,000 in grant funding as provided by KDOT through IKE will be used to build the needed spur, thus allowing raw materials to be shipped into the plant and the finished products sent to customers throughout the United States. The upshot: 135 new jobs for Neodesha. 
"It's a huge win for Neodesha," says Hammerschmidt. "It's putting us on the map."
Spreading the Wealth
The length and breadth of Kansas is dotted with more than 2,500 manufacturers that employ more than 165,000 workers, about 11% of the Kansas workforce. In addition to aerospace companies, such as the many represented in Wichita, they include producers of foods and beverages, computers, electronics, plastics, paper and other products. 
In August 2021, Kansas City-based Bartlett, announced plans to invest $325 million in a soybean crushing facility in Montgomery County. Refined soybean oil from the plant is to be used in the production of renewable fuels, food products and animal feeds. Bartlett operates more than a half-dozen similar plants in Kansas already. The new one is to create 50 jobs.
"This is an important milestone for our project, enabling infrastructure investment in Kansas that accelerates the nation's transition to a cleaner, greener and more sustainable transportation system," said Barlett President Bob Knief.
Kansas Dairy Ingredients (KDI) is in the process of creating 40 new jobs through a $45 million expansion of its cheese and butter making plant in Hugoton. Utilizing locally-sourced milk, the facility is to produce American-style, Italian-style and Hispanic-style cheese and European-style cheese and butter.
Americans who are turning to new ways of vacationing during the COVID-19 pandemic are driving RV sales to new heights, prompting Wichita-based Airxcel to hire 135 people to address increased demand. Airxcel manufactures composite panels for RVs and has developed systems for RV heating, cooling, ventilation and cooking.
"Since the COVID-19 slowdown, our business has experienced a 50% growth rate as people seek a way to safely vacation with their families," said Sandra Jessop, senior VP of operations and engineering. "We're adding a large number of positions at our Wichita facility to meet this increased demand and help local families who have experienced job loss during the pandemic."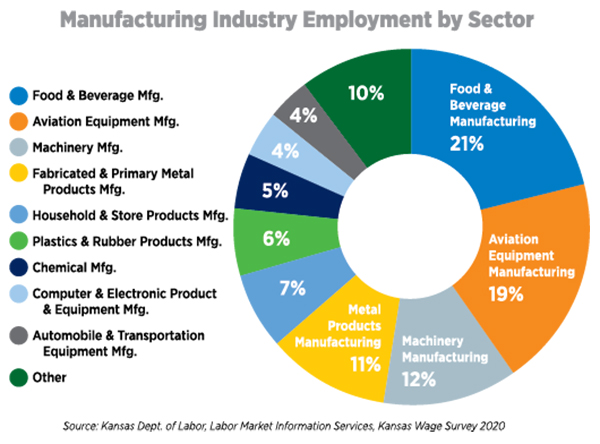 Pandemic-inspired attention increasingly being paid to allergens has led EnviroKlenz, owned by Topeka-based Timilon Technology Acquisitions, to open a new air purifier production plant. The facility has created 35 new jobs in the company's hometown with the prospect of accommodating 30 more. In addition to manufacturing the company's patented air purifiers, scientists at the plant are to conduct research into new technologies to improve and increase air filtration.
"From using technology developed at Kansas State and investing in the best research equipment," says Timilon VP of operations George Negron, "we have the brightest minds at work here in Topeka."