When my colleague Ron Starner documented the "electric atmosphere" of McPherson, Kansas, in Site Selection magazine in November 2017, among the projects lighting up the grid was a $120 million expansion by Pfizer that would create 150 new manufacturing jobs at a former Hospira plant.
Turns out that was the under. After being chosen in August 2020 to manufacture Gilead Sciences' antiviral drug remdesivir to fight COVID-19, the plant then was conscripted in early 2021 to use its fill-finish line to produce vials for Pfizer to manufacture more of its COVID-19 vaccines as the company looked to roughly double the weekly number of vaccines it was manufacturing.
It's one of around a dozen major life sciences-related projects that have landed in Kansas over the past few years. Merck Animal Health's $100 million investment in a livestock vaccine production facility in the Johnson County municipality of DeSoto was another.
Meanwhile, boutique contract research organization Attentive Science is investing $6 million and creating more than 40 jobs at another Johnson County site in Stilwell. Convey Health Solutions, Pharmaceutical Research Associates and Thermo-Fisher Scientific are all investing in Lenexa. Contract development and manufacturing organization (CDMO) TriRx Pharmaceutical Services is investing $70 million and creating 250 jobs in Shawnee and prescription management software firm Rx Savings is growing in Overland Park — all communities that are also in Johnson County, a suburb of Kansas City.
The TriRX project comes on the heels of the company's August 2021 acquisition of Elanco Animal Health's facility as the two companies entered into a long-term supply agreement for the site, which employs around 300 staff.
"TriRx will transition the Elanco Center of Manufacturing Excellence to a Global Center of Excellence serving the pharmaceutical contract development and manufacturing market," said Timothy C. Tyson, chairman & CEO of TriRx. "TriRx has already received significant third-party interest in the Shawnee facility as a reliable source of contract manufacturing supply. We expect to invest in the facility and to expand the workforce as we bring in new business as part of our strategic plan. There are world-class people and capabilities at this site."
Nine days later, Tyson joined Kansas Lieutenant Governor and Commerce Secretary David Toland, federal and state legislators, local elected officials and leaders from The University of Kansas, Kansas State University, and key customers at a ribbon-cutting ceremony.
"Investment in the Shawnee facility and the highly skilled people critical to its operation are key components of our strategic plan," Tyson added. "We see much opportunity ahead as TriRx continues to strengthen its position as a leading contract development and manufacturing organization active in both the human and animal health markets."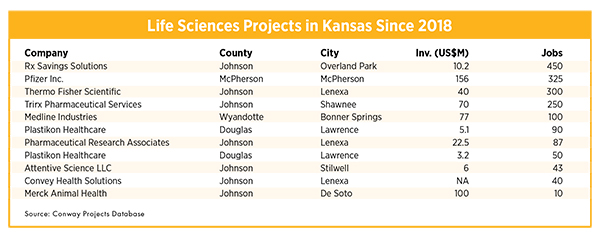 Manufacturing capabilities at the Shawnee site include parenterals, topicals, non-sterile liquids, solid oral dose, and soft chews. The facility also features a pilot plant, quality control laboratories, veterinary technical services, and a large warehousing and distribution facility.
"We are looking forward to increasing the capabilities and efficiencies of this site's operations," Tyson said. "The journey ahead will bring prosperity to TriRx, TriRx team members and stakeholders, and the broader Shawnee community. This site will represent a highly valued addition to the TriRx capabilities to continue to serve the rapidly expanding global biopharmaceutical market."
Campus Contributions
When it comes to life sciences, the two major land-grant institutions in Kansas more than pull their weight. The University of Kansas Medical Center is renowned for its service and research. But the university's life sciences assets don't stop there. They include KU Innovation Park, known as the Bioscience & Technology Business Center until the site's phase III construction triggered a name change in spring 2021. The 2020 edition of this guide noted the park, on KU's West Campus, hosted 50 companies, more than 400 high-wage jobs and more than $22 million in payroll. In 2021 those figures have jumped to 61 companies, 485 employees and $29.2 million in payroll.
The U.S. Economic Development Administration in October 2021 announced that the park had been awarded $1.5 million in grant assistance, to be matched by $1.5 million in private-sector funds, under the EDA's Venture Challenge program. KU Innovation Park was one of 50 organizations in 26 states to receive awards under the U.S. Commerce Department's "Build to Scale" program, which aims to accelerate technology entrepreneurship by increasing inclusive access to business support and startup capital.
Kansas State University in Manhattan is known for its Biosecurity Research Institute, which plays a key role in the Economic Prosperity Plan the university launched in early December 2021. The plan aims to create 3,000 new jobs and foster $3 billion in investments in the state over the next decade by leveraging K-State's strengths in food and agriculture systems innovation; digital agriculture and advanced analytics; biosecurity and biodefense; and extension and outreach.
One plank of the plan calls for a biotechnology development module within the university's Biosecurity Research Institute that will allow corporate partners to develop diagnostic, therapeutic and preventive countermeasures for a broad range of emerging zoonotic diseases while addressing scalable production. "This secure space also will enable emergency rapid manufacturing to protect the nation's animal and food supply during a crisis," said the university. The College of Veterinary Medicine will also focus significant efforts on keeping graduates in Kansas, in a region that's known as the animal health corridor for a reason.
"In addition to making it easier for companies to partner with K-State researchers, we are increasing our efforts to keep our graduates in the state," said Bonnie Rush, dean of the College of Veterinary Medicine. "Kansas veterinarians contribute about a half a billion dollars to the economic development of the state, so the more veterinarians we can keep in the state, the stronger the economic prosperity of producers."