Anyone who's ever stood in a Kansas field knows the power of the wind that sweeps unimpeded across most of the state. As renewables of every stripe grow in critical mass across the nation, Kansas aims to play a powerful role at the center of America's wind belt.
The American Clean Power Association's inaugural annual report, released in August 2021, noted the country welcomed 26,490 megawatts (MW) of new clean power installations in 2020, representing around $39 billion in project investments. Wind power represented 50% of those new installations. And when all clean power sources were tallied, Kansas, with 43.4% of its electricity generated by clean power, was No. 2 in the nation behind only Iowa.
Kansas and Iowa are the only two states that generate more than 40% of their electricity with wind power. And like the wind, the momentum shows no signs of abating. Kansas added 916 MW of clean power in 2020, the 10th-highest total in the country. Moreover, the state is No. 5 in the nation in cumulative clean power capacity, at 7,058 MW.
The ACPA report noted clean power now employs more than 415,000 Americans, and in 2020 alone paid an estimated $1.7 billion in state and local taxes and nearly $800 million in land lease payments to landowners in mostly rural locations.
Those findings were backed by a report released in March 2021 by the Polsinelli law firm's energy practice group, which since 2012 has partnered with the Kansas Energy Information Network to assess the "Annual Economic Impacts of Kansas Wind Energy." Among the facts noted in this latest report:
Since 2001, 40 utility-scale wind energy generation projects have been constructed in Kansas. Based on U.S. Department of Energy estimates, the 7,306 MW of wind generation in Kansas created an additional 11,441 jobs during the construction phase of the projects, and an additional 1,315 jobs during the operation phase of the projects.
Wind generation from currently operating wind projects will bring over $1.6 billion in direct economic benefits to Kansas counties and landowners through contribution agreement payments, property tax payments and lease payments.
With costs routinely under $20 per megawatt-hour (MWh), new wind generation in Kansas is "now commonly less expensive than energy from traditional sources, including intermittent or peaking natural gas generation, and is almost always the lowest cost energy resource available."
"By including wind farms in traditional electricity portfolios, utility companies are able to better hedge against potential increases in the price of coal and natural gas over the next 20 years, thus allowing them to better serve consumers."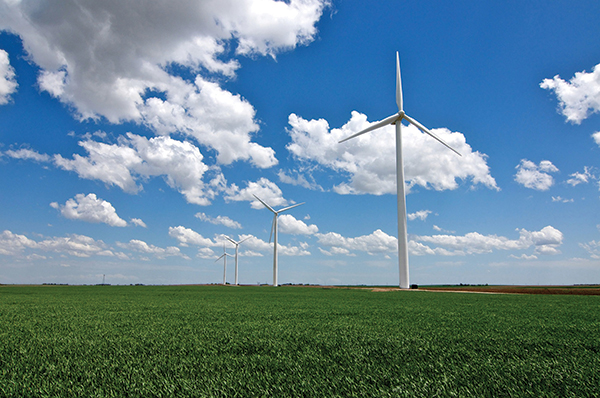 Rural Kansas has led the way in wind energy development for some time.
Photo courtesy of U.S. DOE
The growth of wind power means great things for wind power manufacturing too. Just ask the folks at Siemens Gamesa in Hutchinson, where Siemens first opened a nacelle and hub manufacturing facility in 2010. In a celebratory news release from late 2020, Siemens Gamesa noted the facility had completed nearly 5,000 nacelles that were shipped to 16 states and three foreign countries. In that time, the headcount at the plant has approximately doubled since those first 130 employees opened the facility.
"I joined this company when we had a small office in downtown Hutchinson," said Doug Fulton, the company's first employee in 2010 who now is the plant manager. "I watched a patch of dirt turn into a multi-million-dollar, LEED-Gold certified facility that I'm proud to lead today."
Next-Gen Generation
Among the Polsinelli report's observations was this about the future:
"Despite the significant growth that the Kansas wind industry has experienced over the past few years, the vast majority of the state's wind resources remain untapped. This growth potential is attributable to many factors, including the fact that the wind resource in Kansas is still significantly underutilized, with a large number of potential project sites ready to be developed. While some potential wind project sites require incremental improvements in wind generation technology, many simply await a buyer or require expansion of transmission infrastructure to bring the electricity to markets and consumers."
Kansas City–based utility Evergy is one organization ready to tap that potential.
In October 2021, Evergy issued a request for proposals for its purchase of up to 1,000 MW of wind energy to be in service by 2026. "Projects that achieve commercial operation by mid-2024 and year-end 2025 will be given preference," the utility said. "Wind resources must be a minimum of 50 MW and interconnect to the Southwest Power Pool (SPP). Siting preference will be given to projects located in Kansas."
A 2018 integrated resource plan filed by Evergy reported that the estimated "utility cost plus probable environmental cost" of wind was $48.15 per MWh, compared to coal at $82.80, coal with carbon capture at $111.80 and combined cycle natural gas at $58.80.
Evergy has outlined its plan to expand ownership of renewable energy and to retire fossil-fueled generation as the company works toward its 2045 target for net zero carbon emissions. These wind projects would fulfill the plan to add up to 1,000 MW of wind energy by 2026 with projects that benefit from production tax credits.
Economic developers within and outside of Evergy know well the appeal of renewables to global multinationals looking to site facilities in places with high sustainability profiles. And the Polsinelli report's final recommendation captures exactly why the profile of Kansas is rising like a zephyr building momentum across the plains:
"With companies increasingly asking for renewable energy," Polsinelli authors Alan Claus Anderson, Andrew Schulte and Luke Hagedorn conclude, "Kansas must use its strategic geographical location to remain competitive in attracting industry."