F
resh off winning re-election and the first Site Selection Governor's Cup award in state history, Kansas Gov. Laura Kelly recently took time to reflect on these and other milestone accomplishments. Based upon her comments, it's clear that economic development will continue to be one of the state's top priorities over the next four years.
In the following interview, Gov. Kelly discusses the historic Panasonic battery plant win and outlines her approach to business recruitment.
Now that the election is over, what are your top three economic development priorities for Kansas in 2023?
Gov. Laura Kelly:
First, building on an unparalleled business environment. In my first term, we saw an unprecedented and historic economic surge. We topped $15 billion in new business investment with more than 53,000 jobs created and retained. We're not slowing down and look forward to many more business announcements throughout our state. To get there, we'll work diligently to continue investing in strategies that make Kansas the best place in the nation to do business. We'll continue rebuilding our economy by adding more affordable housing and accessible childcare; strengthening our roads and bridges; and pursuing more strategies to ensure the outstanding quality of life we need to keep Kansans here, and lure those who left back to our great state.
Second, workforce development. To reinforce Kansas' reputation as the most pro-business state, we'll keep investing in the folks who power our economy: our talent. Our common-sense investments in K-12 and higher education are supporting a talent pipeline and workforce excellence for generations to come. We will continue to expand apprenticeship programs and make critical investments in childcare, early childhood education and housing to ease the burden on Kansas families and strengthen our workforce.
Third, expanded broadband access. While we made significant gains in my first term — we've already helped provide high-speed internet to 58,000 households and businesses in Kansas — we won't stop until every home, business, school and hospital that wants high-speed internet has access. It is imperative that all Kansans have the opportunity to compete in today's digital economy.
The Panasonic battery plant project was a big win for Kansas earlier this year. Do you plan to continue to push for incentives packages like the one Kansas awarded Panasonic to land this deal?
Gov. Kelly: The $4 billion Panasonic EV battery-production plant was a major success — the largest economic development project in our state's history — and we anticipate more big announcements ahead thanks to our aggressive approach to economic development. Our Attracting Powerful Economic Expansion (APEX) Act, the result of thoughtful bipartisan legislation, addresses unique needs of companies planning megaprojects. While this important tool positioned Kansas to land the Panasonic plant, a once-in-a-generation opportunity that will transform our economy statewide, it's also made Kansas an economic powerhouse able to compete on a national and global scale. So yes, we will continue to push for these major success stories that will result in thousands of new jobs, billions more business dollars injected into the economy and more opportunities for Kansas families throughout our state.
As Governor, how involved do you plan to get personally in recruiting companies to relocate to Kansas next year?
Gov. Kelly: In Kansas, we're in the people business, and our pro-business perspective puts people first. Economic development in my administration is about people and encouraging them to stay or come to Kansas.
"Forget what you heard about Kansas being a 'flyover state.' We aren't just moving forward, we've moved to the top, with Kansas recently honored (by Site Selection magazine) as the best state in the nation for per-capita economic development investment."
From Day 1 of my administration, I made economic development a high priority by calling for the rebuilding of our state's Department of Commerce. Knowing economic development's importance in strengthening families, communities and the entire state economy, I have been directly involved in every major economic development win by our team. Lieutenant Governor and Commerce Secretary David Toland likes to call me his "closer" on project negotiations for a reason. I will continue to roll up my sleeves to help us bring home deals that attract and retain companies and jobs throughout our state.
What is your state's best-kept secret?
Gov. Kelly: Kansas itself is the best-kept secret. But the world is taking notice of our business-friendly climate, robust talent pool, support of technology innovation, strong transportation infrastructure, advantageous location and available land. Just look at some of what has been happening this year:
Panasonic Energy broke ground on its $4 billion EV battery manufacturing plant in De Soto, which will employ 4,000, support an additional 4,000, and provide 16,500 jobs during the construction phase;
Scorpion Biological Services is building a $650 million, 500,000 sq.-ft. biomanufacturing facility in Manhattan;
Schwan's is investing $600 million to expand its frozen pizza operation in Salina to have more than 1 million sq. ft. dedicated to manufacturing and distribution;
Hilmar Cheese Company is building a $600 million production facility in Dodge City that will utilize a local food supply chain;
URBN opened a $400+ million, 1.5-million-sq.-ft. omni-channel fulfillment center in Kansas City to move brands such as Urban Outfitters and Anthropologie to market;
Amber Wave cut the ribbon on what will be the largest wheat protein producer in North America with its $250 million plant in Phillipsburg; and
Great Plains Manufacturing in Salina open a $178 million plant to produce Kubota compact track loaders.
The list goes on and on. Kansas has landed 275 economic development successes in 2022 that represent almost $7.5 billion capital expenditure and more than 13,500 new or retained jobs for Kansans.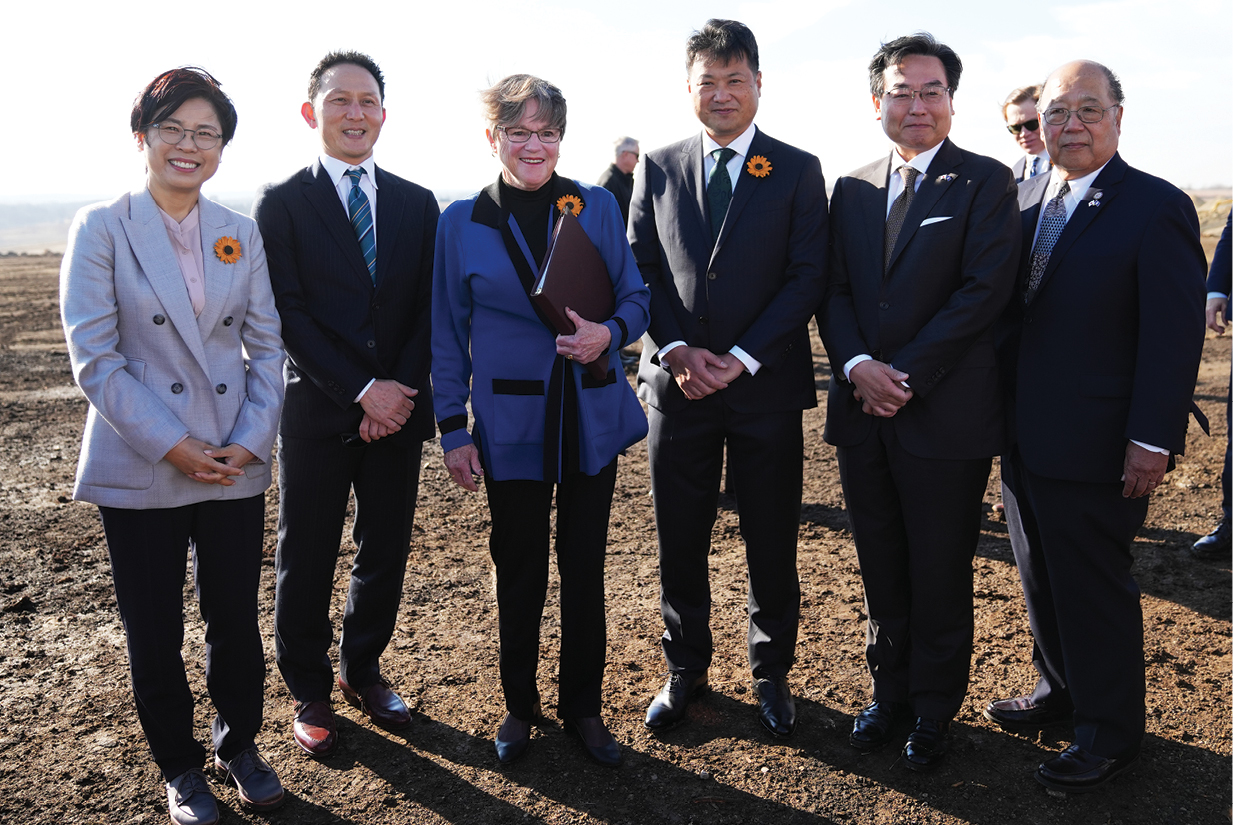 Gov. Laura Kelly congratulates Panasonic Energy leaders at the company's November 2022 groundbreaking in De Soto.
Photo courtesy of Kansas Department of Commerce
Businesses across the state and around the world know we are here to empower them with a variety of tools, programs and support that gives them the best opportunity to prosper. The same goes for individuals and communities. Our holistic approach to economic development encompasses categories such as workforce and infrastructure development, pro-business policy adoption, capital-raising assistance, housing and community development programs, higher education partnerships, and targeted incentives that reward private investment and job creation.
So, forget what you heard about Kansas being a "flyover state." We aren't just moving forward, we've moved to the top, with Kansas recently honored as the best state in the nation for per-capita economic development investment.
We are making Kansas the best place in the nation to do business as well as the best place to live and raise a family. We work to provide solutions that don't just meet the needs of companies, but the needs of their employees as well.
Ultimately, when your tenure as Governor comes to an end one day, what would you like your legacy to be?
Gov. Kelly: My legacy will be of my tireless work and dedication to putting families first, so our state can grow for generations to come. I ran for this office on an education platform — and have delivered on that promise by fully funding our public schools for four years in a row. Our education institutions all have a seat at the table, whether they be a four-year university, a two-year community college, an accredited technical school or our K-12 system. We need graduates from all in order to support the growth we are experiencing across the state.
Thoughtful and successful economic development is absolutely critical when it comes to growth of communities and opportunities statewide. When I first ran for governor, I promised Kansans that economic development would no longer take a back seat, and we have worked tirelessly to make Kansas a pro-business, pro-family state people want to call home. Moving forward, we will build on our momentum to ensure that the economy works for every Kansan by improving childcare, housing, healthcare and the quality-of-life assets needed to support and grow the Kansas workforce and economy.
In short, I would be proud to be remembered as both the Education and Economic Development Governor.
Why should any company executive in another state consider a Kansas location for their business?
Gov. Kelly: Simply put, Kansas is the best place in the country for businesses, workers and families to prosper. We are the state of unexpected.
In Kansas, we listen to the needs of companies and respond quickly to meet those needs. Our recent historic, record-setting economic development success is evidence of that. Kanas is now in the spotlight due to our natural strengths — strong schools, skilled workers, pro-business environment, easily accessed transportation routes and appealing quality of life. Here in Kansas, our steadfast approach to economic growth has produced unprecedented, record-breaking private investment and job growth because we have placed renewed emphasis on public schools, job training and infrastructure. And, we have taken extraordinary steps to become more innovative with creative, strategic commitment to investments that "future proof" our economy. Company executives will be impressed by our modern approach to incentives that have made Kansas a strong supporter of the growth and expansion of businesses of all sizes. Our unprecedented surge in economic development successes for both new and existing businesses is proof.
Others have noticed. This past year Kansas received the Governor's Cup from Site Selection Magazine for the most economic development investment per capita in the country, the first time Kansas received this prestigious national economic development award. Also in 2021, Kansas was one of just eight states to receive the prestigious Gold Shovel Award from Area Development, which was our second consecutive Gold Shovel. Credit goes to our Commerce Department along with the many professionals in Kansas who work every day to attract new investment and retain and grow existing businesses.
Kansas landed 275 economic development projects in 2022 that represent almost $7.5 billion in capital expenditure and more than 13,500 new or retained jobs for Kansans.
Source: Kansas Department of Commerce