K
ansas Lieutenant Governor and Secretary of Commerce David Toland has not just had a front row seat to Kansas' record-setting economic run over the past four years. He has presided over it and shepherded through a series of historic deals.
None were bigger than the $4 billion Panasonic EV battery plant project in De Soto that was announced last July, but there have been many others. In fact, there were so many in 2021 that Site Selection magazine named Kansas the No. 1 state in America for project wins per capita, earning Kansas the coveted Governor's Cup award.
In the following interview, Lt. Gov. Toland outlines the state's approach to economic development and how Kansas plans to compete over the next four years for even more jobs and industry.
What role will the Office of Innovation play in fostering innovation and entrepreneurship in Kansas?
Lt. Gov. David Toland: Innovation and its role in our economy is critical to attracting business and people to Kansas, and our new Office of Innovation is fueling new efforts to recruit cutting-edge businesses that make Kansas the innovation hub of the Midwest. The blueprint for the Office of Innovation is our Framework for Growth, Kansas' first economic development strategic plan in more than 30 years. The Office of Innovation also features the Kansas Innovation and Technology Enterprise (KITE), which helps coordinate resources for companies with advanced, innovative technology to expand and create new revenue and jobs. Our new KITE Proof of Concept program directly invests capital into for-profit startup companies and university faculty-led efforts to help advance technology through support of innovative, high-growth-minded entrepreneurs. The Proof of Concept program is designed to fill a need for support where typical funding mechanisms are not available, acting as a bridge between federal funding for basic research and commercial seed funding by "angel" or venture investors. We are determined to help entrepreneurs develop new technologies, and our recent efforts have helped set the stage for innovative thinkers and doers to succeed and create new jobs and wealth that drive the Kansas economy.
---
"Even though we're riding an unprecedented wave of economic development success in Kansas, this is no time to become complacent."
— Lt. Gov. David Toland
---
Do you anticipate making any changes to the Kansas Department of Commerce next year? If so, can you detail them?
Lt. Gov. Toland: Even though we're riding an unprecedented wave of economic development success in Kansas, this is no time to become complacent. In fact, we remain in a constant state of change — re-imagining, re-inventing and perpetually transforming the Department to stay on top of market trends and best practices. Building an agency is something that, once begun, is never done.
The first four years of the Kelly administration were spent rebuilding and re-energizing our team at the Kansas Department of Commerce. The improvement and success across the board speaks for itself: record capital investment, historic job creation and retention — and all in the face of a worldwide pandemic and global recession.
Moving forward, we will continue to go all-in to further improve Commerce programs that help our economy, our communities and the people of Kansas. We will continue to invest in quality-of-life initiatives and make our state a more attractive destination, whether it's through the continued growth of our Main Street downtown development program, the deployment of broadband infrastructure statewide, promoting Kansas as a tourism destination, or driving business growth. Our foot is on the gas, and we aren't slowing down anytime soon. This approach will continue to guide our work as long as Gov. Laura Kelly and I are in office.
Is Kansas set up to compete with comparable states on all fronts? If so, how?
Lt. Gov. Toland: Absolutely. Kansas is playing in the big leagues, and we have become a truly competitive force in economic development. Company executives continuously tell us they are impressed by our workforce, K-12 and higher education systems, strong state fiscal picture, infrastructure, ideal location, and state and local leadership. We have bolstered our incentive toolkit to become even more appealing.
The Attracting Powerful Economic Expansion (APEX) Act passed in 2022 was a difference-maker — especially in a period of challenging and evolving global competition for new businesses and jobs. Without question, APEX gives us yet another edge over other states in addressing the unique needs of companies planning megaprojects. APEX allowed us to land the Panasonic Energy EV battery manufacturing plant and has positioned us to recruit additional opportunities that will continue transforming our economy statewide. We will continue to push for these major success stories that will result in thousands of new jobs, billions more business dollars injected into the economy and more opportunities for Kansas families. But we also will continue assisting the smallest mom-and-pop business in exploring new ways of contributing to their local economy. And we will keep investing in our multifaceted approach that improves the quality of life for businesses, individuals and communities alike.
Does Kansas need to make any tweaks to its incentives legislation? Can you offer any specific details?
Lt. Gov. Toland: As markets change, industries are created, and the specific needs of businesses fluctuate, we improve and modernize the incentives offered here in Kansas. We constantly solicit feedback on all the programs we have in place.
Early on in our discussions with Panasonic, we were told traditional incentive programs were useless for attracting such a megaproject. The Governor and I worked with legislative leaders from both parties to craft APEX, which created new incentive tools for business projects that will invest $1 billion or more. To properly maintain our fiduciary responsibilities, this program only pays incentives after investments are made in buildings and equipment and workers are hired. This approach worked perfectly, as the Panasonic plant is under construction already.
Another example was our High Performance Incentive Program (HPIP), which provides tax incentives to employers that pay above-average wages and have a strong commitment to skills development for their workers. In 2021, the legislature removed the 2% state payroll training requirement for companies seeking to qualify for HPIP. Governor Kelly expressed concern that the state was requiring companies to apply for incentives in order to get other incentives. This decoupling also freed up funding to assist companies who can utilize the training and retraining program more efficiently and effectively. Additionally, companies are now allowed to sell or transfer 50% of their HPIP credit on a one-time basis. This enables businesses without enough liabilities on their tax returns to actually utilize the HPIP incentive. But there's still work to do, and we will continue listening to the business community and responding to their needs.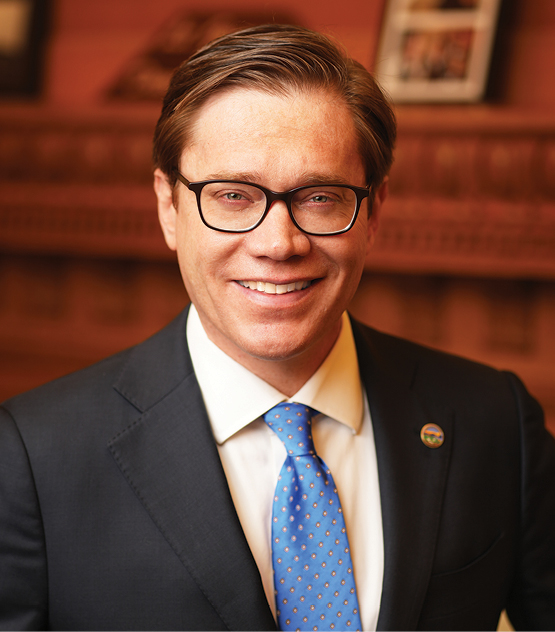 Will Kansas become more aggressive in pursuing additional investments in renewable energy? Can you elaborate?
Lt. Gov. Toland: Renewable energy is a high priority for Kansas as it powers thousands of good jobs and generates billions in capital investment across the state. Because it is a major industry in the state, we are actively pursuing new collaboration and investment that will fuel the state for decades to come. Wind energy production alone accounts for a big chunk of the Kansas economy. Our state ranks No. 2 nationwide with more than 42% of our electricity produced by wind turbines. Total production ranks 4th in the nation with enough electricity produced to power 1.6 million homes, which is more than our total number of households by nearly 50%. And there is significant potential for further investment. There's no shortage of wind in Kansas, and we're happy to put it to good use. We also are focusing on solar and hydrogen energy, creating public-private partnerships, and pursuing ways to advance the entire renewable energy industry.
What did Kansas learn from the pandemic and ensuing shutdowns and recession that the state can apply in the future?
Lt. Gov. Toland: We learned very quickly that the pandemic and global recession, which brought unprecedented challenges, also created extraordinary opportunities for the State of Kansas to help companies survive and thrive. In fact, even at the height of the COVID-19 pandemic in 2020, Kansas achieved an incredibly strong year for economic development, with the most capital investment in the state since the Kansas Department of Commerce's inception in 1986. When the pandemic changed business as we knew it, our agency didn't sit back. We pivoted and responded quickly to the changing times. We upped our game in many ways, from virtual site tours and drone footage when business prospects couldn't visit our state, to virtual job fairs designed to connect workers and employers. By rebuilding Commerce's Business Development and International Trade Divisions we were prepared when the pandemic struck. We were able to respond to onshoring needs and supply-chain interruptions and used our strategic location to capitalize on these opportunities. Our record-breaking results since the pandemic are proof of our success. Companies are flocking to Kansas and bringing new investment and new jobs with them. Kansas is at the top of its game, and we aren't slowing down.
What role do the colleges and universities of Kansas play in business development across your state?
Lt. Gov. Toland: We understand the value proposition educational institutions bring to economic development discussions, so we get them at the table early. The companies we recruit want to know where the talent they need will come from — and meet the presidents, chancellors and provosts charged with developing those future workers. We work to closely align the strengths of our higher education system with the needs of our businesses. What current programs are offered that can produce the talent and workforce needed? Do our higher-ed institutions need to develop new curriculum to help meet the workforce needs? This is all part of the conversation and strategy we use to recruit new business development to Kansas.
The partnerships are invaluable — and plentiful. When recruiting Panasonic, for example, multiple community colleges, technical training centers and universities were involved in the process from the beginning. Educational and training institution involvement included engaging with the company early in the process, highlighting existing programs, demonstrating the ability to adapt or customize training, and playing an integral part in the talent training and requirement process. Kansas State University, Johnson County Community College, Kansas City Kansas Community College, Peaslee Technical Center and the University of Kansas all played vital roles in supporting the state's case.
When recruiting Scorpion Biological Services, both Manhattan Area Technical College and Kanas State University played a vital role. Having a world-class public research university in town was one of the reasons the company said it chose Manhattan for their massive biomanufacturing facility that eventually will create 500 new, high-paying jobs.
Kansas is blessed to have high-quality and attentive education institutions that are fully engaged in the state and in their communities' economy and workforce.