H
ighly skilled people in Kansas work long hours every day to protect you, your family and your country from cyber-attacks.
Given the increasing incidence and threat of such attacks, the cybersecurity workforce of Kansas is beefing up in training and total numbers.
Gov. Laura Kelly recently announced that cybersecurity company Novacoast Inc. relocated its headquarters to Wichita from Santa Barbara, California. The company is bringing 100 high-wage, high-tech jobs to Kansas and plans to make Wichita a center for cybersecurity training.
"We've been impressed with Wichita," Novacoast CEO Paul Anderson said after opening a 9,700-sq.-ft. Security Operations Center in downtown Wichita last February. "One year ago, we expanded our presence to the area, and we've come to realize the incredible potential in the city and its people. This is where we want to grow our company, and officially naming Wichita as our global headquarters is the next natural step."
Novacoast provides cybersecurity services to highly regulated global companies including banks, energy companies and healthcare firms. It also has a subsidiary, Novacoast Federal, that provides services to various federal agencies including NASA, the U.S. Patent & Trademark Office, the Internal Revenue Service and others. Novacoast currently serves 12 of the 20 largest international financial institutions.
Firms See an Upward Tech Tilt
Novacoast is not alone. Last year, Torch.AI, a global leader in artificial intelligence and machine learning, announced plans to invest $55 million and create 490 high-wage jobs in Leawood, located in Johnson County in the Kansas City metro area. All of them are full-time, cybersecurity positions.
Torch.AI uses machine learning to power high-performance data processing. The firm works with local universities to shape the curriculum used to train its workforce.
"It's an honor to align the growth trajectory of Torch.AI with Kansas initiatives to expand its economy and regional impact as a tech hub," said Brian Weaver, the founder, chair and CEO of Torch.AI. "Demand for our advanced AI and data services continues to grow as the intelligence and security communities attempt to organize and analyze unprecedented levels of data. We've long known there is untapped talent here in the region that can help the government and commercial sectors solve significant challenges."
Companies like Novacoast and Torch.AI benefit from the world-class cybersecurity education and training delivered at Kansas' top universities and colleges. Kansas State University in Manhattan, for example, recently added a bachelor's degree program in cybersecurity. The Carl R. Ice College of Engineering at KSU added the program in April 2022 as its 13th bachelor of science program. The curriculum of 120 credit hours, offered through the school's computer science department, became available in the fall of 2022.
According to Cyber Seek, there are more than 2,500 open jobs in cybersecurity in Kansas now. The Bureau of Labor Statistics estimates that the job market for cybersecurity specialists with bachelor's degrees will grow by 31% by 2029 and offer a median annual salary of $103,590.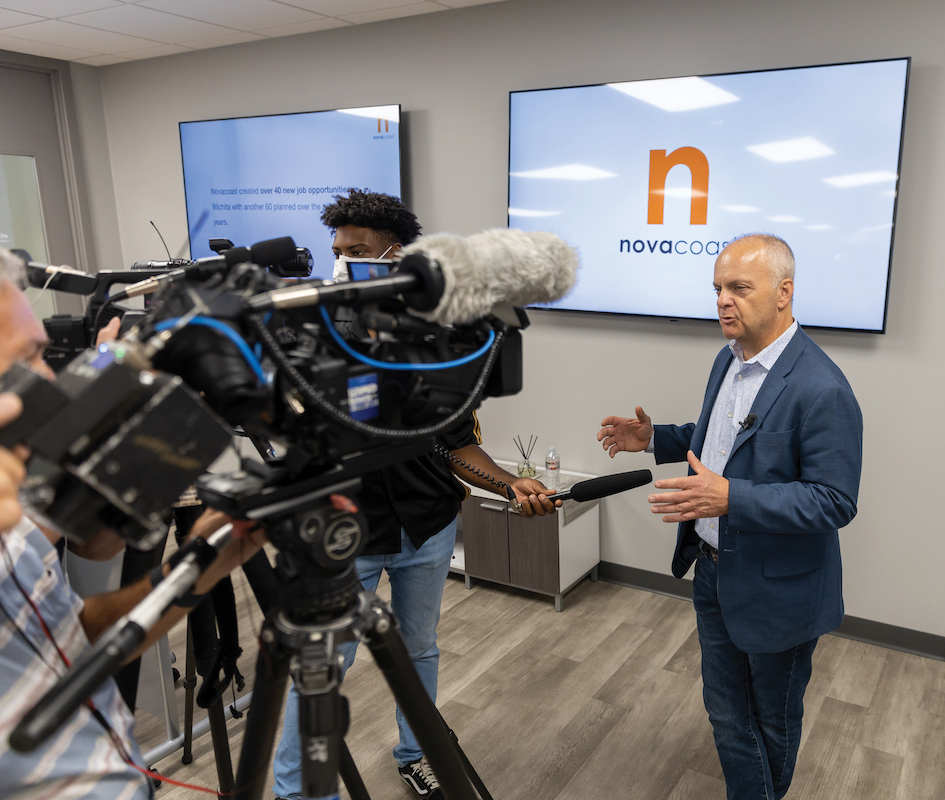 "We've been impressed with Wichita. One year ago, we expanded our presence to the area, and we've come to realize the incredible potential in the city and its people."
– Paul Anderson, CEO, Novacoast Inc.
"The addition of the cybersecurity degree program to our portfolio is an exciting one," said Matt O'Keefe, dean of the KSU College of Engineering. "This area has a huge opportunity for growth in our local and state economies, so we are pleased to be able to provide the necessary education to spur that development."
Three Schools Stand Out
According to EduRank, the three best cybersecurity schools in Kansas are, in order, the University of Kansas, Kansas State University and Wichita State University. All three rank within the top 200 cybersecurity programs in the nation, per EduRank data.
Demand for their skilled graduates will only rise as cybercrime worsens, concludes a new report by CB Insights. The average American corporation today spends upward of $2.4 million a year on cybersecurity, up from $1.5 million the year before. Total data breaches increased from 4.37 million cases in 2015 to more than 7.55 million in 2019.
The UK has the highest number of cybercrime victims per million internet users at 4,783 as of December 2022, up 40% from 2020, according to London-based AAG. The country with the next highest number of victims per million users is the U.S. with 1,494, a 13% decrease from 2020.
The AAG report also shows that one in two North American internet users had their accounts hacked in 2021.