K
ansas knows a thing or two about small towns.
Only five cities — Wichita, Overland Park, Kansas City, Olathe and Topeka — hold over 100,000 residents. The state is home to 2.9 million people in all, 1.3 million of whom live in the 10 largest cities in Kansas. 
The other 1.6 million reside throughout the state's more than 600 cities. These communities, though small in population quantity, run high in people quality. 

Outside of the bustling city, these towns work to support the state's leading industries including food and beverage, advanced manufacturing, aerospace and defense, agriculture and more. In doing so, they build a name for themselves in Kansas and around the globe, toting healthy local economies to show for it. 
Kansas Communities Climb Higher
Data from POLICOM's 2022 Metropolitan Micropolitan Economic Strength Rankings show that several micro areas (populations fewer than 50,000) in Kansas are on the rise.
The index delves into the dynamics of local economies of both metropolitan statistical areas (MSAs) and micropolitan statistical areas (McrSAs), analyzing then scoring based on factors that lead to area growth or decline. POLICOM scores are based on three different groups of factors: The first analyzes the overall size and quality of the MSA or McrSA based on employment, earnings and wages. The second group looks at how the economy is behaving, primarily looking into how small businesses, construction and retail industries are reacting. The final group includes negative factors that reflect a poor economy, including welfare and Medicaid assistance.
Accounting for the COVID-19 pandemic's impact on local economies and employment, these effects yield various results within the state's rankings as recovery continues. While larger Kansas cities saw a decline in economic strength rankings, some of the state's smaller communities were able to reach new heights over the past four years.
The '10-minute Town'
In Ottawa, Kansas, a city nestled in Franklin County to the southwest of the Kansas City area, over 12,000 residents give meaning to the phrase 'small town strength,' as the locally nicknamed "10-minute town" economy thrives year after year.
I asked Paul Bean, executive director of the Franklin County Development Council, what drove Ottawa's 140-place rank improvement in POLICOM's McrSA rankings and he said, "I would attribute this to our pro-growth activity. We have invested in a new industrial park, supported expansion of existing industry, and facilitated new housing at historic levels. Our unemployment rate in Franklin County has been at or below 3%. In addition, our location close to industrial growth to the north has provided us an opportunity to see economic benefits from the regional growth."
Ottawa received an over $21 million expansion investment in June 2022 from Kalmar. A subsidiary of Cargotec, the terminal tractor manufacturer established its North American operations here in 1943, when it was known as Ottawa Steel Products. 
The expansion supports increased demand for eco-friendly, electric equipment non-reliant on fossil fuels. Kalmar's investment will add additional factory space and a new assembly line, featuring technology that will enable high-volume production of fully electric terminal tractor models by 2023.
 The city serves global businesses such as Kalmar, Walmart and American Eagle and nurtures its own homegrown small businesses including Midwest Cabinets and Hasty Awards. Successful growth, backed by talent fostered within this small community, has led to sustained reinvestment through expansions over the years, with Hasty Awards also expanding in 2023. 
"Ottawa has a positive impact on the state of Kansas. We provide a quality of life outside of the metropolitan area that is becoming more and more attractive to workforce since the pandemic," says Bean. "In addition, our local industry supports national and international partners, which brings revenue to our state and good jobs. Our community welcomes growth and is working to support the growth we see coming for the next decade."  
How does Bean envision this growth on the horizon? By having valuable assets on-hand for future employers looking at the state. Access to adequate healthcare and quality education paired with a $26 million, 300-acre shovel-ready site at Proximity Park are strong signs the city will continue to be open for business.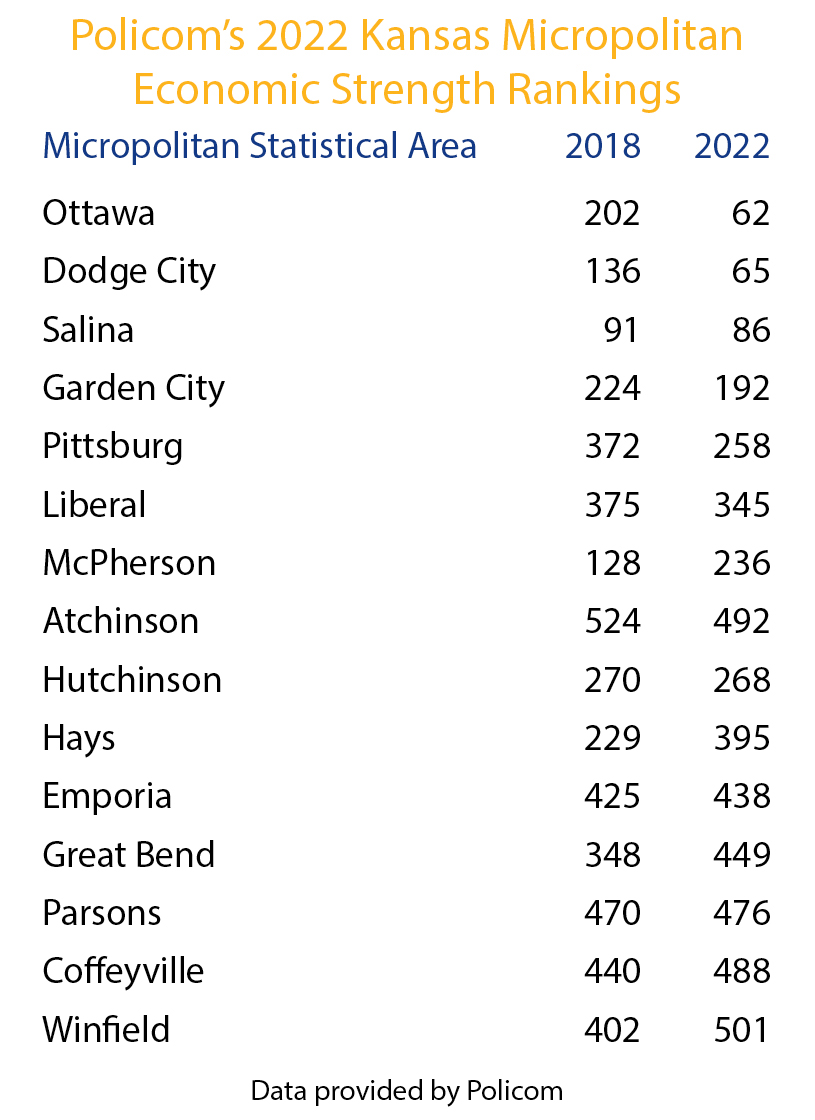 Small Town Strength or Expansion City?
Dodge City, Salina, Garden City, Pittsburg and Liberal also saw significant improvement in POLICOM's rankings. According to Conway Data's Projects Database, that improvement is reflected in the growth of their industries. Companies are committed to these smaller communities and showing they are content to stay and believe in the local talent.
The database shows that since 2021, Salina, Kansas, scored four expansion projects totaling over $14 million in investment and nearly 300 new jobs. Liberal gained three expansions in 2021, totaling $339.5 million. As for Pittsburg, two investments for expanding operations scored the city $2.9 million since 2021.
The most impressive project list goes to Dodge City, which pulled in over $600 million in new or expansion investments since last year, resulting in more than 250 new jobs at companies such as Hilmar Cheese (with a $460 million project), Koch Industries and Cargill Meat Solutions.
Dodge City and Garden City are both among the fastest growing cities in the state according to the U.S. Census Bureau. Since 2010, Dodge City has seen a 5.7% increase in its population which is now over 27,700. Garden City saw a bit more with a 8.1% increase bringing its population to over 28,000. 
These numbers can be expected to rise as businesses continue to discover the magic that exists within Kansas's micropolitan areas.