T
he community of Russell offers the perfect blend of a high quality of life and opportunities for industry.
Companies looking for a new location in the heart of the country should look no further than Russell, Kansas. Technically speaking, the United States' geographic center is 80 miles north of Russell in Lebanon, Kansas, but you get the point. Russell is as centrally positioned as cities come. Located at the junction of Interstate 70 and Highway 281 — approximately 240 miles west of Kansas City and 360 miles east of Denver — Russell's strategic position in Kansas offers easy access to markets across North America.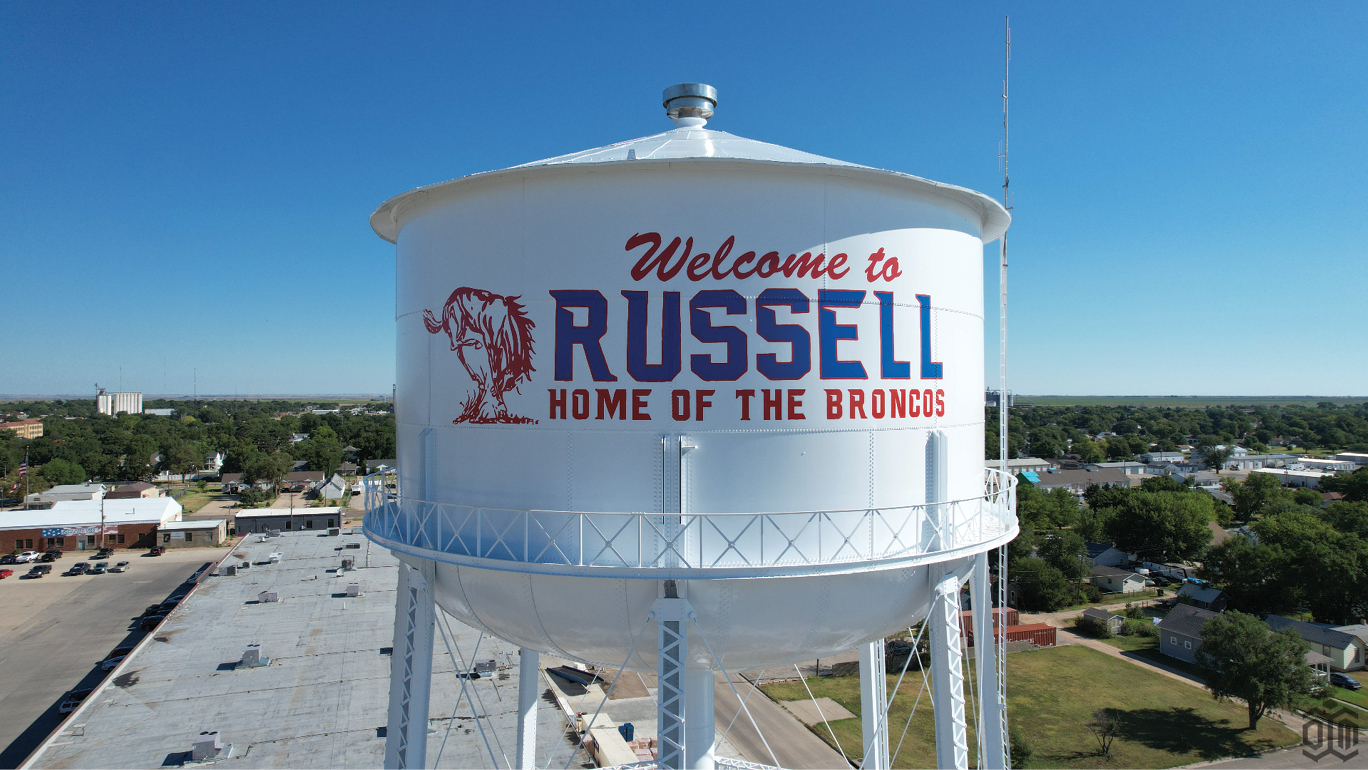 Photo by Dustin Madden courtesy of the City of Russell
The seat of government for Russell County, Russell is an economic hub for Central Kansas. Russell County also contains the cities of Gorham, Bunker Hill, Lucas, Luray Paradise, Dorrance and Waldo.
Russell offers a variety of benefits for businesses. With excellent multimodal transport options, including Highways 40, 281 and Interstate 70, Union Pacific Railroad's rail service, and a thriving modern, municipal airport. Additionally, the city owns both the electric and water utilities and offers various economic development incentives to encourage new businesses to locate in the region.
"Russell's geographic location is a huge advantage for companies doing interstate business," said Russell City Manager Jon Quinday. "Russell is a public power community; the community owns the electric utility providing safe, reliable, not-for-profit electricity at a reasonable price, with decisions made locally. The community boasts better technology infrastructure than many urban centers in the state, creating an abundance of opportunities for businesses located in Russell."
THERE'S NO PLACE LIKE HOME
For Assistant City Manager Kayla Schneider, the decision to move back to her hometown coincided with her decision to start a family. After her husband's military career, the couple wanted to provide their children with a safe place to plant their roots.
"We are a community that cares for each other," Schneider said. "This is a specific advantage for raising a family. Parents look out for each others' children, and we have the opportunity to watch the same small group of children grow up together. Small class sizes make this possible. Graduating classes are in the 60-80 range, depending on the year. There is the adage that 'it takes a village,' Russell provides that village. I couldn't imagine raising my family anywhere else."
Though the city itself is only home to 4,463 (with approximately 6,933 in Russell County), many people who call it home would not want to live anywhere else. The small-town environment offers its unique lifestyle — with high-quality education, health care, thriving art community, and plenty of outdoor recreational attractions to explore including 160 acres of parks with recently updated park equipment, a nine-hole bluegrass fairway golf course, Memorial Park Complex and Duke Johnson Swimming Pool.
One of the state's most beautiful attractions can be found at Wilson State Park. Wilson Lake's rugged shoreline with scenic cliffs provides a stunning backdrop for watersports like boating, jet skiing and fishing. The surrounding Wilson Wildlife Area is a prime location to find deer, pheasant, waterfowl, songbirds and many other wild animals. The popular Switchgrass Bike Trail takes mountain bikers through 25.5 miles of some of nature's finest views, while hiking trails can be found throughout the area.
FUELING GROWTH AND OPPORTUNITY
Nearly a century ago, an oil boom paved the way for economic growth at a critical junction in the state. Today, the county is one of the state's top five oil producers and is home to several wheat gluten and ethanol manufacturing facilities. The region's natural resources, logistics infrastructure and stable workforce have created a dynamic cluster of industries to grow and flourish, with plenty of room to expand.
One such company, PureField Ingredients, operates two state-of-the-art manufacturing facilities in Russell, where it produces food ingredients and co-products. Already the nation's largest domestic supplier of wheat protein, the company announced the completion of a more than $30 million facility expansion which expanded its production of wheat protein by 50% in early 2022. PureField is already in the midst of its next phase of expansion, with plans to double production yet again.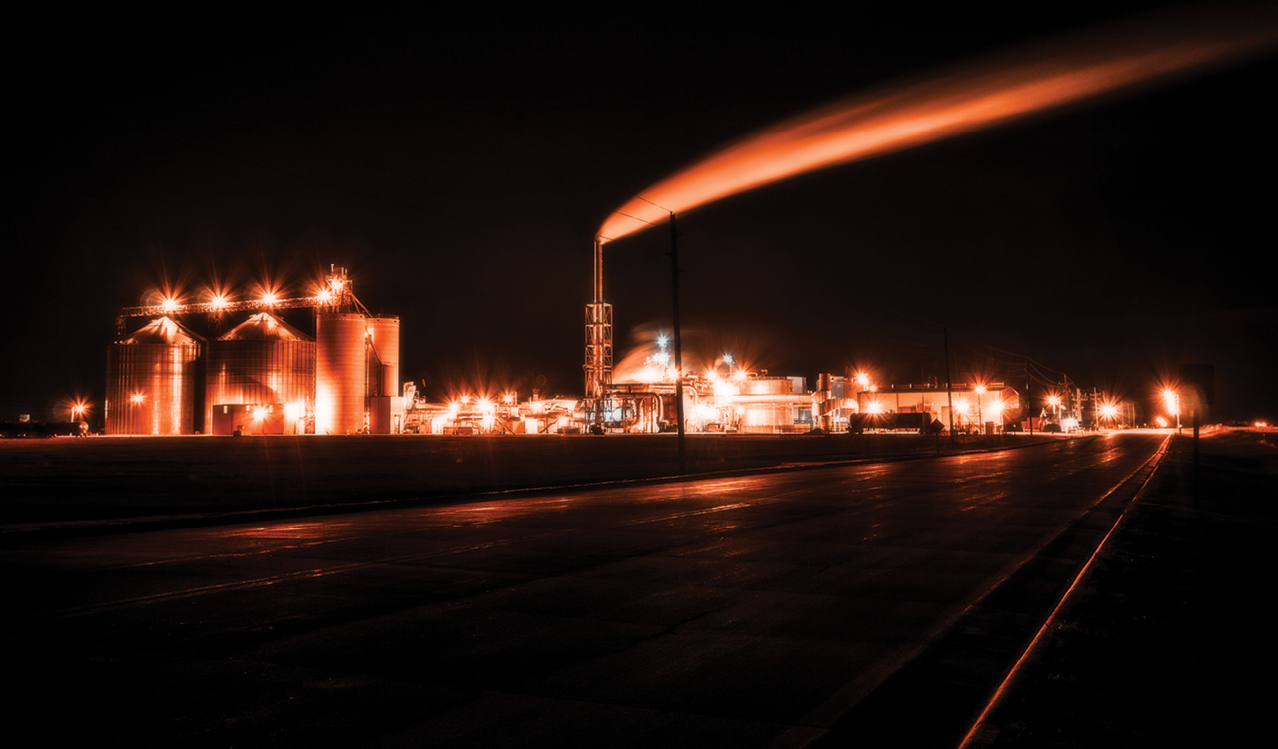 Photo by Ian Shaw courtesy of the City of Russell
PureField Ingredients provides a dependable distribution channel that is not subject to international supply chain disruptions. The company sources locally grown grains that can be traced directly back to individual Kansas farms.
Longtime major employer, John O. Farmer, Inc. first opened its oil and gas production company in Russell in 1946. Today, it is one of the state's top producers, generating approximately 30,000 barrels of oil each month with over 200 leases and 350 wells. Still family-owned and operated, the company's president, John O. Farmer, IV, noted several benefits related to its location — outside of its plentiful oil reserves.
"People from this area have a great work ethic and believe in a good honest day of work," Farmer said. "I feel our employees go to work to 'complete the job for the day,' regardless of how many hours it may take, instead of 'getting your eight hours in.' There seems to be a lot of loyalty and pride in being from Western Kansas. I believe there is also an advantage in living in rural America, in that we can 'tune out' all the noise seen in the big cities. Russell seems to have an advantage in that there are not constant distractions, and we can become better focused as a company without these distractions."
The City of Russell's vision statement captures the essence of the community, "As a rural city, it is our vision to serve as the County's regional center. We will continue to be a community that is dedicated to family, friends and neighbors, where generations care for each other. We are One Russell, building a self-reliant future. This is home."
---
This Investment Profile was created under the auspices of the City of Russell. For more information, please contact Jon Quinday at 785-483-6311 or quinday@russellcity.org.