I
n "PrairyErth," an all-encompassing survey of one small grain of Middle America, the celebrated author William Least Heat-Moon identified Chase County, Kansas, as the heart of the Heartland, the point at which a coast-to-coaster driving from the East might well be struck by a sudden realization "that she has at last arrived in the American West." Upon that lonely, grassy prairie, Heat-Moon wrote in 1991, "the world changes in a few miles from shadows to nearly unbroken sunlight, from intermittent breezes to a wind blowing steadily as if out of the lungs of the universe."
It is out there in just such a prairie zephyr that Chase County sculptor, innkeeper and activist Bill McBride, steward of his 40-acre Matfield Station in the town of Matfield Green, politely excuses himself and promises to phone back. It's an early afternoon in early December, and McBride, 70, is leading another group of guests through the wild, outdoor menagerie that is his Prairie Art Path. The caller can hear the wind, almost feel it.
Back in his home studio, Chicago transplant McBride takes a stab at explaining the lure of the prairie, that strange tug that has drawn so many artists to Matfield Green that a village "where Americans thought there's nothing happening of interest," believed Heat-Moon, has since cast an improbable spell on the art world. Its assorted artisans, writers, painters and famous photographers include two Guggenheim fellows. Its galleries have drawn visitors from around the world. This in a town whose population is give-or-take 60.
"On the prairie," McBride says, "there are very few trees. You can see where you are on the Earth. You can almost feel the Earth's curvature. So, it feels like a place to connect. You really feel like you're part of the Earth. And then at night, it's like 'My God, there's the stars!' Things sort of come to life, and you start to see things in a different way."
Cosmic Connection
Philip Heying can wax poetic about the prairie, as well. Heying is one of Matfield Green's two Guggenheim fellows, both photographers, which should perhaps come as no surprise given the otherworldly visual palette that surrounds them. 
"Every photographer wants to come out here," Heying laments.
"Out here" is the Flint Hills. The prairie once stretched from Texas to Canada, about 150 million acres. Having lost out largely to agriculture, about four million acres of unspoiled prairieland remain, some 80% in the Flint Hills, which covers parts of eastern Kansas and north-central Oklahoma.
Heying's path to the prairie — he is in his early 60s — included big-time assignments in places like New York, Paris and Basel and kicking around with some outsized literary outlaws. How did he land in little Matfield Green?
"That's the $20,000 question," he says. But then the Kansas City native, who's renting out a flat for $450 a month, is quick to note that the prairie "just got under my skin."
And how.
"If you're a human at all," he believes, "the prairie is a part of your natural constitution. I just think sometimes that what I'm connecting with and experiencing is something that's just so deep in terms of what it is to be a human. It goes clear back to the first steps that humans took 6 million years ago. I think the thing that distinguishes the prairie the most is that you're standing there, and right in front of your face there's going to be evidence of both quantum events and the infinity of the galaxy."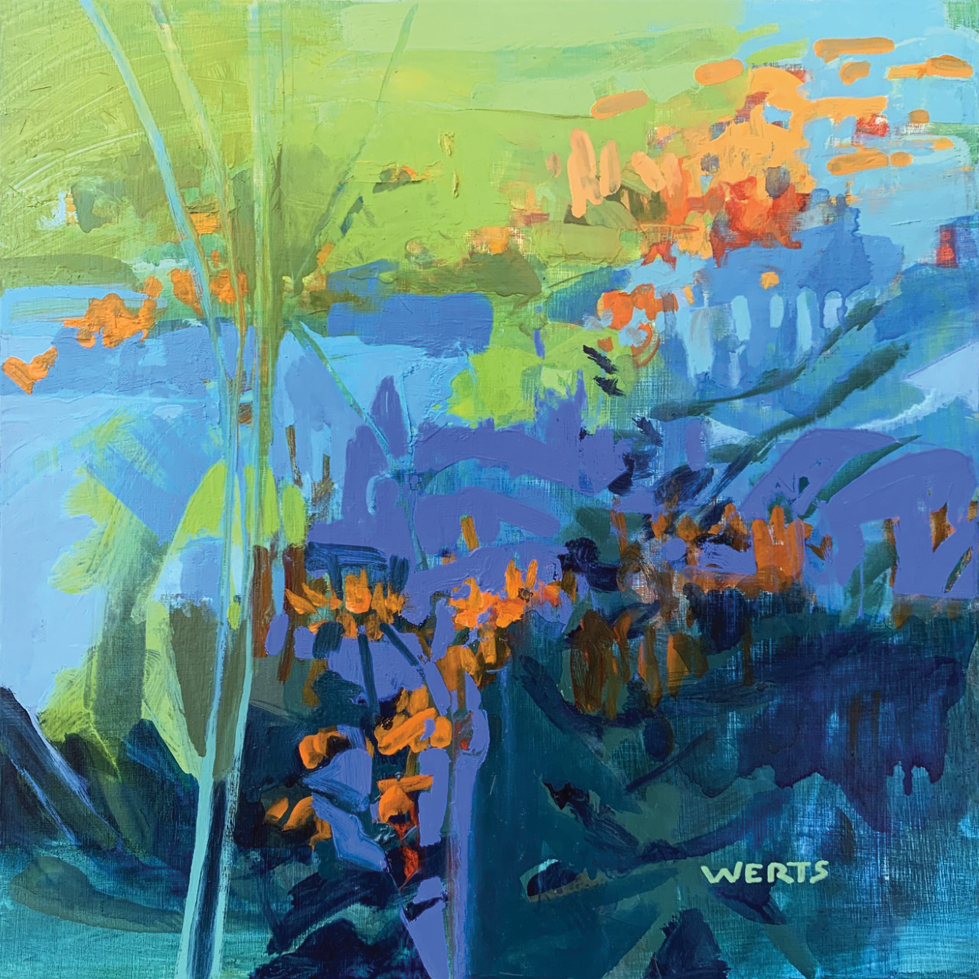 Inland Sea Milkweed #5 Courtesy of Diana Werts
The Makings of a Haven
Beginning with author Heat-Moon, an esoteric cast of characters served to tug Matfield Green — a village denizens describe as outwardly boring, a place defined, says one, "less by what it is than what it isn't" — onto a path that made it both a subject of the art world and a somewhat incongruous example of simplified living during these overheated times.
Wes Jackson, founder of the Salina-based Land Institute, identified Matfield Green as a model of connection between land and people, and proceeded to buy up and renovate abandoned properties, spruce up common areas and spread progressive ideals. Enter a couple from the Netherlands, well-travelled in the art world, who followed the call of "PrairyErth" to Matfield Green. They renovated a barn and hung some art, and in marched connoisseurs from pretty much everywhere. Among them were Diana and Kelly Werts, artists and musicians who were living in Kansas City. They are among those who have since followed the call of the prairie to Matfield Green.
"We just started coming here because this couple had started an art gallery that featured incredible work, just all kinds of stuff," says Diana, a painter. "You walk into an old farmstead, and here's this art that just blows you away. I felt like I was having so many more exciting conversations out here than in Kansas City. I think it's because everything is so grounded in something, which is the love of the land."
In her new home in the Flint Hills, the prairie emerges for Werts as both subject matter and source of renewal. The artists of Matfield Green seem to view the prairie's rolling waves as agents of constant change.
"I have an Inland Sea Series," Werts says. "It is representative of me driving through these hills and imagining it when it was in the Permian Sea. So, the hills are covered with water, and that was a period of extinction. It was after the extinction that the seed head plants came, all these beautiful grasses that change all year long. Just the joy of those grasses alone is enough to keep me here and keep me pondering things."
Before even moving to Matfield Green, the Werts bought some properties — an abandoned speakeasy and a gymnasium — with hopes to convert them to useful ends. Whether it happens or not seems beyond the point of their fulfilling yet uncomplicated lives, which include sharing chores and foodstuffs with neighbors. Diana is serene —with Kelly chiming in off-speaker — chatting on a Saturday morning with a reporter who asks if it's real that it's 17 degrees out there.
"I don't know," she answers. "I haven't been out yet."
Kansas is 'Excited About Ideas'
Bill McBride is working hard to reimagine "The Bank," a former gallery and gathering spot, as an arts and welcome center, "to help people make deeper connections with the prairie and its inhabitants." He's looking at $250,000 for the project, and he's a long way from getting it raised. To his amazement, Kansas Commerce arranged a fundraising trip to Matfield Green by Lieutenant Gov. and Commerce Secretary David Toland.
"He came down with about 20 other state officials," McBride marvels. "It was unprecedented. They came to us rather than us going to them. We met right here in my studio."
The Kansas Creative Arts Industries Commission, which is part of Kansas Commerce, offers nine different programs and initiatives to help strengthen Kansas communities through arts and culture, according to Interim Director Kate Van Steenhuyse, herself a painter.
"My experience in Kansas is that there's a sense of real possibility here," Van Steenhuyse says. "After having lived in places like San Francisco and New York City, there's a sense of physical space here and a sense that people are excited to try new things. They're excited about new ideas."