A
ny employer evaluating a prospective business location knows that access to an available, qualified workforce is the most important site selection factor.
A legitimate question for site selectors to ask, then, is this: Do the people who run a community's higher education system know and believe that too?
In Manhattan, Kansas, the answer is a resounding yes, they do. We recently caught up with Rebecca Robinson, chief corporate engagement and economic development officer at Kansas State University Innovation Partners. Her ability to articulate the needs of the business community — and how they align with the mission of the university — was second to none.
The fact that KSU had the foresight to create a position that combines economic development, corporate engagement and innovation advocacy into one office speaks volumes of the school's commitment to meeting the needs of Kansas businesses and growing the state economy.
As her job title suggests, Robinson wears many hats, but none are more important than the one she wears to communicate this aligned vision to the community, the state and the world at large.
"We protect any intellectual property that comes out of K-State," she says. "We take that protected IP and commercialize it through licensing and startups. We do corporate engagement. We support companies' continuing education needs. Our undergrads serve as interns and are hired as new employees. We do economic development work. We build and maintain robust partnerships with the local community and the larger region, and we leverage the university assets to accomplish all of this."
KSU had the vision to merge all of these missions into one cohesive effort long before most places in America even had an economic development office. "Our office has existed since the 1940s," Robinson says. "We have added to our responsibilities over the years."
The university's relationship with the community drives regional success and sets KSU apart from other schools, Robinson notes. "K-State and Manhattan have the No. 1 town-gown relationship in the country, according to the Princeton Review. We are fully aligned with the community's economic development mission. We formalized that relationship in 2008. The university has a seat at the table when it comes to community and business development. It is not an afterthought to engage the university. On the university side, we have people whose job it is to connect people in the private sector in a very intentional way. That is why we have been nationally and internationally recognized."
Cashing In on a $2.5 Billion Payday
The biggest success, she adds, came when the partnership played a pivotal role in the efforts to bring the National Bio and Agro-Defense Facility (NBAF) to Manhattan. "That is a significant $2.5 billion federal lab win for Manhattan and the region," says Robinson.
Overall, Robinson's office has participated in the recruitment of 23 technology companies to Manhattan and helped bring over 600 high-wage jobs to the area. Her efforts have been nationally recognized, culminating in Robinson being named president of the University Economic Development Association for 2022.
"We have committed to creating 3,000 new jobs and contributing $3 billion in new investment to the state over the next 10 years."
– Rebecca Robinson, Chief Corporate Engagement and Economic Development Officer, Kansas State University Innovation Partners
KSU has many strengths, she notes. Technology transfer is one of them. "Our organization has a strong tech transfer team," she says. "We believe it is important to get innovation out into the world through commercialization. Our team is highly ranked nationally in our rate of licensing."
Long known as a leader in engineering and animal health, KSU is also forging a reputation for expertise in small grains agriculture, development of climate-resistant crops, and cybersecurity. "We are certainly educating a strong workforce in each of these areas; and we are doing notable research work in those spaces."
Looking forward, Robinson says her organization is focused on the university's new Economic Prosperity Plan.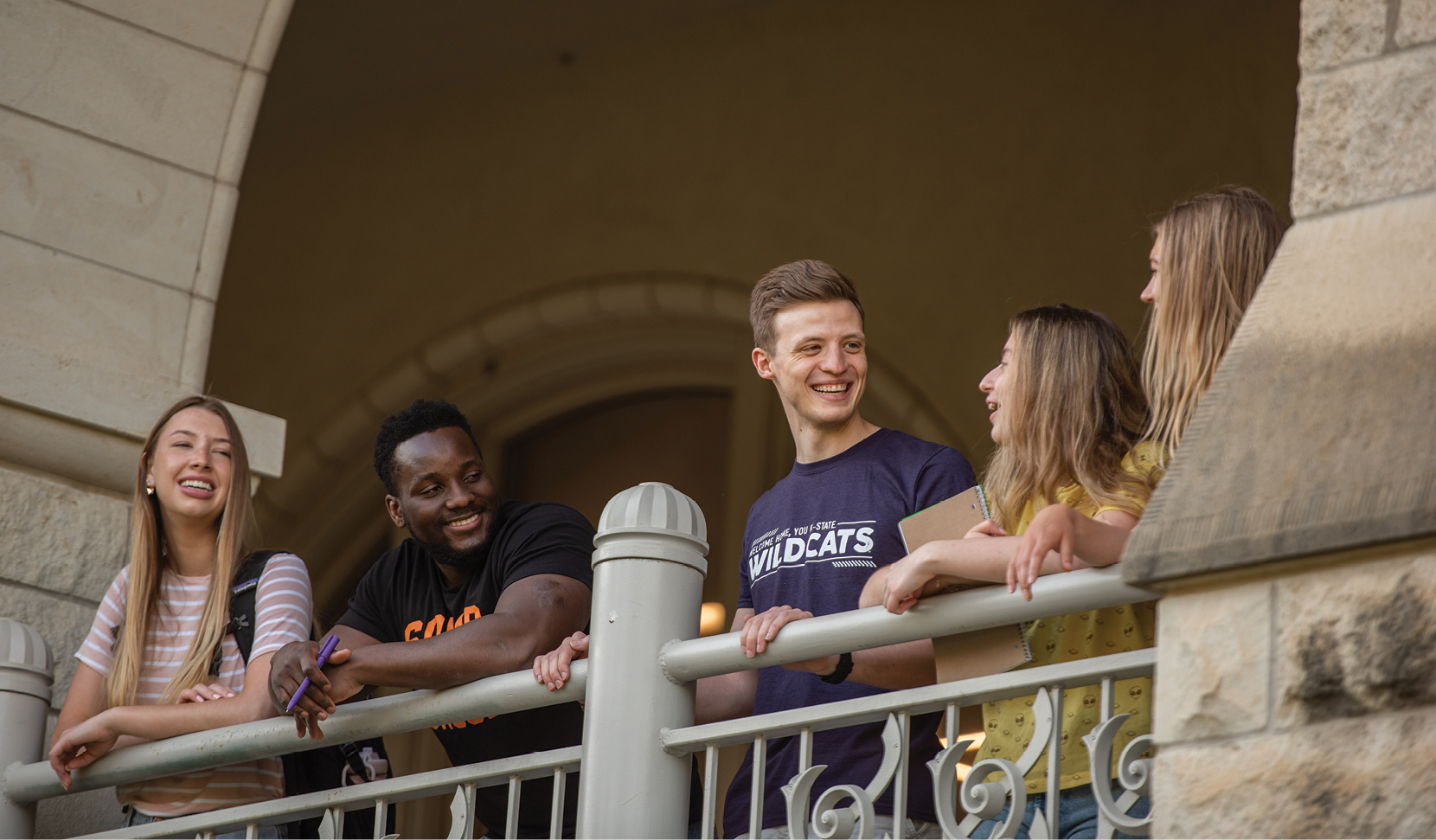 K-State is one of three research universities in Kansas.
"As a part of that plan, we have committed to creating 3,000 new jobs and contributing $3 billion in new investment to the state over the next 10 years. Our organization will be central to delivering on that promise to the state. That will generate new innovation that will be commercialized in the private sector and drive prosperity throughout the state. We will then leverage those assets into more robust partnerships."
3 Research Schools, 1 Mission
Robinson adds that "what we're doing in Kansas is working," and she is quick to give credit to other schools. While KSU in 2017 received an Innovation and Economic Prosperity Designation held by over 60 universities nationally, the University of Kansas received it in 2015.
"In 2022, Wichita State University received it. All three major state research universities have received that designation and gone through the process," she says. "From a state perspective, that indicates the commitment that Kansas' universities have to driving innovation in the state."
At KU in Lawrence, research discoveries in multiple fields are changing the world. KU is one of just 35 U.S. public institutions in the Association of American Universities. KU accounted for $292.6 million in externally funded research expenditures in FY2021; and some 3,974 individuals at KU were supported by externally funded research expenditures.
KU operates 12 designated research centers that bring together world-class faculty to conduct groundbreaking research. Much of this work takes place at KU Innovation Park, adjacent to the KU campus in Lawrence. This unique project works directly with local employers to develop specific talent pipelines, establish public-private partnerships, accelerate development of solutions to technical problems, and leverage KU's many resources and analytical capabilities.
At Wichita State, tech transfer and commercialization are core principles of the university. More than 50 disclosures have been received since the start of FY2021 at WSU, and 21 new license agreements have been executed since the start of FY2018. Fiscal year 2022 set a new record for licensing revenues received at WSU.
WSU also is Kansas' only urban-serving university. A testimonial to the success of WSU was given recently in the words of senior marketing major Lauryn McIntyre: "Wichita State has helped me put marketing strategy in a real-world perspective. I really had to, essentially, trust myself."
---
Kansas' Best Bargain:
A Community College Degree
The backbone of any state workforce development system is its network of community and technical colleges. It's no different in Kansas, where 19 community colleges speak with one voice when it comes to worker preparation and training.
The Kansas Community College system educates and trains more than 100,000 students each year and serves as the state's primary workforce development and training arm. The system's 19 colleges provide the most affordable higher education option in Kansas while meeting both the individual and collective needs of students, businesses and communities.
How affordable is an associate's degree or certificate in Kansas? Consider this: A Kansas resident can attend a Kansas community college at no cost through the use of the Kansas Promise Scholarship.
Here's how it works: The $10 million Kansas Promise Scholarship Fund is a last-dollar scholarship, meaning that it is applied after all other federal aid and any outside scholarships are subtracted from the student's total bill. The scholarship covers tuition, fees, books and supplies for all classes up to attainment of an associate's degree. The Kansas legislature has already fully funded the program for 2023.
While there are income limits for students who qualify, they are generous. For a family of three, the household income must be equal to or less than $150,000 for a student to qualify.
The Kansas Promise Scholarship enables the vast majority of students in Kansas to attend college debt-free at any one of these 19 schools:
Allen County Community College
Barton County Community College
Butler County Community College
Cloud County Community College
Coffeyville Community College
Colby Community College
Cowley Community College
Dodge City Community College
Fort Scott Community College
Garden City Community College
Highland Community College
Hutchinson Community College
Independence Community College
Johnson County Community College
Kansas City Kansas Community College
Labette Community College
Neosho County Community College
Pratt Community College
Seward County Community College
For students not qualifying for Kansas Promise, a community college education is still the least expensive option in the state, costing on average just $1,300 for 15 credit hours per semester.
---