F
rom 2010 to 2020, more than 1 million jobs were reshored back to the United States, according to Reshoring Initiative 2020 Data Report from the Reshoring Initiative. That number has been climbing quickly since the onset of the pandemic in the spring of that year, when global supply chains came under enormous stress.
Key drivers of reshoring before and during the pandemic include proximity to customers, incentives, quality control and costs. The top industries reshoring to the U.S., according to the Reshoring Initiative, are transportation equipment, computer and electronic products, electrical equipment and components, chemicals, plastic and rubber products, medical equipment and supplies and apparel and textiles. The top countries seeing jobs return to the U.S. are China, Mexico, Canada, Japan, Singapore and India. "China has been the source of 44% of reshoring and is especially vulnerable now due to the perceived risk of decoupling and the rapid rise in Chinese wages," said Harry Moser, founder and president of the Reshoring Initiative, in June 2022 testimony to the U.S.-China Economic and Security Review Commission.
Site Selection magazine's survey in January 2022 found that 71.5% of national site selection firm respondents said clients were now considering reshoring projects. As for the corporate end-users themselves, 65% of U.S. manufacturing companies want to increase reshoring due to continued supply chain disruptions, according to Fictiv's 2022 State of Manufacturing Report. Among larger companies, the survey found, nearly three-quarters are prioritizing domestic production.
Companies seeking a central U.S. location in which to reshore operations are finding room to grow and the workers they require in Kansas. Other assets in strong supply include competitively priced energy, water supply and a pro-business tax and regulatory climate. Spirit Aerosystems, Siemens, Garmin and General Motors are among the companies already reshoring operations to the state.
Sweetening the Pot
Kansas has several incentives in place for businesses reshoring to the U.S. and those already doing business in the state. One is PEAK (Promoting Employment Across Kansas), which allows companies to retain or be refunded 95% of the payroll withholding tax of qualified employees for new jobs created. The Kansas Department of Commerce says larger, high-impact projects that create at least 100 new jobs within two years may be eligible for up to ten years of payroll withholding tax savings.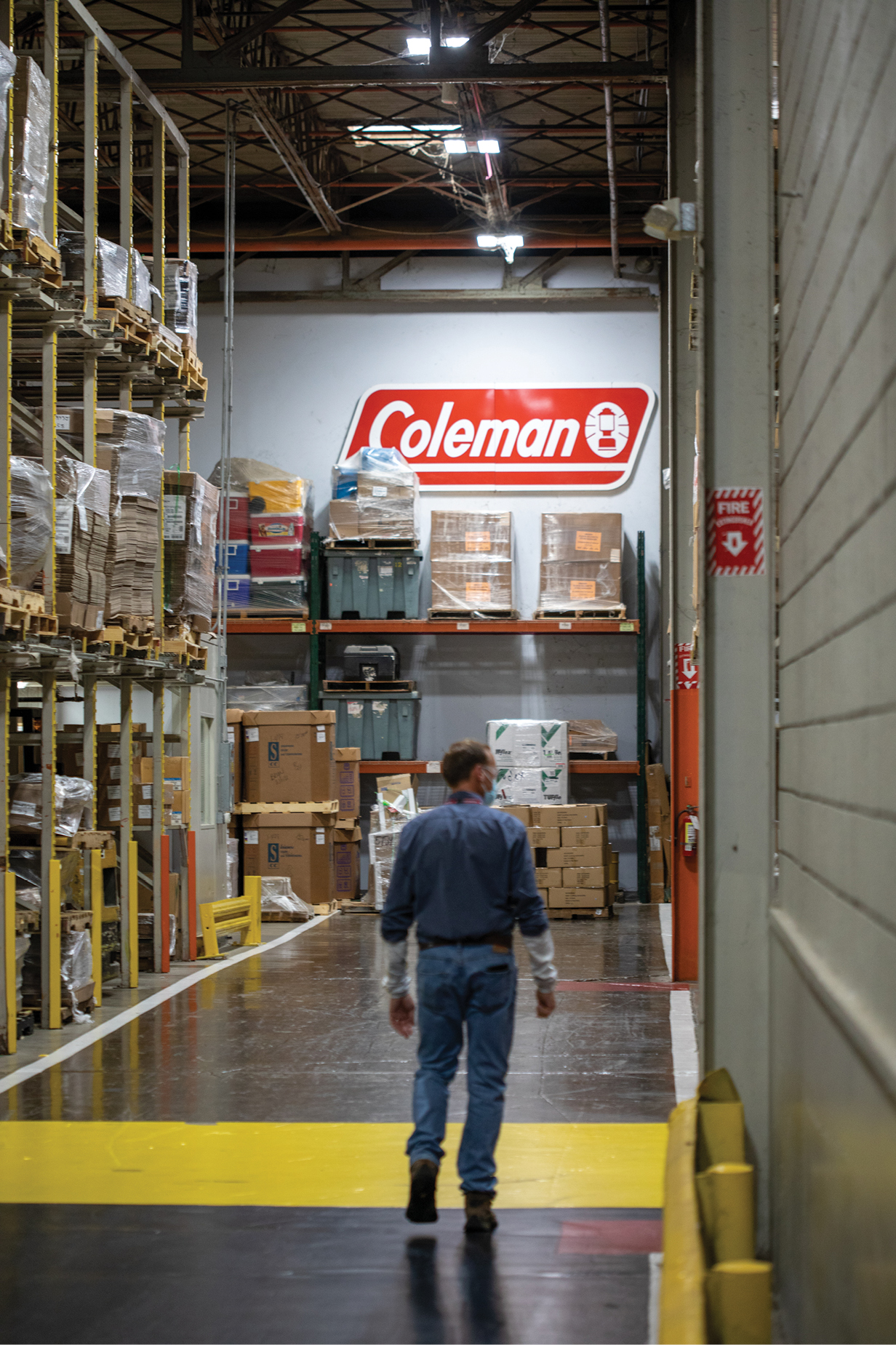 Newell Brands has continued to reshore manufactuing activity to its Coleman plant in Wichita since an original decision to bring work back to the U.S. a decade ago. Today the operation employs nearly 580 people.
Photo by Daniel Wilson courtesy of Newell Brands
Another is the High Performance Incentive Program, which includes three state tax benefits. The Kansas Investment Tax Credit is 10% of all eligible capital investment that exceeds $50,000 or $1 million in certain metro counties. The Employee Training Tax Credit provides a dollar-for-dollar state tax credit up to $50,000 for training and education expenditures that exceed 2% of total payroll at the worksite. And Sales Tax Project Exemptions (STPE) are available on purchases of materials and services related to capital investment at the worksite.
The most recent addition to Kansas' business incentives is the Attracting Powerful Economic Expansion (APEX) Act, signed into law by Governor Laura Kelly in February 2022. APEX benefits companies investing more than $1 billion in the state, and it will reduce corporate income tax for all businesses by 0.5% in 2023. The bill helps Kansas compete for large-scale economic development projects, such as the $4 billion EV battery plant for Panasonic Energy now under construction in De Soto.
---
Case Studies in Kansas Reshoring Have History On Their Side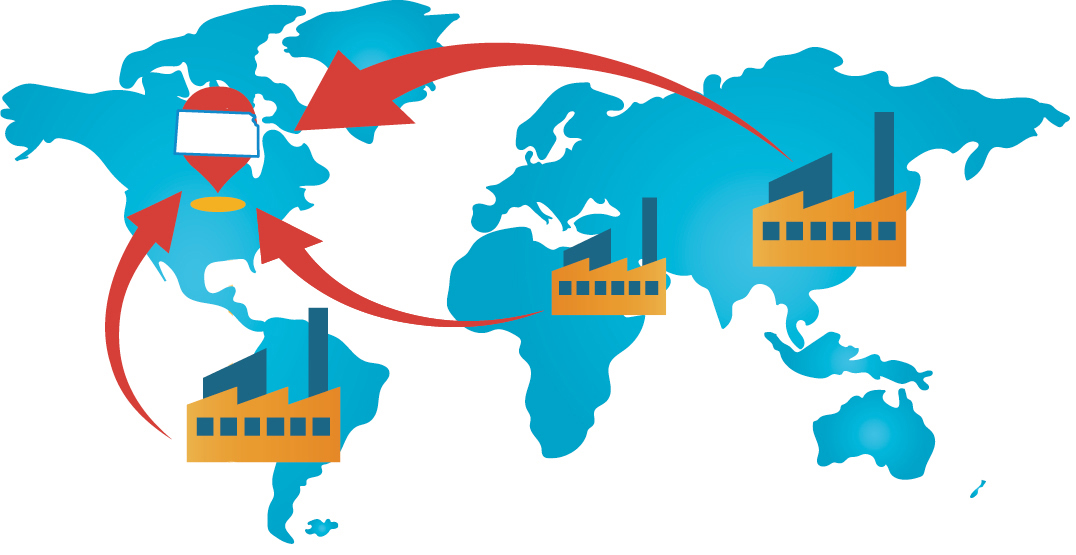 The Reshoring Initiative's 2021 Data Report credited the Sunflower State with 41 reshoring and FDI projects tracked between 2010 and 2021, creating 9,142 jobs. Some of that activity is connected to companies with a long track record in the state.
"It's a truly fantastic facility and we're so proud of the work our hardworking employees do there to bring Coleman to life for our consumers."
— Beth Stellato, Chief Communications Officer, Newell Brands, on the company's steady reshoring and reinvestment at a Coleman manufacturing site in Wichita
The Coleman Company was founded and headquartered in Wichita in 1902 by William Coffin Coleman. In fact, the company's arc lamps lighted the field for one of the first ever night football games at Wichita's Fairmount College. Coleman himself even served as mayor of the city in 1923-24.
Over the years, like many companies, Coleman offshored some of its manufacturing. But a decade ago Coleman (part of Newell Brands today) reshored the manufacturing of plastic coolers from China to Wichita.
How's that working out?
According to a Newell Brands spokesperson, the company reshored additional cooler manufacturing to Wichita in 2014. In 2021 the company moved to add 100 new positions at the plant. And today the operation, which employs 578 people, is pursuing a production capacity expansion that will create over 30 more new full-time jobs in the first half of 2023.
"It's a truly fantastic facility and we're so proud of the work our hardworking employees do there to bring Coleman to life for our consumers," says Beth Stellato, chief communications officer for Newell Brands.
One of the companies ready to welcome reshoring to the plains of Kansas is ductile iron castings and machined components manufacturer Farrar Corporation. Just before Independence Day in 2022, Farrar reminded the public of its nearly 90 years of American innovation, starting with a blacksmith and repair shop in Norwich, Kansas, southwest of Wichita, founded in 1933 by Ernst Clifford (E.C.) Farrar. "Almost 90 years later, that single shop on main street has evolved into a foundry, a custom pattern shop, a CNC machining facility, along with corporate offices, and a secondary CNC machining facility across the state in Manhattan," the company said.
That expansion happened in 2000 under the leadership of company president Joe Farrar. "When the search for new land adjacent to the Norwich campus hit a dead end, Joe started to entertain the idea of expanding the company to a separate location," the company account explains. "Through a long decision process, Manhattan, Kansas, became the chosen destination due to the city's exciting bid, geographical benefits and cultural fit. Not to mention, the Farrar family has a long history of devotion to the Kansas State Wildcats."
Today the company continues to expand, investing in new lines and equipment. "As companies look to re-shore their ductile iron castings and machining, Farrar remains committed to our extraordinary customer service, exceptional quality, and a strong commitment to continued investments in resources," said Farrar Corporation President/CEO Scott Case in a fall 2022 post. "Our company allows you more flexibility over your order dates, increased ability to modify your order quantities, and tighter controls over your tooling and sourcing needs."
— Adam Bruns