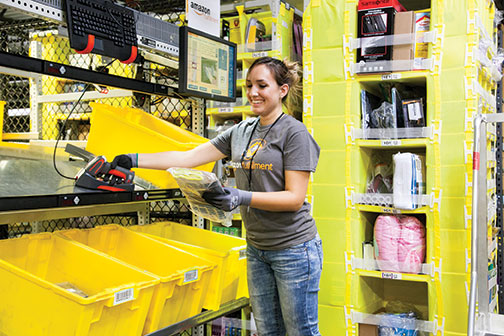 When Amazon announced on Jan. 31 that it would invest nearly $1.5 billion to establish a centralized air hub in Northern Kentucky, the news confirmed what many site selectors were already thinking: Kentucky is ready for prime time.
More than 2,700 Amazon workers will call Hebron in Boone County home when all is said and done, as the world's largest e-commerce retailer sets its sights on also becoming one of the world's largest and most efficient shippers.
The 50-year lease on 900 acres at the Cincinnati/Northern Kentucky International Airport (CVG) will help the Seattle-based company meet demand from Amazon Prime members for fast, reliable delivery. It will also be the largest capital investment in the history of the region.
"As we considered places for the long-term home for our air hub operations, Hebron quickly rose to the top of the list with a large, skilled workforce, centralized location with great connectivity to our nearby fulfillment locations and an excellent quality of living for employees," says Dave Clark, Amazon senior vice president of worldwide operations. "We feel strongly that with these qualities as a place to do business, our investments will support Amazon and customers well into the future. We couldn't be more excited to add 2,000-plus Amazon employees to join the more than 10,000 who work with us today across our robust operations in Kentucky."
Last year, Amazon entered into agreements with two carriers to lease 40 cargo airplanes dedicated to support Prime members with fast, free shipping. Today, 16 of those planes are in service for Amazon customers with more planes rolling out over time. Amazon's Prime Air hub at CVG will support the company's dedicated fleet of Prime Air cargo planes by loading, unloading and sorting packages.
Gov. Matt Bevin, who spent much of his first year in office overhauling Kentucky's business climate to make it more inviting for expanding firms, called it a signature win for his state.
"Given our already existing strength in the areas of logistics and distribution with UPS and DHL, Amazon's decision further solidifies Kentucky as the leading global logistics center in North America, says Gov. Bevin. "In terms of economic impact, we calculate the project will create several thousand direct and indirect jobs."
Dan Tobergte, president and CEO of Northern Kentucky Tri-ED, is calculating the potential effects of Amazon's decision.
"Northern Kentucky relishes the decision of Amazon to establish an air hub at the Cincinnati/Northern Kentucky International Airport," Tobergte said. "We are still digesting the immensity of this $1.49 billion project and the impact it will have on the Northern Kentucky community, region and the commonwealth."
CVG Played Pivotal Role
No one was happier to receive the news from Amazon than Candace S. McGraw, CEO of the CVG Airport.
"We've worked hard to ensure CVG is a great place to do business and we couldn't be more pleased that Amazon recognized those efforts with plans to build a top-in-class air cargo hub at our airport," she says. "A vibrant airport improves the economic vitality of the region, and adding thousands of new jobs through establishing this hub at CVG will certainly be transformational for the local economy and local businesses."
The global air hub at CVG will support Amazon's rapidly growing network of 149 fulfillment centers worldwide, plus more than 20 sortation centers, where the company uses algorithms, robotics, machine learning and other technological innovations to increase delivery speeds for customers. These expansions in technology and real estate footprint enabled Amazon to grow its global revenue to more than $136 billion in 2016, up from $107 billion in 2015.
The company did this while delivering a far greater number of orders itself, and it plans to further invest into its expanding logistics network. The CVG hub will make this happen sooner, says McGraw.
"Amazon advised of several factors important to them, including site availability and infrastructure," she says. "CVG owns more than 7,500 acres of property, four runways and plenty of taxiways. CVG is a cost-effective airport, and access to three major highways and an ability to access a large population within hours' drive time" were crucial factors.
The ability to bring the project to market quickly helped sway the deal in CVG's favor.
"CVG has committed to invest $5 million in infrastructure improvements," McGraw adds. "A key part of our five-year strategic plan is leasing land for development. We have additional land still ripe for development."
The Kentucky Cabinet for Economic Development sealed the deal by making Amazon eligible to receive up to $40 million in state incentives over 10 years. Gov. Bevin took a personal and active involvement in negotiations to land the project, which began as a multi-state site search more than six months prior to the Jan. 31 announcement.
"A variety of reasons factor into business expansion and growth in our state," explains Gov. Bevin. Every situation, and every company, is unique. In terms of the Amazon hub specifically, Kentucky's central location, strong logistical capabilities, available labor force and Amazon's existing operations in the state — including a footprint of 11 fulfillment facilities, 10,000 full-time employees and history going back nearly 20 years — played important roles in Amazon's selection process."
The company has stated that the average hourly wage at the new air cargo hub in Hebron will be $26 plus benefits.
How Kentucky Laid the Groundwork
John Bevington, deputy commissioner for business development for the Kentucky Cabinet for Economic Development, says Amazon needed a willing partner who could make things happen swiftly.
"Amazon is a quick-moving company," he says. "They move products quickly and they move their business quickly. It was an intense six to eight months. They needed a partner that could move at the pace they wanted to move."
The search was wide but focused.
"It is fair to say that Amazon looked at a handful of airports that could handle the type of capacity they needed," Bevington adds. "CVG and the planning they had done over the years — that showed that they were prepared for this opportunity. That preparation facilitated us moving toward the top of their sites in the US. It came down to three finalist locations."
CVG beat out the two other locations to land the prized deal. While the incentives, aimed at lowering the company's cost of doing business in Kentucky was a factor, the trust factor sealed the deal, Bevington says.
"They located their first fulfillment center in Campbellsville, Kentucky in 1999," he says. "Today, Kentucky employs the second-most Amazon workers of any state, with only Washington employing more. I think that relationship is important in establishing the trust and rapport that establishes the confidence in the process. Confidence in confidentiality, the speed in our work and our ability to do everything on their list in a streamlined fashion — all of that was very important."
Terry Gill Jr., secretary of the Kentucky Cabinet for Economic Development, says that Kentucky's historic leadership position in logistics was another deciding factor.
"Before adding job number one at Amazon's Prime Air hub, our thriving distribution and logistics industry already captured the eyes of the world. Now we have its complete attention," Gill says. "For decades, Kentucky's distribution and logistics industry has been one of the state's pillars, employing more than 50,000 people full time at 400-plus facilities. As the Prime Air hub substantially comes on line in the coming years, increasing the industry's jobs, infrastructure and resources, we fully expect a new wave of interested companies considering locations and expansions in the Northern Kentucky region and beyond. Kentucky can now easily be considered a critical hub for air logistics, not just for the United States, but also for the world."
A Game-Changer for a Region
Tobergte said the significance of the Amazon investment cannot be overstated.
"We have been using the term transformational to describe this project," he says. "What has happened in Louisville with the UPS Worldport can happen here in Northern Kentucky. Delta, DHL and Amazon hubs are all here. We anticipate a lot of spinoffs to be located near the Amazon Prime Air hub after it opens."
The air cargo hub is just the beginning of the real impact of this deal, Gov. Bevin notes.
"We know more than 70 companies, including manufacturers and warehousing operations, have located in greater Louisville since UPS announced its Worldport air hub," he says. "We expect to see similar regional growth in Northern Kentucky as a result of the Amazon expansion. We also project Amazon's Prime Air hub will generate hundreds of millions of dollars annually in new payroll and GDP."
In the long term, Amazon will likely grow its employment and investment at CVG. They may also potentially expand their existing fulfillment centers in Kentucky as their package-volume increases, meaning even more jobs for the region and increased economic impact. In short, this announcement promises to be transformational for Kentucky's logistics and distribution industry for many years to come.
"Improving Kentucky's business climate is a top priority for our administration," Gov. Bevin adds. "We've worked diligently on this from day one, introducing measures to cut red tape, as well as creating initiatives and providing dollars to improve the job readiness and training of our workforce. I remain passionately committed to making Kentucky the nation's most business-friendly state. If you like the kind of positive progress we have made thus far, keep your seatbelt fastened, because there is much more to come!"