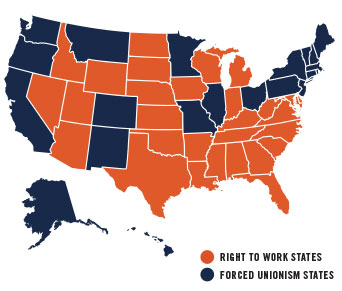 When Kentucky's lawmakers voted in January 2017 in favor of a proposed right-to-work bill, they essentially hung a blinking neon "open-for-business" sign in the window.
With Gov. Matt Bevin's signature, Kentucky became the 27th right-to-work state in the US. The legislation outlaws mandatory labor union enrollment as a condition of employment.
"I think when you look at Kentucky and the states that we compete against, a lot of times we punch above our weight," says Brad Thomas, economic development associate manager for Kentucky's Touchstone Energy Cooperatives, which serve 87 counties in Kentucky. "That's based on the fact that we have a lot of things going for us. When you look at our logistics, availability of water, low electric rates, workforce development and apprenticeships, Kentucky has a lot of things going right for us in the economic development world. I think 2017 is going to be a great opportunity. Right-to-work is going to make people take a look at us and realize how many things our state has going for them."
The new law is expected by many to be a game-changer for the state's economic development efforts as investors will often only consider right-to-work states for investment projects, Thomas explained.
"If you don't check that box, you're eliminating yourself," Thomas says. "What we know is economic development is a process of elimination. If someone can take a big question like that to knock you out of contention, they're going to do it."
But now, Kentucky will be able to vie for projects that otherwise would have located elsewhere by default.
"It creates a lot more opportunity to be considered," says Mike Mullis, business management consultant with JM Mullis Inc. in Memphis, Tenn. "I was with one of our European companies earlier this week for a major project that we're going to be doing in the US. One of their conditions — right, wrong or indifferent — is that we only include right-to-work states. I would say right now if you had 10 projects, no matter where they're from, seven or eight would require right-to-work states."
Mullis goes on to say that while becoming a right-to-work state is a boon for the commonwealth, it also means Kentucky must continue to showcase its advantages in attracting investors with a skilled workforce, enticing tax incentives and a business-friendly attitude: "Having that designation doesn't close a deal. It just gets you more looks."
If there are doubts about the law's ability to lure new business, one need only look west, toward Bowling Green and Warren County. Prior to the statewide law, Warren County was the first county in the nation to enact a local right-to-work ordinance in 2015.
"We started marketing the fact that we became right-to-work immediately after it passed," Ron Bunch, president and CEO of Bowling Green Area Chamber of Commerce, says. "From that time, we saw material increase in interest, we saw projects with more jobs and more investment, and we actually have been successful in several projects since then."
Per Bunch, new companies and investment projects announced in 2015 brought an excess of $947 million in investments and 1,055 new jobs, the most ever recorded in Warren County. The community finished 2016 with an additional $463 million in investments and 703 jobs.
These are promising numbers for a state focused on becoming the epicenter of advanced engineering and manufacturing. With 60 percent of the nation's population within a day's drive, Kentucky is ripe for more development — particularly from the automotive sector, says Kentucky Rep. Jim DeCesare, chairman of the House Economic Development and Workforce Investment Committee, who represents Butler and Warren counties. Indeed, the state already sports the No. 1 ranking in the nation per capita in light-vehicle production and DeCesare is hopeful more automotive plants will choose to locate in Kentucky.
"We have great opportunities here. We have great infrastructure, a great workforce," DeCesare says. "We can provide the things that industry needs to not only get their goods manufactured but also to get their goods distributed around the United States and the world. We're perfectly situated so that the next auto manufacturer that decides they need a new plant, and there are some that are looking around, we're going to be part of the conversation now."