Governor Andy Beshear is determined to make Kentucky a global leader in the fast-emerging agritech industry. Not only is there a growing demand for systems that can make agriculture more productive and efficient, but this focus will directly benefit rural parts of the commonwealth. That's not to say Kentucky's other key industry sectors will be back-burnered. Automotive manufacturing and assembly, health care and other signature sectors will benefit from a workforce being retooled to compete with any workforce anywhere, the governor explains.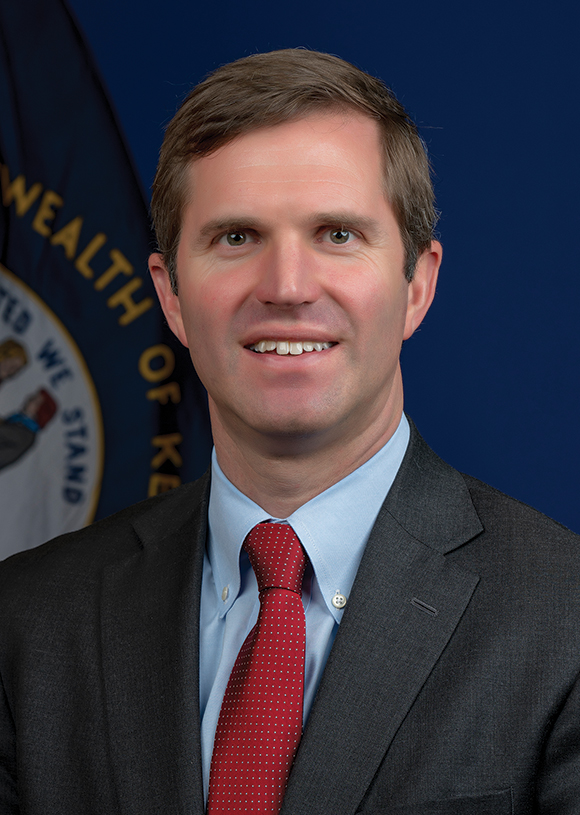 What are your priorities in terms of business climate and economic development?
GOV. BESHEAR: Our goal is to build an economy in Kentucky that can take us into the next 20 to 30 years, to make sure that we are not simply chasing jobs, but that we are investing in and attracting the industry of the future. So many of the jobs that exist today didn't exist 20 years ago, and our goal is to be looking forward instead of trying to catch up. Areas that we are laser focused on include agritech, advanced manufacturing and health care, which is going to continue to be both a challenge and a growth area in Kentucky and across the country.
How did your interest in agritech come about?
GOV. BESHEAR: The United Nations estimates that we have to increase our food supply by 70% over the next 30 years just to feed the world's growing population. That means it's going to be one of the most critical industries for the survival of our people. We see significant investment year over year in agritech, and we are at a place and time where our state can be a leader. It weds our history and tradition of being a strong agricultural state with a future based in technology and manufacturing, in which we also thrive. [We want to be] a center for agritech, not just in the production of food, but in the production of the drones that will help us manage the fields of the future, to be a hub of the science that develops that next seed that can withstand the types of floods that we are seeing. To do it in a location where we can reach so much of the population within a one-day drive gives us an opportunity to be the agritech leader in this country. I believe that's an opportunity we have to grasp. Right now, we have one of the largest agritech projects in the country in AppHarvest. They are building the largest greenhouse in North America and it's in Eastern Kentucky. Agritech not only gives us the chance to be a true national and international leader, it gives us an opportunity to build our economy in areas of the state that have not seen enough jobs in recent years.
Kentucky has been a leading state in the cultivation of the industrial hemp industry. Is this an area you plan to focus on as well?
GOV. BESHEAR: We are watching hemp, and certainly there have been strides made over the last several years. I want to make sure that we have a diversified agritech economy where we are not just leading with hemp and agricultural products themselves. AppHarvest is going to provide tomatoes to the entire eastern seaboard. But we are also leading in the science and the technology that is going to drive the increase in production. If you have to increase your yield two to three times, which is what it's going to take by every single farmer to reach that 70% increase, then we have got to bring new techniques, new technology and new science to the table. And that's going to be needed all over the world. So when we position Kentucky as a leader in agritech, it'll create export markets everywhere throughout this country and throughout the world.
I believe we do that in a couple of ways. First, we look for those big opportunities, like AppHarvest. We have good companies that are out there in the agritech sector that are looking for a home. They will find it in Kentucky, and they will find a governor that is ready to partner with them on building the future right here in the commonwealth. The second way we do it is we foster the growth of startups and small businesses in the area of agritech. We want to make sure the next great idea is being fostered either in our universities or our community colleges, that we are enabling our farmers that have that next great technique or have come up with the next way to not just manage a field, but an acre in a better way. We've got lots of tools to do that, from our Governor's Office of Agriculture Policy to areas of our economic development cabinet. When we pull those together, I believe that we are going to offer not just incentives but opportunity that no other state can rival.
Rural parts of the state will clearly benefit from this emphasis.
GOV. BESHEAR: Agritech is an opportunity in both Eastern and Western Kentucky to create an industry where we do not simply create jobs, but where we can be a national and an international leader. Those jobs are everything from the traditional agricultural model of growing our food to being able to place those six-figure jobs in science and technology in some of our more rural areas. We have great regional universities from Morehead State in Eastern Kentucky to Murray State in Western Kentucky that can be some of the incubators and leaders that can help drive this technology. And we are situated with our community and technical colleges in all parts of Kentucky to be able to train those workers in the future that immediately when we bring in a company like AppHarvest, we have the community and technical college in that instance, within a couple hundred yards that can train and retrain, tool and retool our workers to make sure that we're not just the leader now, but we can continue to be a leader in agritech moving forward.
What should readers be looking forward to with respect to Kentucky's workforce?
GOV. BESHEAR: I'm committed to creating the best workforce in America. It's through making sure that all of our kids — every Kentucky child — has educational opportunities and takes one of two major tracks, either a four-year university track so that we have the very best engineers and scientists and professionals, or the technical track where we have the very best trained, most efficient workers out there. I want to make sure that when we train this workforce we are attracting jobs with wages that can truly raise a family. When we have a lower unemployment rate, at least in many parts of Kentucky than we have had in a long time, it's important that we take good jobs, jobs that lead to careers, and jobs that will exist in the next 20 years. And if we can be intentional about the types of jobs that we are creating, I believe that we can have a robust economy in Kentucky, but also an economy that is more attractive to business as we are forward and future looking. That's important to me.
Existing industry in Kentucky includes sectors like automotive and other manufacturing. How do you see these industries transforming into occupations of the future?
GOV. BESHEAR: We are proud of our automotive sector being one of the largest in the country — also being one of the most efficient and now one of the most flexible. We're proud that we've been able to work with our automotive manufacturers, so that they have flexible lines and can adapt to either changing tastes or changing drivers in the economy, which may be at different times the price of gas or mileage-per-gallon standards that are out there. Our goal is to ensure that we continue to work with the industry to always be looking forward. That means that we need to be a leader in the electric vehicle market as well and continue to look toward battery manufacturing, design and the science behind it. We're going to continue to put out some of the best engineers across this country to create the type of workforce that those that have now been with us for so long rely on. We're going to continue to try to attract the suppliers of our major manufacturers into Kentucky so that we can lower their costs of production but also to create the type of internal efficiencies and economy in Kentucky that continue the vibrance of our automotive industry.
Kentucky is home to a growing health care industry. How will that sector evolve in the coming years?
GOV. BESHEAR: To lead in the economy in the future, you have to lead in health care and health care innovation. One of the areas that's critically important is preventative health care, where Kentucky had been a leader and will be again — also in how we provide rural health care. We are seeing challenges all over the country, with the closure of rural hospitals and difficulties in providing services to our people. But what we have also seen in Kentucky, with the first colorectal cancer study coming out, is when you innovate and when you provide coverage in one form or another to the vast majority of your population, you not only save lives but you can lower costs. That's the first study that has come out since the implementation of the ACA and expanded Medicaid in Kentucky, and it shows that there is a future in health care that we are going to pioneer and lead the way on. That also means that we have to support our universities and our health care providers that are out there. Right now, we have a bill moving through our legislature and you're going to see in my budget support for the University of Louisville and its acquisition of a hospital system in Louisville. We've got to make sure that those services are not only there but that we have everything we need for our universities for thriving medical schools and research. When you look back, Kentucky has led the way in many areas of research. The first hand transplant occurred in Kentucky. Some of the innovations and breakthroughs in heart transplants occurred in Kentucky. We want to make sure that we keep that competitive edge.
Will the legislature be working on business climate or economic development measures that you want to address?
GOV. BESHEAR: I believe that those that are looking to do business in Kentucky will see a governor's office and executive branch and a legislative branch that are committed to creating the type of business climate that helps businesses create jobs with good wages and ultimately thrive. Kentucky is set up to where we not only have a low cost of doing business, we have a distinct advantage as far as logistics goes, but it's also an amazing place to live. We've seen whether it is full relocations or large back offices that have been placed in Kentucky that there are true opportunities to not only move your company forward and grow it but do it in an area where the families that make up your workforce are happy to live, are productive, and bring that positive energy every day that makes you stronger as a company.
Efforts to cut red tape in Kentucky have had a positive impact on its business climate. Do you see that continuing?
GOV. BESHEAR: Like business, government is a balance. It's ensuring that there aren't obstacles to progress and growth while at the same time making sure that we have safe workplaces and a safe workforce. I believe that companies agree with that. They want to be in a location and an environment where they're doing right by their people and their government is doing right by them.
Let's turn to trade. What is the significance of the recently signed USMCA trade agreement to Kentucky exporters?
GOV. BESHEAR: My hope is that it opens up that market and other markets to Kentucky goods and opportunity. I think that this administration is going to truly look globally at who our best partners can be, whether it's in agritech or advanced manufacturing, and establish the types of strong relationships that don't just create a one- or a two-year project, but a long-term relationship. I believe that's everything from reestablishing some of the ties with India that we had been growing to a recent visit we had from the Netherlands, which is an agritech leader across Europe. So our hope is that both the nation and the world know that Kentucky is a special place that is looking for good partners and is a good partner.
In large part due to the automotive industry, Kentucky is home to a huge foreign company presence. Do you see that presence growing?
GOV. BESHEAR: We have had longstanding, great relationships with Japan and many Japanese companies, and we will continue to foster and grow them. That is a relationship that I think has been beneficial to both the commonwealth and to Japan, and we will continue to make sure that that relationship flourishes. From Germany we have seen more and more investment as time has gone on. And that has been an incredibly productive relationship as well. Canada being our largest export market shows that we have to continue to cultivate that relationship. I've already met with individuals from that delegation, and we will continue to build and grow that relationship. We previously had a trade mission to Canada, and as one of the biggest markets that we export to we've got to make sure that we continue to keep that relationship in a positive and growing way.
How can Kentucky deliver to capital investors the predictability they require when they are looking to build or expand facilities in an area?
GOV. BESHEAR: I will tell you that Kentucky has a hands-on governor in me that will be actively involved in our economic development opportunities, that will meet personally with those considering locating and growing in our state and that our relationships in Kentucky aren't just contractual, they are personal. If a [prospect] is willing to make a large-scale investment in Kentucky, they won't just have an incentive contract, which we have always honored and will continue to. They will have a direct relationship with their government and their governor's office to make sure that we are providing, whether it is the job training or other services, to where we can truly make a project work or an industry grow. I believe right now in Kentucky there is the chance to be part of something special, something that's going to build into the future. We're looking for folks that don't just want to locate a facility, but want to be a part of where we're going that want to grow with us that believe that they as a company and we as a state can be a national and international leader in industry of the future. I think it's an exciting time here in Kentucky, and we're looking for folks that want to be a part of it.