Agriculture is moving indoors. A recent survey by Agritecture Consulting, which advises indoor farmers, identified 74 indoor agriculture companies founded nationwide in 2020. Among the most ambitious of the nation's indoor growers has begun to hit paydirt in Eastern Kentucky. There, a homegrown visionary has built North America's largest greenhouse, and is promising high-volume yields up to 30 times greater than traditional farms.
In January 2021, Morehead-based AppHarvest announced its inaugural harvest of greenhouse-grown beefsteak tomatoes, which the company started shipping to Kroger, Walmart, Publix and other grocers. Kentucky native Jonathan Webb first announced the vision in 2017 and has since drawn significant support from venture capitalists and private backers such as Martha Stewart, author J.D. Vance and AOL co-Founder Steve Case.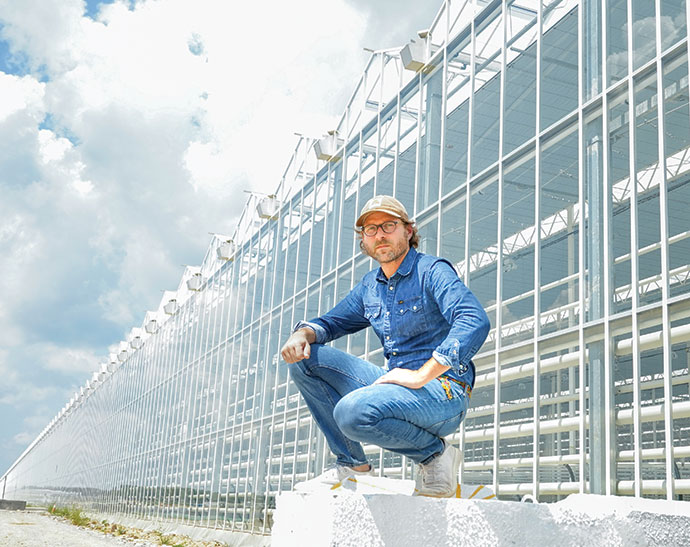 AppHarvest says its $97 million indoor farm houses 720,000 tomato plants that can grow up to 45 feet high and be harvested year-round. The company hopes to produce 45 million pounds of tomatoes a year. The 60-acre facility employs 350 people in a region challenged by the decline of the coal industry.
"As one of the world's largest structures, it's creating a forward-thinking economy that's focused on improving nutrition, using less of our precious natural resources and creating better, high-paying jobs," said Webb, now the company's CEO.
Webb said Appalachia is an ideal location for AppHarvest. The region receives abundant rainfall, and its central location enables the company's produce to reach about 70% of the U.S. population within one day's drive. As a result, AppHarvest expects to deliver fresher fruits to its customers, ripened on the vine for peak flavor and nutrition, with an 80% reduction in diesel consumption required by produce shipped from Mexico.
"We are determined," Webb said, "to build a climate-resilient infrastructure to offer folks a delicious tomato grown right here in Appalachia with 100% recycled rainwater and zero chemical pesticides, making it better for both them and the environment."
In 2020, AppHarvest broke ground on a 60-acre greenhouse in Richmond, and a 15-acre facility for growing leafy greens in Berea. The company plans to build a dozen indoor farms across Appalachia by 2025. In February 2021, Webb rang the bell on the floor of the New York Stock Exchange for the company's initial public offering, which saw AppHarvest stock immediately soar 44%.
"Eastern Kentucky," said Webb, "is mobilizing to lead the real food revolution. The world is looking to Kentucky as a leader in the field."
Sowing the Seeds of Prosperity
Kentucky is well-positioned for the challenge. The state is blessed not only with abundant farmland and agriculture expertise, but its deep bench of advanced manufacturers helps to bolster the increasingly promising field of agriculture technology, which infuses traditional agricultural practices with modern production techniques to improve yield, efficiency and profitability.
"Agritech is the future of agriculture, and Kentucky is uniquely positioned to embrace and deliver on it," said Gov. Andy Beshear. "Being the global leader in the agritech industry not only will make Kentucky's farms more productive and efficient, but also will benefit every citizen and every region of the commonwealth in creating industry and jobs."
"AGRITECH IS THE FUTURE OF AGRICULTURE, AND KENTUCKY IS UNIQUELY POSITIONED TO EMBRACE AND DELIVER ON IT."
In July 2020, Gov. Beshear issued an executive order establishing the AgriTech Advisory Council, which he is chairing, with the goal of building America's AgriTech capital in Kentucky. Members of the council, which includes Appharvest's Webb, come from farming, industry, education and labor.
"Agritech," said Beshear, "gives us an opportunity to build our economy in areas of the state that have not seen enough jobs in recent years. With this initiative, we strive to further advance agriculture production and sustainability while creating jobs and incorporating Kentucky's strong advanced manufacturing and logistics sectors."
A landmark agreement with the Netherlands, a global agritech leader, could help speed Kentucky toward its goal. Signed in summer 2020, the formal collaboration was the culmination of months of trans-Atlantic discussions and reconnaissance trips involving officials of government, academia and business.
"We visited Kentucky and saw the potential of the AppHarvest program first-hand," said Maurits van Os, deputy director of NL Works, the Dutch overseas investment agency. "We want to make sure that Dutch companies can get involved in creating this new agritech ecosystem."
The agreement calls for joint agricultural research programs, the construction of a center of excellence and further development of Kentucky's agritech infrastructure, including the opening of a Dutch representative office.
Success Stories
In another win for Kentucky agritech, EnviroFlight LLC announced plans in December 2020 for a $20 million expansion of its Maysville plant and animal nutrition facility, which opened just two years previous. The expansion is expected to add 40 new employees to a staff that had grown from 12 people at inception to 73. The EnviroFlight plant in Maysville turns black soldier fly larvae into a low-cost, high-protein feed for livestock.
"The decision to expand in Maysville was an easy one due to the incredible support we've received from Maysville, Mason County and the State of Kentucky," said Liz Koutsos, EnviroFlight president. "We are proud to be part of the Kentucky AgriTech initiative as the first commercial scale producer of black fly larvae in the U.S."
Kentucky Fresh Harvest is another ground-breaking agritech venture that celebrated a milestone in 2020. In October, KFH marked the successful end of its pilot crop and the launch of year-round production of cherry tomatoes at its 30-acre campus in Stanford. Like AppHarvest, Kentucky Fresh Harvest holds a position on the governor's new AgriTech Advisory Council and also is a member of the Appalachia Proud program.
"Kentucky Fresh Harvest is the type of company we envision can help strengthen our state's economic potential, not just in the years ahead but for generations to come," said Gov. Beshear. "The company bringing its operation on line during such a tumultuous time is a testament to their staff's ability to adapt quickly and be prepared for any challenge."