Top-selling cars and trucks are built in Kentucky by Kentuckians.
If that fact alone is not enough to convince you of the efficacy of the Bluegrass State as a manufacturing destination for automakers and their suppliers, consider this: even during a pandemic-induced recession that drastically cut vehicle sales through the first half of 2020, General Motors, Ford and Toyota still experienced strong rebounds in sales of vehicles made in Kentucky.
GM reported Jan. 5 that its vehicle sales in the U.S. increased by 5% during the last three months of 2020, marking the company's best fourth quarter performance in retail sales since 2017 with deliveries up 12%.
GM makes America's flagship sports car, the Chevrolet Corvette Stingray, at its plant in Bowling Green. In the final quarter of 2020, deliveries of the new mid-engine Corvette were up 158% — the highest gain of any GM product.
Ford's U.S. sales rebounded in the third and fourth quarters of 2020, up nearly to pre-pandemic levels. For more than half a century, Ford has operated two vehicle assembly plants in Kentucky, both in Louisville; the Kentucky Truck Plant and the Louisville Assembly Plant. Toyota reported, meanwhile, that its U.S. vehicle sales climbed 20% in December. Toyota produces cars, trucks, SUVs and engines at 10 major plants in the U.S., including its largest factory globally in Georgetown in Scott County, Kentucky. Since 2017, Toyota has pumped more than $1.7 billion in capital investment into that plant on the outskirts of Lexington.
---
"The auto industry is in a years-long tectonic shift to electric vehicles. Throughout this, we must advance the commonwealth's role and reputation as a major player in this hugely important economic sector." 
---
These OEMs are not alone in their bullish growth strategy in Kentucky. Since the start of 2014, automotive manufacturers and their suppliers have announced a total of 439 expansion or new-location projects in the Bluegrass State. Collectively, these deals have accounted for nearly $11 billion in capital investment and led to the creation of 21,942 jobs in the commonwealth.
While the global economic slowdown resulted in lower corporate investment numbers among automakers in Kentucky, the Bluegrass State still managed to secure 31 expansion projects totaling $256.8 million in capital investment and generating 970 new jobs during 2020.
Value Proposition Linked to Location
Some of the biggest deals of 2020 came from Hitachi Automotive Electric Motor Systems, which announced a $94.8 million project that creates 162 jobs in Madison County; and Stanley Engineered Fastening, which announced a $5.985 million deal that generates 49 jobs in Western Kentucky's Christian County.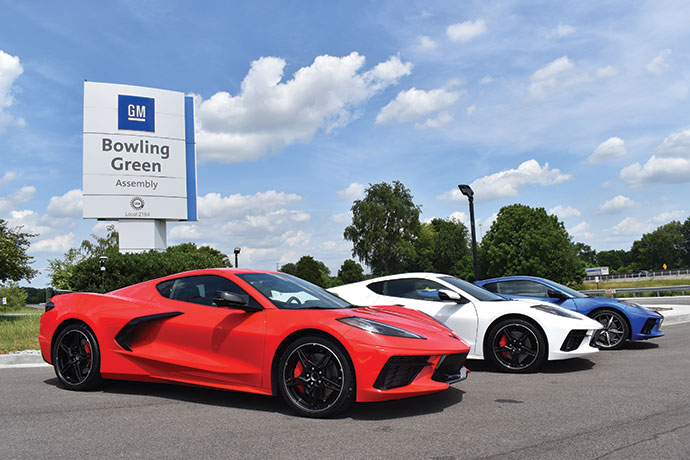 Investments like these keep Kentucky ranked No. 1 in America in vehicle production per capita, and automakers know why these deals keep happening. The central value proposition for Kentucky as a location for automotive manufacturing can be summed up as follows:
Logistically, the location makes sense. More than two-thirds of the U.S. population can be reached from Kentucky within a single day's drive. Within a radius of 738 miles, trucks can reach New York, Chicago, Atlanta, D.C., Nashville, Charlotte, Atlanta, Philadelphia, Pittsburg, Detroit, Minneapolis, St. Louis, Indianapolis, Tampa, Orlando and Milwaukee, among others.
Kentucky offers available industrial sites in virtually every part of the state.
Three major OEMs call Kentucky home: Ford, GM and Toyota.
Competitive incentive programs are available through the Kentucky Cabinet for Economic Development and the Kentucky Economic Development Finance Authority.
Labor costs in Kentucky are 20% below the national average, while industrial electricity rates rank among the nation's lowest.
Cost of living in Kentucky is 11.4% below the national average.
Advantages like these keep the factories humming and the cash registers ringing at automotive companies all over Kentucky; and the investment wave has spilled over into 2021.
Preparing for a Shift to EVs
On Jan. 14 of this year, Japanese-owned Hitachi announced that it's creating 200 new jobs in Berea with an operation to manufacture motors for electric vehicles produced by Honda America Mfg. Inc.
Since 2014, automakers & suppliers have announced 439 projects in Kentucky, accounting for $11 billion in capital investment and 21,942 new jobs.
"This new venture, along with the jobs and wages it will create, adds true momentum to our economic recovery and points to a bright future as we build a better Kentucky," said Gov. Andy Beshear. "From an automotive workforce and industry perspective, it's crucial that Kentucky continues to attract these kinds of forward-looking projects. The auto industry is in a years-long tectonic shift to electric vehicles. Throughout this, we must advance the commonwealth's role and reputation as a major player in this hugely important economic sector."
This newly formed Hitachi subsidiary joins more than 500 other automotive suppliers and four automotive assembly plant operations in Kentucky.