Governor Andy Beshear has been leading Kentucky's response to COVID-19 not just daily, but with an eye constantly on the commonwealth's post-pandemic economy. In the following interview, he explains the importance of Kentucky becoming the leading location for such emerging industries as agritech, and remaining the leading location for air cargo operations, aluminum and steel and other signature industries. At just 43, he notes, he'll be a part of that economy for years to come, and he intends to make it healthy and prosperous for all Kentuckians.
2020 was a challenging year for all states as they worked to support business and industry in light of the pandemic. How is Kentucky prepared to do so in 2021?
Gov. Andy Beshear: 2021 will be the year that we not only beat COVID-19 through the use of safe and effective vaccines. It's also going to be the year we sprint into our future. We spent much of 2020 and this first part of 2021 investing in our infrastructure through Abandoned Mine Land grants and through ARC projects and dollars to ensure that whether it's our sites for possible relocation, water and sewer infrastructure, electric and natural gas, that we have the best sites in America ready for those who are ready to invest in the future.
We have also spent this time making sure we can support and grow our own industries, providing relief, working with them to get through this pandemic. An effective resurgence and revitalization requires effective management of this virus to get there. We lost a week or two of production at one of our Ford plants because COVID-19 went through the semiconductor manufacturing industry — not in our state, but the virus impacted supply. We have to make sure that doesn't happen here in the commonwealth. I believe we have effectively done that.
What will you share with the National Governors Association bipartisan task force on economic recovery and revitalization — to which you were appointed co-chair — in terms of Kentucky's experience in this area?
Gov. Beshear: There are two parts of that. The first is what needs to happen to be primed for revitalization while we are still fighting the pandemic. That needs a coordinated response between federal and state and local governments. It includes effective distribution of the vaccine, which will require more supply. And it requires real relief especially for small businesses, but many types of relief that will help our businesses.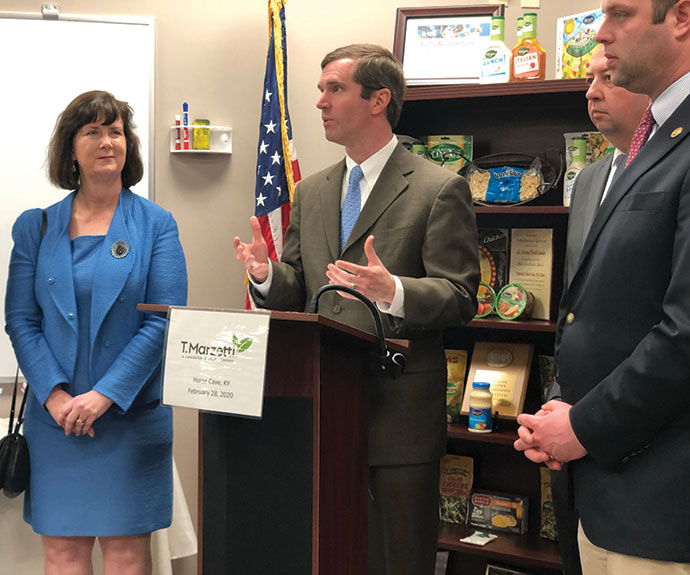 Then there is the post-COVID-19 economy and the recognition that it will look different. We want to get the vaccines to get back to normal, but the post-COVID economy won't be the same normal. There will be a larger focus on remote work, on virtual learning. We see an increased focus on our health care industry, which has been critical in Kentucky. We invested in our hospitals, including our rural hospitals, before this pandemic hit. We've seen what pressure on our food supply chain can do. We've seen the impact of allowing too much of our critical manufacturing to be overseas with our inability to manufacture certain PPE. It's understanding that our post-COVID economy is going to be impacted by our experience during COVID. But for a state like Kentucky, it may create more potential than ever before. Whereas the density of a New York or Los Angeles aren't as important as they used to be, in the right circumstances, remote work can be as productive, or more productive, than more traditional models. That gives us the ability to compete.
Which components of the Better Kentucky Budget do you most want to bring to the attention of potential capital investors from outside the commonwealth?
Gov. Beshear: They should know that we take care of those who have invested in Kentucky. Once you come to Kentucky, it is an ongoing partnership. We want the best for you, and as you grow you are employing our people, and it's good for everybody. They ought to see investment in our workforce and ways we create a more skilled workforce. We are using this time to get more people a two-year degree or a skill certificate. Our Better Kentucky Promise lets us provide that last dollar to over 6,000 Kentuckians to attain that next level of education.
They will see that we are forward looking. We have an emerging industries fund. We want to be competitive for the jobs of the future, not just chasing the jobs of the past — areas like agritech and aerospace, for example. The budget recognizes how important broadband is and will be. It will allow a business to locate anywhere in Kentucky.
They'll see investment in our schools, honoring and investing in educators, and ensuring we have the type of health care system where regardless of where you locate in the state you will have quality, accessible health care and a great education system. We are looking to the future. That's what defines this Better Kentucky Budget.
What are your priorities with respect to the Transportation Budget? Do they include measures that will build on Kentucky's success in areas like air cargo hub investment?
Gov. Beshear: Our transportation infrastructure is critical in Kentucky. Distribution and logistics is not just about our roads, but also our airports. I believe the Amazon project in Northern Kentucky is the largest project Amazon has ever embarked on. Look at the things we've been able to do — upgrading the airport in Paducah. We'll be building a new terminal, having leveraged dollars from the federal government and other areas, that will open Western Kentucky up with a world-class airport. [River and rail development continues there,] and some breakthroughs with Indiana right now will prime Western Kentucky with all the advantages you might see in Louisville or Northern Kentucky — Interstate, airport, everything they need to compete, and we're excited about that.
You'll also see a continued focus on Eastern Kentucky and the infrastructure needs there. We are moving at a faster pace on the Mountain Parkway than ever anticipated. It will be four lanes all the way to Salyersville, and we will continue to prioritize that.
We see regionally the importance of our regional airports. AppHarvest opened the largest greenhouse in North America this year with world-class investors flying into our Morehead airport. We've announced two new AppHarvest sites even since the opening. The opportunity to travel directly to the area you're investing in is incredibly important.
Could you speak to any specific project wins in recent months that illustrate Kentucky's competitive advantage over other locations?
Gov. Beshear: Even with the pandemic we've had a lot of successes this year that show how attractive Kentucky is. We announced nearly 1,700 new logistics jobs — 33 expansions and/or new location projects. Combine that with Amazon, UPS and DHL and I believe we are already the logistics headquarters of the United States. In professional services, one major accomplishment was bringing Protective Life Corp. to Northern Kentucky, where it will have its name on the tallest building in Covington. It's 100 six-figure jobs, and it's the kind of move that can also spur so much more growth in the area. This shows that Northern Kentucky and the rest of Kentucky are competitive for those jobs.
We have also had a number of successes in aluminum and steel, from the groundbreaking of Nucor's steel plate mill in Brandenburg to Crown Holdings' beverage can manufacturing facility in Bowling Green, which is the fastest schedule to become operational I have seen. On that project, we brought together economic development and environment and permitting folks and laid out a strategy where we do everything right. The company wants to do those things right and do it really quickly, because they're ready to go. That's exactly what we want in Kentucky. I like to govern with a sense of urgency about everything we do. That has to be our approach in economic development. The opportunities are out there, and we want to plan for the future. We want to get those jobs right now.
Kentucky was an early leader in facilitating growth of the industrial hemp industry in the U.S. In which other industries do you want Kentucky to be known as an early leader?
Gov. Beshear: Certainly agritech. In this last year, AppHarvest has opened its doors and begun production and just had its first crop of tomatoes that are going out to grocery stores all over the United States. They have broken ground at two additional sites in Kentucky. Kentucky Fresh Harvest opened a large-scale greenhouse operation in Stanford in October 2020, producing cherries and grape tomatoes. EnviroFlight, a producer of black soldier fly larvae, is expanding in Maysville, showing that these companies are locating in rural Kentucky. We have an agreement with the Dutch government where they will invest here and guide us. We are taking major steps forward.
We've talked about aluminum and steel. Nova Steel is creating 110 jobs in Bowling Green at a new steel tube manufacturing facility. Danieli Corp., an Italian-owned metals industry supplier, is creating 61 jobs at its facility in Ashland. PRCO America, a manufacturer of specialty refractory brick for the steel industry, plans to open its first U.S. production facility next year in Graves County, in West Kentucky, a nearly $5.5 million investment expected to create up to 32 full-time jobs.
The aluminum industry is focusing on Kentucky, where we can create efficiencies of location and ultimately of scale. From the smelters in Western Kentucky to just about every part of the life cycle. We have the workforce already trained in it and ready to go. We're seeing a lot of new and exciting investment in aluminum and steel.
How is Kentucky working to keep intellectual assets, such as university graduates, in the commonwealth rather than moving outside it?
Gov. Beshear: We partner with our universities, and that can't end with a degree. Having universities, community and technical colleges connected to our exciting careers of the future is so important. The second thing we do is understand that the path to creating that intellectual property isn't always linear. We have to make sure our educational opportunities are flexible, that there are different paths that can be taken over time to get there.
We have to have the right incentive packages to help locate, whether it's an AppHarvest or a Fresh Harvest, to help the person who has the next great idea to build it where they are, to test it and scale it up. There are opportunities throughout the life cycle of creativity and growth. The next great company may be created in someone's garage or on their farm. We're making sure we are not missing out on unleashing the potential and the intellectual capital of our people. We have incentives from everywhere from our Governor's Office of Agriculture Policy to help on a single farm all the way up to the economic development incentives to help hire the first 100 people. We want to make sure the ideas aren't created in Kentucky and sold somewhere else. We want to help them grow.