If you didn't know any better, you might think the nation's office buildings sit completely inactive and empty, as pandemic-induced remote work takes hold as a permanent part of workplace planning.
But believe it or not, office projects are still alive, well and landing in Kentucky.
Protective Life, founded in Birmingham, Alabama, in 1907, is one of the largest insurance and financial service companies in the U.S., protecting over 11 million customers and employing over 3,000 people across the country. In October 2020, the company announced its intention to focus on operating three core office campus sites in its hometown, Cincinnati and St. Louis. Then, in December, Protective announced it would move that Ohio core site to another Greater Cincinnati location: RiverCenter Towers in downtown Covington, just across the Ohio River from downtown Cincinnati.
In addition to bringing around 100 high-paying jobs to Kentucky in 2021, company leaders expect to more than double that head count in the coming decade, even as 40% of its overall workforce works from home or a remote location.
The project was one of the 80 non-manufacturing corporate facility deals to land in Kentucky in 2020, according to the Kentucky Cabinet for Economic Development, accounting for more than half of the jobs (4,184) across all of the commonwealth's 236 projects last year.
Another Cincinnati-based giant, while still growing in its headquarters city, also is seeing the value of the state to the south: Kroger is investing $24 million and creating more than 60 new jobs at an expanded pharmacy prescription central fill operation in the Louisville-area community of Fairdale.
In fact, Site Selection magazine and its Conway Data Projects Database have tracked more than 30 office and headquarters projects involving at least $1 million invested, 20 new jobs or 20,000 square feet of new space since January 2020, demonstrating a) not everyone is abandoning the office, and b) companies with visions of post-pandemic growth see Kentucky as a place to build their future. Louisville and Northern Kentucky account for two-thirds of those projects, with a handful landing in Lexington.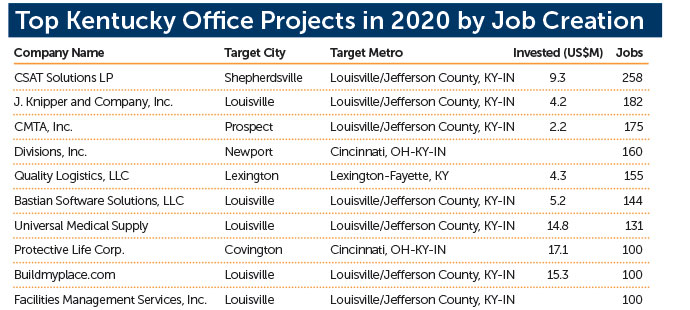 "Protective Life has had a presence in the Greater Cincinnati region for nearly 30 years, and as we look to the future with a focus on growth and scale, this relocation enables us to expand our workforce in the area and advance our ability to attract top talent, while exceeding both customer and employee expectations," said Aaron Seurkamp, president of the Retirement Division at Protective Life and the company's most senior executive in the Greater Cincinnati region. "Both Kentucky and the City of Covington offer an appealing business environment for Protective Life, along with long-term growth opportunities and appealing amenities for our employees. We look forward to continued growth, community impact and partnership in this area."
"As we build a better Kentucky, corporate headquarters and regional offices like Protective Life's core site play a key role," said Kentucky Gov. Andy Beshear. "They provide well-paying jobs, reinforce the vitality and attractiveness of our cities and leverage Kentucky's geographic advantage at the intersection of the Midwest and South."
Low Cost + High Talent = Superior Location
Even those companies developing a hybrid approach with office and remote work may find Kentucky's offerings to be just right. As Kevin Major, CBRE's senior director of client strategy and consulting, noted in late 2020, "Before the pandemic hit, several areas in the Midwest continued to gain attention of employers for lower-cost and lower-demand labor environments, including metros in the Ohio River Valley area."
That attention only got stronger once employers began to consider a new approach. Major and his team last year put together "Strategic Cost Considerations for Corporate Employers," the third report in a series on evolving location strategies in the COVID-19 era from CBRE's Labor Analytics Group. It found that, in addition to evolving workplace strategies involving remote work, "employers are focusing on cost containment, driven by falling revenues for many industries. As a result, many companies are rationalizing their portfolios and modifying their location strategies to maximize cost savings."
CBRE analysis finds that a shift of a software engineer from an established high-cost market such as San Francisco to emerging markets saves approximately $24,000 a year. "Moving 250 of those positions saves $6 million per year or $60 million over 10 years," according to the report.
Ohio River corridor markets like Louisville and the Cincinnati metro-area region of Northern Kentucky are positioned to take advantage of those moves. Those two markets already had received plenty of attention from employers looking to house operations outside of tech roles like customer support centers, shared services and back office operations, Major said A further shift might be in the cards.
"As many organizations deal with tighter budgets in the near term due to the impact of COVID, one of the largest areas an organization can cut costs is through labor," Major said. "This is where Louisville has a notable advantage. The median household income for Louisville is more than $3,000 a year lower than Columbus, Cincinnati and Indianapolis. The average salary of a software engineer with five years' experience in Louisville is approximately $8,580 less than the average software developer salary in Columbus. The Kentucky market also has a relatively low cost of living. Because of this, Louisville could be on the radar for various corporate operations and support hubs as organizations look to cut costs."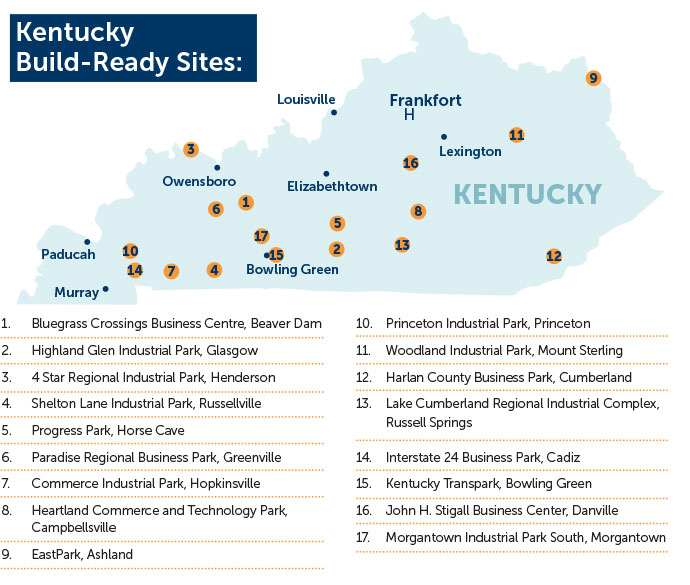 Those "emerging" markets of Louisville and Cincinnati were found long ago by some savvy employers. Now they could emerge as test markets for new working strategies.
"While it is too early to tell how work-from-home will be adopted over the long term, it may allow the flexibility for organizations to test lower-cost markets in the Midwest like Louisville and Cincinnati for talent by hiring talent virtually," Major said. "An organization can hire in the low-cost market without committing to a large headcount. If the organization finds success it may focus recruiting in the market and entertain a physical site should it be needed/desired. In other words, this recent change in hiring practices that has been adopted for many organizations (at least in the near term) could benefit emerging markets like Louisville and Cincinnati as companies dip their toe into the talent pool to test the waters and take advantage of a potentially large human capital cost savings these markets can offer."
Preparing the Way
Whether you're looking to occupy new office, manufacturing or logistics space or some combo of all of the above, Build-Ready is Kentucky's moniker for an expanding program that offers sites equipped to help businesses move rapidly from planning to production.
Achieving Build-Ready certification means a site includes a pad ready to accommodate a building of 50,000 square feet, expandable to 100,000 square feet or more, and utilities extending to the site's edge. It also means the applicant — usually a city, county or economic development group — has filed the necessary permits, including water, environmental and geotechnical, as well as preliminary building plans, cost estimates and schedule projections. Developers representing a number of other sites across the state continue to work toward certification. To date, four former Build-Ready-certified sites in Graves, Laurel, Warren and Washington counties have been selected by companies for new location projects.