I
nnovative companies are finding success in the Bluegrass, and Kentucky is doubling down on early-stage investments. With a nexus of higher education, cutting-edge research, a talented workforce, interested investors and supportive entrepreneurial networks, startups in the commonwealth can scale and grow quickly.
KY Innovation, an office within the Kentucky Cabinet for Economic Development, offers a variety of supportive programs through innovation hubs dedicated to spurring startup activity. With six KY Innovation Hubs across the state, Kentucky aims to bolster regional innovation clusters and support entrepreneurs and high-tech, high-growth startups by leveraging each region's strengths. The hubs connect entrepreneurs and startups to direct services, such as mentorship, but also to a powerful consortium of regional universities, established companies and industries, private capital and public-private partnerships dedicated to helping business founders succeed. To date, KY Innovation and its partners have helped more than 3,000 startups create 12,624 jobs and generate almost $5.5 billion in revenue.
Kentucky Entertainment Incentive
Rolls Out the Red Carpet
The recently established Kentucky Entertainment Incentive (KEI) aims to develop the entertainment and production industry in Kentucky.
Through the incentive, qualified applicants can recover a portion of expenditures through a refundable income tax credit. The Cabinet for Economic Development will oversee KEI, with the Kentucky Economic Development Finance Authority (KEDFA) responsible for review and approval of projects under the new program.
KEI's objective is to foster the movie, television and developing entertainment industry and encourage projects within the industry to locate within the commonwealth. Furthermore, investment in this industry brings more high-paying jobs to Kentucky, increases tourism and develops the state's production and postproduction infrastructure for future projects.
Individual projects may be eligible for up to $10 million in tax credits, with an annual maximum of $75 million available for all approved projects. Qualifying expenditures within the program include set construction and operations, lease or rental of property as a set location, as well as audio/visual equipment and services, and other accommodations.
Tax incentives awarded through the KEI program are refundable and nontransferable and may be claimed against the approved company's Kentucky corporate, limited liability or individual income tax. The credit may be claimed for the taxable year in which the credit is certified.
Incentive amounts are determined based on the Kentucky county where the qualifying expenditures and qualifying payroll expenditures occur. Projects incurring eligible costs in enhanced incentive counties may be eligible for an increased tax credit.
Companies based in Kentucky and out of state are eligible to apply for KEI. Filming or production must begin within six months of filing a final application with KEDFA.
Learn more about KEI at www.filmoffice.ky.gov.
Other key components of Kentucky's innovation infrastructure are the private non-profit Kentucky Science and Technology Corp. (KSTC), and the Kentucky Enterprise Fund (KEF), an investment fund managed by KSTC's venture capital arm. Since it was launched in 2002, KEF has invested more than $38 million in 163 companies.
KEF has become a vital source of pre-seed and seed-stage capital for Kentucky startups, with portfolio companies generating more than $1.5 billion in follow-on funding. In 2021, KEF invested $4 million in 27 Kentucky companies. Its active portfolio includes $18.5 million invested in 74 companies, which have created more than 650 jobs paying an annual average wage of $90,000.  
"Making Kentucky the premier location for the companies and jobs of the future is a top priority for Gov. Beshear and the Cabinet," said Anthony Ellis, acting director of KY Innovation. "The Kentucky Enterprise Fund, one of our state-sponsored venture capital investment vehicles, is essential to expanding access to the early stage capital those companies need to grow.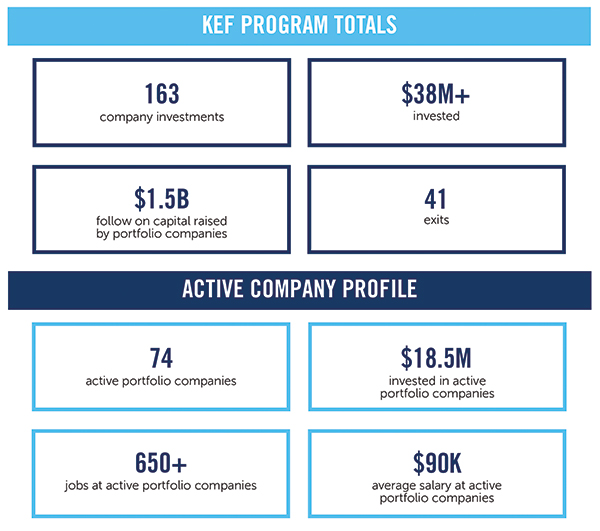 "KSTC has managed the fund for almost two decades and has been a key partner in supporting Kentucky's most promising startups as they scale," he added. "Along with Commonwealth Seed Capital and other private funds, these investment dollars play an important role as we improve both access to and the amount of capital available for Kentucky's entrepreneurs. We are committed to ensuring the next billion-dollar companies with potential to change the world can launch and grow in Kentucky. Based on the recent fundraising announcements and success of companies over the past two years, we are excited about the progress we are making."
Additionally, the Kentucky Angel Investment Tax Credit encourages capital investment by providing angel investors with a tax credit of up to 40% of their investment in counties with high unemployment rates or 25% in all other counties.
Companies benefiting from KSTC funding run the gamut from food and beverage production to software development. Some of the notable portfolio companies include BehaVR, Bexion, and Virtual Peaker.
Elizabethtown-based BehaVR recently closed on a $140 million deal with Japanese company Sumitomo Dainippon Pharma Co. to leverage virtual-reality tools to develop treatments for mental health conditions. In Covington,
Bexion Pharmaceuticals, Inc. is pioneering the development of cancer treatments with lysosomes.
Louisville-based Virtual Peaker, a SaaS startup that provides utilities with a cloud-based distributed energy resource management platform to track sources like solar, wind and electric vehicles, recently exceeded their Series A funding goals with $16.6 million in investments.
"Many of these firms have been successful, have created jobs with an average salary of $90,000, and together they have now raised over $1.5B in private capital," said Kelby Price, executive director, KSTC Venture Finance. "KSTC understands risk and supports new companies with resources and capital necessary to take small bets, test, improvise, experiment and fail. For those companies that have what it takes, KSTC is able to continue to support their development from market entry through early growth. Innovative startups are high risk and, with 20 years of investment experience, KSTC knows that undertaking these risks is what generates outsized opportunities that lead to Kentucky's growth and competitive advantage."
Kentucky Intellectual Property Alliance Brings
Value to Innovation Ecosystem
In 2021, Kentucky Commercialization Ventures (KCV) launched the Kentucky Intellectual Property Alliance (KYIPA), making the commonwealth one of the first states to form an IP alliance.
An initiative of KSTC, KCV was launched in the summer of 2020 to provide the state's public higher education institutions with the tools and expertise to bring innovations and ground-breaking research to market and create new high-paying jobs. KCV brings the strengths of the state's public higher education institutions together to better position the state for federal grants supporting forward-thinking companies and entrepreneurs. The new alliance builds upon this robust network of innovation.
"The Kentucky IP Alliance is a group of people who are passionate about innovation and want to see Kentucky realize the value of its best ideas," explained Monique Quarterman, executive director of KCV. "We have representation from higher education, law firms, corporations, and small businesses involved. Membership is free and open to anyone interested in learning about or helping more people access intellectual property protection in Kentucky. Over time, we want to see more inventors, knowledge assets, and IP practitioners in our state. Startups are a key beneficiary because it's now easier to access that know-how than ever in our state because of KYIPA."
"We believe Kentucky's ideas have so much value and opportunity for impact," she said. "Good ideas can come from anywhere in our state, and so we had to find creative ways to engage and educate the community. We have been recognized for these efforts so far with an SBA Inclusive Innovation Ecosystems award and an SBA Growth Accelerator Fund Competition award. Both of these distinctions recognize that we are leading the nation in how we're uplifting our state to participate in and benefit from innovation."