F
acility investments totaling $10.5 billion — including major projects from GE Appliances, Ford/SK Innovation and Toyota — accounted for more than three-quarters of the 18,100 new project-related jobs that landed in Kentucky in 2021 during a record year for economic development projects.
As Gov. Andy Beshear's office announced in January, "Manufacturing plays a vital role across numerous key sectors in the commonwealth, with nearly 5,000 facilities employing over 250,000 Kentucky residents."
A facility yet to come will be another record-breaker: the $5.8 billion, 5,000-job BlueOval SK Battery Park complex in Hardin County announced by Gov. Beshear, Ford Motor Co. and SK Innovation executives in September. The project, which will land on a megasite in Hardin County that was established in the early 2000s, is part of a larger $11 billion investment that includes a manufacturing site known as Blue Oval City in Memphis.
"This is the single largest investment in the history of our state and this project solidifies our leadership role in the future of the automotive manufacturing industry," said Gov. Beshear. "It will transform our economy, creating a better Kentucky, with more opportunities, for our families for generations. Never again will we be thought of as a flyover state. Our time is now. Our future is now."
The mega-project validated a Moody's Analytics report released earlier in the year that gave partial credit for the commonwealth's positive outlook to the fact that its manufacturing sector outperformed the nation's.
---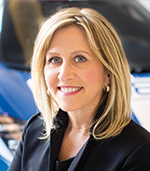 "Ford is excited to make this historic investment in the Commonwealth of Kentucky, a state that has been part of the Ford story since we rolled a Model T down an assembly line in Louisville in 1913."
— Lisa Drake, COO, North America, Ford Motor Company, on the company's joint $5.8 billion, 5,000-job BlueOval SK Battery Park investment with SK Innovation in Glendale, September 2021
---
"Manufacturing was one of the hardest hit industries during the initial downturn last year, with employment contracting as much as 18% compared with 11% nationally," said the Moody's report in May 2021. "Since then, Kentucky's manufacturing industry has outperformed the nation's, with more than 80% of lost manufacturing jobs being recouped."
Some of those jobs are to be found at Ford's other operations in the state. The company operates two assembly plants — Louisville Assembly Plant and Kentucky Truck Plant — employing more than 13,000 workers, and it works with 172 suppliers in the commonwealth.
The value of advanced manufacturing in terms of wages and spinoff potential is such that Northern Kentucky Tri-County Economic Development Corporation (Tri-ED) promotes it as one of its four target sectors to reserve some of the region's valuable land from the healthy but voracious appetite of warehouse and logistics operations.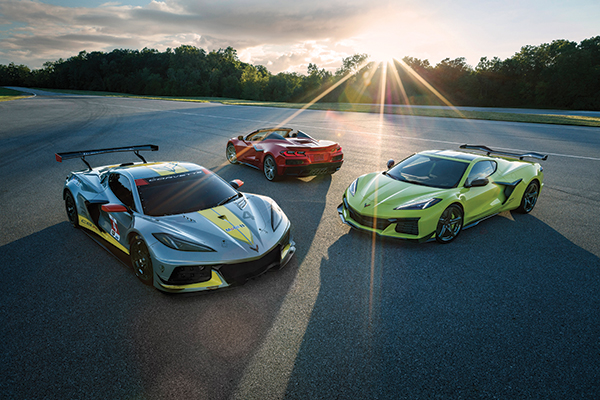 The Rebirth of the American Supercar:
A powerful street legend is reborn in southern Kentucky.
What do an NBA superstar, the Nürburgring and a mid-sized town in Southcentral Kentucky have in common? If you answered the new 2023 Chevrolet Corvette Z06, you are correct. All three came together to bring the new American supercar back to life.
Phoenix Suns guard Devin Booker, the famed German racetrack and the city of Bowling Green each played a hand in the rebirth of the most iconic sports car in U.S. history: the Corvette Stingray. The new 2023 model is the fastest, sleekest, most powerful and most stylish supercar ever made in America, and it's already turning heads.
Consider this recent headline in MotorTrend magazine: "2023 Chevrolet Corvette Z06 First Ride Review: It's Something Special." And then this subhead: "The new Z06 delivers Ferrari sounds, Lambo acceleration, and Porsche responsiveness — is this America's 911 GT3?"
Not enough for you? Check out these specs: The naturally aspirated 5.5-liter, flat-plane-crank V8 engine churns out 670 horsepower and 460 pound-feet of torque, making it the most powerful production vehicle ever built in America. This Corvette C8 edition redlines at an astounding 8,600 RPM, thrusting the driver and any passenger firmly into the back of their seats.
"If I want to make some real noise, this is what I am going to be in right here," Booker says in the official General Motors launch video of the new Vette.
And making noise it is. Rave reviews for the ultimate American supercar are coming in from all over the globe. GM opens order banks for the car on March 23.
Many designers, engineers, racing drivers and front-line personnel, both in Kentucky and at GM headquarters in Michigan, played a role in bringing this vehicle to production.
"Regarding design, there are probably too many to name," said Rachel Bagshaw, communications manager for manufacturing at the GM Bowling Green Assembly Plant in Kentucky, but they include Tadge Juechter, executive chief engineer for Global Corvette, and Kirk Bennion, exterior design manager for Corvette.
"Z06 production won't begin until this summer, and order guides haven't officially opened yet," said Bagshaw, but that is not dampening enthusiasm for the product. When MotorTrend reviewed the first-ever mid-engine Vette back in 2020, they named it the North American Car of the Year; they also predicted that the next-generation powerplant would be even better.
Seven years ago, GM pumped in a half billion dollars and hired 400 new workers to produce the mid-engine machine in Bowling Green, with an eye toward producing the ultimate racecar by 2022. For more than four decades, GM has built the Corvette exclusively at this plant about an hour north of Nashville.
Not bad for a sports car that turns 70 years old next year.
— Ron Starner
"Over the last year, we have been educating our communities about what a valuable resource our land is and that they have a choice in the types of development and jobs they can incentivize," noted Tri-ED President and CEO Lee Crume in a January 2022 announcement that also named IT, life sciences and supply chain management and support services as other target sectors.
Ninety minutes to the southwest, new jobs are landing at the legendary Appliance Park campus of GE Appliances, a Haier company, in Louisville. In October 2021, the company announced plans to invest $450 million in its headquarters and manufacturing operation and add more than 1,000 new jobs by year-end 2023. The project shows the Chinese-owned company is committed to the continued manufacture of products in the U.S.
"GE Appliances continues to bring manufacturing back to the United States — creating jobs and economic growth," said Kevin Nolan, president and CEO of GE Appliances. "We want zero distance between us and the millions of families across America we serve with our products."
"With demand in the home building industry expected to remain strong in 2022, supporting homebuilders as they tackle a backlog of projects has never been more essential," said Rick Hasselbeck, chief commercial officer for GE Appliances, when the company released new details in February 2022 noting expansion of dishwasher, top-load washers and refrigerator lines.
The new plan received approval for increased economic development incentives from the Kentucky Economic Development Finance Authority (KEDFA), established within the Cabinet for Economic Development. According to the commonwealth, KEDFA first approved incentives for GE Appliances in 2014 as part of a Kentucky Jobs Retention Act agreement that included the company's commitment to retain at least 90% of its 5,263 employees at Appliance Park.
GE Appliances has exceeded its original commitment and increased employment by nearly 2,000 people. The updated agreement in October 2021 would provide $80 million in cumulative tax incentives based on the company's total cumulative investment of $727 million with an annual job target requirement of up to 8,400 through 2030.
The company says it has invested more than $2 billion in its U.S. manufacturing and distribution operations over the past five years and created more than 3,000 new jobs — with a majority in Kentucky.