A
gritech — one of the globe's most critical industries ­— has deep roots in the Bluegrass State. Kentucky's legacy industries of agriculture, manufacturing and logistics uniquely support the emerging industry's development in the state.
As a key component of Gov. Andy Beshear's platform, Kentucky offers several programs and incentives to support growing companies that blend agriculture and innovation. In the summer of 2020, Gov. Beshear took strides to advance the industry across the state by establishing an AgriTech Advisory Council and launching a new industry website: agritech.ky.gov. Additionally, Gov. Beshear signed an international agreement with 16 other partner organizations, including the Dutch government, which recently expanded with nine new partners in Kentucky and the Netherlands. The agreement is committed to creating America's agritech capital in Appalachia.
Kentucky's central geographic location provides a major advantage for agritech companies. AppHarvest's tomatoes can reach 70% of Americans in a day's drive. That means fresher food and far less food waste as grocers benefit from the extended shelf life. Growing fruits and vegetables closer to where people eat them also helps prevent the frustrating supply issues that COVID-19 continues to reveal, caused by America's increasing reliance on agricultural imports. In 2021, AppHarvest moved forward with plans for a $42.5 million investment creating 60 jobs in Berea.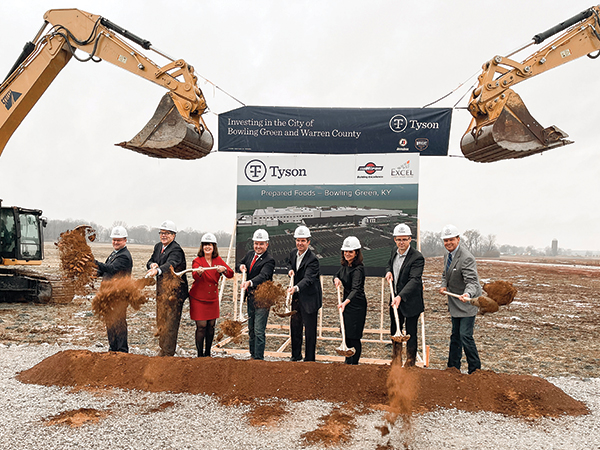 Photo courtesy of Tyson
"As people actively look to add more protein to their diets, Tyson is uniquely positioned as a category leader to meet that growing demand."
­— Noelle O'Mara, Group President, Prepared Foods for Tyson Foods
AppHarvest also began building two new high-tech indoor farms in Somerset and Morehead. The 30-acre Somerset farm marks the company's expansion into growing berry crops while the 15-acre Morehead facility will produce leafy greens. The company says its goal is to operate 12 high-tech indoor farms by the end of 2025, and currently has five of those locations on the map. Construction for both the Somerset and Morehead facility is anticipated to finish by the end of 2022.
"AppHarvest has positioned Kentucky as a leader in the agritech industry, created hundreds of good-paying jobs for our people and pushed through and thrived during some of our most difficult times," said Gov. Beshear. "Even as a pandemic raged, Jonathan Webb and his team built one of the biggest indoor farming operations anywhere using one of the most advanced LED-lighting systems ever created. We know the jobs and investments of the future will flow to those who can meet these challenges, so why not us? AppHarvest is making it happen."
AppHarvest's newest facilities will provide hundreds of well-paying jobs to Eastern Kentuckians in and around Pulaski and Rowan counties.
Food and beverage-related companies announced 46 projects across Kentucky in 2021 to create over 1,200 full-time jobs with $1.11 billion in new investment. More than 350 food and beverage-related facilities are located in Kentucky and employ over 52,000 Kentuckians.
Protein Production Operations Choose Kentucky
In October, Tyson Foods announced it would build a $355 million manufac-turing operation in Bowling Green. The project represents the city's largest investment and job creation project in a new facility and will create 450 new full-time jobs.
Tyson has a long history in Kentucky with prepared foods operations in Claryville and poultry operations in Albany and Robards. Company leaders will build a 400,000-square-foot manufacturing facility in the Kentucky Transpark to produce Jimmy Dean and Wright Brand bacon and anticipate construction will be complete in late 2023. Tyson employs more than 3,900 people across Kentucky with an annual payroll of more than $168 million. In FY2020, Tyson Foods reported paying Kentucky growers and suppliers more than $35 million and estimates a total statewide impact of $425 million.
"We are excited to be a part of the Warren County and Kentucky communities that will help us continue to provide the iconic Wright Brand and Jimmy Dean products our consumers and customers desire," said Noelle O'Mara, group president of Prepared Foods for Tyson Foods, in a press release. "As people actively look to add more protein to their diets, Tyson is uniquely positioned as a category leader to meet that growing demand."
In Princeton, Porter Road Butcher Meat Co. LLC opened a new meat processing facility which will create more than 80 jobs. Porter Road's new 28,000-square-foot facility will boost the company's production capacity in response to increased demand. The move substantially increases production space from its previous 7,000-square-foot facility. Initially announced in June 2020, the project also provides Porter Road with a larger cutting room and expanded packaging and shipping capabilities.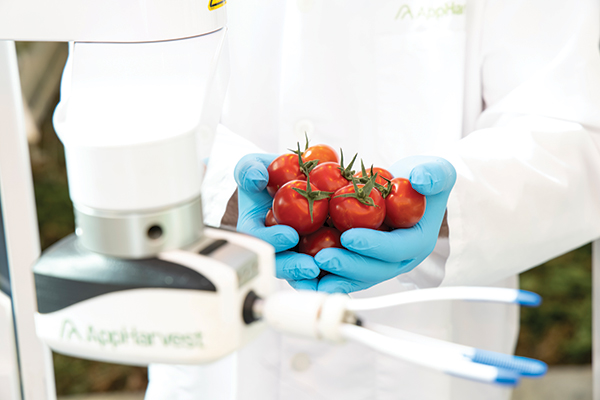 Photo courtesy of AppHarvest.
"We have received tremendous support from the City of Princeton and the State of Kentucky as we prepared for the expansion of Porter Road, furthering our commitment to creating even more well-paying jobs for our community and maintaining close proximity to our farmers," said Chris Carter, Porter Road co-founder and CEO. "This new facility and our increased capabilities will accelerate our mission to build a better food system."
Diverse Group of Food and Beverage Producers are Locating and Growing in the Bluegrass State
Tofu producer House Foods America Corp. also announced plans to locate its first facility in the state. House Foods has operated in Japan for more than a century, and has facilities in California and New Jersey. Japan is the state's top international investor with nearly 200 Japanese-owned manufacturing, service and technology facilities operating in Kentucky, employing approximately 47,000 people statewide.
House Foods plans to construct a 350,000-square-foot facility on 30 acres in southwest Louisville to produce tofu sourced from 100% U.S. grown, non-GMO soybeans and other food products for it U.S. customers. The project is expected to begin in 2022 and be completed by 2025.
"It is an honor to join the Commonwealth of Kentucky, and we are glad to contribute to the community by making great, healthy products for customers nationwide," said Hiromasa (Hunt) Takahashi, assistant manager of business strategy planning with House Foods at the announcement.
Under the Kentucky Business Investment program, House Foods was given a 10-year, performance-based agreement to provide up to $2 million in tax incentives. Additionally, the Kentucky Economic Development Finance Authority (KEDFA) will provide up to $2 million through the Kentucky Enterprise Act, which allows companies to recoup Kentucky sales and use tax on construction and equipment costs.
In May, Ohio-based T. Marzetti Co. broke ground on its largest-ever expansion, a 220-job, $133 million project to increase production of salad dressings, sauces and other foods. The company had previously announced the expansion of its Hart County facility in February 2020 but was put on hold as the COVID-19 pandemic began. When the company decided to resume the project in early 2021, it had expanded the scope by 80 jobs and $40 million. Over the past 20 years, T. Marzetti has announced approximately $313 million in investment to create more than 780 jobs in Hart County.
In August, Bigelow Tea Co. announced plans to relocate and expand in Jeffersontown with a $53 million investment that will create 31 jobs. Currently located in an 85,000-square-foot facility in Jeffersontown, Bigelow will construct a new 334,000 square-foot operation that will let the company boost production to meet growing customer demand. The company said it anticipates construction will begin in spring 2022 and be operational in 2024.
"The Bigelow family and all our team members are proud of our plan to build a state-of-the-art facility in Louisville," said Bigelow Tea President and CEO Cindi Bigelow in a statement announcing the move. "Over the next few years, we will be committing over $50 million to create an extraordinary plant that will take us forward for decades to come. We would like to thank the Commonwealth of Kentucky, the City of Louisville, and the City of Jeffersontown for providing the support necessary to help us finalize the purchase of a 20-acre property near our existing facility that has operated in Jeffersontown for almost 30 years. This is a very exciting time for our family business."