W
hen Kentucky Gov. Andy Beshear in February 2022 announced more than $2.2 million in funds and credits to support training nearly 9,500 Kentucky workers, it was the continuation of a commonwealth tradition that's nearly as old as the 44-year-old governor himself.
Bluegrass State Skills Corporation (BSSC) was launched in 1984 to stimulate economic development through programs of skills training to meet the needs of business and industry. BSSC provided approximately $6.1 million in funds and credits during fiscal year 2021, which helped provide training to nearly 18,300 Kentucky workers. The $2.2 million awarded in February brought the total for fiscal year 2022 to more than $6 million to support nearly 90 applicants statewide in training more than 21,000 workers, according to the state, already exceeding the number of trainees supported through state funding during the previous fiscal year.
BSSC's Grant-in-Aid (GIA) program provides cash reimbursements for occupational and skills upgrade training at Kentucky businesses. Its Skills Training Investment Credit (STIC) program offers state income tax credits for companies to offset the costs for approved training programs. "BSSC incentives are available to a range of operations, including manufacturing, agribusiness, nonretail service or technology, headquarters operations, state-licensed hospital operations, coal severing and processing, alternative fuel, gasification, renewable energy production and carbon dioxide transmission pipelines.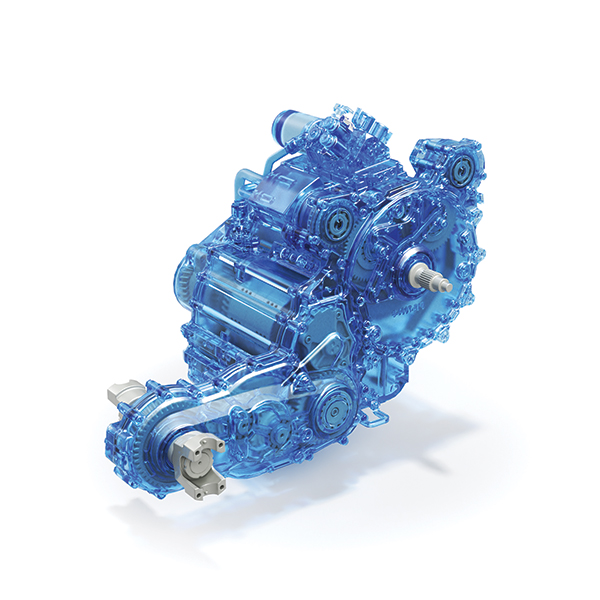 Bonfiglioli USA, which, among other products, makes the ECGenius continuously variable transmission (pictured) in Hebron, Kentucky, is among the companies that have benefited from Bluegrass State Skills Corp. training incentives.
Image courtesy of Bonfiglioli USA
The Governor's February announcement noted Kentucky's average incentivized hourly wage for projects statewide in 2021 was $24 before benefits, a 9.4% increase over the previous year.
"We are keeping our incredible economic momentum going in 2022, and that includes efforts to ensure workers across Kentucky have the training they need to be successful," Gov. Beshear said. "Continued development of our skilled workforce helps attract quality employers to our state and guarantees our residents have access to great jobs. Workforce initiatives will remain a major focal point as we build on the growth of the past year."
Building a Statewide Talent Pipeline
Among the largest GIA funding amounts were six grants totaling $1 million to Ford Motor Co. as it invests further in Louisville, supporting 11,977 trainees; $200,000 to Crown Cork & Seal in Bowling Green for 141 trainees; and two $75,000 grants to Toyota Boshoku Kentucky to train 47 at its site in Lebanon and 60 at its facility in Bardstown.
BSSC also reimbursed dozens of companies during fiscal year 2020 to offset costs of Kentucky resident employee training. The funds supported companies from a range of industries, including: $188,000 for Bendix Spicer Foundation Brake in Bowling Green to train 94 employees; two installments of more than $186,000 for El Toro.com to train 121 employees in Louisville; and $200,000 to Louisville-based Res-Care to train 2,565 trainees.
In 2021, BSSC supported companies and consortia throughout the commonwealth:
Louisville: 38
Florence: 16
Bowling Green: 11
Georgetown: 9
Erlanger: 7
Lexington: 7
Independence: 7
Hebron: 7
Bardstown: 7
Paducah: 6
Elizabethtown: 6
Other companies to capitalize on multiple training incentives include health care services providers and a range of other companies, such as:
Krauss-Maffei Corp. (3) in Florence
Flottweg Separation Technology (3) in Independence
CTI-Clinical Trial Services (3) in Covington, in Northern Kentucky
Bonfiglioli USA (3) in Hebron, also in Northern Kentucky
AGC Flat Glass North America (3) in Elizabethtown (2) and Richmond (1).
In addition to individual businesses, training consortia may also qualify for the BSSC's GIA program. There are 17 such consortia from across the commonwealth registered with the Kentucky Secretary of State, including two chapters of the Kentucky Federation of Advanced Manufacturing Education located in Northern Kentucky and Greater Owensboro; the Southeast Kentucky Regional Training Consortium; St. Joseph Hospital Foundation; and the Bluegrass Business Consortium. (See map for a full list of consortia.) The BSSC board considers applications quarterly.
In November 2021, BSSC provided over $3 million in funding to assist with training efforts for nearly 6,400 workers. Among those was Interapt, the Louisville-based technical services company led by Ankur Gopal that has made a priority out of training Kentuckians from all backgrounds and geographies in IT and software fields.
In FY2021, the Bluegrass State Skills Corp. approved 111 Kentucky facilities and consortia for training funds and credits totaling roughly $6.1 million to support more than 18,000 workers.
Gopal spoke about how the BSSC programs contribute to his ability to launch programs like the innovative data analysis project Interapt recently announced with EY in the state capital of Frankfort, as Interapt continues on its mission to create 10,000 software and digital workforce jobs in Kentucky.
"The BSSC grants are helpful in incentivizing employers like myself to invest in training and job creation," Gopal said. "I believe that we should be treating our Kentucky citizens [as] infrastructure, and as we invest in our roads, bridges, and airports, so should we do for our citizens. The more skills we can create in Kentucky, the more companies will choose to grow here."
Interapt, which is 10% of the way toward that 10,000-job goal, is also an enthusiastic participant in apprenticeship. As of late January 2022, there were 353 apprenticeship programs registered with the Kentucky Education and Workforce Development Cabinet with 4,055 active apprentices.
Of those apprentices, 186 are at Interapt. Gopal said apprenticeship is also "a new pathway for people who don't have the capacity or desire to go through college — in fact, many of our apprentices have returned to college to get certifications and gotten credit for the training we give them.
"There is a technology talent shortage across America, and we happen to have a tech talent factory," Gopal said. "Our IT Apprenticeship program helps train people debt-free while earning on the job. It's been a great tool for us in terms of training up people to have long careers in the tech economy."