Why are so many companies picking Kentucky locations for their largest-ever capital investment projects? And how will the commonwealth ensure other companies can do so in the future? These are among the topics explored with Gov. Andy Beshear in a recent interview. The key to businesses succeeding in Kentucky, he says, is to treat capital investors as teammates. Every player on the team has a critical role to ensure a winning season for investing businesses and Kentucky's workforce. The game plan is working.
With more than $11 billion of private-sector capital invested in Kentucky since last year, the commonwealth's business climate success speaks for itself. What do you attribute this record-breaking investment to?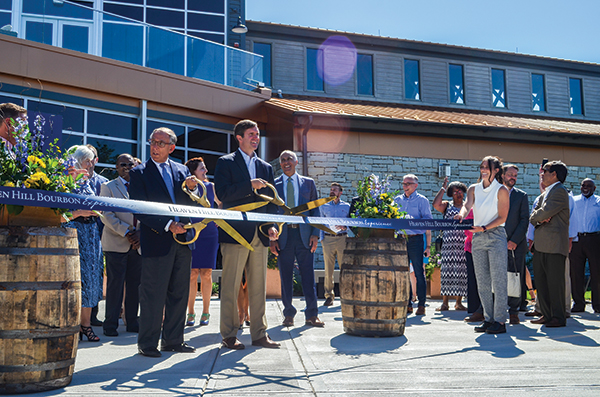 Governor Beshear at Heaven Hill Distillery's ribbon-cutting ceremony on National Kentucky Bourbon Day.
I attribute it to hard work, to our commitment to speed-to-market and to our Team Kentucky ethos, where we are able to tell every single company that we are going to be a good teammate — in construction and in their operations. Once they become a member of Team Kentucky, their success is our success and vice versa.
Congratulations on the BlueOval SK Battery Park project. Any state would love to have landed that deal. How did Kentucky's value proposition win the day?
First, we had a good site with the necessary infrastructure that was of the size needed to build one of the largest production plants we have ever seen. Second, Ford developed confidence in us. This is their biggest investment in their history, and it will be absolutely critical to the future of their business. I looked them in the eye and said, 'We will not let you down. We will get this done.' The incentives and the site are pieces of it. Constructing and operating this plant and getting the necessary workforce there are all really big steps that are central to the future of their business.
We also can show them that politics does not get in the way of economic development here in Kentucky. The General Assembly was able to pass a bill giving some extra flexibility for what is the largest economic development project in our history. That was a big help, and we give them credit. We give credit also to local folks who worked really hard. We have a Korean American Society in Kentucky, the president of which was able to welcome SK Innovation and show them what a welcoming place we are. We should never discount what an individual relationship and player can do all the way from the governor to a local industrial board. Every person is important to landing a project like this.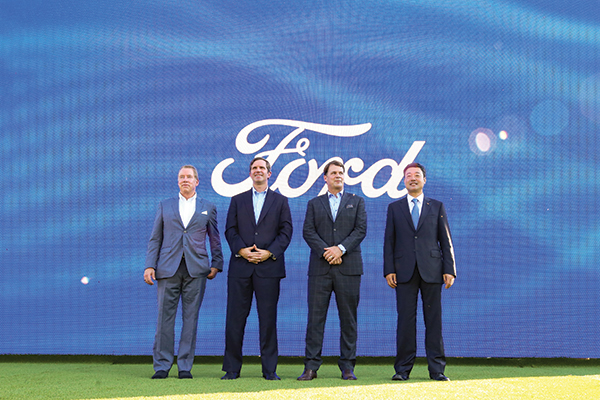 Gov. Beshear is joined by Ford Executive Chair Bill Ford, CEO Jim Farley and SK Innovation President Dong-Seob Jee during the September BlueOval SK announcement.
How will the Site Identification and Development Program in your proposed budget work? Is it mainly to build up an inventory of properties?
We have had the best year in economic development in our history — $11.2 billion in private-sector investment, a record 18,000 new jobs. We followed 2021 up in January with more than 1,400 new jobs and more than $660 million in new investment. That means we are not a flyover state, but a destination. Getting picked over and over and over is a good thing, but it means you quickly start running out of inventory of sites in general or sites large enough for the investments people want to make. It's about identifying new sites and taking existing, medium-sized sites and helping with the land purchase to grow them. It's about making sites not just shovel ready, but build ready with roads, rail, electricity, water and sewer. It gets us ready for when the next Ford or Toyota or other state-changing opportunity comes by, we have the site waiting for them. I know that having a site with decades of investment already in it was a key to landing the BlueOval SK Battery Park, and I want to pay it forward by making those same investments to help in the future.
All states are working on increasing access to broadband for citizens and businesses. What is Kentucky's approach? When implemented, will more parts of the commonwealth become suitable for capital investment?
We are committed to high-speed broadband for every home, school and business in Kentucky. It's the infrastructure of the future ­— for someone to run a small business out of their house. In Letcher County I met an 11 year old and a 13 year old that started their own baking company and can sell throughout the world and the United States because they have Internet access. It's also for sophisticated companies that make advanced radio systems. Making broadband available from the smallest to the largest businesses is something we are committed to.
Between our last budget and my recommended budget, we have a pool of a half-billion dollars to supplement all the federal funds available to make that happen. An RFP process is under way of several hundred million dollars that first will go to unserved areas. Today we couldn't land a new business in a place that doesn't have broadband. That means those areas can't compete. My commitment is with the level of jobs we're creating, they ought to be able to come to every part of Kentucky and every neighborhood in every one of our cities. That makes this possible.
What else should readers know about efforts to expand economic development to rural parts of Kentucky?
We are thrilled to be seeing more investment in rural Kentucky than ever before. We're becoming a leader in agriculture technology, with AppHarvest opening or planning five separate facilities in Eastern Kentucky. AppleAtcha is growing apples on top of abandoned coal mines and is looking to create 2,000 jobs in Martin County, an area with some of the highest unemployment in Kentucky. EnviroFlight in Maysville is using black fly larvae to create energy. We just located 80 acres in Northern Kentucky for a vertical grow operation. In Western Kentucky, Pratt Paper is making the largest investment in that region in 25 years. In Southeastern Kentucky, we've seen about $400 million plus in new investment. So we are seeing more investment in rural parts of our state than ever in my lifetime. Our goal is to keep it up.
"The aim is to get all kids on a path either in higher education, directly into the workforce with a job before they graduate or both —a job where they can also pursue higher education."
— Governor Beshear
We have a wonderful workforce in those areas ready for that game-changing investment. We put $75 million in career and technical schools connected to many of our high schools. That partnership creates a direct pipeline for businesses locating in rural areas to get their equipment and curriculum established so that they know if we don't have the workforce now, we'll have the workforce in the future because we're working directly with you.
How is Kentucky distinguishing itself from other states in workforce development?
The key is direct connections between employers and potential employees. For years, we've said there will need to be this many more of a certain job. So we change our programs at our universities, community colleges and high schools, and we graduate them, hoping they find potential employers. Now, we need a more direct connection to them, where before someone goes into a program they know there is a job waiting for them at the end. That will make recruiting easier, and it creates a steadier pipeline for our employers. We want to do that in everything from skilled trades to our associates degrees to our high schools.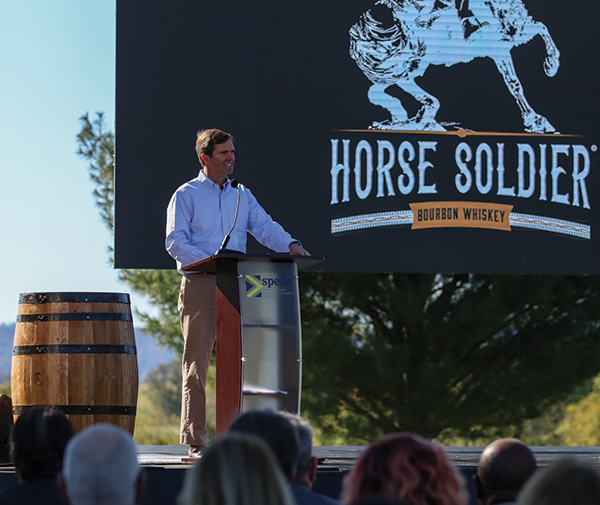 Governor Beshear at Horse Soldier Bourbon Whiskey groundbreaking.
We have a pilot program called Everybody Counts in Jefferson County right now. The aim is to get all kids on a path either in higher education, directly into the workforce with a job before they graduate or both — a job where they can also pursue higher education. We have partnered with a group that helps those moving on to higher education, and we have some amazing employers in Jefferson County, including GE Appliances, Ford Motor Co., UPS and Kroger that are committed to hiring those high school seniors that are not going on to higher education. It's early February, and information on available jobs is already going out to every single high school senior in that area. This is the part of our workforce that suffers the least from the challenges we see, such as childcare, and that can earn more going into entry-level jobs than ever before. This can provide some hope in neighborhoods that haven't seen it in a long time. We believe this program and our commitment to directly connecting employees with the training program itself and to talking to the kids even before they start training and our investment in career and technical training schools will provide that steady workforce that we can produce and maintain better than other states.
When you meet with business leaders considering a Kentucky location, what are their priorities? Do you hear perceptions of Kentucky from them that you would like to change?
I was in Louisville for a groundbreaking of a boutique hotel where financiers from New York and Austin were present. They told me they never talked about Kentucky in board meetings, and they now have six or seven projects they're talking about. It's exciting that we're being talked about in board rooms across America. They now know not just who we are and where we are, but what we can do. We're seeing that people trust us to get the job done. Ford's biggest investment in their history is in Kentucky. Amazon's biggest investment at the time in their history is at the Cincinnati/Northern Kentucky Airport. Pratt Paper's investment is the biggest in their history.
We hear these companies have confidence in us that we can work with them to get the job done. A lot of it is what they hear from others in their industry or that have located here and can speak to the long-term relationship with us that doesn't end when the ribbon is cut. It continues, because in Kentucky you're part of Team Kentucky, and your success is our success as a state.