T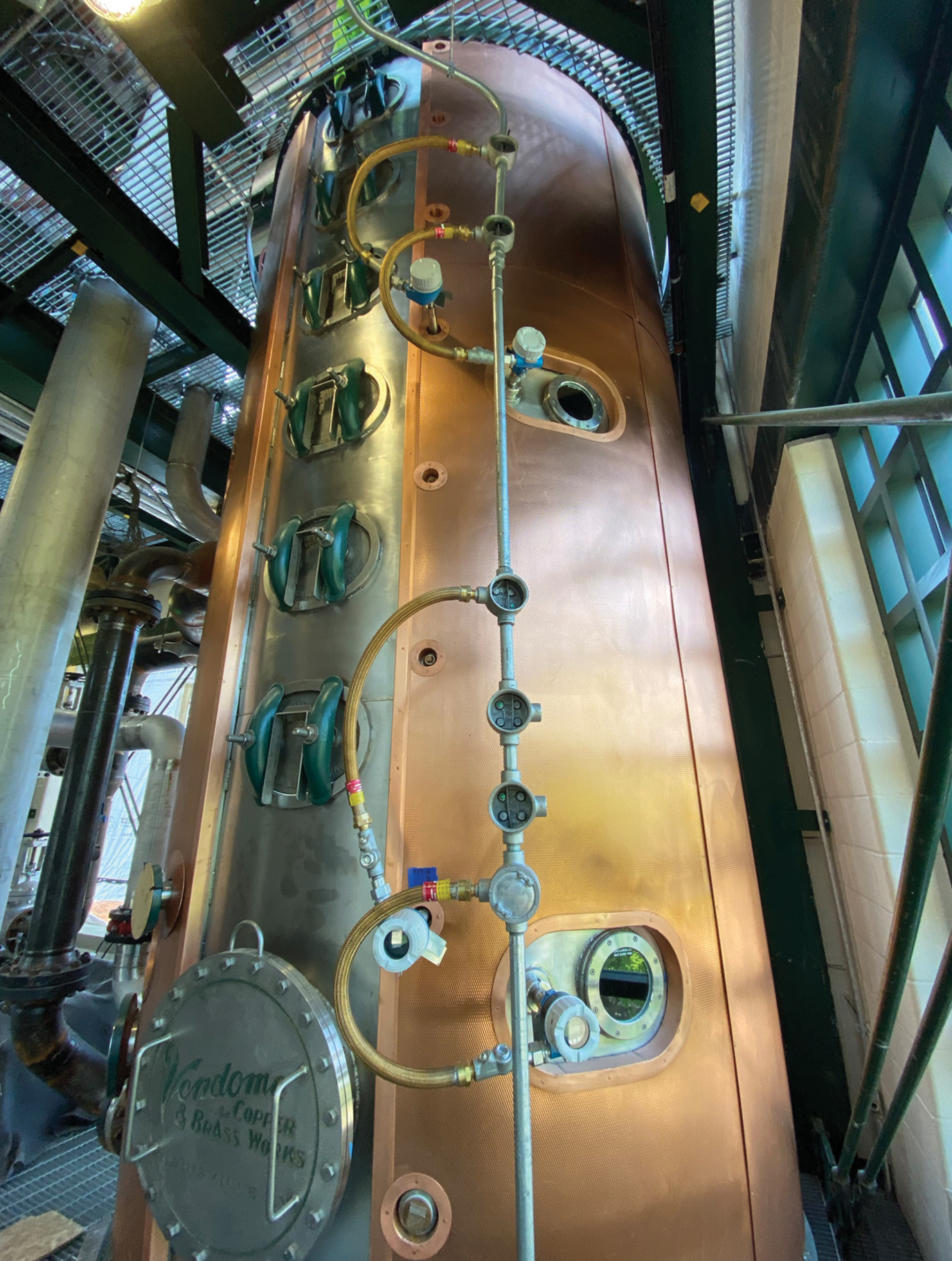 here is perhaps no single, more illustrious testament to both the storied past and rosy future of Kentucky's bourbon industry than Log Still Distillery near Bardstown, the bourbon town about half an hour south of Louisville.
"Outside the Beams, no one can say their family has been in the business this long," said owner and founder J.W. "Wally" Dant, great-great grandson of the pioneering whiskey maker John Washington Dant, who established the family tradition back in the 1830s by coaxing corn whiskey from a hollowed poplar log. Hence, Log Still, Wally Dant's outstanding, 360-degree bourbon oasis. 
Since opening in late 2020 on 350 acres of Dant family property in Nelson County, Log Still has undergone a buildout that has come to include not only a premium distillery and assorted tasting rooms, but high-end lodging, a farm-to-table restaurant and now a swanky conference center. The Amp at Log Still, an outdoor arena, can hold up to 2,000 concertgoers and has hosted A-list music luminaries such as Little Big Town, Dwight Yoakam and Joan Jett. A lake for fishing, hiking trails and nascent railroad depot serve to round out what Dant hails as "an all-encompassing, immersive experience."
Ask around the industry and people will tell you that this is where things have been headed since "the Boom." The Bourbon Boom, that is. As to precisely when that started, opinions vary. But what's abundantly clear is that the launch of the Kentucky Bourbon Trail in 1999 — through some combination of alchemy, marketing magic and who knows what — happened at a point at which whiskey and whiskey tourism, like the master soloists of Kentucky bluegrass music, began driving each other toward unexplored heights, unleashing a wave of innovation throughout an industry built around tradition and authenticity.
"Innovation and diversification are happening here in Kentucky, just like the rest of the country," said Jay Erisman, co-founder of New Riff Distilling in Newport. "Here, it is filtered through a very bourbon-centric lens."
For the Record
As evidence, look just for starters at the podcasts and social media channels that — during a year of record highs for bourbon-related investments and bourbon tourism — amassed huge followings talking about not much more than Kentucky corn whiskey. And there was plenty to talk about in 2022, beginning with the COVID-busting rebounds of the Kentucky Bourbon Trail and Kentucky Bourbon Trail Craft Tour. Both are owned by the Kentucky Distillers' Association (KDA).
"We easily shattered our previous records," said Jack Mazurak, KDA's director of governmental and regulatory affairs. 
Shaking off the pandemic-induced slump felt across the hospitality industry, visits to the KDA-member distilleries topped 2 million last year, eclipsing the previous high of 1.7 million visits in 2019. It shows, Mazurak said, that "bourbon's popularity is still going strong. We're seeing visitors from around the world."
Parallel to the resurgence of bourbon tourism, investment in bourbon-related businesses soared to new heights as well, hitting $2.1 billion for the calendar year. The new and expanded bourbon facilities are expected to create some 700 jobs.
"The momentum," said Gov. Andy Beshear, "has been incredible. The demand for Kentucky bourbon just keeps growing." 
To help meet that demand, legacy producers such as Sazerac Co., Beam Suntory, Pernod Ricard USA and Heaven Hill Distillery all announced investments in the hundreds of millions of dollars. The $600 million spend announced in November by Louisville-based Sazerac counts as the largest distilled spirits-related investment in state history. Sazerac is building more than a dozen barrel warehouses and expanding a cooperage in Laurel County, creating up to 50 full-time jobs.
Sazerac also launched production at a newly constructed still house at its flagship Buffalo Trace Distillery in Frankfort, capping a multi-year, $1.2 billion expansion that includes a new distribution and bottling center, additional cookers and fermenters, new cooling and wastewater treatment systems and a tripling of the size of the Buffalo Trace visitor center. Standing some 40 feet tall, the new still boasts a capacity of 60,000 gallons a day to allow Buffalo Trace to double its production.
"We've been laying down the foundation to produce more American Whiskey than we ever have before," said Sara Saunders, Buffalo Trace Distillery's vice president. "We are still catching up to consumer demand."
Bourbon Town
Investments like these produce ripple effects throughout the Kentucky economy and exert a particular impact on rural communities such as Bardstown.
"You think it's just the distilleries," said Kim Huston, longtime president and CEO of the Nelson County Economic Development Agency. "But you've got the construction business that's tied to building these multi-million-dollar facilities. You've got the barrel makers who can't make enough right now. You've got the farmers who can't grow enough corn. You've got the logistics people transporting bourbon back and forth. There's a whole business of bourbon that people don't even know about."
Nelson County calls itself The Bourbon Capital of the World. 
"Bourbon," said Huston, "is in our DNA. We were doing bourbon before it was cool."
Within a 16-mile radius of Bardstown are 11 distilleries, including Heaven Hill and Jim Beam's Booker Noe facility — both of which have just launched major expansions — as well as Bardstown Bourbon Company, Willett Distillery and Lux Row. These facilities, Huston said, have served as increasingly influential shapers of the Bardstown community's character, having spurred recent investments in boutique lodgings and downtown shops that cater to the throngs of bourbon tourists.
Moreover, Huston believes that since the start of the Boom and the explosion of bourbon tourism, tradition-bound enterprises built around spirits are edging increasingly closer to the entertainment business.
"It's not any more about coming in and walking through a distillery," she said. "Everyone has done that. What people want is a cool, different tour that you can't get anywhere else. People want a neat tasting, a bar and a place to eat. It's the morphing of these facilities beyond just bourbon."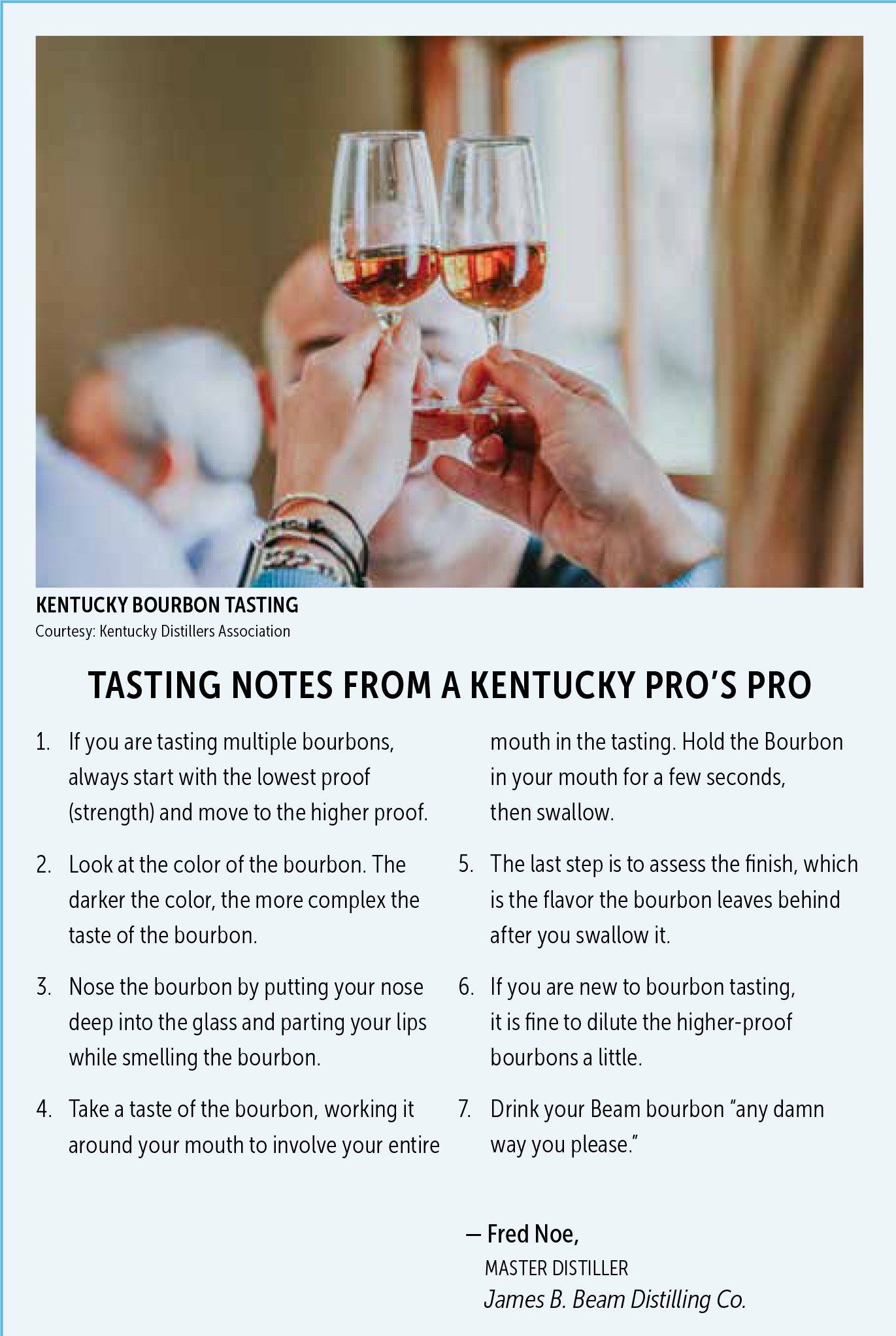 Innovation True to Tradition
As the spirits industry pushes toward new horizons, there remains among distillers an unshakable commitment to authenticity, the boundaries of which a growing cadre of craft and micro distilleries is likewise expanding. 
"We have inhaled the tradition," said New Riff's Erisman. "It's where we come from. But we're going to do it our own way. We're going to play a riff on that, like a jazz riff. It's the distiller as a musician, someone who has learned the tradition, paid their dues and studied and practiced and is ready to change things up a bit."
New Riff is among the 24 stops on the Kentucky Bourbon Trail Craft Tour, established in 2012 to support boutique distillers. Franklin County's Whiskey Thief Distillery is the newest addition to the Craft Tour, joining destinations with names such as The Old Pogue Distillery in Maysville, Jeptha Creed Distillery in Shelbyville, Casey Jones Distillery in Hopkinsville and Castle and Key in Frankfort. Located in historic Butchertown, Copper & Kings distills its brandies, gins and liqueurs in copper pot stills that vibrate to the pulse of rock 'n roll music that creates a "distillate wave," according to the distillery, that enhances the process.
New Riff launched operations in 2014 on the former parking lot of what was Kentucky's biggest liquor store, across the Ohio River from Cincinnati. The distillery's initial portfolio of five bourbons and gins, released in 2018, collected multiple "Double Golds," the highest honor awarded by the prestigious San Francisco World Spirits Competition. 
New Riff rests upon its own limestone aquifer, limestone water (or "branch water") being what some consider to be the ultimate identifier of Kentucky bourbon. Its Kentucky Wild Gin is made from a local juniper called eastern red cedar and from locally sourced red berries reminiscent of allspice.
"It comes from where we are," Erisman said. "It's not merely distilled in Kentucky, but more than that, it comes out of Kentucky. It is born out of our land and our native region. It's the place where we have a heritage. The place where we grew up."