T
here are trucks, and then there are trucks.
World, meet the all-new Ford Super Duty Truck, announced last September and the result of a $700 million capital investment by Ford Motor Company in Louisville, Kentucky.
To say that the Ford Super Duty is in a league of its own would be a vast understatement. Consider this: The quintessential work vehicle in America is not only the truck of choice on job sites around the country; it's about to get even stronger, faster and better.
The Ford F-Series has been the best-selling pickup in the U.S. for the past 45 years. The 2023 Ford F-Series Super Duty marks its 25th anniversary as America's most trusted heavy-duty truck. New technology and a suite of cloud-based services will give this vehicle even more work capability and make the workers who drive it even more productive. 
Fittingly, it was unveiled in September 2022, at Churchill Downs, the historic home of the Kentucky Derby. The new Ford F-Series Super Duty is being built at the Kentucky Truck Plant alongside the Ford Expedition and Lincoln Navigator in Louisville.
On the day the new Super Duty was unveiled, a Ford executive celebrated the intertwined legacies of Ford and Kentucky. "Ford's roots run deep in Kentucky," said John Savona, vice president of Americas manufacturing and labor affairs for Ford Blue. "We hope Kentuckians take just as much pride in building America's favorite truck as they do in their basketball, bourbon and thoroughbreds. On behalf of our 12,000 Ford and UAW employees, we thank Gov. Andy Beshear for supporting this KenTRUCKy Day celebration."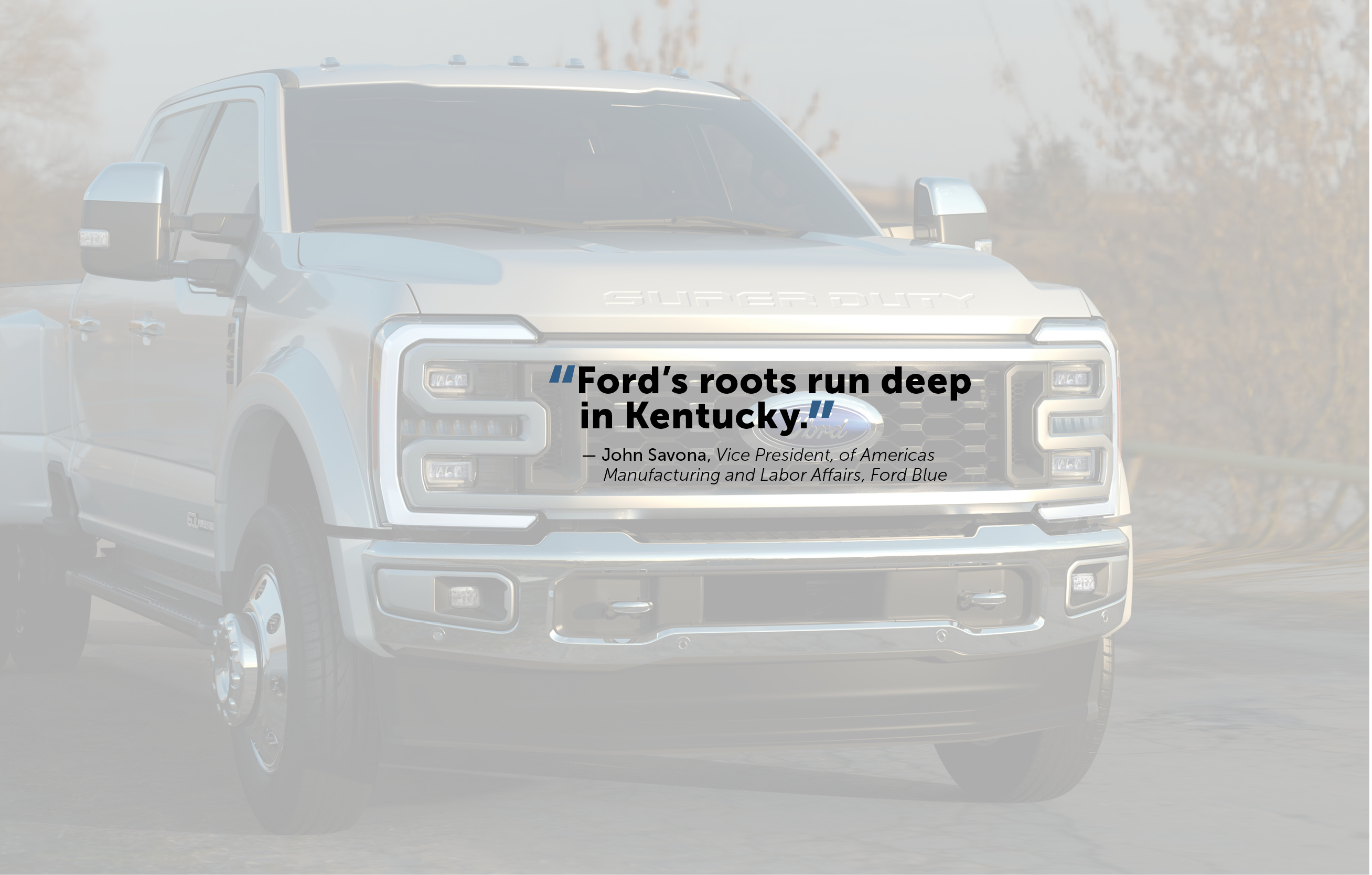 Ford has plenty of company in producing high-quality vehicles in Kentucky. The state ranks No. 1 per capita in production of motor vehicles in the U.S. Kentucky is the center of Auto Alley in the U.S. and is home to four automotive production plants representing three OEMs. Ford operates two facilities in Louisville; Toyota operates its largest production plant in Georgetown; and General Motors builds the iconic Corvette sportscar in Bowling Green. 
The roll call of popular vehicles made in Kentucky is impressive: Ford F-Series trucks, Corvette Stingray, Ford Expedition, Ford Escape, Lincoln Navigator, Toyota Camry, Lexus ES 350, Toyota Avalon and Toyota RAV4 Hybrid are just some of the cars and trucks produced here.
Kentucky ranks third in the U.S. in total vehicle production — just behind Michigan and Indiana — with more than 1 million motor vehicles rolling off the assembly line each year. Some 564 automotive manufacturing plants statewide employ more than 103,000 workers in total.
From 2016 to 2022, nearly $10 billion in new OEM investments have been announced in the state, including $7.2 billion from Ford, $2.1 billion from Toyota, and $290 million from General Motors.
When folks wonder why so many best-selling cars and trucks are built in Kentucky, state leaders and site selectors alike cite the same contributing factors: a high-quality, well-trained workforce; a Mid-South location that lies at the center of the country's automotive production corridor; three international multi-modal ports (Amazon Air, DHL and UPS) that make logistics to global destinations easy and seamless; and among the lowest cost of doing business in the nation, per CNBC.
Plus, all the aluminum, steel, rubber and plastics required to make these vehicles can be sourced directly from local Kentucky suppliers.
On top of that, the Kentucky Cabinet for Economic Development has a proven track record for making shovel-ready sites available for immediate development thanks to an unmatched speed-to-market commitment at the highest levels of state government.
On the day he helped Ford unveil its new Super Duty truck, Gov. Beshear said, "We could not be prouder and look forward to many more decades of success for this iconic American company here in Kentucky."
Given the state's recent history, it's safe to say that Kentucky will be celebrating a lot more days like this one for many years to come.