W
hen Site Selection magazine tallied corporate end-user logistics facility investments from January 2020 through December 2022, the fast-growing Cincinnati-Northern Kentucky region ranked in a tie for No. 7 in the country. Boosted by the $1.5 billion Amazon Air Hub at Cincinnati/Northern Kentucky International Airport among other assets, it's no wonder the commonwealth is one of only five states to receive an "A" grade from the annual Logistics Industry Health report from the Center for Business and Economic Research at Ball State University.
With such a significant and rapidly expanding logistics presence in the state, the need for state-of-the-art infrastructure has never been greater. The current Brent Spence Bridge was constructed in the 1960s to carry around 80,000 vehicles a day, but the daily traffic load on Interstates 75 and 71 has reached 160,000 vehicles in recent years due to the corridor's key role in moving North American freight as well as north-south commuters. Leaders in the region recognize the vitally important logistics sector can only be successful with the necessary infrastructure improvements.
So there's no better time than now for some welcome news to match the major new bridge investment that happened down river in Louisville in recent years. In December 2022, Kentucky Gov. Andy Beshear, Ohio Gov. Mike DeWine and U.S. Senate Republican Leader Mitch McConnell announced the Brent Spence Bridge Corridor Project across the Ohio River was awarded federal funding grants worth more than $1.6 billion. This gave the landmark bridge and corridor project linking downtown Cincinnati to Northern Kentucky the green light to move toward construction. The companion bridge will come with Interstate improvements and is set for a late 2023 groundbreaking and completion in 2029.
"Funding and constructing the Brent Spence Bridge Corridor Project is more than the fulfillment of my administration's promise — it's a dream fulfilled for the thousands of travelers who pass through the bustling region every day waiting eagerly for traffic relief to come on this nationally significant corridor," said Gov. Beshear. "It also shows what's possible when we prioritize people over politics. Once complete, drivers will have a more enjoyable and efficient drive and we'll have the infrastructure in place to support the booming economy in this part of the state."
Sen. McConnell helped secure the federal funding by supporting last year's bipartisan Infrastructure Investment and Jobs Act, which will support Kentucky with billions of dollars over five years to improve the commonwealth's roads, bridges, airports, railroads, waterways, broadband and more.
"For decades, inadequate capacity on the aging Brent Spence Bridge has created headaches for drivers traveling between Kentucky and Ohio. Today, we're taking a major step toward fixing the problem," said Sen. McConnell. "Building a new companion bridge on the Brent Spence Bridge corridor will be one of the bill's crowning accomplishments, bringing long-awaited safety improvements, traffic relief and rejuvenated commerce to Northern Kentucky and Southwestern Ohio."
Project Scrapbook
Since the start of the Beshear administration, companies within the logistics sector have announced more than 7,500 full-time, Kentucky-resident jobs across more than 115 facility expansion and new location projects with $2.2 billion in private-sector investment. Much of it spins along the state's 10 Interstates and 10 state parkways or its 2,700 miles of railroad and builds on the presence of logistics giants.
UPS houses the planet's largest automated package-handling facility, UPS Worldport at Louisville Muhammad Ali International airport, as well as its Centennial Ground Hub in Louisville, while FedEx operates several large ground hubs throughout the state. DHL continues to grow its global super-hub at Northern Kentucky's CVG Airport, where the new $1.5 billion Amazon Air Hub is creating 2,000 jobs and at full strength will handle 200 flights a day.
UPS in fall 2022 committed to invest more than $330 million and create 435 full-time jobs across two new 1-million-square-foot facilities operated by UPS Healthcare in Jefferson and Bullitt counties. UPS operations in Louisville have grown from a facility sorting about 2,000 air parcels per day in the early 1980s to today's UPS Worldport where more than 12,000 team members process over 2 million parcels a day.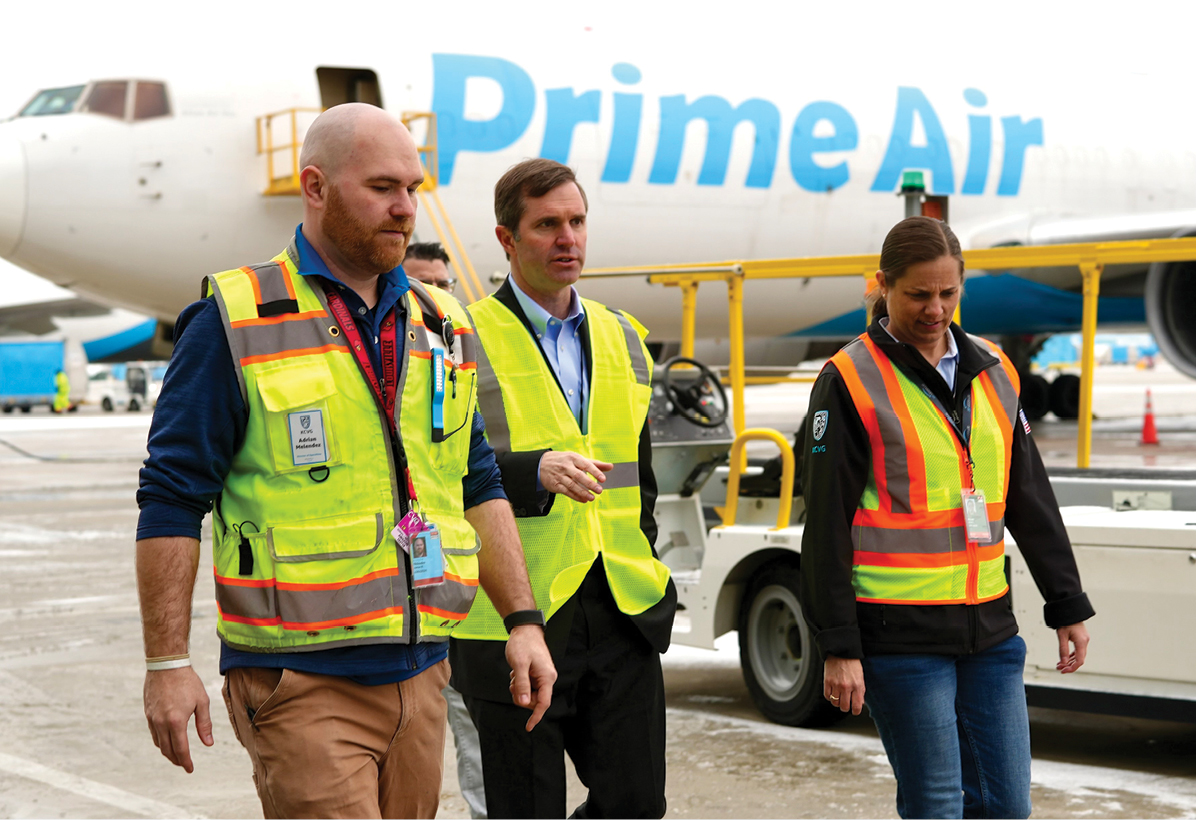 Kentucky Governor Andy Beshear paid a visit to the $1.5 billion Amazon Air Hub at Cincinnati/Northern Kentucky International Airport in January 2023.
Photo courtesy of the Office of the Governor
UPS is the largest employer in metro Louisville, with more than 25,000 employees working in air, ground and supply chain operations. The Worldport is the centerpiece of the company's global air network, with nearly 400 flights arriving and departing each day (most in the middle of the night). UPS also operates 21 Supply Chain Solutions warehouses in the region, totaling more than 8 million square feet of space dedicated to warehousing and distribution for customers. The company's operations in Kentucky amount to 62,000 direct and indirect jobs created — 10% of them in the past five years — and $2.5 billion in annual payroll.
Recent project highlights show there is a lot more than simple distribution functions coming from logistics companies across the commonwealth:
January 2023: PACCAR Parts, a division of the truck maker that distributes aftermarket parts for heavy- and medium-duty trucks, trailers, buses and engines, cut the ribbon on a $45 million, 80-job parts distribution center, its 18th globally, located at Louisville Riverport Authority's Phase 5 development. The company said the location will allow increased parts availability for dealers and customers in the central, mid-Atlantic and southeastern regions. In addition to workforce recruiting and training resources available from the state, a performance-based incentive agreement approved three years ago by the Kentucky Economic Development Finance Authority (KEDFA) made $500,000 available to the company over 10 years provided it meets its job and wage targets. KEDFA also approved PACCAR for tax incentives through the Kentucky Enterprise Initiative Act (KEIA), which allows approved companies to recoup Kentucky sales and use tax on construction costs, building fixtures, equipment used in R&D and electronic processing.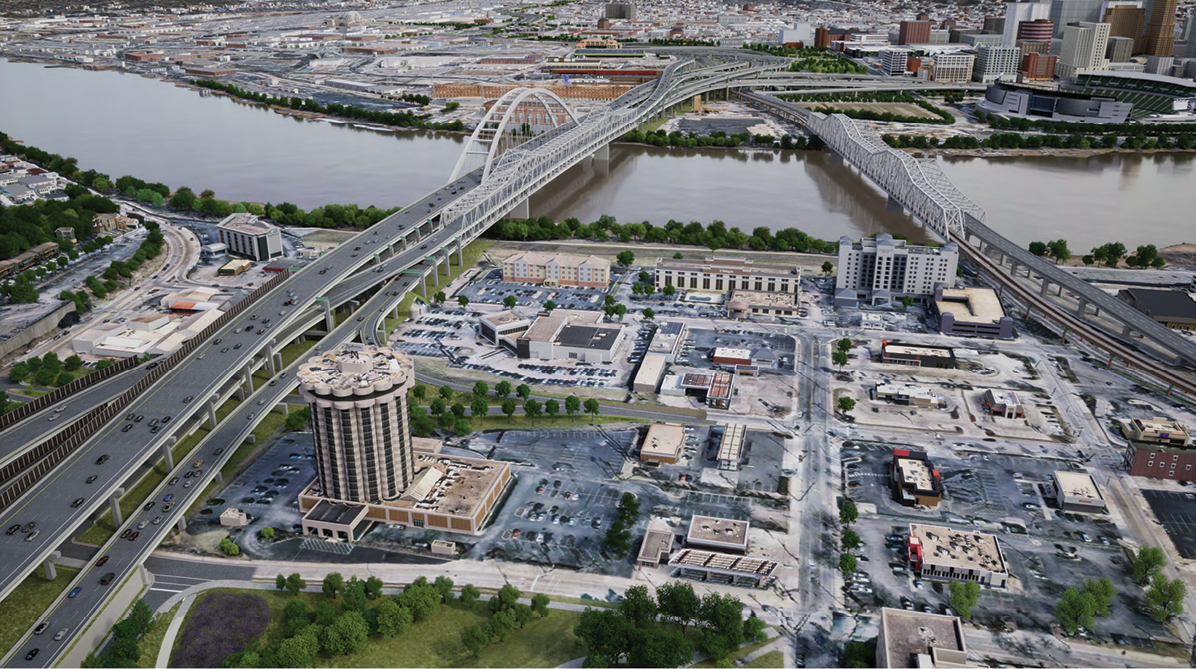 Spanning eight miles between points in Ohio and Kentucky in the Cincinnati-Northern Kentucky region, the Brent Spence Bridge Corridor Project will address the second-worst truck bottleneck in the nation along an Interstate connection that carries more than $700 billion worth of freight per year.
Photo-rendering courtesy of Kentucky Department of Transportation
January 2023: Ancra Cargo, a designer and manufacturer of cargo securement systems for transportation, cut the ribbon on the company's newly renovated headquarters in Hebron in Northern Kentucky. The $8 million project increased Ancra's staff by nearly 50% with more than 50 new jobs. In addition to new manufacturing capabilities alongside the facility's distribution operations, the facility expands the company's product development, quality control testing and marketing capabilities, including a dedicated, multimedia resource center complete with planogram space, a photo lab and soundproof studio for shooting videos and broadcasting content. 
September 2022: Blending the dynamics of logistics and tech, Inxeption, an industrial commerce and supply chain digitization company, cut the ribbon on its new Louisville headquarters. The company will create 200 full-time jobs with a $125 million investment over the next five years on the 29th floor of PNC Tower downtown. The company offers what it calls "supply chain as a service," providing industrial manufacturers with secure multimodal shipments through a single user interface. Its international logistics business grew by 270% in the first half of 2022, as the company supported U.S. import and export business.
April 2022: Gov. Andy Beshear announced Columbia Brands USA LLC, a manufacturer of apparel and footwear products, will expand its presence in the Henderson County community of Robards in Western Kentucky with a $3.7 million investment in its existing distribution operation creating 175 full-time jobs. Columbia will invest in facility upgrades and new equipment to accommodate the relocation of a performance fishing gear line from the company's distribution facility in Oregon. Upgrades at the 520,000-square-foot distribution center at 4 Star Industrial Park in Robards — first established in 2004 — are expected to be completed by May 2023.
"Our distribution center in Henderson County continues to advance new processing capabilities," said Alonzo Plater, the company's vice president of global distribution. "Investment in this area will help us achieve our goal to get our products into the hands of our customers and consumers in the timeliest manner possible."
April 2022: Paschall Truck Lines Inc. (PTL), a national truckload carrier based in Murray, broke ground on a new $8.2 million headquarters office in Murray West Industrial Park in Calloway County. With roots in Murray going back to its founding in 1937 with a single truck, the company has since grown into a national truckload carrier with more than 1,100 tractors, 3,200 trailers and over $260 million in annual revenue. The project in Western Kentucky is expected to create up to 150 office and administrative jobs and will support the company's customers, which include household names such as Procter & Gamble, Walmart, Home Depot and T.J. Maxx.
"Paschall Truck Lines Inc. has looked forward to building a new company headquarters on the north side of Murray for many years," said Chuck Wilson, senior vice president and treasurer for PTL, noting key support from the City of Murray, Murray-Calloway EDC and the Commonwealth of Kentucky. "As a 100% employee-owned company with many Murray and Western Kentucky based employee-owners, we believe the new headquarters facility will serve the needs of the company, its employee-owners, our customers and Murray and the region for many years to come."
August 2022: Third-party logistics provider Bluegrass Supply Chain Services LLC (BSC) announced it would locate a new operation in Warren County with a $25 million investment creating 110 full-time jobs as the company expands its logistics capabilities to serve the automotive and food and beverage markets. BSC leaders will co-develop and lease a facility in Bowling Green in partnership with Sunnyside Gott REIG, which operates under the same ownership as BSC, for office and warehousing space, the company's second location in the community. The company offers warehousing, reverse logistics, e-commerce fulfillment and transportation management services across a six-state region, with approximately 40% of its customer base located in Kentucky. Its sister company, Bluegrass Dedicated, also is based in Bowling Green and operates a fleet of 100 trucks that provide transportation services to customers throughout the United States.
"We are excited to develop a new corporate office, warehouse space and a truck facility to support our operations in Bowling Green and Warren County," said John Higgins, CEO of BSC. "This community has been fantastic for our business. The location provides us easy access to the new connector road to Interstate 65 and close proximity to many of our customers."
November 2022: FEAM AERO, in partnership with Cincinnati/Northern Kentucky International Airport (CVG), celebrated the official groundbreaking of a new 150,000-square-foot hangar, the company's second major investment on property at CVG. The three-bay, wide-body hangar will support the creation of 200 new aircraft maintenance jobs, adding to the 300 already employed at FEAM's first facility. Candace McGraw, CEO of CVG, noted that the airport is now the 18th largest cargo airport in the world. It's the seventh largest in the U.S., with an annual economic impact of $6.8 billion.