T
rying to describe the Kentucky business climate is like trying to define the legacy of Kentucky Wildcats basketball. Sometimes it's easier to look at the reaction of the fan base.
Big Blue Nation - the legion of fans who live and die with every shot by a University of Kentucky hoops player ­­- is an indicator of how important roundball is in the Bluegrass State. Spoiled by the success of decades of Southeastern Conference championships and multiple national titles on the hardcourt, the fans who fill Rupp Arena to the rafters know excellence when they see it.
So too do the many companies who annually invest millions, and sometimes billions, into facilities and payroll across the commonwealth. The executives who run these firms know what it takes to be globally competitive and make a profit at the same time.
It all starts with a location that makes success possible. For tens of thousands of businesses, that location is Kentucky.
Over the last two years, the capital investment and job creation numbers have confirmed that. 
In 2022, Kentucky notched its second-best year in history for new plant investment and its fourth-best for job creation. Put 2021 and 2022 together, and you get the best two-year economic development run in state history.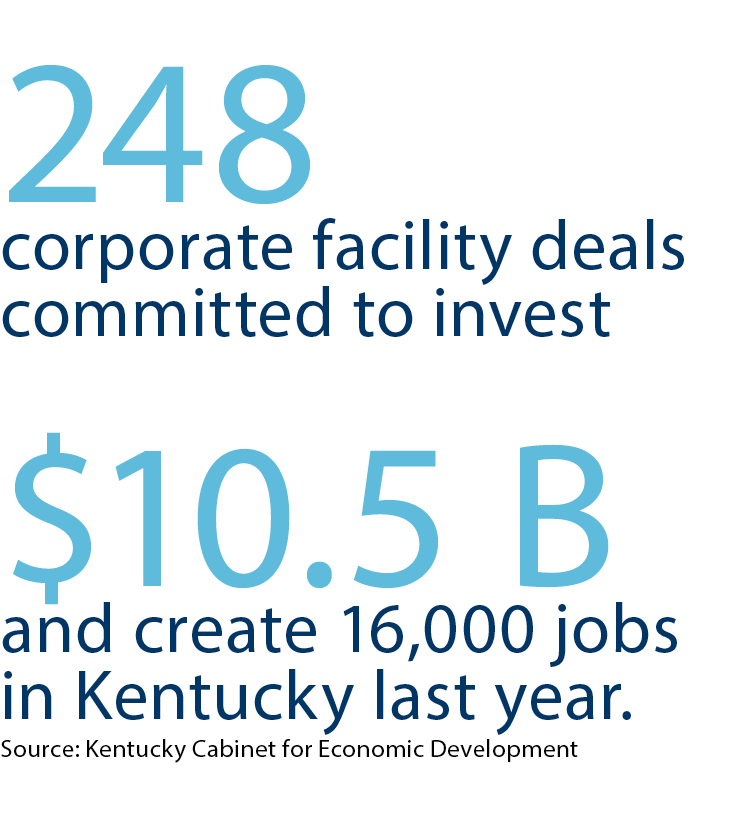 Some 248 private-sector corporate facility projects committed to invest almost $10.5 billion into the state and create 16,000 new jobs during 2022. Just one year after establishing a record high for investment, Kentucky followed that up with its second-best tally.
Wages are on the rise as well. In 2022, the average hourly wage for new projects statewide was $26.78 before benefits, representing an increase of 11.5% from 2021, when the mark was $24.
"Not only does this year mark the best two-year period for economic growth in Kentucky; it also brought significantly increased wages for Kentucky families, a record high for investment in the bourbon and spirits industry, and a diverse economy that now includes the rapidly growing electric-vehicle sector that can support our workforce for generations to come," Gov. Andy Beshear said.
Key Industries — Both Existing and New — Fuel Record Growth
During the first three years of the Beshear administration, more than 800 corporate facility projects generated over $24 billion in capital investment and created more than 42,600 new jobs. 
In 2022, record highs were set in several industries. Bourbon and spirits, for example, recorded its best year ever for investment and job growth. Also showing strong growth were projects in these sectors: electric vehicles and EV battery production, metals manufacturing, food and beverage processing, health care, logistics and distribution, and agritech.
Others took notice. S&P Global Ratings and Fitch Ratings upgraded the state's financial outlook to positive in light of the surging state economy. Site Selection magazine ranked Kentucky No. 6 in its annual Prosperity Cup rankings, which recognizes state-level economic success based on capital investments and other criteria.
State coffers reflect this success too. For the second year in a row, the Kentucky General Fund budget surplus topped the $1 billion mark, while the state's rainy-day fund grew to a new high of $2.7 billion — up from $129 million in December 2019.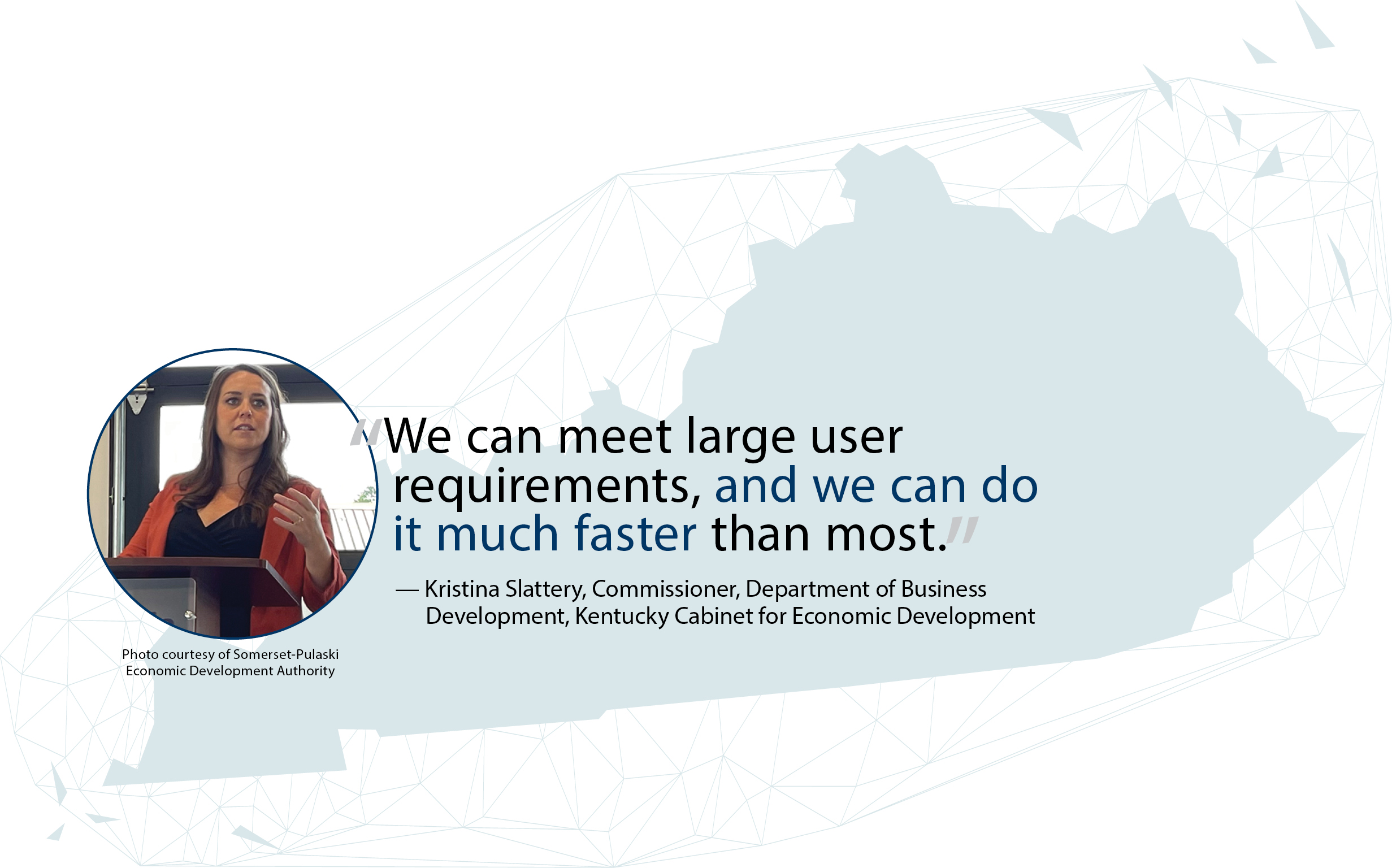 Kristina Slattery, commissioner of business development for the Kentucky Cabinet for Economic Development, said multiple factors underpin this record run. Specifically, she cited relationship-building, site readiness, and a willingness to embrace other cultures. 
"Because of our existing relationships with people at the Ford Motor Company, we were able to compete and win the BlueOval SK $5.8 billion EV battery project," Slattery said. "Relationships were critical in the process. When you look at the automotive industry and the way it is woven into Kentucky, we were on firm footing when the opportunity came our way."
Kentucky also prepared to win by building a highly competitive mega-site in Glendale. 
"From a readiness standpoint, having the Glendale mega-site in build-ready condition was a big factor," Slattery noted. "Ford was impressed with the location of the site and the work we had done on it. We had shown that site several times in prior years. This was just the right time with the right joint-venture partners."
A cross-cultural embrace sealed the deal. 
"The project took a turn when we had SK Innovation leadership in for a visit from South Korea, and we introduced them to people in the community," added Slattery. "They talked about what it was like to live here as a Korean American. A lot of different things came together. SK leaders felt welcomed, and they genuinely were."
One success led to another. The Ford-SK collaboration opened the door for Japan-based Envision AESC to establish a $2 billion EV battery factory of its own just over six months later in Bowling Green. Since then, several supplier announcements have followed, including multiple investments from South Korean companies.
Site and Community Prep Puts Kentucky on Top
Slattery also cited speed to market and the presence of so many suppliers of raw materials as critical business magnets in Kentucky. 
"More and more on these projects, we have been able to meet the needs on the utility demands for water, wastewater, electric power, etc. We can meet large user requirements, and we can do it much faster than most," she said. "This goes back to the importance of the Kentucky Product Development Initiative and preparing the infrastructure. We have utility partners who have made major investments with us."
Finally, Kentucky's ace in the hole is its workforce. 
"We have seen continued investments into Kentucky's technical colleges and community colleges," said Slattery. "Site selectors also know that companies can access the talent of exiting military at Fort Campbell, Fort Knox and the decommissioned Blue Grass Army Depot."
John Bevington, director of business and economic development for Louisville Gas and Electric Company and Kentucky Utilities Company (LG&E and KU), said the low cost and reliability of the infrastructure in Kentucky for electricity, gas, water and sewer is a significant factor in the location choices made by industries with significant energy needs. 
"We tend to have energy-intensive industries that are located here," Bevington said. "And as time goes on, the availability of water will continue to be a huge benefit for folks choosing to do business in Kentucky."
Brad Thomas, manager of economic development for Kentucky's Touchstone Energy Cooperatives, said there are still plenty of opportunities available for investors in Kentucky. 
"We are seeing record numbers and we are not seeing it slow down," he said. "We saw $2.9 billion in investment in rural communities in our territory last year. The profile of Kentucky is definitely taking an uptick. I am eager to see what the next 10 years bring."