A
Korean company that started in 1967 is the latest indicator that when it comes to metals manufacturing, Kentucky has become the biggest magnet in America.
This was confirmed last August when LOTTE Aluminium Materials USA LLC announced that it would locate an aluminum foil factory in Hardin County. The $238.7 million investment will result in 122 full-time jobs in this Central Kentucky community.
The project marks the first U.S. aluminum foil plant for the Korean firm that bills itself as a "global top 7 chemical company."
LOTTE Chemical announced a joint venture with LOTTE Aluminium to build this new plant in Elizabethtown. The goal of the project is to produce 36,000 tons of cathode foil, a form of very thin aluminum foil that is a core component used to make batteries for electric vehicles.
The plant is being built on 40 acres in the T.J. Patterson Industrial Park in Elizabethtown and is slated to begin operations in 2025.
"We will do our best to develop and support technology so that we can stably produce high-quality and high-efficiency cathode foils to respond to customers one step at a time," said Kim Gyo Hyun, president and CEO of LOTTE Chemical.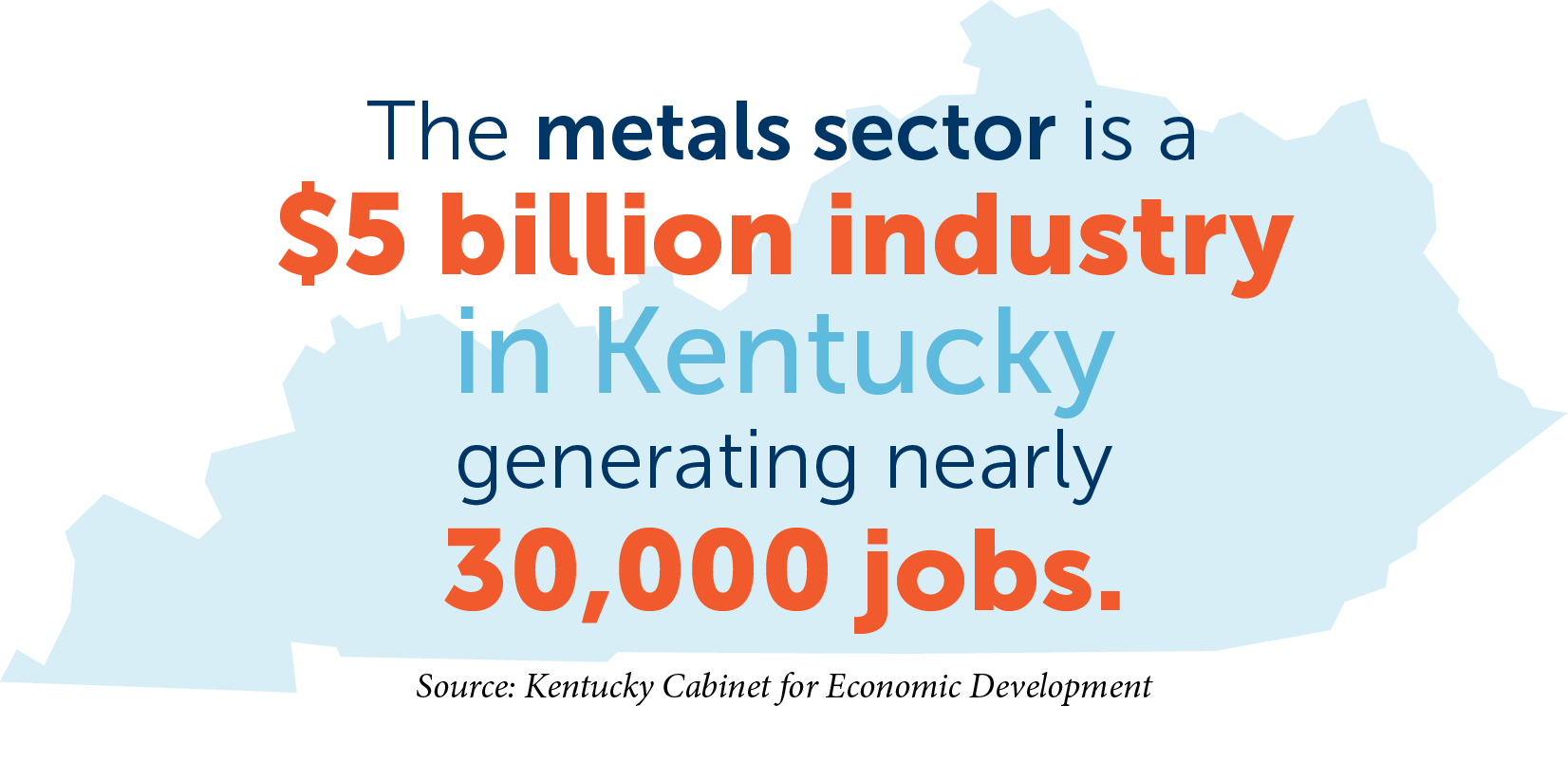 LOTTE Aluminium and LOTTE Chemical are subsidiaries of LOTTE Group, one of the biggest companies in South Korea. LOTTE has more than 90 business units that collectively employ more than 80,000 people. LOTTE, founded in 1967, serves a wide range of industries, including hospitality, financial services, food manufacturing, entertainment, industrial chemicals and aluminum manufacturing.
A High-Growth Industry
For many years, Kentucky has been positioning itself to be a national leader in both metals manufacturing and EV assembly. Investment projects like those from BlueOval SK and Envision AESC in the EV sector are creating even more demand for stainless steel, aluminum, rubber and plastics — components required in the assembly of these high-tech cars and trucks.
Kentucky's metals industry includes businesses that serve many sectors including automotive, aviation, and food and beverage. In 2022, 20 metals-related project announcements contributed to more than 940 new jobs and nearly $1 billion in new investments.
"We will do our best to develop and support technology so that we can stably produce high-quality and high-efficiency cathode foils to respond to customers one step at a time."
— Kim Gyo Hyun, President & CEO, LOTTE Chemical
The factors drawing these investors to Kentucky include low energy costs, abundant water supplies, a well-trained workforce, a plethora of available sites, river and rail access, a central Mid-South location, and the ability of government to provide speed to market for its large industrial end-users.
These recent investments add to the commonwealth's overall metals sector, which is a nearly $5 billion industry in Kentucky generating nearly 30,000 jobs. 
Notable recent announcements include:
Novelis Corporation (Todd County): $364 million investment and 140 full-time jobs.
Flash Steelworks (Bell County): $12 million investment and 250 full-time jobs.
Kentucky Chrome Works (Hart County): $750,000 investment and 30 full-time jobs.
Wieland North America (Shelby County): $100 million investment and 75 full-time jobs.
Hydro Aluminum Metals USA (Henderson County): $15 million investment and 56 employees retained.
Skilcraft (Boone County): $8.4 million investment and 14 well-paying jobs.
Legacy Metals (Christian County): $1.2 million investment and 100 full-time jobs.
How MI² Helps
Kentucky intends to maintain its industry edge through collective innovation. 
The Metals Innovation Initiative, or MI2, is an example of the collaborative environment that Team Kentucky and KY Innovation work hard to build and maintain. This new initiative is a coalition of metal industry executives collaborating to make Kentucky the preeminent destination for metals innovation. The organization, launched in 2022, was founded by companies in aluminum, stainless steel, and copper. 
It has partnerships with leaders in higher education, K-12 education, entrepreneurship, non-profit groups, and state government. Gov. Andy Beshear has supported the effort, and the Cabinet has allocated funding for scaling the organization. 
Among the initial strategic focus areas of MI2 are developing the workforce through supporting and attracting talent, supporting environmental sustainability research and development, sharing the story of the Kentucky metals ecosystem, and working with partners to secure federal grants and other funding for metals innovation work. 
"There are so many innovative initiatives happening here in Kentucky; MI2's mission is to connect all the partners in our innovation ecosystem with the fast-growing metals industry here in the Commonwealth," said MI2 CEO Vijay Kamineni. "In our first several months, we have already seen the power of what happens when our ecosystem comes together to support open, collaborative, pre-competitive, de-risked innovation."