T
he only thing stronger and more reliable than Kentucky's bourbon is Kentucky's workforce.
From September 2021 to September 2022, Kentucky added 81,700 new jobs. That growth represented the largest number of new jobs added in 20 years. 
Numbers like that mean two things: 
The commonwealth has a workforce eager for opportunity; and Kentucky leaders actively support initiatives to enhance that workforce.
Train and Gain
In fiscal year 2022, facilities across the state were approved for approximately $6.2 million in grants and $2.2 million in credits through the Bluegrass State Skills Corporation (BSSC) to support training for nearly 35,000 Kentucky workers. 
That $8.4 million was able to train the largest number of Kentucky residents since 2016.
BSSC, operated through the Kentucky Cabinet for Economic Development, provides Grant-in-Aid (GIA) and Skills Training Investment Credit (STIC) programs to employers across every industry. GIA gives employers cash reimbursements for upskill training and STIC offers income tax credits to cover the employers' expenses for approved training programs for employees.
"Programs like the Bluegrass State Skills Corporation are ensuring we have individuals with the necessary skills to meet the needs of these growing companies," 
— Gov. Beshear on workforce training, November 2022
Extending into 2023, Governor Andy Beshear announced in February the state had approved an additional $4.6 million in funds and credits toward workforce training for FY 2023.
Those funds are spread across 76 applicants in the state, which will assist workforce development efforts for well over 14,000 Kentucky employees.
"As we continue to build on the economic momentum that is positioning the commonwealth for a better future, we must be vigilant to ensure we have a pipeline for talent to fill these jobs of tomorrow," said Governor Beshear in November 2022. "Programs like the Bluegrass State Skills Corporation are ensuring we have individuals with the necessary skills to meet the needs of these growing companies. It's yet another reason there is no better place to do business than Kentucky."
Assets On Hand
Beyond BSSC, Kentucky provides an extensive list of both education and training programs for employers and employees.
With 16 community and technical colleges spread across 70 locations, as well as an array of public and private institutions, skills training and relevant certificate programs are accessible regardless of where employees reside. 
Kentucky Adult Education programs in every county provide academic instruction, training and career resources. Students receive free General Education Development (GED) testing and can earn National Career Readiness and Kentucky Essential Skills certificates that land them high-quality jobs.
Learning new skills while juggling both work and personal life is no easy ask. That is why Kentucky offers training opportunities that workers can easily integrate into their schedules.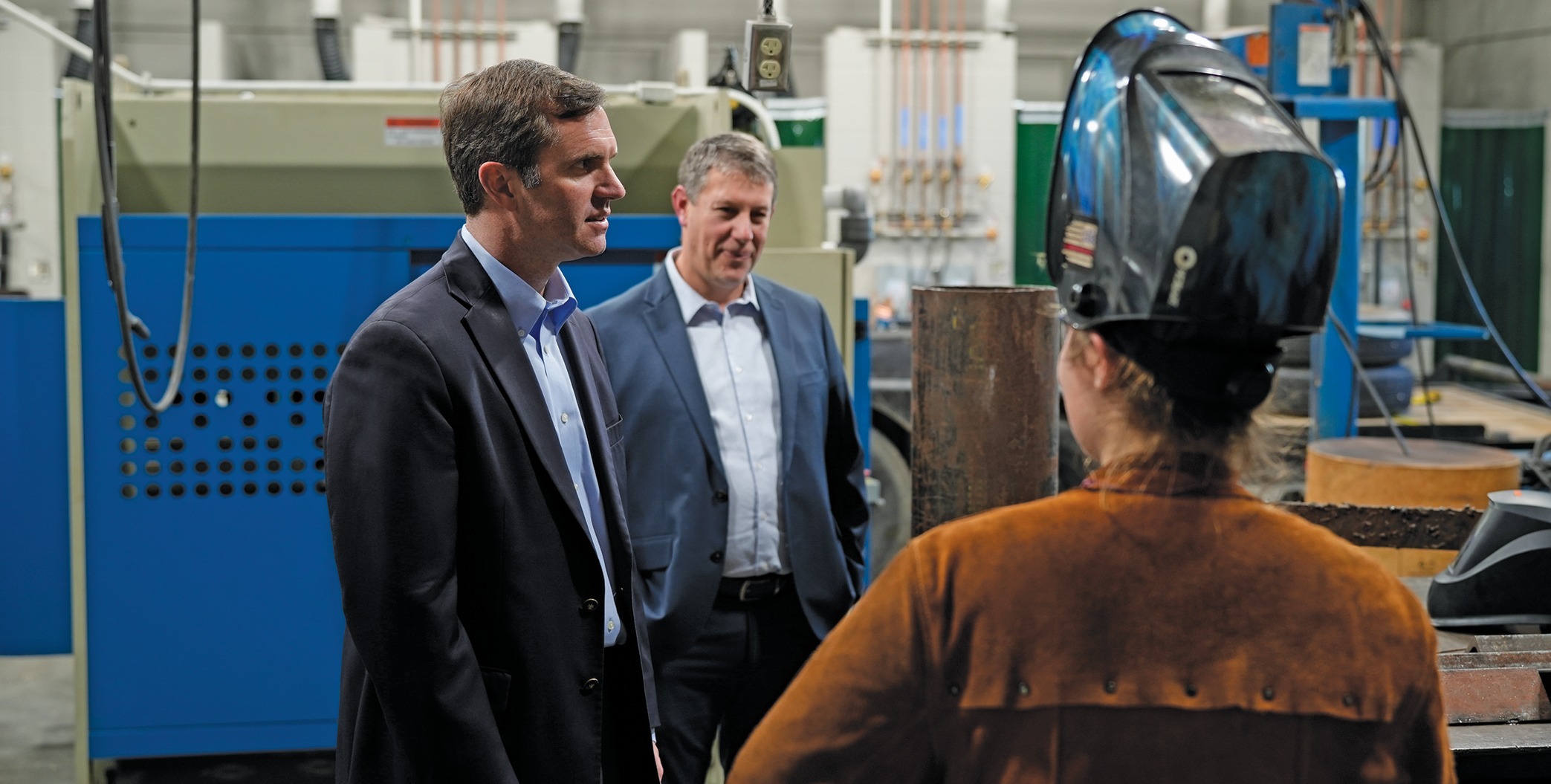 Bluegrass State Skills Corp. has helped train more than 50,000 workers at Kentucky facilities since FY 2022.
Photo courtesy of the Office of the Governor
Just weeks into 2023, the state had already landed six multimillion-dollar new projects or expansions from Neogen ($10 million), LioChem e-Materials ($104.4 million), Carter Lumber Company ($8.1 million), Precision Sonar and Outdoors LLC. ($2.2 million) and Henderson Distilling Company ($5 million). These six projects combined will create 400 new jobs.
The largest investment came from North American Stainless, for a $244 million expansion to its Ghent, Kentucky plant, located an hour northeast of Louisville. The January 2023 announcement marks the company's 13th expansion in the state since 1990, and company leaders had their workforce to thank.
"Our parent company Acerinox — one of the largest producers of stainless in the world — was eager to further invest in Kentucky to demonstrate its commitment to our customers and the U.S. market and because our workforce meets and exceeds all goals every year," said NAS CEO Cristobal Fuentes in the company's release. 
As Kentucky welcomes new project investments, a high-quality and well-matched workforce remains a top priority for the state's leadership. 
Aside from BSSC, both employers and employees can take advantage of these resources:
Kentucky Skills Network
The Kentucky Skills Network provides resources for businesses to build custom solutions to address particular workforce needs.
KCTCS Workforce Solutions
The Kentucky Community & Technical College System delivers high-quality, cost-effective customized training and assessment services that are designed to improve the performance and efficiency of a company. KCTCS Workforce Solutions staff will work with a company to design training programs to meet their specific needs and bring them directly to the company's location. Additionally, through the KCTCS-TRAINS program, KCTCS can provide funding for companies to offset the cost of training their employees.
KY FAME 
The Kentucky Federation for Advanced Manufacturing Education is a company-sponsored, nationally recognized career pathway partnership driven by employers across the state (including Toyota, Xerox, 3M and Fluor) to provide hands-on and classroom manufacturing training for students currently enrolled in school.
Work Ready Scholarships
 The state will pay for workforce training to help employees land better and higher paying jobs. The Work Ready Scholarship program accepts applications for students pursuing health care, advanced manufacturing, transportation, logistics, business services, IT and construction to aid and fast-track education or training.
Apprenticeship Programs
Through Kentucky's Education and Workforce Development Cabinet students can find on-the-job training opportunities to build skills while earning a salary. Employers can select students and courses for their programs with participating schools around the state.
Kentucky Career Center 
Online and with over 100 locations in the state, Kentucky's Career Centers help employers find skilled talent and provide a platform to post open positions, while providing employees with resources to help prepare for and land quality jobs.
Prison-to-Work Pipeline 
A new resource launched in 2022, the program allows businesses to virtually interview inmates across 13 state prisons and 19 local jails and offer job opportunities following the candidates' release. Inmates can enroll in virtual learning job skills programs to prepare for interviews and overcome real-life obstacles.
Explore the right workforce development solutions for your business at ced.ky.gov/workforce.