I
f you're looking to move goods in and out of Greater Boston, the metro area's western flanks are the sweet spots. So is a newly expanded container terminal.
Of the more than 100 facility investments with a logistics function tracked in Massachusetts since January 2019 by Site Selection magazine's Conway Projects Database, nearly half have landed in Worcester and Middlesex counties west of Boston. Another 21 can be found in Bristol County, all in municipalities that are part of the Providence-Warwick, Rhode Island-Massachusetts, metro area.
"The boundaries of the Boston industrial market continue to be stretched by limited developable land closer to the city and high demand for new quality space."
— Colliers International Q4 2022 industrial market report
As one might expect of any U.S. region, eight of the Massachusetts logistics projects over those four years came from Amazon, initially creating thousands of jobs and covering millions of square feet. Since 2010, the company said last summer, Amazon has created more than 20,000 jobs and invested more than $10 billion in Massachusetts. That was just before it shuttered a few of its warehouses in the state as the company scaled back from its massive spending during the pandemic. But its employment is still strong.
Why?
The occasion that precipitated the company's job-creation statement offers a clue about one of the Commonwealth's logistics assets: brainpower. Amazon maintains 4,500 corporate and tech jobs at its Boston Tech Hub, which recently transferred 2,000 of those positions to a new Seaport location with plans to grow further.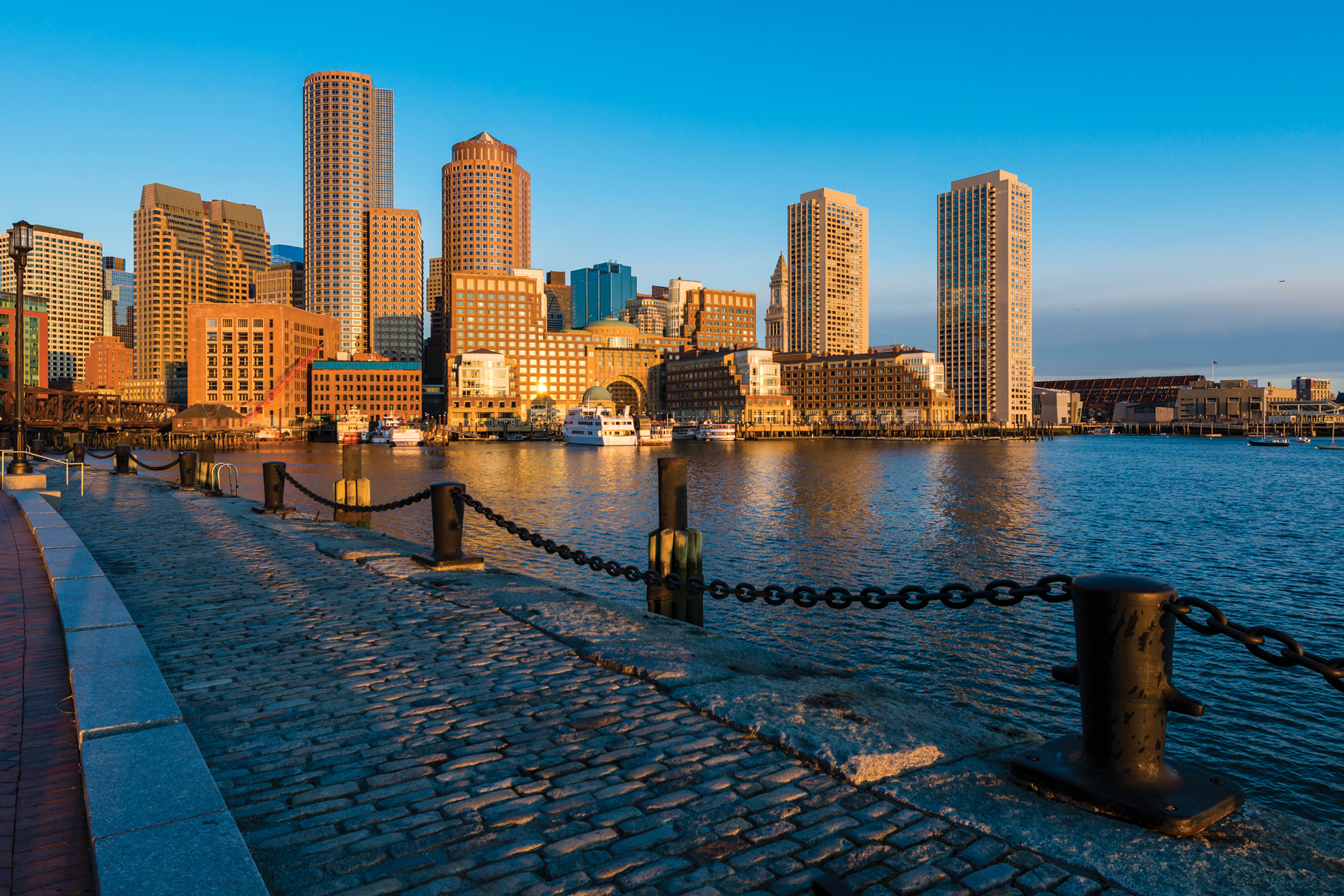 Boston's Seaport area and the Port of Boston alike are powering logistics prowess in Massachusetts.
Photo: Getty Images
That's not far from the Massachusetts Institute of Technology in Cambridge,
where the MIT Center for Transportation & Logistics (CTL) has been located for 50 years. In addition to its impressive global research and the impressive salaries of its supply chain management graduates, the CTL's MicroMasters® Program in Supply Chain Management that was launched in 2015 has reached more than 452,000 learners from 196 countries. The CTL also has developed and implemented more than 20 custom courses in a wide range of sectors for companies such as Walmart, AbInBev, Ahold Delhaize, GE, Shell and, most recently, global logistics company C.H. Robinson.
Where the Dirt Is Turning and the Inventory Is Too
Logistics intelligence gleaned from industrial real estate service providers provides additional insights.
According to the Q4 2022 Greater Boston industrial market report from CBRE, Boston's Metro South market saw major leases in the quarter from plumbing supplies distributor Ferguson Enterprises and WorldPac in Taunton; Barrett Warehouse in West Bridgewater; and Advanced Warehouses in Mansfield. Meanwhile, last-mile delivery services firm LaserShip and chemical manufacturer and supplier Hubbard Hall signed on for space in the Metro North markets of Stoneham and Wilmington, respectively. And BlueTriton Brands expanded by over 275,000 sq. ft. in Devens in the Metro West market.
Colliers International's own Q4 report found that despite slight increases in vacancy, "more than 2 million sq. ft. of new product was delivered in the quarter, both spec and build-to-suit properties, and spec ground breakings continued to happen despite economy uncertainties … The uncertain macroeconomic climate at the end of 2022 led corporations nationwide to shelve large requirements, Boston included," Colliers stated. "In Q4, however, some of that demand for large space has come back," with multiple big-box retailers looking for 1 million sq. ft. or more, the report found.
The Home Depot in 2020 committed to investing $1.2 billion to build approximately 150 new facilities across the country to reach 90% of U.S. customers with same-day and next-day delivery. It's keeping its word in the home territory of the PBS program "This Old House," moving into 715,000 sq. ft. in Tewksbury as well as a new space in Norton, located in the busy Providence-Warwick, Rhode Island-Massachusetts, metro area. In the past several years the area also has welcomed logistics facility investments from the likes of BGI Group, Tosca Services, Yale Appliance and Lighting, Pitney Bowes Global Logistics and Wayfair, many of them in the Blue Star Business Park. The city's planning and economic development department explains why:
"Norton is located at the crossroads of Southeastern Massachusetts and Rhode Island, with easy access to I-495 (three interchanges) as well as I-95," the department says. "Located just 27 miles southwest of Boston and 15 miles northeast of Providence, Norton has cost-effective access to over 5 million people just minutes away."
Port Update
Reaching more people who are days away was the goal of improvements to the Paul W. Conley Container Terminal at the Port of Boston, where the Massachusetts Port Authority (Massport) in September 2022 celebrated the completion of nearly $850 million in infrastructure investments. The only full-service container terminal in New England, Conley enables more than 2,500 businesses throughout the Commonwealth and New England to ship and receive products globally, says Massport.
The improvements boost the terminal's global connectivity from two services to seven major global ports up to six services connecting to 25 global ports.
"With a deepened Boston Harbor and modern container facilities, the Port of Boston is providing greater global connections for Massachusetts businesses and supporting thousands of jobs," said Massport CEO Lisa Wieland. The Port of Boston generates $8.2 billion in annual economic impact and supports more than 66,000 jobs.