A
place they call Shoreline City is making waves in Michigan.
Muskegon, a city of 39,000 people on the eastern shore of Lake Michigan, is flexing its muscle as a major player in biosciences, industrial real estate and infrastructure. Investment into new buildings and sites is paying off for the place that once supplied most of the lumber used to rebuild Chicago following the Great Fire.
City Director of Development Services Jake Eckholm says that infrastructure and industrial sites are the community's calling cards. "We are redeveloping a 40-acre site in the Port City Industrial Park on the east side of the city next to Interstate 31 — the main north-south corridor between Chicago and Western Michigan. We are the largest city on the shoreline of Western Michigan," he says. "We have a well-versed industrial workforce, one of the best community colleges in the state for training workers, two Interstate highways, a deep-water port, a regional freight airport and railroad."
These assets convinced Northern Biomedical Research of Norton Shores to make a sizable investment in a new research facility in Muskegon. The company announced that it will build a 125,000-sq.-ft. facility on land formerly occupied by the West Shoreline Correctional Facility. The plant will conduct animal research and testing that will be used in the development of treatments for humans, the firm said. About 150 workers will be hired upon completion.
"As we began an intensive search for potential properties that would support our multistep expansion plan, the Muskegon city commissioners and Jake Eckholm were by far and away the most supportive jurisdiction for our long-term vision. Ready access to interstate I-96 and state highway M-31 were attractive features as well. So ultimately, excellent site size and accessibility, outstanding city backing and long-term community roots led us to select Muskegon for NBR's new home," says Shane Woods CEO of NBR.
Labor Pool Seals Deal
Plans call for the NBR campus to grow to 500,000 sq. ft. over 10 years, says Woods, adding that the workforce is projected to reach 300 then. Woods adds that NBR "initially looked at properties within a 60-mile radius of Muskegon and along the 131 corridor between Grand Rapids and Kalamazoo. However, due to a lack of available and suitable lots, we also considered remodeling existing structures in both Indiana and New York. Yet in the end, due to an excellent property in our regional community's backyard and the valued support from the city, the decision to select our Muskegon site was easy."
The local workforce sealed the deal. "The manufacturing emphasis historically prevalent in Muskegon has resulted in a workforce culture of hard-working, process-orientated and quality-first professionals," says Woods. "We find this culture is readily adaptable to NBR's scientific business product. Further, local STEM programs including the Lakeshore FAB Lab at Muskegon Community College, Veterinary Technology program at Baker College and Biotechnology Program graduate opportunities at Grand Valley State University are steadily producing a highly skilled workforce eager to take on challenging and rewarding life science careers. Grand Rapids has undergone a significant transition over the last decade or more and now supports an internationally recognized life sciences corridor — a trend we strongly believe will spread south into Kalamazoo and north into Muskegon in the foreseeable future. NBR currently has no problem recruiting exceptional employee candidates and feels this will only become easier as we continue to grow in this community."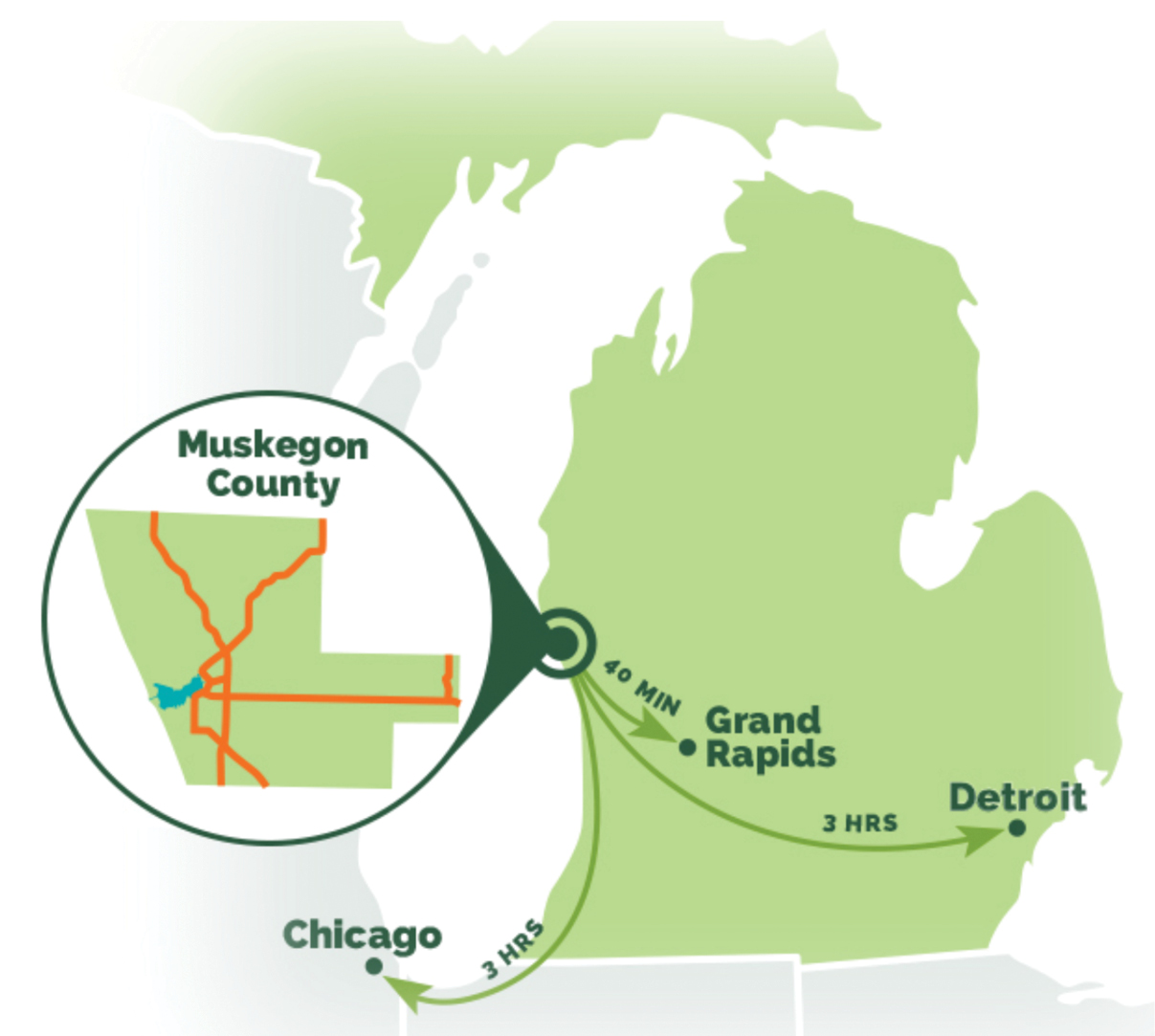 Muskegon has a history of strategic importance. Besides supplying the timber used to rebuild Chicago, its majestic sand dunes along Lake Michigan provided the sand molds to make foundries during World War II. "We were on the top 10 list of Nazi bomb sites because 90% of all small engines in the world came from Muskegon," says Eckholm. "This area has a rich history in heavy industry."
For Sale: Affordable Homes
One person who knows that is John Essex, partner with Core Realty Partners in Muskegon. He's been doing business in the area since 1980, building sites and facilities with industrial capacity. "Our primary business was aluminum and zinc castings for the automotive sector. We also did plastic injection molding and aluminum scrap smelting," he says. "We employed about 625 people. These businesses are still operating today in Muskegon."
When asked why he chose Muskegon, he said, "The access to talent and resources made available by the city and county, including our wastewater system, is top shelf. For large water users, that is essential. The ease of getting operational means a lot. No other spot in Michigan is more beneficial to running a successful manufacturing operation than Muskegon."
The community boasts plenty of inventory of available locations for industry, notes Essex. "There is industrial land for sale," he says. "The existing industrial buildings inventory is tight, but there are many good options with access to land and shipping."
He adds that "Muskegon County is much more affordable for housing. There are tons of development going on downtown. We have top-notch schools and Muskegon Community College, and we have great access to highways. Detroit is only three hours away. It is just three hours from Chicago. And the waterfront is some of the best in Michigan. Muskegon is starting to capitalize on that."
Essex says he would choose Muskegon again. "This community has done right by me. This has been a great place to build a business and raise a family. I wouldn't go anywhere else." 
---
This Investment Profile was prepared under the auspices of the City of Muskegon. For more information, contact Jake Echholm of the city at jake.eckholm@shorelinecity.com.