M
ichigan is making its way up the health care leaderboards. Over the last decade, Michigan has been at the helm of innovation and is now nationally ranked among the top 10 states in various sectors of the life sciences industry.
Home to 275 life sciences and medical devices companies, including Pfizer, Stryker, DiPharma and Vericel, Michigan is listed as one of the top 10 states for medical device manufacturing employment in the country, with over 12,000 employees. Michigan also ranks ninth in the U.S. for pharmaceuticals employment with 9,956 workers. 
Providing a high-quality, eager pool of talent, Michigan's University Research Corridor (URC) is the top cluster for undergraduate and advanced degrees in medicine and biological science. The URC is comprised of Michigan's three leading research institutions: Michigan State University, the University of Michigan and Wayne State University. Through this alliance, these public research universities produce hundreds of patents each year and develop innovative, life-saving medical treatments at their research labs and hospitals. The state is also ranked 10th for biomedical engineering graduates. 
In 2022, the Biotechnology Innovation Organization's (BIO) 10th biennial report, "The U.S. Bioscience Industry: Fostering Innovation and Driving America's Economy Forward," shows Michigan-based companies in sectors such as medical devices and equipment, agricultural feedstock, industrial bioscience and research, testing and medical laboratories and pharmaceuticals grew at a rate higher than the national average. 
"As the industry with the highest reinvestment rate on dollars earned, the bio-industry is a stabilizing force for the economy now, as well as helping to grow and diversify Michigan's economy of the future," said MichBio President and CEO Stephen Rapundalo, Ph.D.
Kalamazoo: Medical Mecca 
Kalamazoo's leadership in life sciences started well before the production and distribution of COVID-19 vaccines. In fact, there is a legacy of health care companies launching and growing in the city.
Many industry giants established their empires in Kalamazoo. Stryker, a world leader in medical devices and equipment innovation, was founded in the city in 1941. Proving its prominence in this industry, Stryker has been named by Fortune as one of the World's Most Admired Companies in the medical products and equipment industry for 22 years straight. 
In 2016, the company announced its plan to build a $130 million campus in Portage, located in Kalamazoo County, for its medical instruments division. The Michigan Economic Development Corporation supported this project through a $1 million Michigan Business Development Program performance-based grant that was approved by the Michigan Strategic Fund (MSF). The 485,000-sq.-ft. corporate campus has allowed the company to introduce 105 new jobs. 
In 2018, Stryker announced its next expansion project, a $109 million investment to scale its 79-acre industrial location in Portage by 253,000 sq. ft. In support of this project, MSF awarded the company a $2.6 million Michigan Business Development Program performance-based grant. The additional space allowed Stryker to expand its production capacity and its manufacturing workforce by 260 employees. 
Established in 1887, Perrigo, a leading over-the-counter pharmaceuticals manufacturer, was founded 30 minutes outside Kalamazoo in Allegan. At the time, this Michigan-grown corporation launched the concept of private label and offered to print a store's name on labels to encourage customer loyalty. Though they started with Epsom Salts, bay rum, sweet oil and dry goods, in the 21st century, Perrigo is globally known for its Rx-to-OTC switches such as store brand versions of Advil®, Tylenol®, Flonase®, Allegra® and Nicorette®. 
---
"Pfizer's Kalamazoo facility has been at the forefront of pharmaceutical manufacturing for more than 135 years through the legacy company Upjohn."
— Mike McDermott, Pfizer's Chief Global Supply Officer
---
From this strategy, the company has grown exponentially and now distributes more than 14,000 products in 28 countries. In 2022, Perrigo opened its new North American corporate headquarters in Grand Rapids. After the construction was completed, 150 employees moved into the 10-story building. 
Pfizer Guides World
Through Pandemic
Alongside Perrigo, Kalamazoo boasts another household name: Pfizer.
In 2020, Pfizer, a prominent pharmaceutical and biotechnology corporation, brought Michigan to the front lines of the COVID-19 pandemic. With the company's largest manufacturing site in Kalamazoo, it was up to their Michigan employees to produce and distribute what the world needed most: vaccines. On December 13, 2020, outside the company's Portage facility, crowds cheered as the nation's first shipment of COVID-19 vaccines were sent off to 636 locations. During that initial week, Pfizer distributed approximately 2.9 million doses. Michigan's hand in manufacturing the Pfizer vaccine saved countless lives. 
Throughout the last three years, Pfizer has remained at the forefront of innovation. In 2021, after an investment of $1.1 billion, the company began expanding what is slated to be "the world's most technically advanced sterile injectable pharmaceutical production facilities," known as Modular Aseptic Processing (MAP). Located in Portage, the 420,000-sq.-ft. facility is expected to be the largest injectable drug processing plant in the Western Hemisphere and will create 450 jobs. 
In July 2022, Pfizer announced it was investing $120 million into its Portage facility to support the production of an oral treatment for COVID-19, PAXLOVID. This investment will allow Pfizer to create 250 high-skilled jobs in Kalamazoo as well as increase the production of active pharmaceutical ingredients and registered starting materials. 
"Pfizer's Kalamazoo facility has been at the forefront of pharmaceutical manufacturing for more than 135 years through the legacy company Upjohn," said Mike McDermott, Pfizer's chief global supply officer. "The Kalamazoo facility uses some of our most innovative manufacturing technology and has been essential in Pfizer's fight against COVID-19, producing nearly 1 billion doses of COVID-19 vaccine at the site to date. Through this expansion, we will continue to invest in the next generation of manufacturing and supply chain resilience."
Later that year, in December, Pfizer announced another investment of $750 million in MAP. This funding will continue the efforts to expand the facility's production capacity and create another 300 good-paying jobs in Michigan.  
These expansion projects have enabled Pfizer to amass a workforce of 3,000 employees in Kalamazoo County. 
Western Michigan Workforce
As a response to the life science industry's established presence in Kalamazoo, Western Michigan University and the city's two teaching hospitals, Ascension Borgess (formerly Borgess Health) and Bronson Healthcare, collaborated to form the Western Michigan University Homer Stryker M.D. School of Medicine (WMed). The accredited private medical school offers the following degrees: Doctor of Medicine, Master of Science in Biomedical Sciences and Master of Science in Medical Engineering. Since its founding in 2012, WMed has given Kalamazoo companies access to an exceptional talent network as well as opportunities for industry partnerships. 
In January, a five-year grant of $2.4 million was awarded to the school's Department of Pediatric and Adolescent Medicine. This grant, given by the U.S. Department of Health and Human Services Health Resources and Services Administration, is the largest federal grant the school has received. With this funding, WMed will incorporate the Primary Care Training and Enhancement – Residency Training in Mental and Behavioral Health program to elevate training for residents accessing, identifying, diagnosing, treating and providing referral of services for mental and behavioral health conditions for patients who are at-risk or have experienced abuse, trauma, substance abuse and/or mental health disorders. 
Michigan Life Sciences and Innovation Center
With the support of the Michigan Life Science and Innovation Center (MLSIC), entrepreneurs and startups can skip the struggle and stride toward success. As a life sciences business incubator, the MLSIC seeks to strengthen and expand Michigan's diverse entrepreneurial ecosystem. The organization's Plymouth location provides its partners with access to wet laboratories, a Phase 1 Clinical Trail facility, well-equipped offices and conference rooms and a loading dock. Through the MLSIC, businesses are given the opportunity to network with industry executives as well as engage in mentorships.
Eligible companies are either innovative startups or businesses with technology pertinent to life sciences, health care and biotechnology. Applicable businesses must center around an idea that has defensible value. These companies also need to have commercialization as an objective. Some of the MLSIC's notable alums include Velesco Pharmaceutical Services, Tissue Regeneration Systems, Delphinus Medical Technologies and Esperion Therapeutics.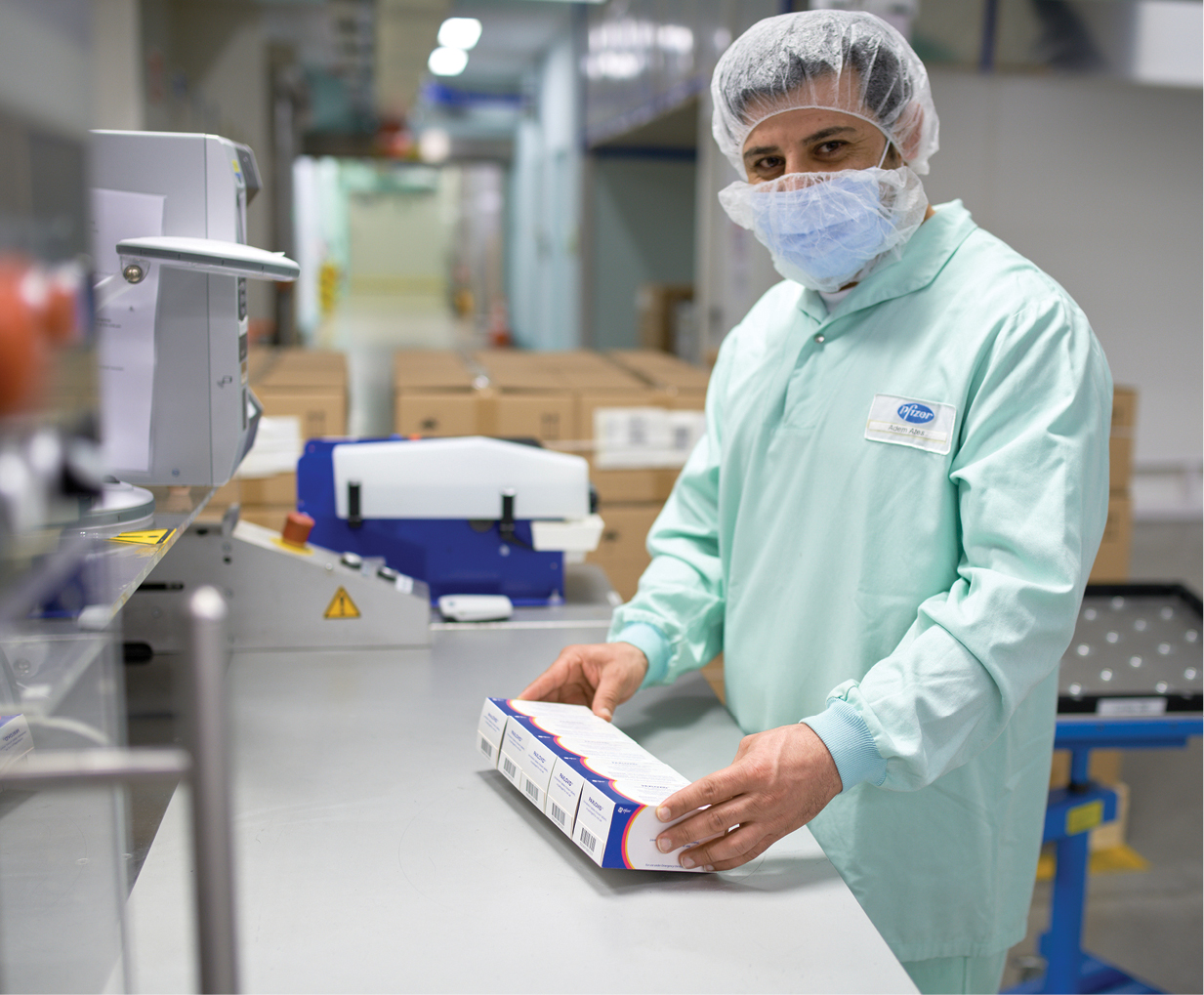 An employee packaging PAXLOVID.
Photo courtesy of Pfizer
In recent years, Michigan has experienced an influx of up-and-coming companies moving to the state. From 2018 to 2021, Michigan's life sciences employment grew by 5.6% and boasted 44,340 jobs. On its own, Kalamazoo, a medium-sized MSA (those with 75,000 to 250,000 in total private employment), has the highest concentration in the U.S. of both pharmaceuticals and medical devices and equipment employment.
Thanks to the companies who choose to grow in the Great Lakes State, Michigan continues to prove it has a healing hand in future of life sciences and medical device innovation.