M
ichigan is a state that boasts a wide array of outdoor recreational activities for all seasons. While the ability to locally source materials and conduct product testing throughout the year in one place can be rare in other states, that isn't the case for the Great Lakes State. With over 300 miles of freshwater shoreline, 11,000 inland lakes and countless parks and forests, it's no wonder that Michigan is a top destination for outdoor enthusiasts and the recreation companies who depend on them. 
A Uniquely Michigan Homegrown Operation
For several generations, Jeff Thompson's family has owned and operated Shaggy's Copper Country Skis. Shaggy's craftsmanship roots can be traced way back to Michigan's Keweenaw Peninsula, when the village blacksmith, or great-grand-uncle Sulo "Shaggy" Lehto, hand-crafted skis as a means of travel around the village of Kearsarge. Nearly 100 years later, brothers Jeff and Jonathon Thompson have turned their innate ski-making hobby into a homegrown business. 
"In Michigan, we can go from concept to completion in two days," says Thompson. "Thanks to our close proximity to different ski areas, we can come up with an idea and two days later have a totally unique pair of skis we can test in our own backyard." 
Today, Shaggy's small team of nine designers engineers and manufactures custom downhill skis. The flexibility to control the production process and sell directly to customers is vital to the team's ability to conduct business. Shaggy's entire production lifecycle takes place on-site, while roughly 40% of the premium materials used during the manufacturing process are natural to the state.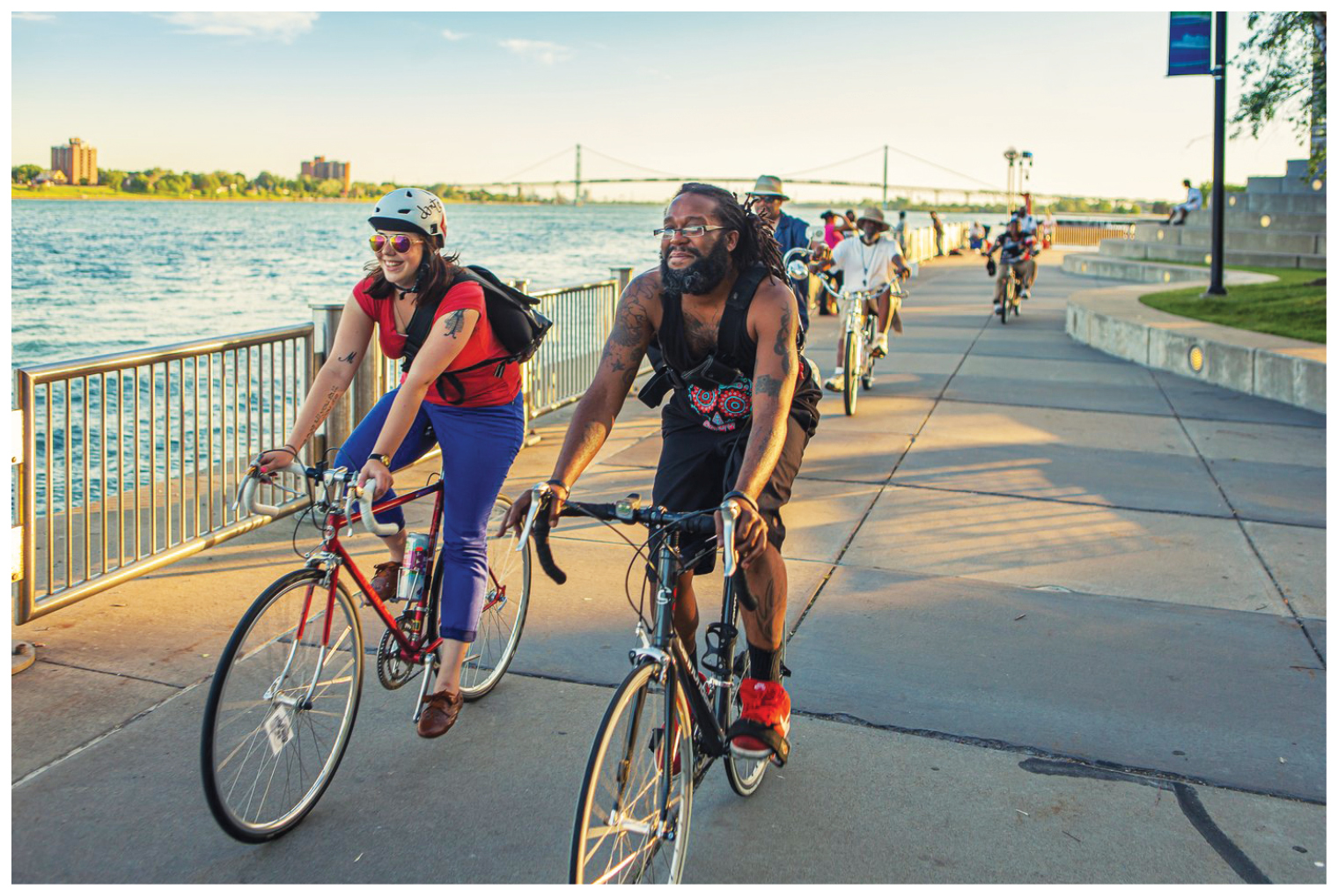 Photo courtesy of MEDC
"We have access to the best hardwood in the world here in northern Michigan, and that's an absolutely huge component to what we do," says Thompson. "In Michigan, we have relatively cold winters and warm summers, and it makes our trees grow long and straight. As a result, we're able to source the core components of our skis from our local forests."
Fit For the Outdoors
Much like Shaggy's, major outdoor recreation brands such as Stormy Kromer, U.S. Ski Pole and SMI Snowmakers have found that Michigan is vital to developing and testing products that withstand any outdoor venture or weather condition. 
"For years, it was assumed that the outdoor industry needed to be out west in the Rocky Mountains or California," says Brad Garmon, director of the Michigan Office of Outdoor Recreation Industry. "But we have created partnerships with some of the largest, most successful outdoor brands in the world."
Notably, Carhartt, a global leader in outdoor apparel, was founded in metro Detroit in 1889. Since then, the company has grown into a global brand with its Dearborn headquarters employing over 640 people. In the search for its next expansion, the company chose to invest $4.65 million to expand this campus, picking Michigan over other out-of-state manufacturing hubs. The expansion will support the company's product design, digital marketing, customer care and operations, creating 125 new jobs. The announcement included news of a nearly $1 million performance-based grant from the Michigan Business Development Program.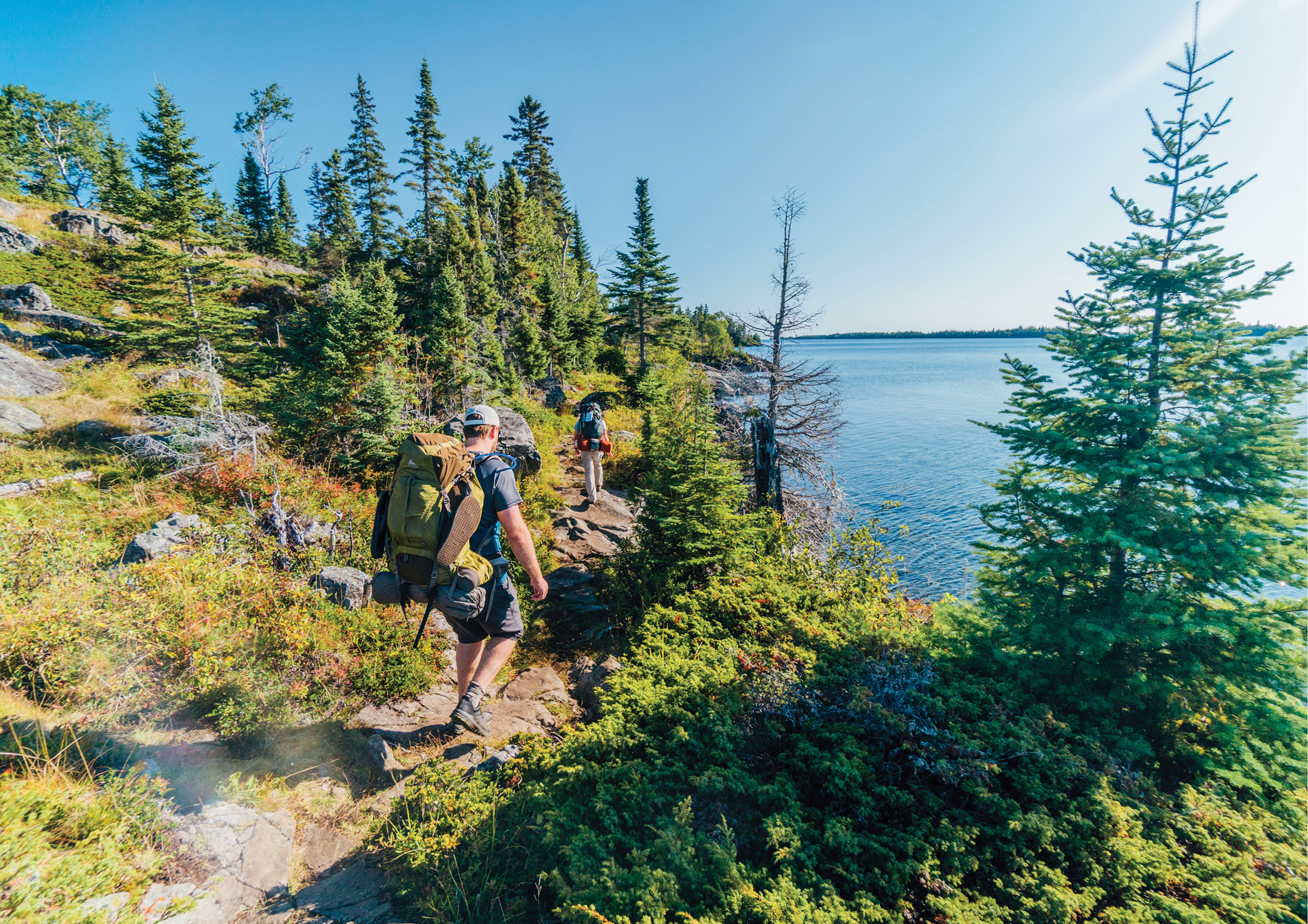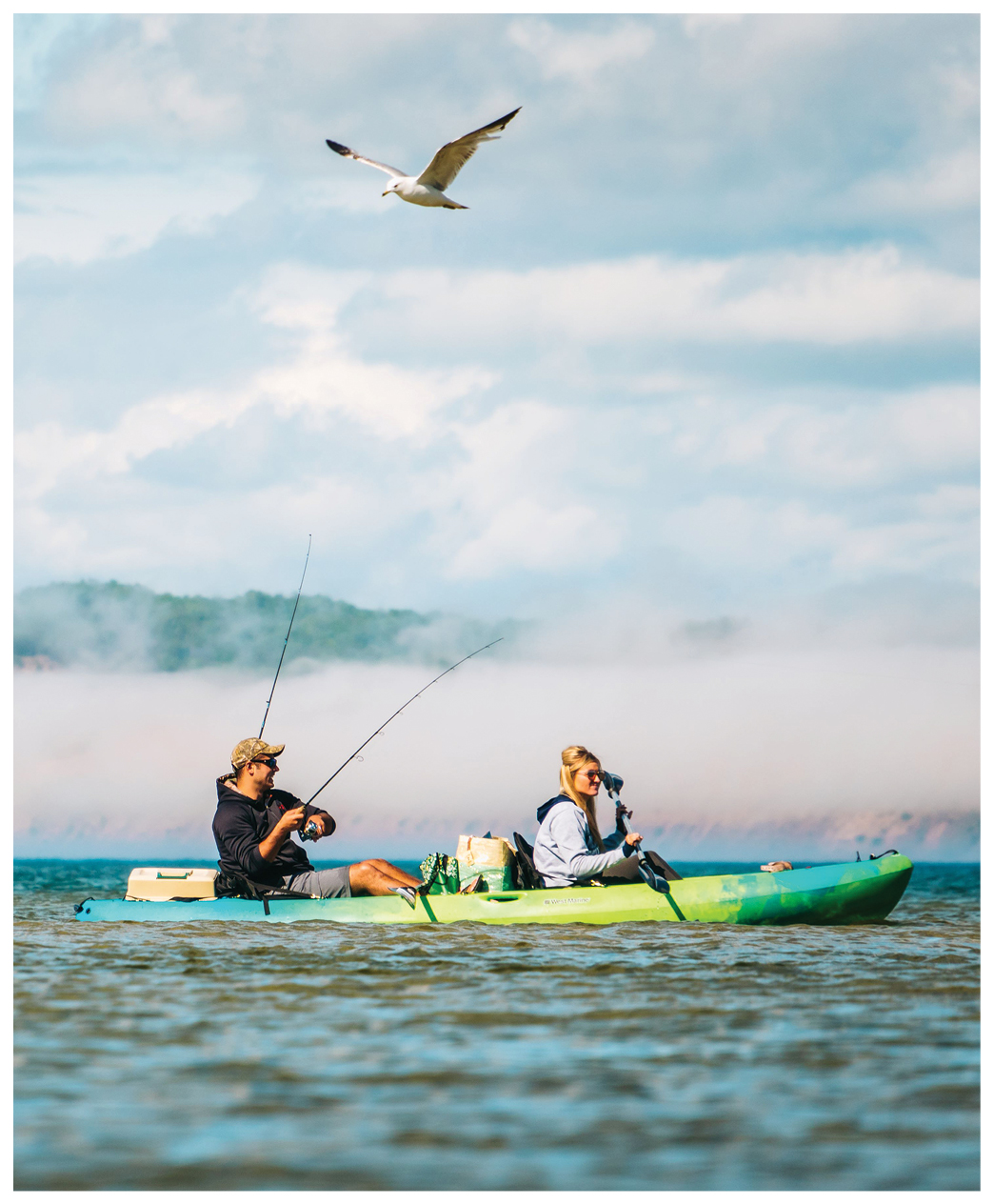 Lake Michigan is known as an excellent freshwater fishing destination.
Photos courtesy of MEDC
In all, these companies feed the state's robust industry in more ways than just economic impact — they also work to attract new business and fresh talent. Carhartt was a main advocate for the creation of Michigan's Office of Outdoor Recreation Industry, which came to fruition in 2019 under Governor Whitmer. 
"This industry is built around innovation, whether it's a lightweight ski, fast-drying wicking fabric or carbon fiber wheels on bikes," says Garmon. "Michigan has the advanced materials to play a valuable role in manufacturing these goods."
Stormy Kromer knows firsthand how Michigan's environment can serve as a resource and completely transform a company. When George Kromer sold the apparel brand to Michigan-based Jacquart Fabric Products, the company relocated its headquarters from Wisconsin to Ironwood, Michigan, in the western reaches of the Upper Peninsula. This change of scenery and leadership ignited the company's success, driving them to increase production to over 50,000 caps a year, up from their previous production of between 3,000 and 6,000 annually. 
"We make cold-weather products in a place where it can be tested and put through harsh winters. The people who work on the products know how to survive the cold and this strengthens the brand and gives it credibility," says Gina Jacquart Thorsen, president of Stormy Kromer. 
Much To See, More to Do
Companies see the incredible value in Michigan's natural resources and travelers agree, with over 117 million visitors generating over $43.1 billion in total economic impact in 2021. The state's award-winning Pure Michigan campaign, which launched in 2008 to both in- and out-of-state acclaim, markets the state as a world-class travel destination. In February 2023, Governor Whitmer announced her fiscal year 2024 budget recommendation which suggested an additional $15 million in funding for the state's Pure Michigan Campaign and $10 million to support outdoor recreation businesses, suppliers and retailers.
"It's our diversity of opportunity. We have everything, from world-class mountain biking and ice climbing to outdoor hikes in our forests and parks," says Garmon. "Some might not think of these activities when they think of Midwestern states, but it's very accessible and can be as low-key or extreme as you like."
Michigan's four-season natural beauty creates a year-round economic impact. Data from the Bureau of Economic Analysis show the state's outdoor recreation industry accounted for $10.8 billion in value and over 109,000 employees in 2021. Boating and fishing drew in the most share at nearly $947,910 alone. 
According to the Michigan Economic Development Corporation's 2021 Economic Impact of Tourism report, the state's visitors accounted for $24 billion in direct spending. As companies continue to capitalize on all four seasons, state programs and campaigns continue to bolster the industry and generate a pipeline of eager travelers who are ready to experience all things Michigan.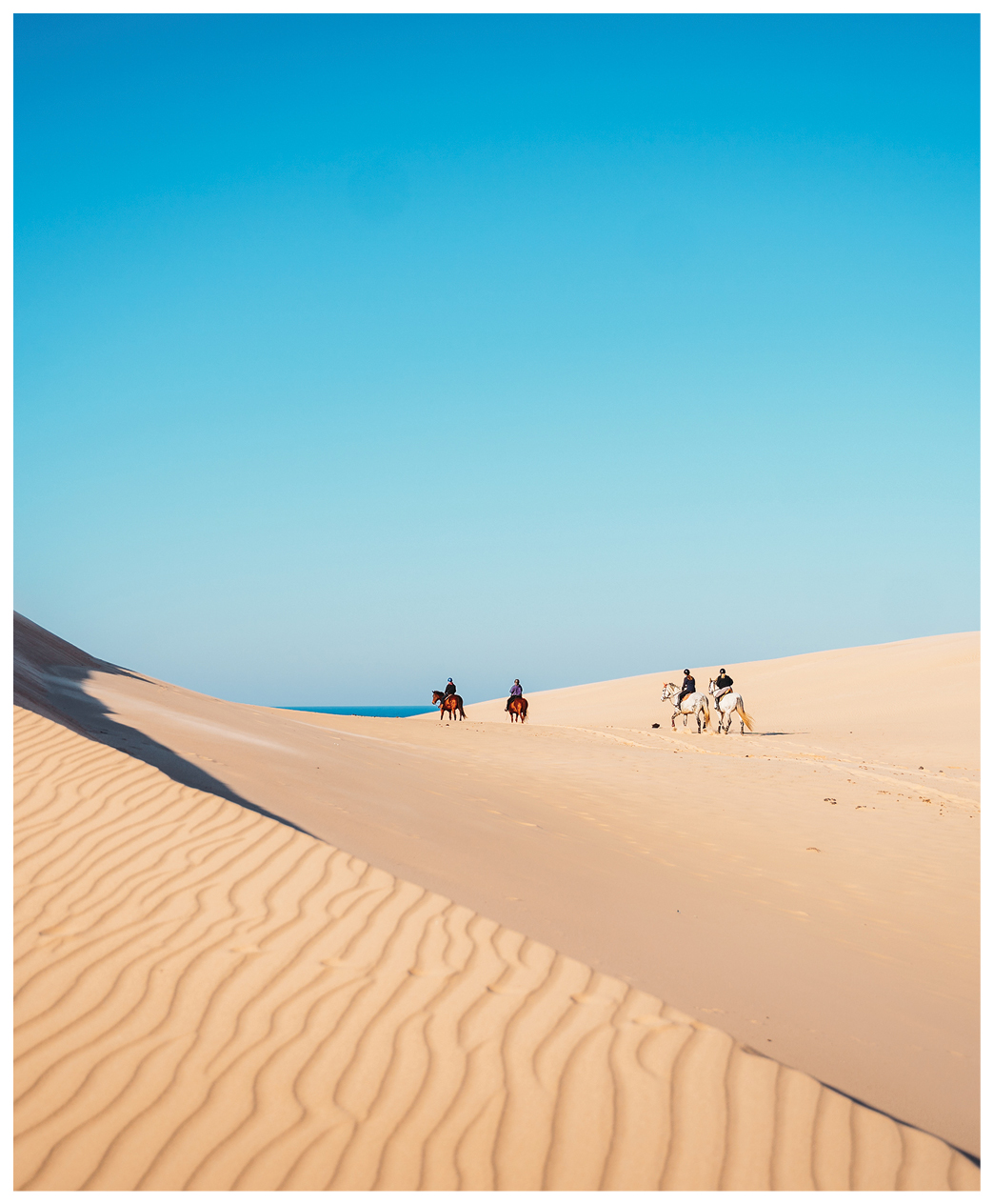 Equestrian riders at Silver Lake.
Photo courtesy of Pure Michigan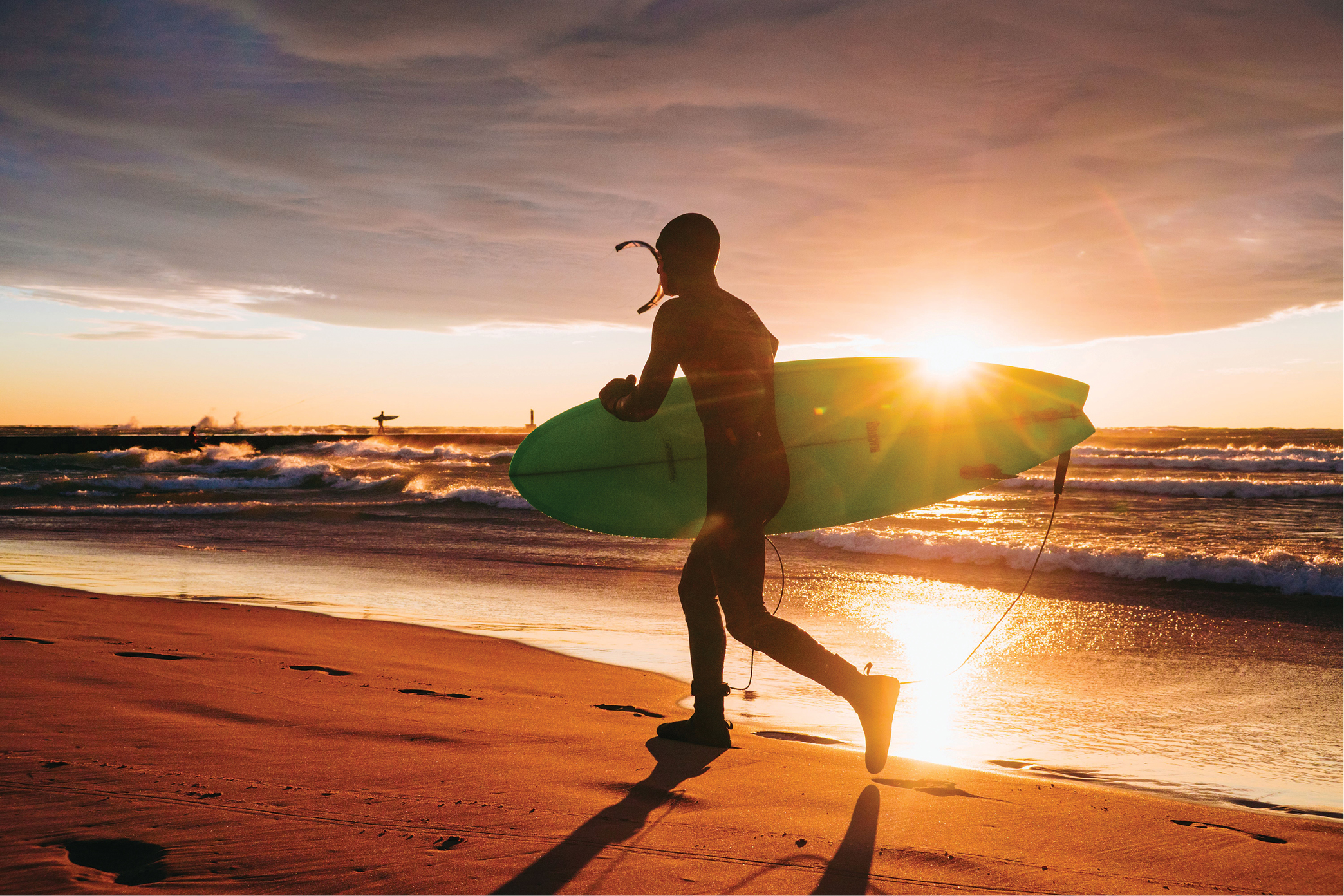 Photo courtesy of MEDC