T
ara Smith is quick to talk smack when it comes to Michigan's lavishly fertile Fruit Belt and the juicy delights that spring forth from it.
Peaches: Sweeter than Georgia's, no question. Better texture, too.
Strawberries: "California's are big. They're beautiful, they're great. Until you have a Michigan strawberry."
Blueberries: Don't even get Tara started.
"It's all because of our climate," says Smith, manager of the 22-acre Benton Harbor Fruit Market, the self-proclaimed largest open-air produce market in the entire world, a farmer-to-wholesaler business whose roots stretch back to the 1860s. In the Fruit Belt — a temperate stretch described by Smith as a Nike swoosh that shadows the eastern shores of Lake Michigan and then curls near the Michigan-Indiana border — snowy winters typically lead to a moist, late-arriving spring that blends into the steamy, Michigan summer. 
"Michigan's seasonal changes produce a different taste," she says. Because of the snow melt and the late, rainy spring, "we have all the moisture we need to endure that heat, and the heat is what's going to bring out the fruit."
Michigan has all manner of fruit: Cherries, tart and sweet; Gala, Honeycrisp and dozens of other apple varieties, including Smith's favorite, the homely but tasty Swiss Gourmet; and raspberries, grapes, cranberries and plums. Michigan, according to the most recent available data from the U.S. Department of Agriculture (USDA), grows more fruit than all but four states, ranking first for production of cherries, blueberries and chestnuts.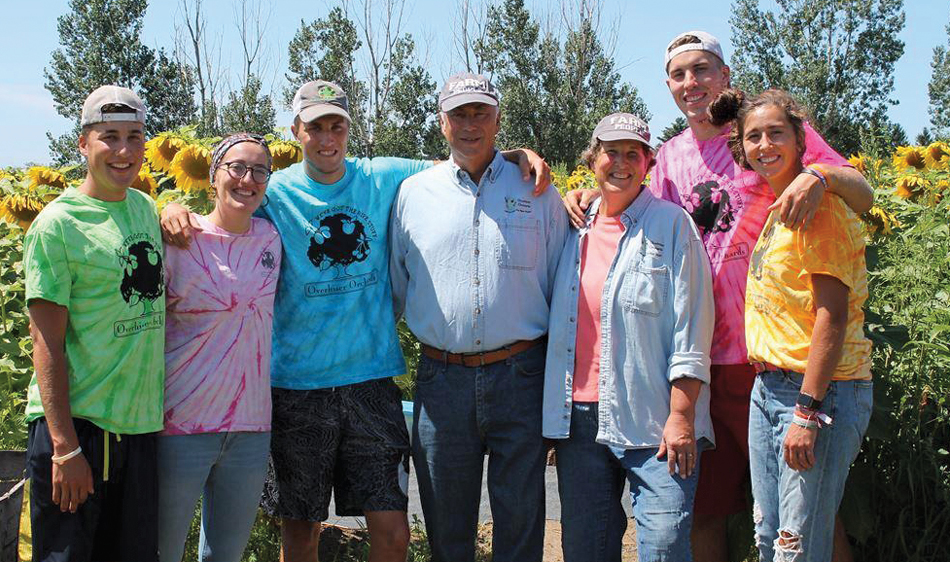 A.W. Overhiser Orchards is a fifth-generation business.
Courtesy of A.W. Overhiser Orchards
In 2022, the weather smiled and yielded a bumper crop of Michigan apples – the most prolific, said Smith, in more than a century. At around 29.5 million bushels, according to the USDA, Michigan's 2022 apple harvest was double the previous year's and trailed only California and Washington State.
"It was so good," Smith says, "that our processors couldn't handle all the apples. I have tons of storage coolers, and we filled just about every one."
Beginning June 1 of each year, Michigan farmers — that's Michigan farmers only —haul their wares each morning to Benton Harbor, to be met by 18-wheelers that will depart the Benton Harbor Fruit Market packed with fresh produce for destinations hundreds or even thousands of miles afield. The market is also open to pretty much anyone else in search of fresh produce, including chefs from Detroit and Chicago. All you need is Tara's cell number, available on the website. "Anybody," she says, "can reach out to me."
With a Cherry on Top
The Old Mission Peninsula, just north of Traverse City, is a narrow finger of land that extends into the center of Grand Traverse Bay. In the 1850s, cherry trees planted there by a French horticulturalist thrived so well that other farmers followed suit, leading to Traverse City claiming the title "Cherry Capital of the World." If you happen to fly in for the National Cherry Festival held in Traverse City each July, you may find yourself landing at the Cherry Capital Airport.
Cherries have many uses, especially in the hands of innovative Michiganders. Just west of Traverse City, Glen Arbor-based Cherry Republic sells more than 200 cherry products, including such exotics as an artisan cherry mustard, cherry salsas, a cherry horseradish sauce, "Cherry Bacon Spread" and of course, cherry chocolates.
"There aren't many cherry growing regions in the world," says Cherry Republic CEO Todd Ciolek. "Cherry is sort of a finicky fruit to grow, and we just happen to be living in this beautiful spot that can grow them. If you drive around anywhere in northern Michigan, you'll see acres upon acres of cherry orchards. It's beautiful all year round. It's really a part of the culture of northern Michigan."
Cherry bourbon, anyone? Traverse City Whiskey Co. bottles one "best enjoyed over ice," and business is good. In January, the distillery broke ground on a $20 million headquarters at the site of a former cherry cooperative. The home-grown company's investment, which aims to create 100 jobs, is to include a rack house, tasting room, processing and packaging spaces plus indoor and outdoor event spaces.
"Our new headquarters," said Chris Fredrickson, co-founder and president, "will be an all-encompassing campus that will provide a unique immersion in whiskey culture and industry and will add a new experience to the thriving Northern Michigan agritourism industry."
Fun on the Farm
As for agritourism, Michigan was onto it long before it was a thing everywhere else. A statewide network of farmers markets is but one of many enduring legacies of the "Fruit Belt Barons," a group of 19th century businessmen that was led by such pioneering luminaries as W.K. Kellogg, the food industry magnate who was born and died in Battle Creek.
The list of destinations is far too many to catalogue, but one could begin with A.W. Overhiser Orchards, a fifth-generation, century-old operation in South Haven, not far north of Benton Harbor. In addition to availing themselves of the farm's cherries, peaches, blueberries, apricots, pears, plums, apples and pumpkins, visitors can acquaint themselves with Huacaya Alpacas, Norwegian Dwarf Goats, rabbits, chickens and other farm creatures. A wagon tour doubles as a history lesson of the storied property on the shore of Lake Michigan.
Blake's Orchard & Cider Mill in Armada holds a Lavender Festival in July and a Cider Dayze beer, cider and wine festival in August. DeBuck's Family Farm in Belleville has been voted one of the most beautiful sunflower farms in the country. Gull Meadow Farms in Richland offers more than 30 farm activities, plus an apple barn and bakery.
Agritourism isn't limited to Michigan's rural areas. Uncle John's Cider Mill in the town of St. Johns, not far north of Lansing, opens its taproom to lovers of hard cider and sells Michigan apples, specialty donuts, jams and jellies, honey and syrup plus local cheeses and locally made jerky.
In today's Michigan, agritourism is an increasingly popular way to experience the state's rich agricultural heritage. In all, there are more than 800 agritourism businesses spread across the state, bolstered by working farms open to visitors looking for a taste of Michigan.