W
ith nearly a million jobs in the fast-growing financial, professional, business and information service sectors, Michigan is poised to continue to strengthen these key industries. These types of organizations can be found throughout the state, directly supporting the economic growth, health and vitality of businesses, individuals and communities. 
Acrisure Expands Space Amid Record Growth
Grand Rapids–based Acrisure is the fastest-growing insurance brokerage in the world, increasing revenue exponentially over the past several years. The organization recently completed its new headquarters, investing $33 million to consolidate several company locations in Grand Rapids' Studio Park. According to the Michigan Economic Development Corporation (MEDC), the Grand Rapids site was chosen over locations in Illinois, Indiana and New York. The organization continues to expand its investments in AI, data analytics, asset management and real estate, with additional plans in the works. 
"Acrisure began as a Michigan company and became a West Michigan company in 2008. Through our robust growth to over $3 billion in revenue and tech transformation, West Michigan remains our home," said Acrisure Co-Founder, President and CEO Greg Williams. "We're glad to have worked with the MEDC and other partners to arrive at our choice of Studio Park, which absolutely strengthens the caliber of talent we attract." 
Detroit's FinTech Sector Blasts Off
Much like Acrisure, other nationally recognized companies call Michigan home and continue to expand in the Great Lakes State. Rocket Mortgage, the nation's largest mortgage lender and a subsidiary of Rocket Companies, moved its headquarters to Detroit in 2010. At the time, it was widely credited with breathing new life into downtown Detroit as old offices were transformed into a contemporary workspace fit for the thousands of eager hires coming onboard.
Among other subsidiaries of Rocket Companies are: Rocket Homes, a proprietary home search platform; Rocket Auto, a virtual vehicle marketplace; Rocket Solar, a residential solar energy provider; Rocket Loans, an online personal loan provider; and Rocket Money, a personal finance app. With approximately 17,000 of its 24,000 employees working in Detroit, Rocket Companies is the largest employer in the Motor City. In 2022, it was ranked No. 7 on Fortune's list of the 100 Best Companies to Work For.
Engineering Engineers Since the Advent of Engines
With the highest density of engineering talent in the country, Michigan's engineering firms continue to grow with no shortage of opportunities. Electrical engineering consulting firm Commonwealth Associates, based in Jackson for over 100 years, has expanded into a four-story bank building in the city's downtown that will serve as its new headquarters. The $4.2 million project will create 60 new engineering and management jobs in addition to the 120-person workforce. Michigan beat Texas and other competitors to secure this project.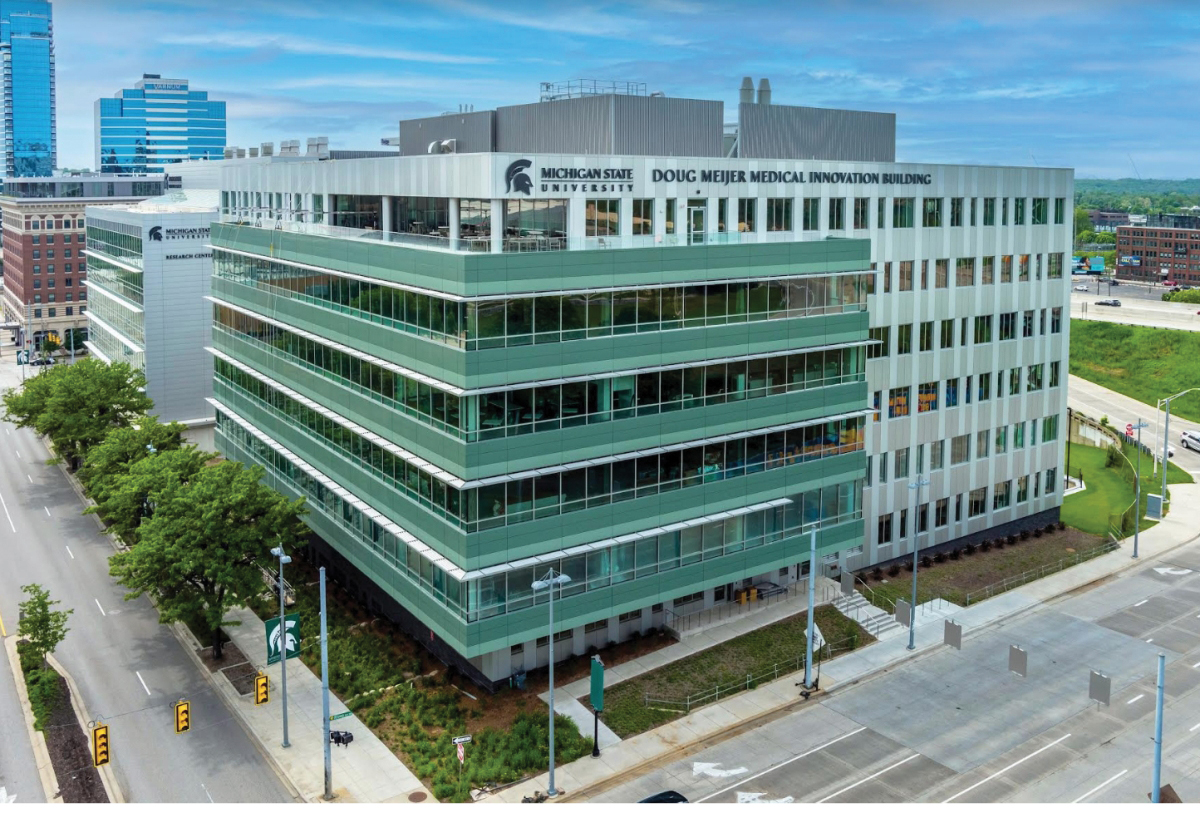 Digital solutions provider Twisthink LLC has occupied space in the Doug Meijer Medical Innovation Building in the Grand Rapids/MSU Innovation Park.
Photo courtesy of Michigan State University
HNTB Corporation, another engineering services firm specializing in engineering resources for transportation infrastructure projects, is expanding to the Renaissance Center in Detroit and East Lansing. Supported by a $1 million Michigan Business Development Program performance-based grant, the company plans to create 165 engineering jobs. 
'Tipping Point' Demand Requires New Space
Twisthink LLC, a provider of digital strategies and solutions that connects audience needs with emerging technologies, also benefited from a Michigan Business Development Program performance-based grant in 2022. With the support of the $300,000 grant, the company expanded into the Doug Meijer Medical Innovation Building in Grand Rapids and is part of the Michigan State University Grand Rapids Innovation Park. Twisthink, founded in Holland, Michigan, in 2001, has experienced increasing demand for digital connectivity and Internet of Things (IoT) services from clients such as Whirlpool, Amazon Web Services and others. This new facility will serve as the company's headquarters and allow it to create 37 new jobs by 2025.
"This is a pivotal moment for us," said Robert Niemiec, managing partner at Twisthink. "What we have created and practiced over the past two decades has reached the tipping point for companies desiring to innovate, accelerate and grow. As a team of knowledge workers trained to address and solve complex problems, we chose Grand Rapids for two reasons: It brings us closer to more innovative thinkers across a diverse slate of industries from healthcare to industrial manufacturing to mobility, and it allows us to tap into a deeper pool of specialized talent in the region. It is best suited for us as we bring greater tech capabilities to our new home city and create meaningful impact here, throughout the state and globally."
What's Next for Michigan's Service Sector?
Michigan stands out as the ideal destination for service-based organizations looking to expand or relocate. With a robust talent pool in the financial, professional, business and information service sectors, the state is well-positioned to further bolster these vital industries. There are countless opportunities and reasons for service companies to be in Michigan, joining the ranks of game-changing companies like Acrisure, Rocket Companies and others who call Michigan their home.