Minnesota prides itself on having a broad range of strong industries, but at the beating heart of its economic vitality are its life sciences: health care, medical technology and bioscience.
"Medical Alley" is the term used to describe this innovation hot spot. It refers to the more than 1,000 health care and medical technology companies that run from Rochester — with its famed Mayo Clinic — through the Twin Cities, all the way to Duluth. But it also refers to the ecosystem of collaboration, experimentation and problem solving that has ungirded these industries' success for decades.
Earl Bakken (who passed away in October at the age of 94) got the ball rolling when he developed the world's first battery-powered pacemaker in the 1950s. Today, Bakken's company — Medtronic — has grown from a Minneapolis garage to become the largest pure-play medical device company in the world, with nearly $30 billion in sales and more than 86,000 employees. Minnesota is its operational headquarters and it employs 10,000 people in the state.
Minnesota's medical device industry employs about 30,000 people and includes large players such as Boston Scientific, Abbott (formerly St. Jude Medical), Smiths Medical and 3M Health Care.
But the state's bio and health economy goes way beyond medical devices. It encompasses personalized medicine, bioinformatics, proteomics, microbiome, regenerative medicine, pharmacogenomics, stem cell research, telemedicine and 3-D printed biomaterials, among other specialties.
It also includes companies and organizations that provide a broad range of health-related services, from UnitedHealth Group — the world's largest private health insurer — to Be the Match, the national marrow donor program.
And it comes full circle at internationally connected clinical and research leaders such as Mayo Clinic and the University of Minnesota, forming a layered ecosystem ripe for academic-corporate collaboration and entrepreneurial support. Some rankings and statistics worth noting:
For three consecutive years, Mayo Clinic has been ranked as the No. 1 hospital in the nation by U.S. News & World Report, 2016-17; 2017-18; 2018-19.
Per capita, Minnesota ranks 1st in medical device patents and 2nd in bioscience-related patents, based on the most recent U.S. Patent Office data available as of October 2018.
The University of Minnesota ranks 4th among U.S. tech transfer offices in executing license deals and 6th among U.S. public tech transfer offices overall, according to a 2017 Milken Institute study.
Minnesota's share of total venture capital investment leaped from 28th in 2016 to 15th in 2017, with investment in Medical Alley companies doubling over five years to reach more than $750 million in 2017, according to the Medical Alley Association, which represents health care companies of all types in Minnesota.
Journey and Destination
In Mayo Clinic's hometown of Rochester, Minn., a 20-year, $5.6-billion initiative known as Destination Medical Center (DMC) is underway, upgrading the entire Mayo complex and beyond to offer the globe a fresh welcome to a world-leading innovation center. In 2012, Rochester voters reauthorized $20 million in sales taxes toward DMC development. In May 2013, the Minnesota Legislature passed a tax bill that included the finance tools necessary to fund the public infrastructure for DMC.
The bill provides for $585 million in public investment over the next 20 years to help cultivate up to $6 billion of private investment over that same time period. DMC will comprise six districts spread across about 550 acres, supporting mixed-use programming that complements Mayo Clinic's expansion plans.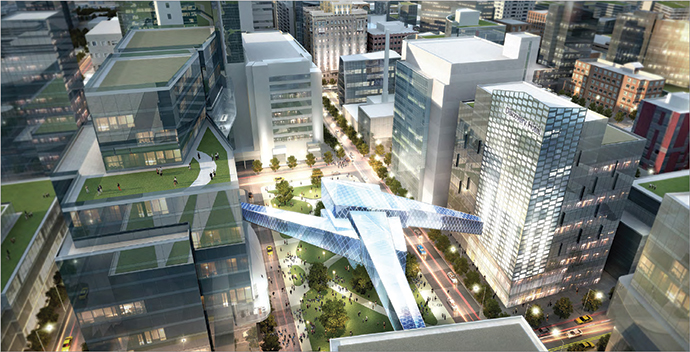 Mayo Clinic and Singapore-based Pontiac Land Group announced plans in September 2018 to expand the Gonda Building on Mayo's Rochester campus to support the growing need for additional clinical space and to offer patients and visitors a premier hospitality experience. The Gonda Building is the centerpiece of Mayo Clinic's system of integrated care.
The 11-floor expansion includes four floors for new clinical space and seven floors for a hotel. Mayo Clinic plans to invest $190 million into the clinical expansion and use the additional space for expansion to the Mayo Clinic Cancer Center and Outpatient Procedure Center.