For centuries, the North Star has been a guide. It's no coincidence that Minnesota is known as the North Star State. From our abundant natural resources and rich outdoor heritage to the dynamic culture in every corner of the state, Minnesota is leading the way and building an incredible place to live, work, and raise a family.
We are the third happiest state in the nation, and in 2019, U.S. News and World Report ranked Minnesota the third best state in the nation based on factors such as health care, education, economy, and infrastructure. My message to private-sector leaders: Our success is not by accident but by design, and we want established companies and daring entrepreneurs alike to be partners in that success.
The bedrock of our state's innovation lies in our long history of corporate success stories, our highly educated workforce, and our commitment to investing in good ideas that can change the world. Currently, Minnesota is home to 17 Fortune 500 companies, the fourth highest per capita in the country. We have built companies that are now recognized as the best in the world at what they do, and these institutions continue pushing the boundaries of what we can achieve to build a better state, nation, and world.
Each day, Minnesotans at Mayo Clinic in Rochester are working to use data to improve our health and making breakthroughs in medicine. Best Buy is pioneering technology for smart homes that can monitor elderly residents' health conditions while allowing children to check in remotely. Once a medical equipment repair shop, Medtronic is now the world's largest medical technology company and is creating the next generation of life-saving medical devices.
Our economy is one of the strongest in the country, bolstered by our strong international relationships with countries like Japan and South Korea. In September 2019, I had the opportunity to travel to Tokyo and Seoul to tout our dynamic business community and strengthen these essential partnerships. Already, we are home to over 900 foreign-owned businesses who recognize the potential in every corner of Minnesota from Minneapolis and Saint Paul to Winona and Sartell. The message I brought to the Japanese and South Korean executives and leaders I met with is the same I bring to you: Minnesota is open for business.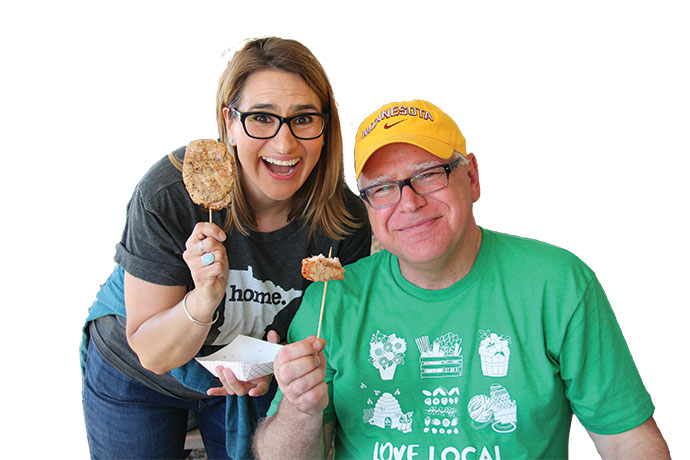 What does that mean for the Governor of Minnesota? For starters, it means that we must have an honest conversation about the challenges that we face. Many Minnesotans struggle to find affordable health care, especially if they are small-business owners and entrepreneurs. Education is too often dependent on a student's race or zip code, forcing families to make tough decisions about where they live and work. And we know that there is a skills gap, as businesses across the state are challenged to find workers with the right training and skills for their available positions.
If we are going to continue competing in the global economy, we must tackle these challenges head on. And we can only do that if we work together. I am proud that in one of the only divided governments in the country, we came together across party lines this year to put together a budget that will improve the lives of Minnesotans. This was the first time in over a decade that a governor has reached a bipartisan deal with the Minnesota State Legislature on time. We protected the health care of more than 1.2 million Minnesotans by continuing the Health Care Access Fund. We reinstated the Angel Tax Credit, which will boost startups and ensure the most cutting-edge businesses start right here in Minnesota. And we invested in our state's broadband infrastructure as we strive to ensure every community has access to high-speed internet.
---
"My message to private-sector leaders: Our success is not by accident but by design, and we want established companies and daring entrepreneurs alike to be partners in that success."
---
There are countless reasons why Minnesota is the best place to grow a company, from startup to Fortune 500, but most of all, businesses in Minnesota are good partners. Time and time again, corporations have stepped up to help us face our greatest challenges.
Companies have built a unique corporate culture, evident in the role of corporate philanthropy throughout the state. I am committed to being a good partner for good businesses and working together with you to build better companies and a better state. Whatever it is you're looking for, it's here in the North Star State.