I
f beauty is in the eye of the beholder, then it's worth noting that corporate site selectors are casting a favorable glance these days on the attractiveness of the Mississippi business climate.
Thanks to a business-friendly tax structure, transportation infrastructure that consistently ranks among the best in the nation, and energy costs 20 percent below the national average, Mississippi is being described as a place where "opportunity is abundant."
It's easy to see why. "Mississippi is a place that makes things," says Brent Christensen, executive director of the Mississippi Development Authority, the state's official economic development agency. "A lot of people here have worked with their hands for a long time."
From the farm to the factory, Mississippi workers are used to showing up early, staying late and giving an honest day's work for an honest day's pay.
At the forefront of this statewide effort is Mississippi Works (mississippiworks.org), a first-of-its-kind interactive resource that pairs employers and a highly skilled workforce through both a website and a mobile application. The website and mobile app function as a one-stop shop, allowing job seekers to search for openings based on job type, location or academic degree required. The site allows employers to post job openings at no cost and then make connections with qualified candidates.
The system advises job seekers on how their qualifications match a particular job opening. The site or app then helps the job seeker understand what additional education, training or experience the applicant needs to further qualify for the position. Once job seekers create a profile, they can receive an automatic text or email when new jobs matching their qualifications are posted.
Resources like this are a big reason why companies such as Baxter, McKesson, Nissan, Toyota, Rolls-Royce, Uncle Ben's, General Atomics, Winchester Ammunition and many others have made Mississippi their home for some of the most innovative advanced manufacturing plants in the world.
Firms Find What They're Seeking
According to an independent study conducted by one major American manufacturing company, Mississippi provided the best overall business climate of all 23 states in which the firm had a presence. The study weighed factors such as taxes, unemployment compensation, workers compensation, operating costs, labor, transportation, energy, health care, job growth and quality of life.
Other third-party rankings attest to this as well. Kiplinger ranks Mississippi the fourth most tax-friendly US state. CNBC ranks Mississippi as the sixth best in cost of living. The 21st Annual Highway Report states that Mississippi has the nation's eighth best state highway system. Other media outlets consistently rank Mississippi in the top five in overall costs of doing business, overall tax friendliness and presence of advanced manufacturing.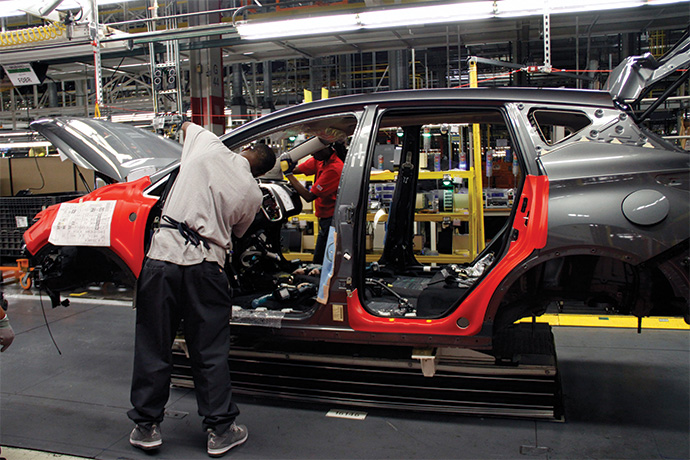 Mississippi is a state that is willing to be flexible when it comes to offering customized incentives packages to new or expanding firms. Rather than adopt a one-size-fits-all approach to economic development, the Mississippi Development Authority creates incentives packages uniquely designed to meet the specific needs of each prospect.
"As focused as we are on project recruitment, we compete for expansions of businesses the day they announce they are coming here," says Christensen. "An example is Yokohama. We really pride ourselves on service after the sale. We make sure that they are happy on day one through all of their expansions."
Corporations who have invested heavily into operations in Mississippi consistently say that the presence of 15 community colleges, eight public universities and four research universities is a driving force behind their site selection decisions and expansion announcements.
They also like the fact that the 21.6 million visitors who travel to Mississippi every year make the state a perfect laboratory for testing new concepts on people from around the world.
Pace of Expansion Accelerates
As a result, companies are growing quickly across the state. Yokohama invested $300 million into a tire plant in West Point. Mississippi Silicon invested $200 million into a metal plant in Burnsville.
From Tunica to Pascagoula, huge investments are being made into everything from engine plants to aerospace. In fact, from October 2013 to October 2014, the fastest growing market in the US for construction employment was Pascagoula on the Gulf Coast. The metro area added 1,800 construction jobs during that 12-month period — a nation-leading 28 percent increase.
When Newpark Drilling Fluids announced on Oct. 15 that it would locate its drilling fluid production operations in Summit, Mississippi, in order to more easily service the Tuscaloosa Marine Shale, it served as further evidence that the expansion pace in Mississippi was accelerating.
"The Tuscaloosa Marine Shale is providing tremendous opportunities for companies and the residents of southwest Mississippi, and we have the infrastructure and resources in place to support companies like Newpark Drilling Fluids as exploration of the shale continues to ramp up," said Gov. Phil Bryant.