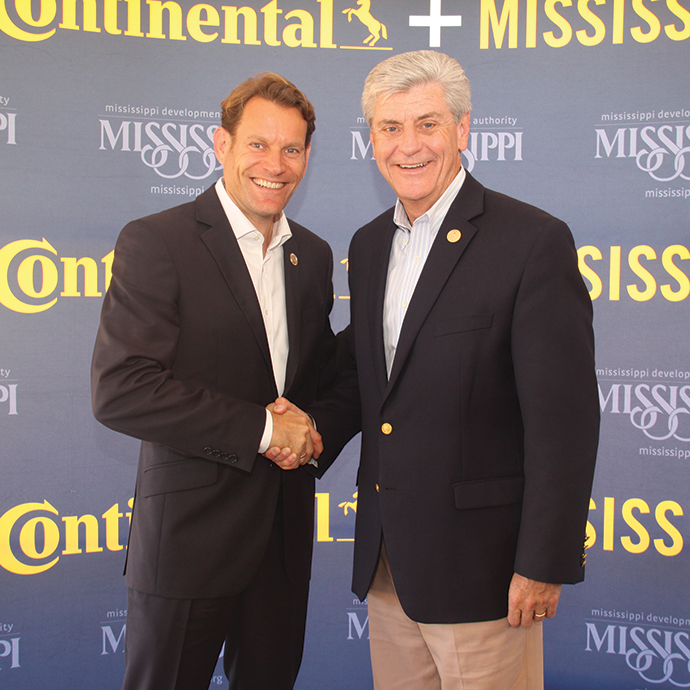 Mississippi ranked in the top 10 states for daily tire production in 2015, reports Tire Business, a newspaper for independent tire dealers. The Magnolia State took the No. 6 ranking for the estimated 43,000 tires produced daily in Mississippi, just ahead of Tennessee, which ranked No. 7 for its estimated daily production of 38,200 tires and just behind Alabama, which ranked No. 5 for its daily output of 46,800 tires. South Carolina took the No. 1 slot, with its estimated daily production of 102,700 tires.
Mississippi may very well move up in the rankings because of two new tire manufacturers in the state, one starting up late in 2015 and another set to begin production in 2019.
Continental Tire broke ground in late 2016 on a new plant for commercial vehicle tires near Clinton. The project represents a corporate investment of $1.45 billion and will create 2,500 new jobs. Plans call for Continental to build a multimillion square foot facility off Interstate 20 West. Construction is set to begin in January 2018. Early in 2016 the Mississippi legislature voted on an incentive package in support of the project, approving $263 million through the Mississippi Major Economic Impact Authority for site acquisition and site preparation, infrastructure improvements and workforce training. Hinds County contributed $20 million to the total amount.
"Continental's decision to locate in Hinds County significantly strengthens Mississippi's leadership position in the Southern automotive corridor," said Glenn McCullough Jr., executive director of the Mississippi Development Authority.
In the spring of 2016, Continental and the Mississippi Development Authority launched a website to promote contracting opportunities at the building site.
"The new plant brings us closer to our customers," said Andreas Esser, executive vice president and head of Continental's commercial vehicle tires unit. "We had other major investments before but Clinton is the biggest investment to date."
"Continental's decision to locate in Hinds County significantly strengthens Mississippi's leadership position in the Southern automotive corridor."

Yokohama Tire Manufacturing Mississippi celebrated the grand opening of is West Point plant in 2015, after breaking ground in 2013. It is the company's first U.S. plant to be built from the ground up.
Yokohama invested $300 million in what is considered Phase I of its West Point facility. Potential future expansion may increase Yokohama's Mississippi investment and employment levels by as much as four times. The sprawling plant on more than 500 acres is the site of production, warehousing and operations. It will produce as many as 1 million tires annually. At full production, the plant will employ in the neighborhood of 500 people.
Part of the project included construction of Yokohama Boulevard, a $20-million, four-mile road which serves as a major thoroughfare for moving materials and products to and from the plant.
"The grand opening of our first U.S.-built plant is truly a historic day for Yokohama," said Tadahaaru Yamamoto, president of Yokohama Tire Manufacturing Mississippi. "Thanks to Gov. Bryant, the great state of Mississippi, the entire community of West Point, the Golden Triangle Region and the incredible Mississippi workforce, the plant site was developed to a fully operational state-of-the-art facility in record time."
Joe Max Higgins, CEO of Golden Triangle Development, described the project as "transformative" for West Point and Clay County.
Ohio-based Cooper Tire operates two plants in Mississippi, one in Clarksdale and one in Tupelo. The 55 employees at the Clarksdale plant produce tire curing bladders, which are sealed flexible rubber bags inflated inside uncured tires to provide shape as the tire cures.
In operation since 1956, the 176,000-square-foot Clarksdale plant in 2015 was recognized by the Rubber Manufacturers Association for improvements in worker health and safety.
Cooper Tire & Rubber has made investments in equipment and improved automation at U.S. facilities including those in Mississippi.
The Cooper Tire plant in Tupelo in 2015 earned the Mississippi Department of Environmental Quality's enHance Partnership Award for 2015.
The enHance program is a voluntary stewardship initiative which recognizes facilities and municipalities for implementing environmental initiatives beyond those that are required.
Cooper's Tupelo plant achieved environmental improvements, including reducing the amount of waste going to landfills by 34 percent and reducing energy use by 5 percent from 2012 levels. The facility also reduced solvent use by 30 percent in the same time period. In addition, Cooper Tupelo has minimized waste through reuse and recycling of materials. The plant has operated in Tupelo since 1985.
Cooper's Clarksdale plant was selected as an enHance member in 2014. The Tupelo plant became a member in 2011.
With established plants like Cooper's in both Clarksdale and Tupelo and new plants like Continental's near Clinton, Mississippi's tire industry is rolling along quite smoothly.